The global direct-to-consumer laboratory testing market size was valued at USD 2.91 billion in 2022 and is expected to hit around USD 6.83 billion by 2032 with a registered CAGR of 8.9% from 2022 to 2032.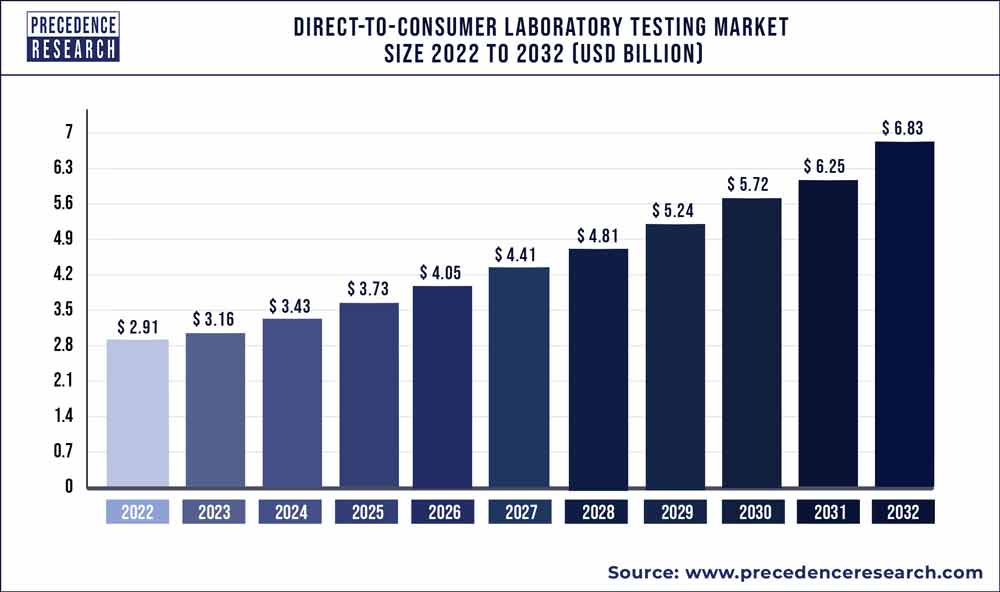 Access our Premium Real Time Data Intelligence Tool, Visit: Precedence Statistics
Key Takeaways:
North America accounted for more than 47% of the total revenue share in 2022.
By test type, the genetic testing segment has dominated the market in 2022.
By sample type, the saliva segment has captured a major share of over 39% in 2022.
Regional Insights
The U.S. direct-to-consumer laboratory testing market size was valued at USD 1.15 billion in 2022 and is estimated to surpass around USD 2.73 billion by 2032, growing at a CAGR of 9.1% from 2023 to 2032.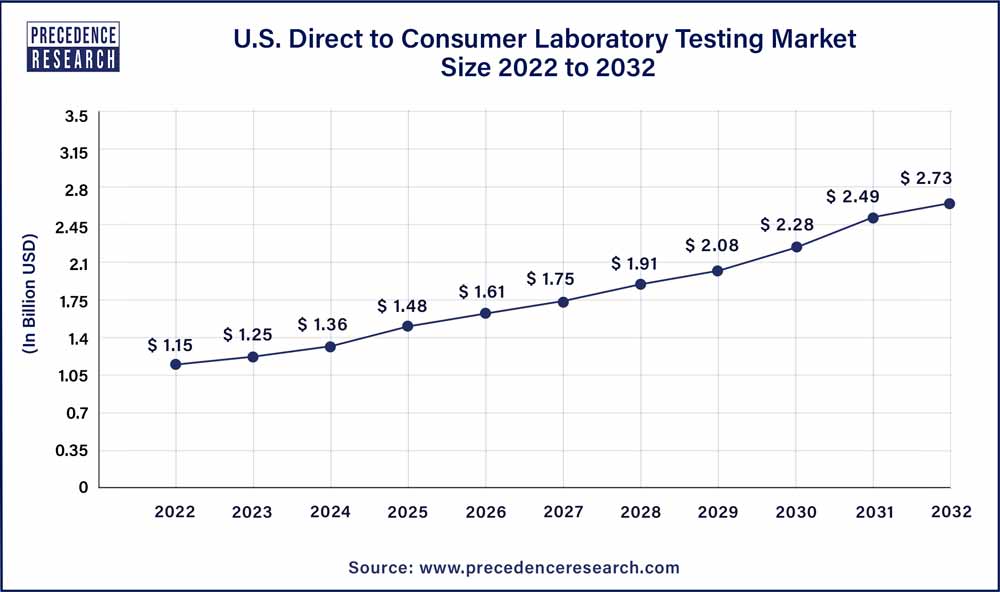 During the projection period, North America is anticipated to have a significant market share with direct-to-consumer tests performed worldwide. Due to the significance of early detection for improved treatment results as well as a greater standard of consumer knowledge about illnesses, North America ruled the global DTC testing industry.
The need for direct-to-consumer lab testing with earlier detection is expected to increase in North America during the projected timeframe due to the increase in the incidence of several lifestyle-related and infectious disorders, including obesity, cancer, diabetes, and STDs.
In the foreseeable future, it is projected that the European market would grow rapidly. The industry is expected to be driven by rising consumer consciousness and improving lifestyles. Because of increasing expendable cash and more health care understanding, the Asia Pacific region was anticipated to have considerable growth during the projection period.
Asia Pacific's direct-to-consumer diagnostic test industry is anticipated to grow quickly in the next years. This is attributable to increased education programs and advancements made by federal agencies to support biological testing in nations all over Asia.
Direct-to-Consumer Laboratory Testing Market Overview
Individuals can request laboratory studies immediately from such a laboratory via direct-to-consumer (DTC) diagnostics, also referred to as immediate access diagnostics, without necessarily involving the health professional. Such tests' outcomes can be used to track an established health condition, spot problems with medical disorders that weren't previously identified, or gather information on a patient's traits. laboratory to improve people's involvement in directing their health, direct-to-consumer testing is just a crucial component of continued attempts, and it is essential that perhaps the test findings are precise and easy to comprehend. In this procedure, laboratory specialists are essential.
The direct-to-consumer laboratory testing market is being driven by the alluring advantages of DTC screening. Consumers should weigh the advantages they experience with the dangers they may encounter, such as privacy issues, the chance of getting conflicting health data, details that might arouse unanticipated feelings, misinterpretation, and over-testing. DTC tests are advertised for several purposes. Cheek saliva or spit, swabs, urine, hairs, blood stains, or blood are typical sample forms. As new knowledge about just the significance of the findings becomes available shortly the near future, DTC test firms upgrade their clients' knowledge. Customers who want to keep up to date on developments in science about their well-being and propensity for the condition may find this to be appealing. Consumers can purchase tests efficiently using direct-to-consumer lab tests, which eliminates the need for them to coordinate with their healthcare professionals.
Report Scope of the Direct-to-Consumer Laboratory Testing Market
| | |
| --- | --- |
| Report Coverage | Details |
| Market Size in 2023 | USD 3.16 Billion |
| Market Size by 2032 | USD 6.83 Billion |
| Growth Rate from 2023 to 2032 | CAGR of 8.9% |
| Largest Market | North America |
| Fastest Growing Market | Asia Pacific |
| Base Year | 2022 |
| Forecast Period | 2023 to 2032 |
| Segments Covered | By Product, By Test Type, and By Sample Type |
| Regions Covered | North America, Europe, Asia-Pacific, Latin America, and Middle East & Africa |

Growth Factors
The healthcare sector is changing its emphasis from one that is physician-focused to one that is consumer-focused. DTC laboratory testing is therefore another of the mid-1900s health industry dreamt implementations. The concept of being examined without being to endure a drawn-out in-clinic procedure is becoming more and more appealing to customers, which is driving the largest international regular laboratory industry. By observing the patient's current physical condition, the lab tests are used to discover previously undiscovered medical diseases. Access to information regarding aspects of one's health is also helpful.
The development of DTC laboratory testing is crucial for raising consumer and personalized participation in patient monitoring. To deliver accurate test results with complete comprehension, laboratory personnel must update their technology promptly. Due to the increased rate of aging populations and the rising number of chronic diseases, the worldwide direct-to-consumer testing market is predicted to grow significantly.
The need for direct-to-consumer testing was increasing towards the earlier treatment of various diseases, which is boosting the development of a direct-to-consumer testing marketplace. These factors, as well as the growing incidence of major diseases, have resulted in a rise in healthcare spending. The industry is also driven by technological advancements, the conclusion of individual genomic studies, and the demands of the business. Additionally, market participants provide a range of customized testing options. Although genetic studies represent the majority of such tests, new microbial testing and medical lab testing will spur market expansion. The Accountability and Health Insurance Portability statute does not apply to direct-to-consumer testing or businesses, and an absence of oversight and procedures to safeguard consumer testing results may limit market expansion. Additionally, privacy and data security issues limit the industry's ability to expand.
Key Market Drivers
Increasing customer demand for transparency in test performance drives industry growth
Customers seeking data on their health status, ancestry, disease risk, and their body's anticipated response to specific medicines depending on their genotypes might take advantage of an intriguing addition to the conventional healthcare system called direct-to-consumer testing. The client must first decide whether they should see a doctor, according to the conventional concept of laboratory analysis in a hospital.
Consumers should be prepared for a healthcare reform system that offers greater convenience & thorough clinical findings without requiring time-consuming treatments. Additionally, the selection of direct-to-consumer tests conducted is currently growing, and DTC testing was marketed for several applications. urine, Cheek swabs, blood spots, saliva or spit, hair, and blood are examples of common types of samples.
Consumer availability to DTC testing and marketing is a key factor in the industry's expansion
Consumers have already been directly involved in the choices impacting their healthcare during the past few years, allowing people to adopt healthier lives and be conscious of their health. Laboratory studies and diagnostic trials are crucial components of treatment. In the past, people were constrained by rules and regulations, as well as testing was only requested after seeing a physician. Once DTC tests became available and received government permission, customers could place direct orders for the testing. Such tests are simple for customers to get because they may be bought online or purchased from pharmacists without the need for a referral. Customers are enticed in by the simple and non-intrusive sampling techniques used in DTC testing.
Key Market Challenges
Controlled laboratory tests for DTC
DTC testing procedure is governed by state and federal laws in the United States. Before such an advertisement in vitro methods product could be marketed, the United States Food And drug evaluate the testing kits and healthcare benefits to help to ensure efficacy and safety. The Department of Health & Human Assistance assists in ensuring the effectiveness and precision of the research labs going to perform these advertising exams and lab setting tests by inspecting them and monitoring their performance via standardized exams. A customer's ability to order a lab experiment immediately, without traveling via a healthcare professional, is eventually decided by the state.
Key Market Opportunities
Give people useful data regarding their health condition in a relevant and practical manner
DTC lab tests can give people useful knowledge regarding their health state promptly and realistically way. However, several healthcare professionals and politicians are worried that certain DTC lab tests, especially those provided in non-traditional venues, could be of doubtful value and quality. There have also been concerns raised regarding whether customers have the necessary prior information and knowledge to act sensibly in light of their testing results.
Lacking assistance from healthcare experts, customers may not be aware of the restrictions placed on specific tests or possess the information necessary to correctly interpret the testing results. Over the last few years, governments have attempted to strike a balance between these worries and the increasing preference of people to participate more actively in choices impacting their healthcare.
Healthcare delivery method changes
People used to be required to visit such healthcare institutions, such as a physician's office, hospitals, or laboratory data, to also have plasma and other samples obtained for laboratory trials, and they would have to wait weeks to days before receiving a call from his physician also with data. Today's consumers have a variety of choices. People have the option of purchasing over-the-counter testing kits which enable them to gather a specimen and send it to laboratories again for testing, or, in certain situations, do the test personally in their residences.
Customers can now locate, order, and purchase medical service internet, and a traveling lab technician may take their specimen home or to a nearby test facility. Within a few days, these findings can be retrieved via a secured online site. Additionally, a growing number of handy non-traditional sites, including retail stores, pharmacists, mobile testing laboratories, as well as healthcare facilities, were beginning to offer medical services. These choices give people easy accessibility to providing high-quality outcomes.
Segments Insight
Product Insights
The market is dominated by regular medical lab testing. Regular testing is essential to help doctors diagnose diseases, validate medical conditions, and provide preventative medicine. These examinations are frequently completed quickly and on a routine basis. Since it assists in discovering the genetic cause of persistent illnesses such as cancer, Healthcare Genetic Lab Tests were anticipated to experience considerable growth in the coming years. These encompass inherited screening and transmitter testing, which are frequently done for DTC genetic analysis.
Test Type Insights
Further divisions of the medical risk evaluation diagnostics market include STDs, cancer, and others. In 2022, the market was led by the genetic screening niche. The number of people using DTC testing kits for health and wellness has rapidly expanded. The market for DNA testing kits is expected to rise as more people become interested in learning about your forebears & personal history, particularly in industrialized nations worldwide.
By Test Type, the genetic testing segment size was USD 1,241.05 million in 2022 and is predicted to grow at a CAGR of 9.2% during the forecast period.
The disease risk assessment segment size was USD 147.23 million in 2022, and it is projected to grow at the fastest CAGR of 8.7% over the projected period.
The sexually transmitted disease testing segment size was USD 147.23 million in 2022, and it is expected to expand at the fastest CAGR of 9.5% during the projected period.
Sample Type Insights
The market is expected to be dominated by the saliva sector. The domination of the market can be due to the rise in DTC screening businesses that provide saliva-based testing kits. The advantages of samples taken in DTC testing are responsible for this company's substantial market share. The collecting of saliva samples is an easy, dependable, and non-invasive process that is also practical for sample processing and transportation to testing facilities.
Direct-to-Consumer Laboratory Testing Market, By Sample Type, 2022-2032 (USD Million)
| | | | | |
| --- | --- | --- | --- | --- |
| Sample Type | 2022 | 2023 | 2027 | 2032 |
| Blood | 1,422.33 | 1,548.71 | 2,196.36 | 3,470.12 |
| Urine | 584.23 | 634.24 | 888.77 | 1,383.36 |
| Saliva | 404.08 | 436.04 | 596.50 | 900.95 |
| Others | 504.69 | 542.73 | 731.25 | 1,079.89 |
Recent Developments
VG Acquisitions Corp. (NYSE: VGAC) as well as 23andMe agreed to a signed contract on Feb 2021, to merge through a mixture of equity and currency funding. The company merger gives 23andMe an estimated $3.5 billion asset value.
A self-collected diagnostic kit for well-being, cardiovascular disease, diabetes, and colon cancer was introduced by Pixel from LabCorp in Nov 2018. In addition to the development of new products, several market participants are choosing various growth methods for corporate investment, like mergers and acquisitions, partnerships and collaborations with other companies and top diagnostic laboratories.
Key Market Players:
23andMe, Inc
Ambry Genetics Corp.
Ancestry.com LLC
Any Lab Test Now, Inc.
Color Genomics, Inc
Counsyl, Inc.
DanteLabs Inc.
Direct Laboratory Services, LLC
Eastern Biotech & Life Sciences
EasyDNA
EverlyWell, Inc.,
Full Genomes Corporation, Inc.
Gene by Gene, Ltd.
Genecodebook Oy
Genesis Healthcare Co.
Genetrainer
GHC Genetics UK
HealthCheckUSA
Home Access Health Corporation
International Biosciences
Laboratory Corporation of America Holdings
LetsGetChecked, Inc.
Mapmygenome India Limited
Medichecks.com Ltd.
MyHeritage Ltd.
MyMedLab, Inc.,
Myriad Genetics, Inc.
Natera, Inc
OME Care
Pathway Genomics
Pixel by LabCorp,
Positive Bioscience
Quest Diagnostics Incorporated,
Request A Test, Ltd.
Shuwen Biotech Co. Ltd.
Sonora Quest Laboratories,
Thryve Inc
Ulta Lab Tests, LLC,
Veritas Genetics
Vitagene, Inc.
Walk-In Lab, LLC.,
WellnessFX, Inc.
Xcode Life Sciences
Segments Covered in the Report:
(Note*: We offer reports based on sub-segments as well. Kindly, let us know if you are interested)
By Product
Medical Genetic Laboratory Testing
Routine Clinical Laboratory Testing
By Test Type
Genetic Testing
COVID-19
Cancer
Diabetes Testing
Disease Risk Assessment Testing
Sexually Transmitted Disease Testing
Routine Testing
Complete Blood Count
CNS-related/Neurological Disease
Thyroid Stimulating Hormone Testing
Other
By Sample Type
Blood
Urine
Saliva
Others
By Geography
North America
Europe
Asia-Pacific
Latin America
Middle East & Africa (MEA)