The global drug-eluting balloon catheters market size was recorded at USD 1.11 billion in 2022 and is estimated to hit around USD 3.15 billion by 2032, growing at a registered CAGR of 11.1% during the forecast period from 2023 to 2032.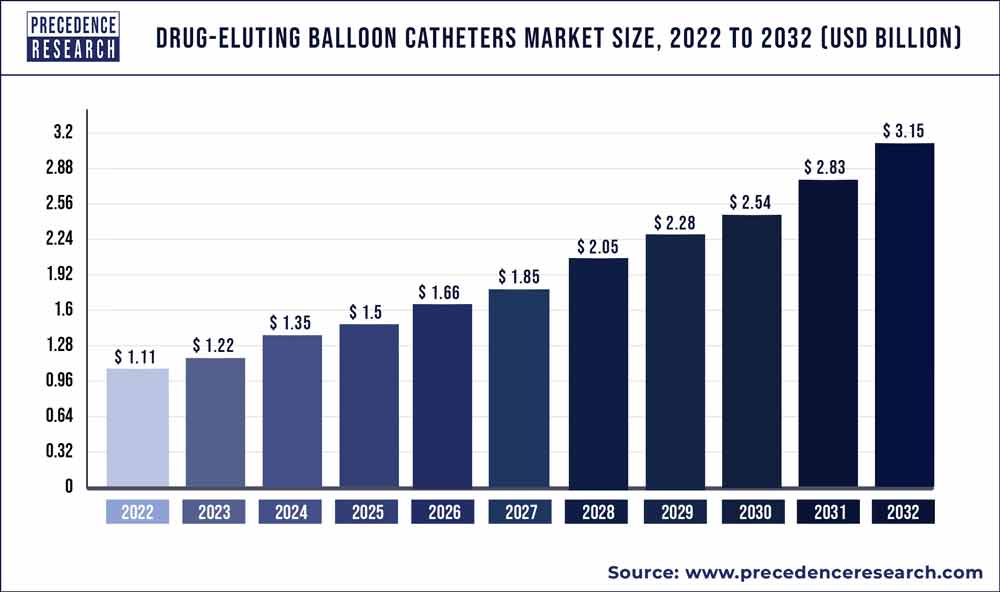 Access our Premium Real Time Data Intelligence Tool, Visit: Precedence Statistics
Key Takeaways
By product, the peripheral vascular disease drug-eluting balloon catheters segment has held the highest revenue share of over 57% in 2022 and is anticipated to reach a 10.3% of CAGR through 2032.
By end user, the hospital and clinics segment has accounted market share of over 61% in 2022 and is expanding at a CAGR of 10.5% from 2023 to 2032.
U.S. drug-eluting balloon catheters market is growing at a CAGR of 8.9% from 2023 to 2032.
The industry is anticipated to grow as a result of increasing demand for minimally invasive procedures and technological developments in drug-coated balloon catheters. The market share has been significantly impacted by the increase in the elderly population. Additionally, older people are shown to have a larger chance of health issues, making them more vulnerable to illnesses including peripheral and cardiovascular disorders. Balloon catheters with drug-eluting technology help cure and repair these issues. The use of drug-eluting balloon catheters helps patients avoid restenosis and treat coronary atherosclerosis. Thus, it is anticipated that the aforementioned factors will propel the market demand for drug-eluting balloon catheters.
Growth Factors
The development of sophisticated drug-eluting balloon catheters for minimally invasive operations and other manufacturing technical developments are anticipated to fuel market growth over the anticipated timeframe. The use of drug-eluting balloon catheters has been encouraged by the rise in patients with atherosclerosis, obstructive coronary artery disease, peripheral vascular disease, etc., and is expected to fuel market expansion in the upcoming years. Additionally, there is a greater need for technologically improved items in healthcare settings due to the rising frequency of chronic diseases and the demand for minimally invasive surgical treatments. The usage of cutting-edge products for surgeries has increased life expectancy and sped up diagnostic processes among the elderly population base, which has fueled market expansion in recent years. To improve medicine delivery, market players are concentrating on creating cost-efficient, accurate, and effective drug-eluting balloon catheters. This effort will support the market growth of drug-eluting balloon catheters over the forecast period.
The usage of drug-eluting catheters, which are often utilised for drug administration in critical instances during surgical procedures linked to cardiovascular illnesses, decreased during the COVID-19 pandemic. Heart disease emergency and general patients experienced a substantial setback that somewhat impacted product adoption. In over 8 nations throughout the world, endovascular therapy was rejected by 32%, according to a report released in March 2020. However, the number of CAD treatments is anticipated to increase once more in the near future because to the increasing number of patients with cardiovascular disorders.
Growing prevalence of peripheral and cardiovascular diseases
Growing geriatric population
Increasing preference for minimally-invasive procedures
Report Scope of the Drug-Eluting Balloon Catheters Market
Report Coverage
Details
Market Size in 2023
USD 1.22 Billion
Market Size by 2032
USD 3.15 Billion
Growth Rate from 2023 to 2032
CAGR of 11.1%
Base Year
2022
Forecast Period
2023 to 2032
Segments Covered

By Product
By Raw Material
By End-Use

Regions Covered

North America
Europe
Asia-Pacific
Latin America
Middle East & Africa

Key Market Drivers
Growing prevalence of peripheral and cardiovascular diseases
One of the main issues in emerging nations around the world is the rising prevalence of chronic diseases. The market share for drug-eluting balloon catheters is expected to grow over the course of the forecast period due to an increase in the number of patients suffering from peripheral and cardiovascular diseases like peripheral vascular disease, pulmonary embolism, renal vascular disease, coronary heart disease, and aortic disease, among others.
The Centers for Disease Control and Prevention (CDC) reported that 9,904 people died in the United States from aortic illnesses in 2019, with men accounting for 59% of all fatalities and women for 41%. Unhealthy eating patterns, smoking, elevated blood pressure, cholesterol levels, atherosclerosis, etc. are a few of the main causes of the rising prevalence of cardiovascular illnesses among individuals worldwide.
Growing geriatric population
Growing healthcare spending and an aging population that is more susceptible to cardiovascular diseases are expected to support market expansion. But the exorbitant cost of creating and commercializing medicine-eluting balloons, together with onerous regulatory requirements, are restricting the market's expansion.
Key Market Challenges
High cost - The high price of modern drug-eluting balloon catheters and the rising infection risk connected with the device could be detrimental to the industry's expansion. Due to the rising incidence of cardiovascular, other chronic diseases, and coronary artery disorders, product demand is steadily rising by a large amount. The market expansion in emerging markets with low-income levels may be hampered by the high costs associated with drug-eluting balloon catheterization therapies. Therefore, adopting such expensive products may be difficult for nations with low economic growth. Because of this, market growth over the projection period may be constrained by the high cost of these advanced drug-eluting balloon catheters.
Key Market Opportunities
The increasing number of treatment options - The sector is expanding due to the expansion of treatment options for cardiovascular diseases such as peripheral artery disease (PAD), which, depending on the severity of the problem, may need surgery. Some of the main causes of the rise in cardiovascular illnesses, including PAD, are atherosclerosis, diabetes, smoking, and high blood pressure. Since PAD is an age-related condition, individuals 65 and older have a higher prevalence rate of more than 10%. Thus, an additional element influencing the market is the growing elderly population.
Segments Insight
Product Insights
The market is divided into two product categories: drug-eluting balloon catheters for peripheral vascular disease and coronary artery disease. The majority market share of drug-eluting balloon catheters for the peripheral vascular disease was held by this segment in 2022, and it is anticipated to grow at a 10.7% CAGR through 2032 as more healthcare facilities and medical professionals adopt cutting-edge products to carry out intricate interventional procedures. These peripheral vascular balloon catheters aid in the delivery of medications, restrict the proliferation of vascular smooth muscle cells during neointimal formation and guard against restenosis, all of which improve patient safety during surgical procedures.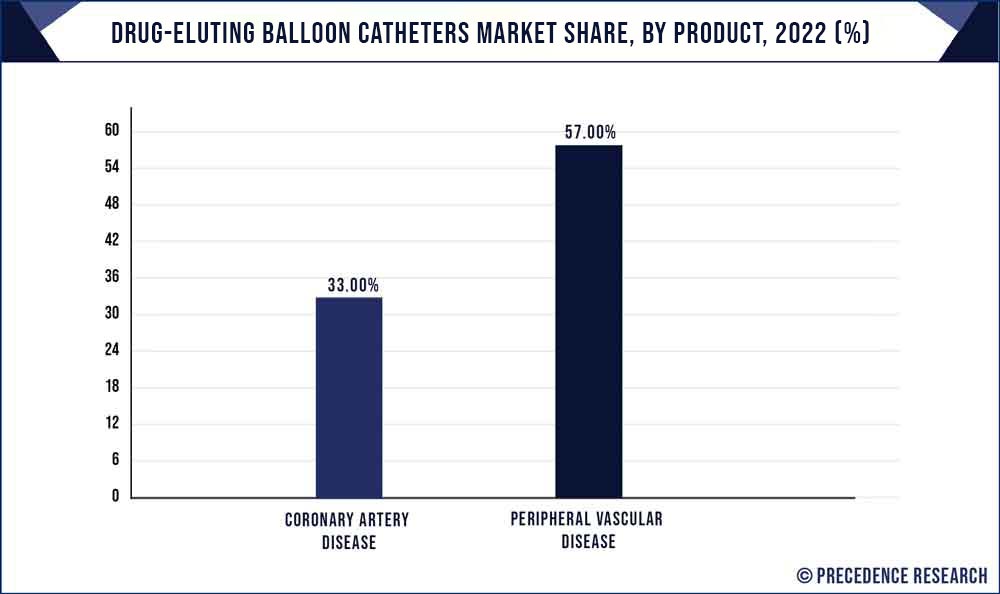 One of the key factors influencing increased product usage is the rising incidence of atherosclerosis in adults. Additionally, nearly 27 million people with atherosclerosis were diagnosed across Europe and North America in 2019. Due to advantages such as lower procedure costs, fewer post-operative complications, and shorter nursing care times, the usage of drug-eluting balloon catheters for vascular illnesses has grown dramatically in recent years. These advantages are anticipated to fuel segmental expansion in the years to come. The use of vascular catheters was approximately 54% worldwide in 2019, according to a study that was published in the journal BMC Nephrology.
End-Use Insights
On the basis of end-use, the hospital and clinics segment held a dominant market share in 2022 owing to the increasing number of in-patient admissions in hospitals for catheterization procedures along with a surging preference for minimally invasive procedures is anticipated to spur the market demand. A few of the reasons driving the market expansion are the increase in vascular and urological disorders, arrhythmia, etc., as well as the accessibility of highly qualified medical and healthcare experts.
A large hospital network will be established as a result of the focus on developing health infrastructure in emerging nations, which will raise the acceptance rate of products in the years to come. Therefore, an increase in the prevalence of chronic diseases and an increase in hospital admissions are predicted to drive the market share for drug-eluting balloon catheters during the course of the estimated analysis period.
Drug-Eluting Balloon Catheters Market Share, By Region, 2022 (%)
| | |
| --- | --- |
| Regions | Revenue Share in 2022 (%) |
| North America | 34.8% |
| Asia Pacific | 25.7% |
| Europe | 29% |
| Latin America | 6% |
| MEA | 4.5% |

Regional Insights
North America has dominated the drug-eluting balloons catheters market with a 34.8% revenue share in 2022. The main drivers propelling the growth of the market in North America are the favorable reimbursement environment in the U.S, the rising preference for minimally invasive procedures, and the staggering number of surgeries. Additionally, rising public awareness of the need for surgical procedures to address difficulties with chronic diseases and injuries is fueling market expansion.
There are a number of factors, including the rising incidence of cardiovascular diseases such coronary artery disease, heart valve disease, arrhythmia, heart failure, peripheral disorders, and renal failure, among others. For instance, the Center for Disease Control and Prevention (CDC) reported that approximately 18.2 million adults had coronary artery disease in 2020, which was responsible for around 2 deaths for every 10 patients. Additionally, the NCBI reports that more than 1 million cardiac catheterization operations are carried out annually in the United States. People's changing lifestyles in the nation, such as the rise in obesity prevalence, bad diets, and excessive alcohol usage, have had a substantial impact on their health. Cardiovascular disorders are one of the main causes of death in the U.S, according to the World Health Organization (WHO). It is anticipated that the rising disease prevalence will increase the demand for drug-eluting balloon catheters. The country's market growth is also anticipated to be aided by the rising hospitalization rate and the growing elderly population base. Additionally, the market value and adoption rate of drug-eluting balloon catheters will increase due to the presence of significant market participants in the area.
Over the projected period, the Asia Pacific region is anticipated to increase at the fastest rate. This can be ascribed to a rise in healthcare spending as well as an increase in the prevalence of cardiovascular disorders. According to Biomedcentral, cardiovascular disease affects one in every five persons in China. Furthermore, it is anticipated that the market in the region will be driven by an aging population in nations like Japan and China and rising disposable income. The expansion of the industry in the area is also being aided by the rise of health tourism in emerging countries.
Recent Developments
In July 2021 – Following the CE (Conformité Européenne) designation, Medtronic Plc. marketed the Prevail drug-coated balloon (DCB) catheter in Europe. Patients with coronary artery disease who have blocked or narrowed coronary arteries are treated with the coronary DCB currently on the market, Prevail DCB, during percutaneous coronary intervention (PCI) procedures (CAD). The balloon expands inside the artery during the catheter-based operation, and the medication is given to the arterial tissue where it is absorbed. The Prevail DCB treats de novo lesions, small vascular disease, and in-stent restenosis using paclitaxel, a medication with fast absorption (ISR). Since a permanent implant is not necessary, DCB angioplasty is frequently utilised when a drug-eluting stent (DES) implantation is not ideal or is technically difficult.
In November 2020 – The U.S. Food and Drug Administration gave Boston Scientific's Ranger Drug-Coated Balloon its seal of approval (FDA). These catheters are used to treat individuals with superficial femoral artery (SFA) and proximal popliteal artery peripheral arterial disease (PAD) (PPA). This approval gave the business a competitive edge over its rivals in the market for drug-eluting balloon catheters.
Key Market Players
Medtronic
Aachen Resonance GmbH
B Braun Melsungen AG
BD Interventional
Biosensors International
Biotronik AG
Boston Scientific Corporation
Eurocor GmbH
iVascular S L U
Zhejiang Barty Medical Technology Co Ltd
Lepu Medical Technology (Beijing)Co Ltd
MedAlliance
Segments Covered in the Report
(Note*: We offer reports based on sub-segments as well. Kindly, let us know if you are interested)
By Product
Coronary Artery Disease
Peripheral Vascular Disease
By Raw Material
Polyurethane
Nylon
Others
By End-Use
Hospitals and clinics
Ambulatory Surgical Centers
Catheterization Laboratories
By Geography
North America
Europe
Asia-Pacific
Latin America
Middle East & Africa (MEA)