The global advanced balloon catheter market size was estimated at USD 2.52 billion in 2022 and is expected to hit around USD 6.23 billion by 2032 with a registered CAGR of 9.50% from 2023 to 2032.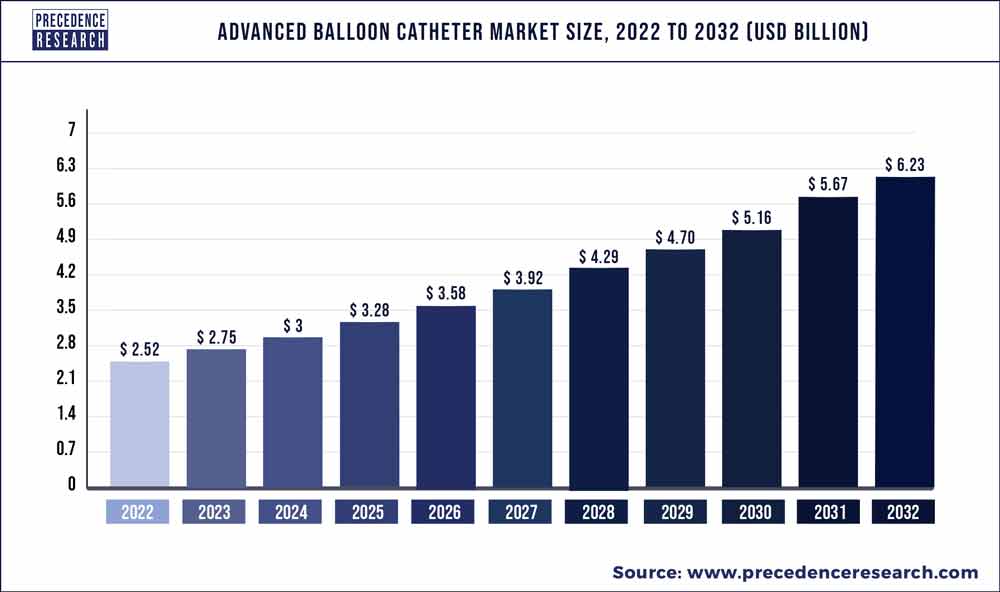 Access our Premium Real Time Data Intelligence Tool, Visit: Precedence Statistics
Growth Factors
The rising interventional cardiology has been working with the use of typical inflatable catheters. Besides, there is an ascent in the predominance of patients impacted with end-stage renal illness. The quantity of patients looking for renal substitution treatment has additionally expanded. Driving makers of catheter gadgets are creating proficient and savvy arrangements. These occurrences could impact the development of the worldwide ordinary inflatable catheter market throughout the next few years.
Rising deals of typical inflatable catheters for coronary vein sickness and developing interest for ordinary inflatable catheters in heart catheterization labs are supposed to support the creation of typical inflatable catheters. Ascend in the pervasiveness of different persistent heart sicknesses because of elevated cholesterol or diabetes has expanded interest in catheters in the medical care industry. As per the World Health Organization, cardiovascular sicknesses represented over 17.7 million passing in 2015; of these coronary illnesses represented around 7.4 million passing. Moreover, the larger part of the passing happened in a rising economy because of the high pervasiveness rate and absence of medical care administrations in provincial regions. As indicated by the United Nations Population Fund (2015), around 12.3% of the worldwide populace contained individuals matured 60 years or more and this figure is projected to increment to 22% by 2050. Thusly, ascend in the geriatric populace and interest in negligibly obtrusive methods is factors energizing the development of the inflatable catheters market in created as well as in arising economies. Ongoing headways in heart methodology for example, improvement of cutting edge cardiovascular catheter gadgets have fuelled the development of the market. Nonetheless, the ascent in the rate of catheter-related diseases limits the market.
Furthermore, different factors like the developing geriatric populace, rising interests in research, and advancement exercises concerning ordinary inflatable catheters are supposed to help the interest in swell catheters.
Report Scope of the Advanced Balloon Catheter Market
| | |
| --- | --- |
| Report Coverage | Details |
| Market Size in 2023 | USD 2.75 Billion |
| Market Size by 2032 | USD 6.23 Billion |
| Growth Rate from 2023 to 2032 | CAGR of 9.50% |
| Base Year | 2022 |
| Forecast Period | 2023 to 2032 |
| Segments Covered | Raw Material Type, Application Type, End User Type, and Geography |
| Companies Mentioned | Abbott Laboratories, Boston Scientific Corporation, Medtronic plc, Terumo Corporation, MicroPort, Scientific Corporation, B. Braun Melsungen AG, Meril Life Sciences Pvt. Ltd., Hexacath, Tokai Medical Products Inc., Cook Medical INC, Cordis Corporation, and BIOTRONIK SE & Co. KG. |

Segments Insight:
Raw Material Insights
Nylon held the biggest offer in the inflatable catheter market in 2022 and will develop at a CAGR of 6.6% during the gauge time frame 2023-2032. This is inferable from the advantages related to the utilization of nylon as an unrefined substance in these gadgets as nylon is milder, it is all the more effectively refolded, and is simpler to pull out into the directing catheter or speaker sheath. When contrasted and PET (polyethylene terephthalate) renditions nylon high-pressure inflatables require a thicker divider for given burst pressure, and that implies that a nylon inflatable will have a bigger profile than an equivalent PET inflatable upon inclusion into the body and while crossing an injury.
Nonetheless, the Polyurethane fragment is assessed to be the quickest developing section during the gauge time frame 2021-2030, inferable from its properties as they are expanded by volume, as opposed to pressure. They can extend 100 percent to 800% and are much of the time utilized in applications that expect inflatable to adjust to or impede the life structures completely.
Application Insights
The quantity of cardiovascular illnesses has been seeing an ascent, alongside developing instances of cardiology mediation techniques around the world. A few legislatures are giving repayment backing to individuals experiencing vascular illnesses. There has likewise been a climb in medical services use. These elements could lean toward the interest in angioplasty catheters. Furthermore, the presentation of cutting-edge expands catheters and an expansion in research subsidizing for the improvement of multi-practical inflatable catheters will drive market patterns. As indicated by the World Health Organization, coronary illness is the main source of death around the world, representing generally 17.9 million passing each year. Cardiovascular failures and strokes represent four out of each five passing brought about by coronary illness.
In case it wasn't already obvious, 33% of fatalities happen in individuals younger than 70. Hypertension, cholesterol, and hyperglycemia are factors that put individuals in a high-risk zone for coronary illness. Besides, these elements are projected to support the deals of angioplasty catheters. Expanded interest in less intrusive medical procedures and send-off of imaginative heart techniques will drive the market forward.
End-User Insights
Deals of ordinary inflatable catheters for clinics are supposed to show the quickest extension through 2031, in light of the end client. Clinics will stay the biggest end clients of typical inflatable catheters all through the figure period. Development of this portion is being driven by developing the occurrence of persistent illnesses and rising interest for proficient and powerful medical procedures with more limited recuperation times and more limited clinic stays. Accessibility to cutting-edge innovations as well as the prerequisite for negligibly obtrusive surgeries is both driving interests for ordinary inflatable catheters in emergency clinics.
Regional Insights
As far as incomes, Europe will represent the biggest portion of the market during the gauge time frame. Income in the European territorial market is set to become 1.4X by 2030. Expansion in persistent mindfulness, straightforward admittance to imaginative medical care administrations, and developing interest in cutting-edge swell catheters are elements to consider for market development in the locale. Center around government spending, especially in research and advancement by central parts, are supposed to fuel interest for typical inflatable catheters in wandering careful focuses. Developing interest for polyurethane typical inflatable catheters in Canada and rising open doors for producers of ordinary inflatable catheters in Japan are making a huge commitment to worldwide market development possibilities for typical inflatable catheters.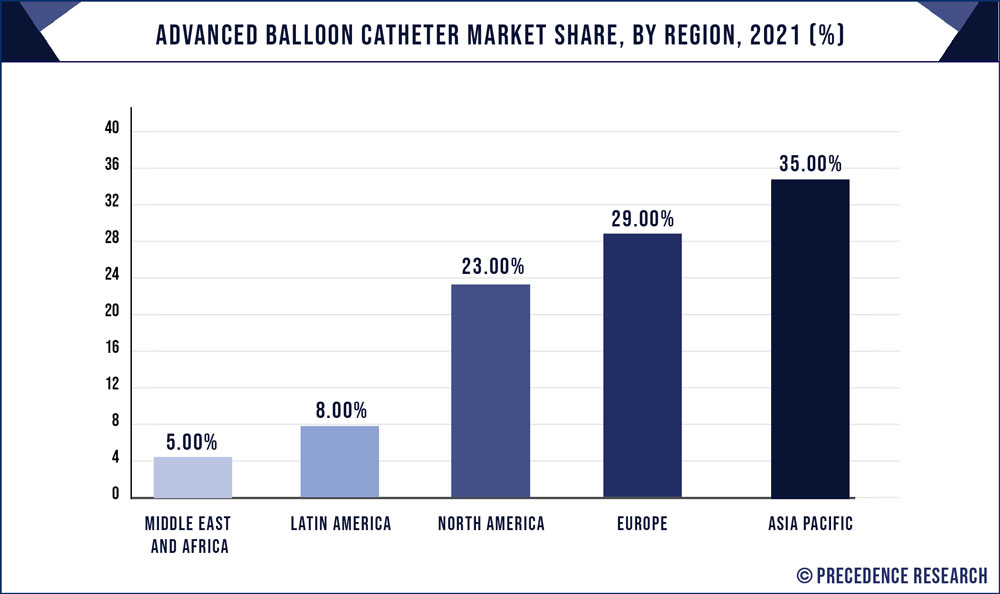 The U.S rules the worldwide market for typical inflatable catheters concerning income. The market is supposed to increment by 1.8X by 2030.The maturing populace, ideal FDA rules, development deals of typical inflatable catheters for cardiovascular catheterization labs, and ascending the frequency of diabetes are adding to advertising development in the country. Expanding government support for the clinical foundation the nation over and developing instances of heart failure and coronary course sickness have set out open doors for makers of typical inflatable catheters in the U.S.
Market development in China is supposed to be enhanced due by extending medical care spending and expanding the frequency pace of diabetes, coronary episodes, and other heart-related sicknesses. As per the World Health Organization (WHO), north of 110 Mn people in China had diabetes in 2016, with the figure expected to ascend to 150 Mn by 2040, putting an immediate connection between diabetes and cardiovascular sickness. In addition, development deals of polyurethane typical inflatable catheters, the presence of ordinary inflatable catheter producers in China, and ascend in negligibly obtrusive methodology are helping deals of typical inflatable catheters for coronary supply route illness in China.
Key Market Developments
In 2020, Johnson and Johnson sent off Cerenovus Stroke Solutions, which incorporates a set-up of three gadgets intended to help doctors in clump evacuation methodology.
In 2021, Pehnox laid out another element in the UK considering Brexit to fortify its impression in the critical business sectors across Europe.
Segments Covered in the Report
(Note*: We offer report based on sub segments as well. Kindly, let us know if you are interested)
By Raw Material Type
Nylon
PET (polyethylene terephthalate)
Polyurethane
Others
By Application Type
Coronary Procedures
Peripheral Procedures
Neurovascular Procedures
Other Procedures
By End User Type
By Geography
North America
Europe
Asia-Pacific
Latin America
Middle East & Africa (MEA)