The global advanced wound care market size was valued at USD 9.2 billion in 2021 and is predicted to surpass around USD 34.45 billion by 2030, developing at a compound annual growth rate (CAGR) of 15.8% from 2022 and 2030.
Key Takeaways:
In 2021, the North American advanced wound care market was accounted at USD 4.6 billion
In 2021, the North American region garnered 46% revenue share
By end user, the hospital segment accounted 46% revenue share in 2021
The home healthcare end user segment is projected to reach at a CAGR of 6.3% from 2022 to 2030
By application, the intense injuries segment representing 60% revenue share in 2021
The chronic wounds application segment is anticipated to reach at a CAGR of 5.7% over the forecast period
By product, the moist wound care segment accounted market share of around 61% in 2021
The antimicrobial wound care products segment is expected to grow at a CAGR of 6.1% from 2022 to 2030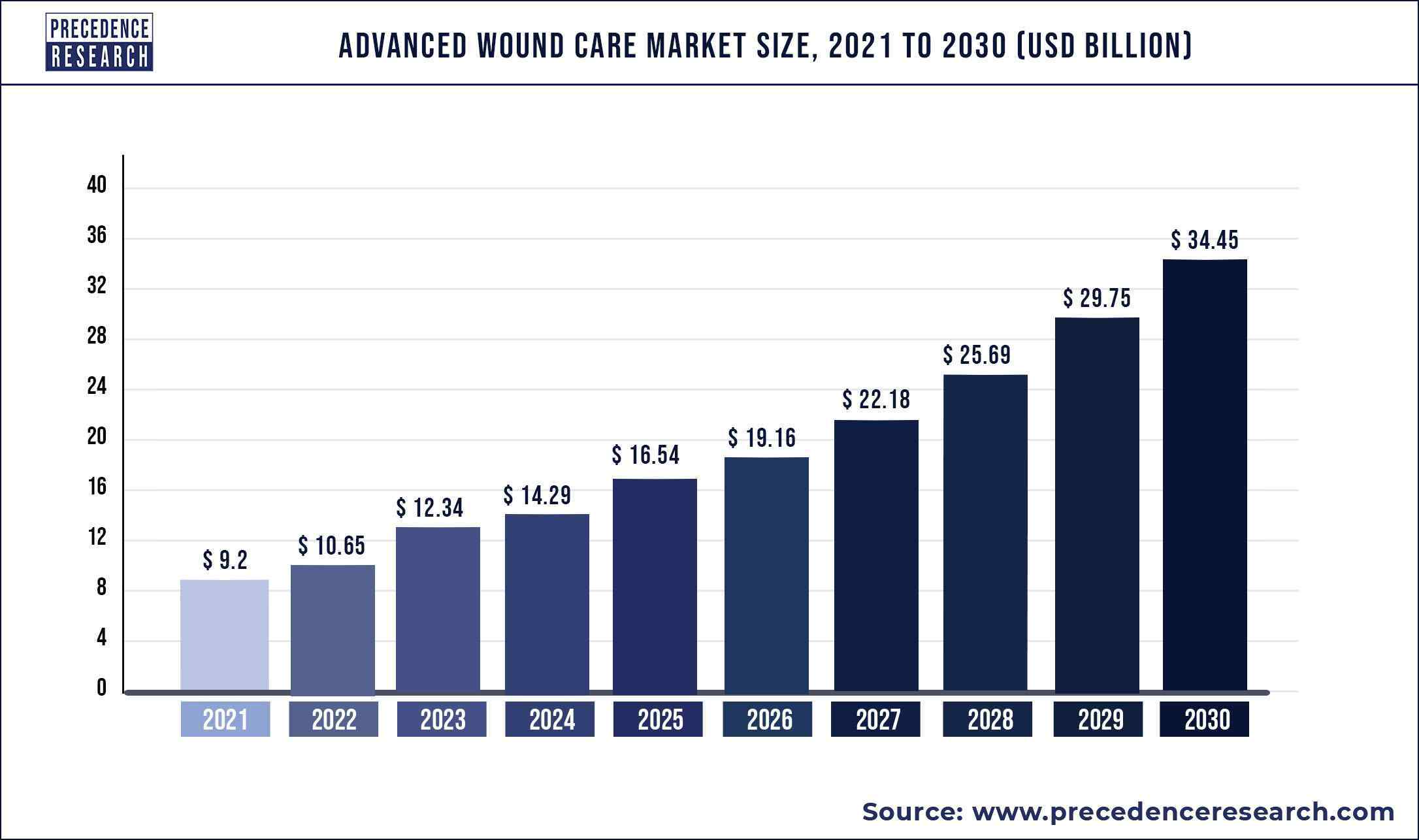 AWC items are expected to treat both intense and ongoing injuries. Continuous injuries take longer to heal and are more costly to insure. High-level injury treatment is becoming a typical therapeutic option for chronic injuries. Customary injury care arrangements are dynamically being supplanted by cutting edge wound care items because of their productivity and adequacy in injury the board by working with faster recuperating. They help in the support of a hydrated climate, the guideline of temperature, the progression of oxygen, the security of the harmed site from outer contamination, and the help of torment related with bandage change. Hydrogels, Hydrocolloids, alginates, film & froth bandage, and other high level injury care medicines are models. One of the essential viewpoints driving the flood popular for cutting edge wound care items is the rising event of constant wounds. Films, bandage, hydrocolloid, hydrogel and froth dressings are undeniably used to treat persistent wounds.
Growth Factors
Silver and alginates-containing progressed wound care arrangements are likewise used to eliminate abundance liquid from wounds and safeguard them from contamination. These things incorporate chemical like mixtures known as growth factors. These growth factors energize cell improvement and empower for quicker fix. Moreover, skin joins and biomaterials are used to fix and seal greater injuries that can't close all alone. High level injury care arrangements are novel things delivered to serve individuals experiencing wound-related issues like ulcers and diabetes. The ascent in sicknesses that consume a large chunk of the day to mend requires the utilization of further developed injury care items for better therapy. According to the International Diabetes Federation (IDF), in excess of 4.6 billion people matured 20 to 79 have diabetes universally, with this figure expected to move to 7 billion by 2045.
Diabetes is a persistent sickness that is known to cause confounded entanglements that don't regularly recuperate all alone and require a medical procedure. Diabetes-related heel sores, for instance, are regularly infectious, and patients might require removals. In such conditions, further developed injury care dressings and gear can assist patients with feeling improved. The expense trouble for the therapy of persistent and intense injuries on medical care frameworks in numerous countries is developing. Thus, the patient populace's requirement for financially savvy and clever fixes is developing constantly.
Diabetes-related heel sores cost an expected USD 9.2 billion to USD 13 billion in treatment in the United States alone every year, as per the National Institute of Health. This is intensified by the huge financial cost of treating venous leg ulcers and strain ulcers in the country every year. An improved exertion is being made to give new and modern answers for ongoing injuries, fully intent on giving successful and modest treatment to an enormous number of senior individuals.
Report Scope of the Advanced Wound Care Market
| | |
| --- | --- |
| Report Coverage | Details |
| Market Size by 2030 | USD 34.45 Billion |
| Growth Rate from 2022 to 2030 | CAGR of 15.8% |
| North America Market Share in 2021 | 46% |
| Intense Injuries Segment Market Share in 2021 | 60% |
| Base Year | 2021 |
| Forecast Period | 2022 to 2030 |
| Segments Covered | Type, Application, End User, Geography |
| Companies Mentioned | ConvaTec Inc., Smith & Nephew, MiMedx, 3M, Coloplast Corp, Tissue Regenix, Derma Sciences Inc., Mölnlycke Health Care AB, Organogenesis Inc., Integra LifeSciences |

Type Insights
In 2021, the advance wound dressings portion had most of the high level injury care piece of the pie. The less expensive expense of wound dressings and its extraordinary adequacy in injury exudate control are probably going to build its utilization. The dynamic injury care market is supposed to develop at a quick speed during the figure time frame as additional dynamic therapies, for example, skin unites and biologics, are utilized to treat hard to-recuperate constant injuries. The injury care gadget classification, then again, is anticipated to ascend at a significant CAGR during the conjecture time frame because of a rising number of market members sending off creative gadgets, like single-use NPWT, in the overall market. The therapeutic gadgets area might get the most piece of the pie by item.
Moreover, this classification is anticipated to create at the fastest speed all through the figure period, inferable from an expansion in ongoing sickness events like diabetes and weight, as well as an expansion sought after for new and modern injury care items. The persistent injury fragment can create more prominent cash through application. This is because of an expansion in the event of post-usable careful injuries, an expansion in the senior populace, more mindfulness and better finding, and mechanical turns of events.
The high level injury care market is partitioned into item, application, end client, and geographic portions. The industry is separated into four item classifications: contamination the executives, exudates the board, dynamic injury care, and restorative gadgets. Non-silver dressings, collagens and Silver dressings are the three sorts of contamination treatment dressings. Skin substitutes and development factors are two kinds of dynamic injury care. Negative tension injury treatment, hyperbaric oxygen hardware, electromagnetic treatment gadgets, and others are a wide range of restorative gadgets.
Application Insights
In 2021, the intense injuries segment accounted largest revenue share. Over the projection period, the classification is supposed to increment at a fast speed. The developing number of different awful injuries, like those supported in fender benders, is pushing the business. Moreover, the quantity of non-lethal wounds requiring clinical treatment has filled in the United States. As per CDC measurements, the rate of non-lethal injury was supposed to be 517,250 out of 2015, ascending to 534,600 out of 2017. Likewise, as per Brady United Organization, around 316 people are shot consistently in the United States, with 210 making due. The industry involves Diabetes-related heel sores, pressure ulcers, careful injuries, and others as signs. The rising worldwide pervasiveness of diabetes and the rising rate of Diabetes-related heel sores among diabetic patients are two fundamental reasons driving the fragment's predominance in 2020.
The National Health Institute appraises that the worldwide pervasiveness of Diabetes-related heel sores is generally 6.6%. Nonetheless, the recurrence is bigger in North America than in Asia, which has an impressively lower commonness. The careful injuries section is supposed to develop at a fast speed during the figure time frame attributable to a development in the quantity of careful tasks proceeded as well as an expansion in the predominance of careful site diseases among patients. Because of an expansion in the recurrence of intense injuries, the fragment is supposed to develop all through the projected period.
The constant injuries segment is anticipated to develop at the fastest pace of 5.6% all through the projection period. The classification is anticipated to create on the grounds that to an expansion in Diabetes-related heel sores, venous strain ulcers, and other constant injuries. As per the Agency for Healthcare Research and Quality, more than 2.5 million individuals in the United States get pressure ulcers every year. As per the NCBI, the rate of strain ulcers in a medical services setting can go from 4 percent to 38 percent. Moreover, as per the American Diabetes Association, expected 34.2 million individuals, or 10.5% of the in general U.S. populace, had diabetes in 2018.
End user Insights
The hospital sector dominated market with largest revenue share. The hospital segment was accounted at around USD 4.1 billion in 2021. This fragment's development can be connected to an ascent in careful tasks as well as an expansion in emergency clinic confirmations. As per the Australian Institute of Health and Welfare, for instance, the quantity of hospitalizations in Australia has developed. In Australia, for instance, 11.1 million individuals were hospitalized in 2019 to 2020. Subsequently, the expanded number of medical clinics and hospitalization rates are probably going to help market development all through the projection period. Essentially, a development in the quantity of techniques performed all through the world is supporting the market's force. The industry is partitioned into end-client fragments like medical clinics, centers, home consideration settings, and others.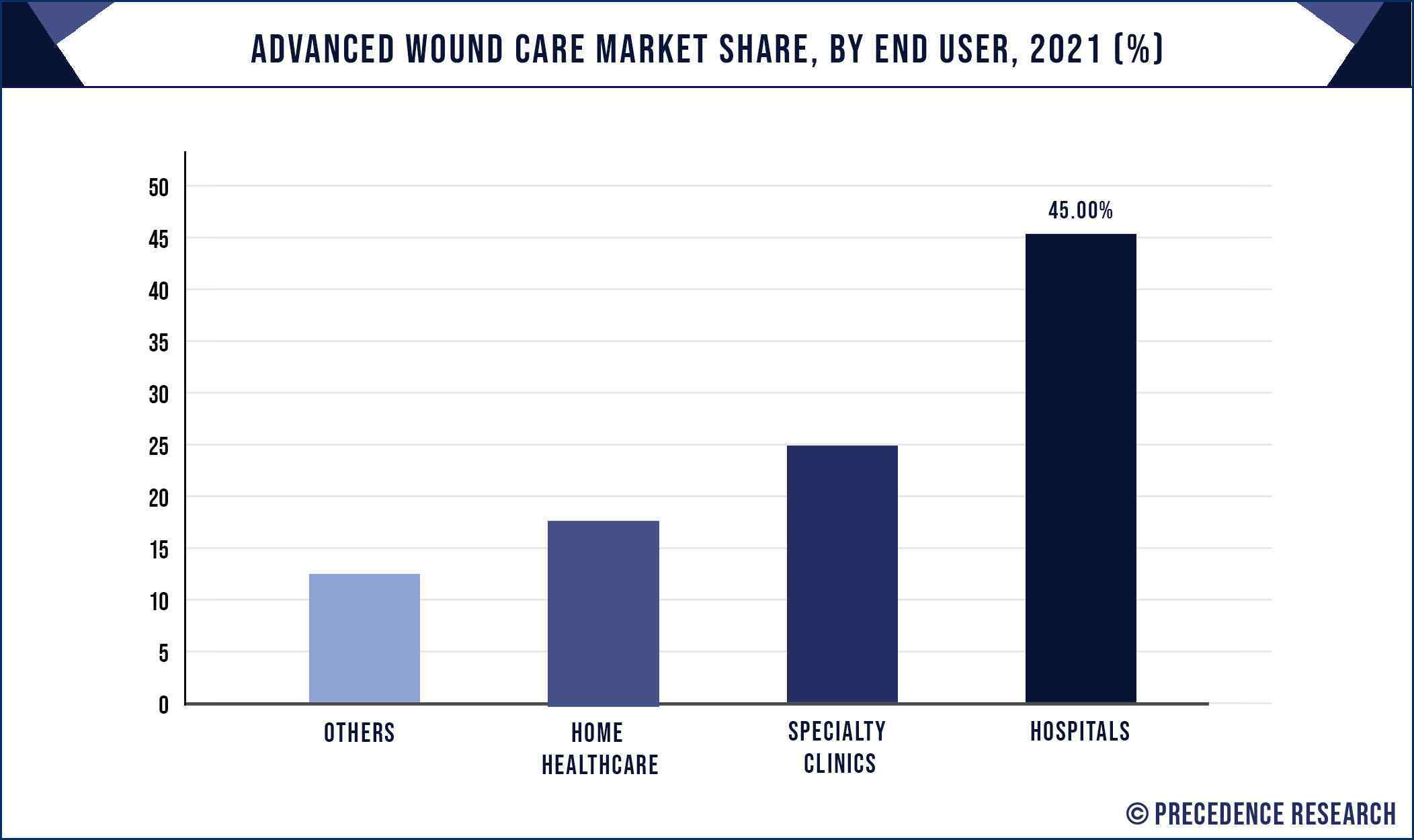 In the next few years, medical clinics might have a huge piece of the pie. The strength is because of higher medical clinic stays for people with intense or ongoing injuries. Because of an increment of independent facilities in arising and created countries, the centers classification is anticipated to show a breathtaking CAGR over the figure period. During these difficult stretches, one of the most outstanding administrations open at your entryway is home medical services. Moreover, because of the rising inclination shift of patients from clinics to home consideration settings, the home consideration settings area might encounter huge increment toward the finish of the projection time frame.
Geography Insights
Reception is anticipated to build on the grounds that to the rising recurrence of intense and constant injuries, as well as the more noteworthy therapy costs related with pressure ulcers, Diabetes-related heel sores, and careful injuries. As per the Agency for Healthcare Research and Quality, the all out clinical expense for the administration of tension ulcers in the United States ran between USD 9.1 to USD 11.6 billion every year. Besides, North America's predominance in this industry is because of the accessibility of satisfactory repayment regulations in the United States and Canada.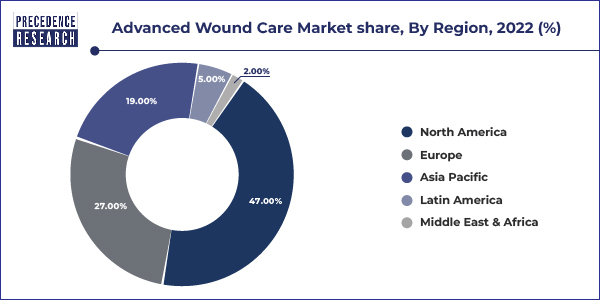 The European market is expected to make at an amazing compound annual growth on account of extended data on the availability of steady injury treatment and creating revenue for these drugs. Because of rising per capita clinical consideration spending, the Asia Pacific market is likely going to rise rapidly. Plus, market individuals in this space are making tremendous purposes, which will uphold revenue for refined injury treatment things. Since to it's under penetration, Latin America and the Middle East and Africa addressed an on a very basic level lower slice of the pie.
Key Market Developments
MIMEDX presented EpiCord Expandable, a placental tissue relocate, to the market in September 2020. This allograft's clever shape permits medical care experts to conceal to twofold the surface and is intended to satisfy the needs of patients with greater, persistent, and challenging to-recuperate wounds.
Smith and Nephew declared the send off of the PICO 14 single utilize negative strain wound treatment framework in the United States in March 2020, with a siphon span of as long as 14 days. This new siphon integrates the highlights and advantages of prior PICO sNPWT frameworks, as well as a refreshed siphon that requires less human contribution.
Key market players
ConvaTec Inc.
Smith & Nephew
MiMedx
3M
Coloplast Corp
Tissue Regenix
Derma Sciences Inc.
Mölnlycke Health Care AB
Organogenesis Inc.
Integra LifeSciences
Segments covered in the report
(Note*: We offer report based on sub segments as well. Kindly, let us know if you are interested)
By Type
Infection Management

Silver Wound Dressings
Non-silver Dressings
Collagen Dressings

Exudate Management

Hydrocolloids Dressings
Foam Dressings
Alginate Dressings
Hydrogel Dressings

Active Wound Care

Skin Substitutes
Growth Factors

Therapy Devices

Negative Pressure Wound Therapy (NPWT)
Oxygen and Hyperbaric Oxygen Equipment
Electromagnetic Therapy Devices
Others
By Application
Chronic Wounds

Pressure Ulcers
Diabetic Foot Ulcers
Venous Leg Ulcers
Arterial Ulcers

Acute Wounds

Burns & Trauma
Surgical Wounds
By End User
Hospitals
Specialty Clinics
Home Healthcare
Others
By Geography
North America
Europe
Asia-Pacific

China
India
Japan
South Korea
Malaysia
Philippines

Latin America

Brazil
Rest of Latin America

Middle East & Africa (MEA)

GCC
North Africa
South Africa
Rest of the Middle East & Africa