The global energy measurement IC market size was valued at USD 5.14 billion in 2022 and is projected to hit around USD 11.56 billion by 2032, growing at a CAGR of 8.5% over the forecast period 2023 to 2032.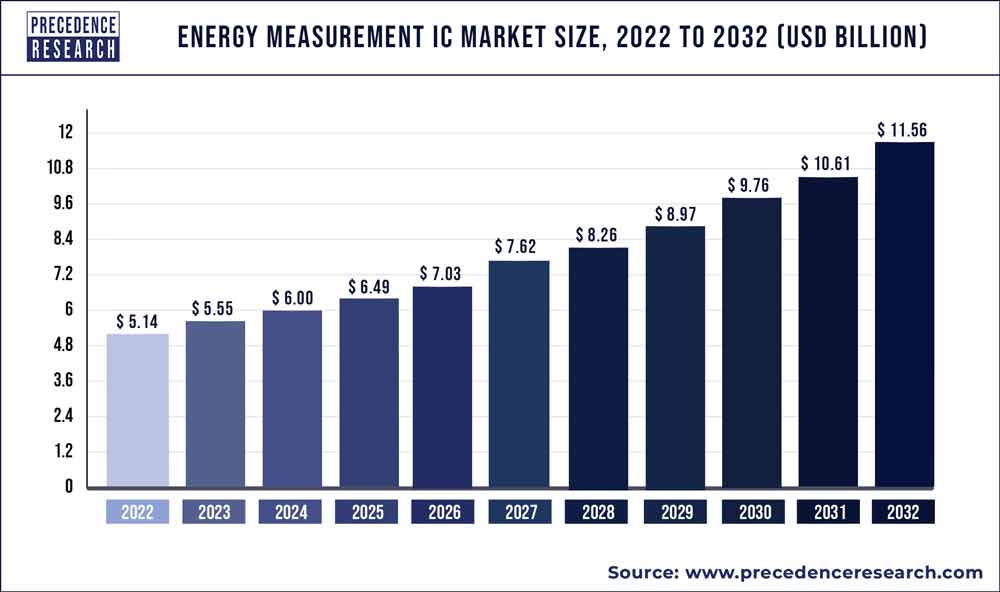 Access our Premium Real Time Data Intelligence Tool, Visit: Precedence Statistics
Key Takeaways:
Asia Pacific generated more than 40% of the revenue share in 2022.
By Phase, the polyphase market segment is expected to record the maximum market share between 2023 and 2032.
By Application, the solar inverters segment is predicted to contribute the largest market share and is expected to expand at the fastest CAGR between 2023 and 2032.
Market Overview:
Energy measurement is the measuring of energy usage that is used to gauge customer demand and aid in improved energy management. Modern energy measurement technology has led to the replacement of traditional utility meters. Intelligent management is becoming more and more necessary as the demand for high-precision electrical metres from various applications, such as the commercial or manufacturing industries, rises. It has become more necessary for energy calculation ICs to be intelligent enough to calculate the whole amount of electrical power used.
Growth Factors:
Rising levels of investment in the development and innovation of energy measurement technology, rising levels of demand for high accuracy electric metres from a variety of applications, including commercial and manufacturing industries, rising adoption of smart appliances, rising numbers of government regulations for energy use, and rising preferences for the use of smart meters, which record electric energy consumption and transmit the information to the supplier.
On the other hand, rising trends in energy measurement to calculate reactive energy measurement, power quality monitoring, and multi-tariff billing along with increasing adoption of new and advanced technologies that offer various features in energy metres including measurement and monitoring will further contribute by generating massive opportunities that will lead to the growth of the active energy measurement integrated circuits (ICs) market in the aforementioned.
Report Scope of the Energy Measurement IC Market:
| | |
| --- | --- |
| Report Coverage | Details |
| Market Size in 2023 | USD 5.55 Billion |
| Market Size by 2032 | USD 11.56 Billion |
| Growth Rate from 2023 to 2032 | CAGR of 8.5% |
| Largest Market | Asia Pacific |
| Base Year | 2022 |
| Forecast Period | 2023 to 2032 |
| Segments Covered | By Phase and By Application |
| Regions Covered | North America, Europe, Asia-Pacific, Latin America and Middle East & Africa |

Market Dynamics:
Driver:
Growth advancements in smart electricity meters driving the global energy measurement ic market
Through the incorporation of renewable energy sources like wind and solar, the energy sector has advanced technologically. Among the new issues for the energy sector are the bidirectional flow of energy, intermittent generation from renewable sources, unequal distribution of electrical power, and noise pollution on power lines. The resilience of the network may be impacted by these difficulties. In order to ensure continuous and high-quality service to end customers, energy distribution companies are deploying smart metres to enable real-time network diagnostics and quick issue diagnosis. This is stimulating the global market for smart plugs and meters.
A smart electricity meter can track electricity use and gather data on the calibre of the power being supplied, making it a crucial component of the energy distribution network. For instance, it can measure frequency fluctuations, reactive energy, total harmonic distortion, harmonic content, and voltage transients and surges. Smart metres can track the health of the meter, do away with the need for intervention in times of true failure, and stop fraud.
The highest precision can be achieved by using energy metering ICs to measure active energy (kWh), apparent energy (KVA), reactive energy (KVAR), RMS, and power quality in single phase and polyphase revenue meters. Thus, the increased use of smart meters is fueling the growth of the energy-measuring IC industry.
Restraint:
High cost
The cost of manufacturing and purchasing energy measurement ICs is one of the primary restraints the market is facing. These ICs are intricate electronic components that demand specialised manufacturing techniques and supplies, which raises the cost of production. Additionally, the design and development of these ICs frequently necessitate a sizable expenditure in R&D, which might raise the entire cost of the goods. Energy measuring ICs may not be as affordable for smaller businesses and consumers, which may reduce the market potential for these goods.
As a result, larger organisations with more substantial resources have played a major role in driving the adoption of energy measurement ICs. The price of energy measuring ICs can be impacted by market demand and competition in addition to manufacturing expenses. Due to the lack of competition, costs may continue to be high as the market for energy measuring ICs is still quite tiny.
The market may grow more competitive as more businesses enter it, though, increasing the availability of energy measurement ICs to a wider spectrum of consumers. Furthermore, the high price of energy measurement ICs may prevent their use in developing nations where cost sensitivity is crucial.
Opportunity:
Growing need for energy-efficient solutions
The market for energy measurement ICs is presented with a sizable potential by the growing need for energy-efficient solutions. Energy-efficient solutions can assist in reducing energy usage, which is advantageous for the environment and for lowering consumer energy prices. By providing precise measurement and monitoring of energy usage, energy measurement ICs play a significant role in enabling the development and deployment of energy-efficient systems.
The market for energy measuring integrated circuits (ICs) is anticipated to rise as governments and organizations around the world embrace laws and efforts targeted at lowering energy consumption. For instance, the Energy Efficiency Directive in the European Union mandates that member states achieve energy savings of 32.5% by 2030. The US Department of Energy has similarly set a target of a 30% energy usage reduction by 2025. Demand for energy-measuring ICs is also anticipated to rise as smart home technology and the Internet of Things (IoT) become more widely used.
Energy monitoring ICs can assist in tracking energy usage and offering insights into prospects for energy-saving measures as a result of the increasing number of connected devices in homes and companies. Demand response systems, which can assist utilities in managing peak demand and preventing energy waste, can also be developed with the aid of energy measurement ICs.
Energy measuring ICs have a chance due to the rising use of renewable energy sources like solar and wind power. Energy measurement ICs can assist in ensuring accurate measurement and monitoring of energy output and consumption as renewable energy sources become more prevalent. This knowledge is essential for maximizing the use of renewable energy sources and making sure that there is a steady and reliable supply of energy.
Impact of COVID-19:
The environmental measurement instrument and control (IC) market has been significantly impacted by the COVID-19 pandemic. The epidemic has disrupted supply chains, seriously slowed down project schedules, and decreased demand in some industries. Following are a few ways that COVID-19 has impacted the market for environmental measuring ICs
Decreased need for environmental surveillance: Environmental monitoring is in less demand as a result of the pandemic's impact on industrial operations. Due to a lack of funding, many businesses have put off projects or improvements to their monitoring systems.
Supply chain disruptions: The epidemic has seriously disrupted global supply chains, which has created delays in the delivery of equipment and parts for environmental assessment. Due to disruptions in the workforce and a lack of raw materials, several manufacturers have forced to reduce or stop operations.
Remote surveillance options: Many businesses are using remote monitoring technologies to track their environmental performance in light of travel limitations and social segregation policies. Due to this, the demand for remote monitoring technologies such sensors and wireless communication systems has increased.
Increased focus on air quality: The epidemic has raised public health awareness of the importance of air quality. As a result, technology and systems for detecting air quality have gained popularity.
Government-funded stimulus programmes: Many governments throughout the world have released stimulus plans to aid businesses during the pandemic. The fact that some of these packages contain funding for environmental monitoring and pollution control measures has contributed to the persistence of demand in the market for environmental measurement ICs.
Segments Insight:
Phase Insights:
The worldwide energy measurement IC market has been divided into single phase and polyphase categories based on phase. In 2022, the polyphase market category accounted for a maximum share of the overall market. It is the market for energy measurement IC that is expanding the fastest. A polyphase system consists of two or more voltages that have the same amplitude and frequency and are offset from one another by an equal electrical angle. Electricity metres with several phases are frequently used in commercial and industrial settings.
Energy measuring ICs for polyphase metres provide utility businesses with unrivalled digital precision and dependability as well as a configurable platform. As a result, utilities find it simpler to provide their sophisticated automated metre reading (AMR) systems to their low- and mid-tier commercial customers.
Application Insights:
The smart plug, energy meter, solar inverter, smart power distribution units (PDU), street lighting, EV charger wall boxes and other application segments make up the worldwide energy measurement IC market. In 2022, the solar inverters market share was dominant. Throughout the forecast period, it is anticipated to increase at the fastest CAGR.
The environment and energy security are being negatively impacted by a significant growth in energy usage. The need for alternative energy sources like solar has been growing as a result. In solar energy networks, smart energy metres are crucial. Utility companies and end users can communicate with smart energy meters to exchange specific information about how energy is used and the state of the energy network. They can also gauge the flow of energy. Energy conservation Smart metre ICs can be utilised for applications like energy demand management and grid-connected distributed photovoltaic power cabinet power monitoring.
Regional Insights:
Due to the presence of major industry players and technological breakthroughs, Asia Pacific held the highest share of the worldwide energy measurement IC market in 2022. Energy measuring IC producers have significant potential in China, India, and Japan. China has the biggest amount of smart meter installations, which helps it to dominate the industry in the Asia Pacific. The nation is making large investments in the electrical grid industry. Between 2021 and 2025, it intends to invest around US$ 896 billion in electricity growing due to increased investment in smart grid and smart city initiatives, as well as an increase in data centres and IT hubs.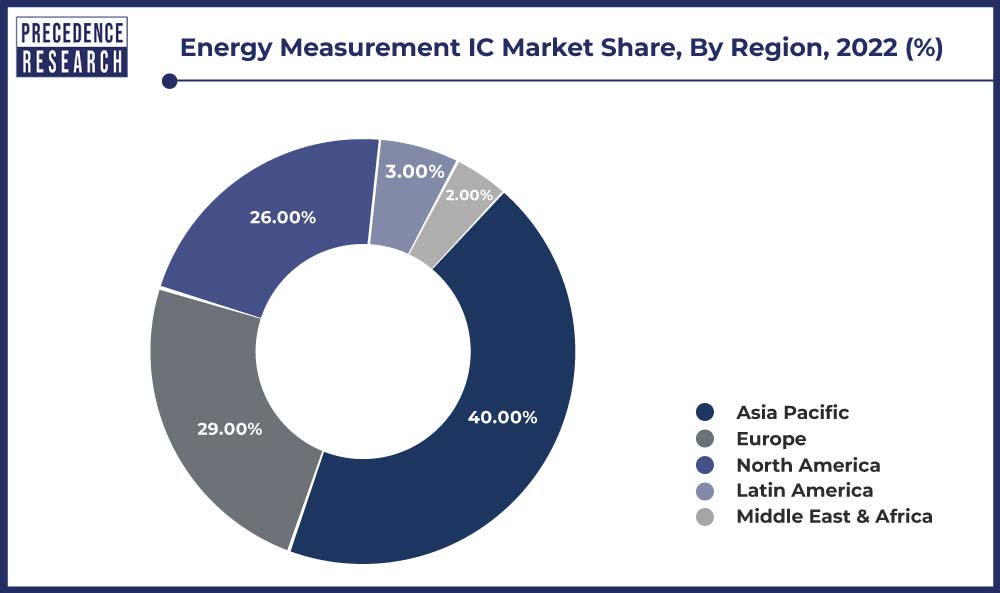 Due to the quick rise in smart meter installation in these regions, the market in Europe and North America is also expanding considerably. While 42% of UK meters are now smart or advanced meters, over 75% of US households have smart meters. Therefore, the energy measurement IC market in these regions is being driven by expansion in the electricity meters (smart meters) industry.
Recent Developments:
Cirrus Logic, Inc. and Lion Semiconductor, based in California, agreed to a contract in July 2021 to buy each other for US$ 335 million in cash. For tasks that use little power and quick battery charging, Lion Semiconductor creates power and management ICs. Cirrus Logic, Inc. will have the chance to increase its mixed-signal capabilities in new markets and promote innovation in sectors like the power industry as a result of the acquisition of Lion Semiconductor.
The energy metering IC ADE9153A with auto-calibration capability for single-phase energy measuring applications was introduced by Analog Devices, Inc. (ADI) in July 2018.
Key Market Players:
Arch Meter Corporation
Analog Devices, Inc.
Microchip Technology Inc.
Cirrus Logic, Inc.
Renesas Electronics Corporation
NXP Semiconductors N.V.
Shenzhen Heliwei Technology Co., Ltd.
Shanghai Belling Corp., Ltd.
Texas Instruments Incorporated
STMicroelectronics N.V.
Segments Covered in the Report:
(Note*: We offer report based on sub segments as well. Kindly, let us know if you are interested)
By Phase
By Application
Smart-Plugs
Energy Meters
Solar Inverters
Smart Power Distribution Units
Street Lighting
EV Charger Wall Boxes
Others
By Geography
North America
Europe
Asia-Pacific
Latin America
Middle East and Africa