The global esoteric testing market size was estimated at USD 27.46 billion in 2022 and is expected to hit around USD 75.54 billion by 2032 and is poised to grow at a compound annual growth rate (CAGR) of 10.70% between 2023 to 2032.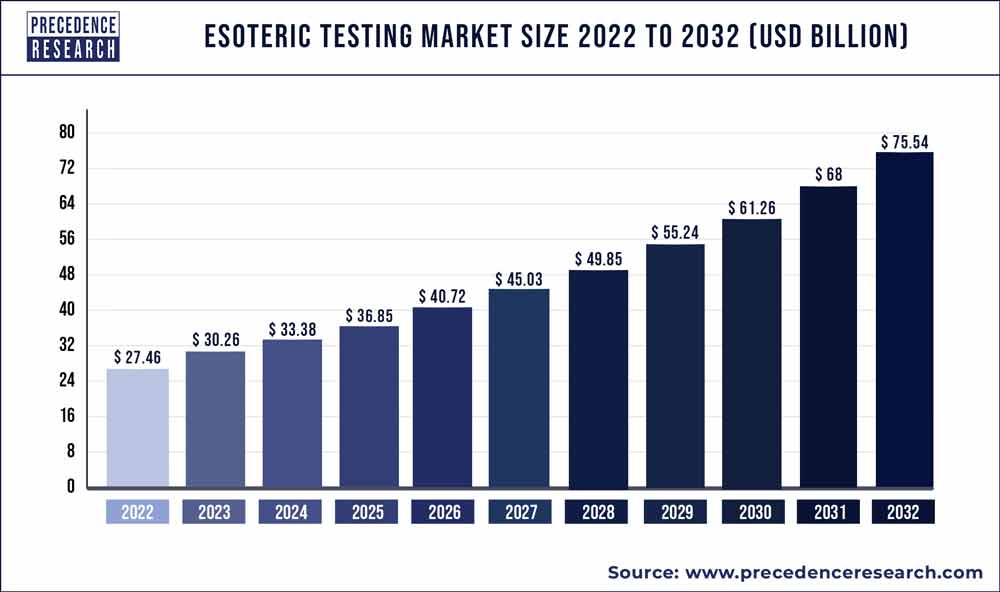 Access our Premium Real Time Data Intelligence Tool, Visit: Precedence Statistics
Key Takeaways:
North America region was highest revenue holder in 2022.
Infectious disease testing segment contributed highest share 32% in 2022.
Based on technology, the chemiluminescence immunoassay (CLIA) segment accounted highest share in 2022.
By teste type, endocrinology segment held revenue share of 20% in 2022.
By technology, ELISA segment was vaealthcarlued at USD 6.2 billion in 2022.
North America esoteric testing market is expected to grow at a CAGR of 7% from 2023 to 2032.
Esoteric testing enables the examination of uncommon substances or compounds that are typically not studied in a medical lab. Large commercial laboratories frequently contract out challenging testing to standard and specialist testing centers. Therefore, as diagnostic test technology progresses, tests that are currently thought to be esoteric may end up being commonplace in a short period. Committed research & development professionals usually produce this. These tests are requested by doctors when they require more detailed information than routine lab testing to finish a diagnosis, determine a prognosis, or select and track a treatment plan.
Esoteric testing frequently requires the use of sophisticated tools and equipment, as well as skilled personnel to conduct the test and analyse the results. Generally speaking, these tests are much more significant and performed more regularly than standard tests. Esoteric testing includes, for example, tests in endocrinologists, genetics, immunological, microbiological, molecular techniques, cancer, serological tests, and toxicology. The field of clinical techniques is the one within esoteric clinical studies that is expanding the quickest. Finding medical technologists with the requisite training and paying employees the higher wages that respective skill sets require are two issues faced by labs that perform such procedures. Furthermore, the materials needed for these tests can be costly, especially as they are infrequently purchased in sufficient quantities to be eligible for the economy of scale.
Allergy, platform pathologists for complicated anatomic abnormalities, indicators for bones, genetic analysis, HLA genotyping, autoimmune response functional assays, and environmental toxicological are just a few of the competencies that are accessible in the labs that do these tests. Among the institutions that perform these procedures in the U. S. are Architects Facility, Mayo Healthcare Laboratory, Analysis and information Corporation, and Medical Corporations of America, as well as an increasing number of specialized esoteric testing centers that provide proprietary esoteric assays. Examples of such specialty testing lab businesses are Myriad Genomics, Genetic Healthcare, and Basis Medicine.
Growth factors
Globally, the major objective of healthcare practitioners is to add value to patients and provide high-quality medical treatment. Health care organizations are eager to adapt their business models, offer their services for fair prices, and concentrate on enhancing patient health. This has caused a significant focus on outsourcing complicated clinical tests, which has contributed to global growth trends in the obscure diagnostics market. It is more probable also that the industry is expected to grow considerably within the next decade as a result of the numerous specializations seen in the medical field as well as the wide variety of application areas of esoteric testing from across domains of serological testing, pharmacology, bacteriology, diagnostic tools, genetics, cardiology, immunology, and forensic science.
The necessity need personalized genomics technologies in healthcare has extended the reach of forecasting and analyzing medication responses, pharmaceutical expansion, and the increasing prevalence of diseases. Furthermore, the industry's expansion would be constrained in the predicted timeframe by strict laws and a lack of expertise in emerging markets. In turn, this will neutralize the adverse effects of the obstacles to the economic surge during the following few years. These tests are carried out after additional details outside of regular laboratory tests are needed for an accurate diagnosis of a condition, to create a forecast, or to choose and oversee a therapy course of action. Because esoteric analysis uses complicated machines and equipment, competent professionals are needed to test the study hypotheses and analyze the data.
High price, the testing will be carried out by specialized and autonomous medical research facilities. The size of the specialized market studied will be driven by the increase in complex disorder occurrences and awareness campaigns for these diseases' early detection and treatment. In addition, third-party telecommunications companies have placed a focus on improving the efficiency of their global supply chain, assuring that healthcare units have only access to systems. The growth of the specialized testing sector will be hampered by a scarcity of expertise and a dearth of training programs on the subject for recent graduates.
Additionally, the expense of the materials required to conduct these tests results in externalities, further reducing the business's potential. In the coming years, the desire for specialized testing should increase due to the increasing frequency of highly contagious viral diseases including cancer, diabetes, and other similar conditions. Moreover, the development of esoteric research will be accelerated over time by technical developments like antidote mechanization, standardization of cutting-edge instruments, and analytic software. Business expansion will be aided by rising interest in pharmacogenomics as well as increasing funding for the creation of cutting-edge body identification testing methods.
Report Scope of the Esoteric Testing Market
| | |
| --- | --- |
| Report Coverage | Details |
| Market Size in 2023 | USD 30.26 Billion |
| Market Size by 2032 | USD 75.54 Billion |
| Growth Rate from 2023 to 2032 | CAGR of 10.70% |
| Base Year | 2022 |
| Forecast Period | 2023 to 2032 |
| Segments Covered | Type, Technology, End User, Geography |
| Companies Mentioned | ACM Global Laboratories (US), ARUP Laboratories (US)., Baylor Esoteric and Molecular Laboratory (US), BioAgilytix Labs (US), BP Diagnostic Centre SDN BHD (Malaysia), BUHLMANN Diagnostics Corp (BDC, US), Cerba Xpert (Belgium), Eurofins Scientific (Luxembourg), Flow Health (US), Foundation Medicine (US), Georgia Esoteric & Molecular Laboratory, LLC (US), H.U. Group Holdings, Inc. (Japan), Helius Limited (Australia), HealthQuest Esoterics (US), Kind star Global (Beijing) Technology, Inc. (China), Labcorp (US), Leo Labs, Inc. (India)., Mayo Foundation for Medical Education and Research (US), National Medical Services Inc. (NMS) (US), OPKO Health (US)., Quest Diagnostics (US), Sonic Healthcare Limited (US), Stanford Clinical Pathology (US), Thyrocare Technologies Ltd. (India) |

Type Insights
The business of esoteric testing was dominated by the industry that tested for infectious diseases. The entirety of the section's growth can be attributed to the rising incidence of chronic diseases, technological changes in clinical techniques, and improving health facilities in emerging nations. The genetic screening market stays estimated to expand at a rapid speed during the projection. The rapid expansion in the genotyping market can be attributed to developments in sequencing data like NGS as well as heightened understanding.
Because of an escalation in the frequency of infectious diseases, the expansion of healthcare laboratories, and improvements in molecular diagnostic technologies, the communicable diseases testing segment accounted for the largest in 2020 and is anticipated to maintain this tendency in during the projected period.
Furthermore, due to the rise in the frequency of genetic illnesses, the requirements increase for stem cell biology initiatives, and the rise in demand for sequencing frameworks, the genetic screening segment is anticipated to have significant market expansion throughout the forecast timeframe.
Technology Insights
This market for specialized screening was dominated by CLIA. Due to the rising prevalence of the immune disorder, diabetes, heart problems, and melanoma, as well as the progression of Research and innovation for product development and manufacturing events, the chemiluminescence enzyme-linked- linked immunosorbent assay segment held the largest share esoteric diagnostics industry in the next year and is anticipated to maintain this general pattern even during the forecast timeframe. Its benefits over some other testing techniques, which would include peak performance, sensitivity, and selectivity, needs in terms, of signal power strength, and two attributes, could be attributed to this company's sizeable share of the market.
The pervasiveness of communicable diseases like liver damage, AIDS, neurodegenerative problems, hemorrhagic fever, and melanoma is projected to rise even during the projected timeframe, along with the aging populations and the growing preference for affordable diagnostic testing services. Moreover, this same Generation sequencing region is predicted to experience significant growth throughout the estimated timeframe.
End User Insights
Individual and reference institutions make up a significant amount of the specialized market studied. The majority is caused by the increased testing volumes. Additionally, growth is being fuelled by the continuous automation technology of laboratory testing, the rise in the national accreditation board, the extent of payment covering, and the aggressive incentives provided by these suppliers. The sector is expanding as just a result of continuous diagnostic laboratory automation technology, an increase in independent labs, extensive insurance coverage, and aggressive incentives provided by all these suppliers.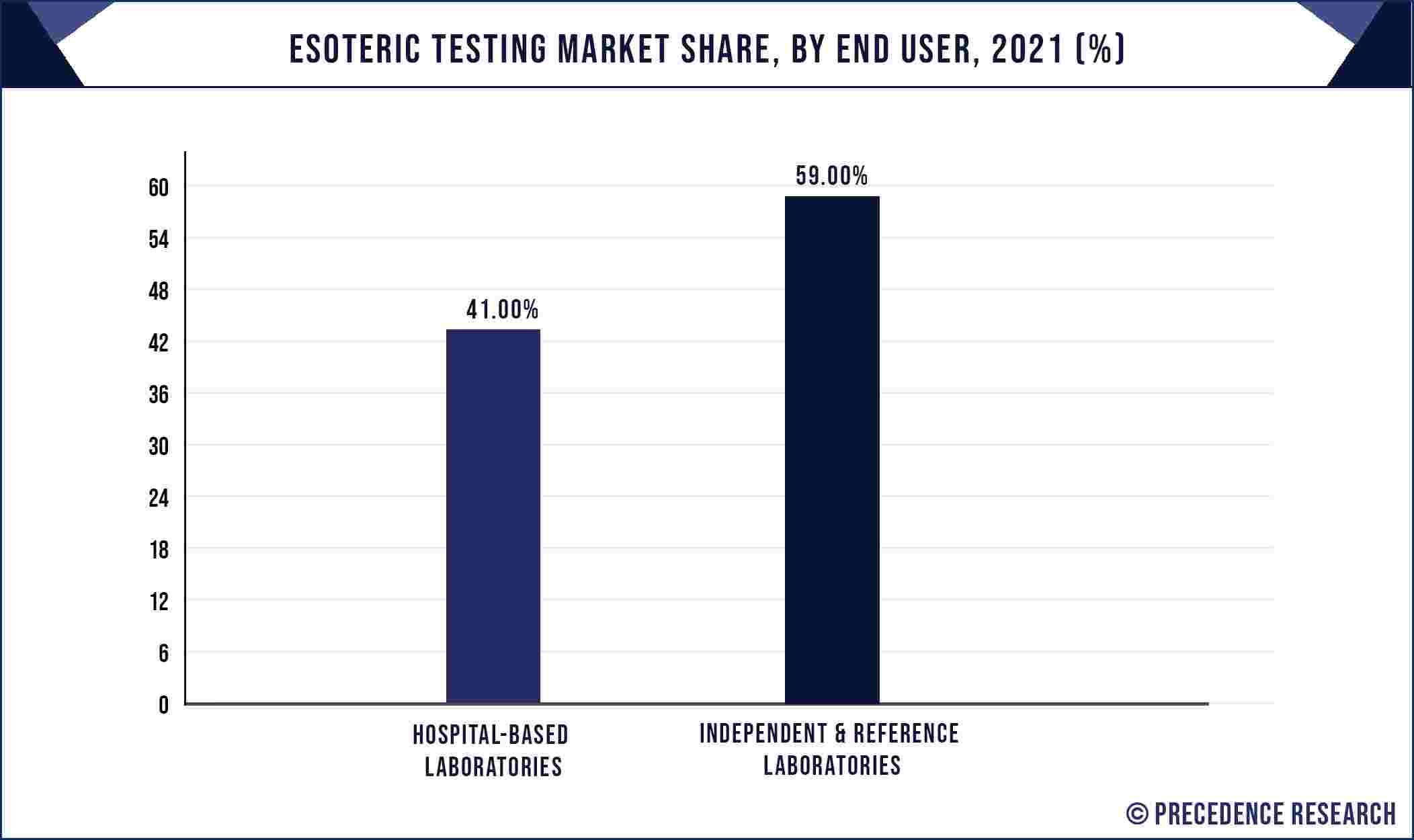 Due to increasing examination throughput, development in some programs, and a spike in the digitization of laboratory testing, the autonomous and comparison research facilities sector, which made it popular throughout 2020, stays estimated to uphold the situation tendency even during the projected timeline.
Furthermore, owing to the increase in long-term term illness frequency, advancements in clinical laboratories, and growing demand for preventative medicine, this healthcare research labs sector is estimated to have significant growth over the coming years.
Esoteric Testing Market Share, By Region, 2022 (%)
| | |
| --- | --- |
| Regions | Revenue Share in 2022 (%) |
| North America | 42.2% |
| Asia Pacific | 16.4% |
| Europe | 30.8% |
| Latin America | 6.6% |
| MEA | 4% |

Regional Insights
The biggest portion of the international market was controlled by the United States, which accounts for the largest share. This enormous global unit health spending, the sizable number of elderly and medical conditions such as diabetes clients, and the existence of top corporations in the area all contribute to North America's predominance. Due to an increased incidence of degenerative illnesses, growth in the screening procedures, and technical advancements in obscure screening, North America liberated the global market of exotic diagnostics throughout 2022 and therefore stays estimated to continue doing so during the projected timeline.
Moreover, due because of an increase in the incidence of degenerative illnesses, a start rising in policy measures for clinical testing, a massive rise in the supply of Enzyme-linked immunosorbent assay as well as RT-PCR tests, and an increased public understanding of the advantages of personality testing, India is predicted to have had the fastest growth from next upcoming year. The world's largest portion of the world market was in the United States, followed by the UK. The significant market percentage in the United States is likened to the nation's well-established obscure factors driving the growth, which is fueled by rising healthcare spending per person, the presence of major market players, growing utilization take effective measures, the nation's increasing prevalence, and indeed the development of personalized medicine.
Key market developments:
The autoimmunity operations segment of Myriad Genomics would be purchased by Labcorp, in May 2021.

Quest Laboratories and GRAIL partnered to develop Galleri, a ground-breaking complete blood count for the early diagnosis of several cancers In Feb 2021.

In the US, OPKO Healthcare Inc. (In addition to its core Laboratory) introduced Scarlett Healthcare in Jan 2021, a seamlessly engaged in-home testing platform.

H.U., in Mar 2019, Tokyo Chugai Pharma. and sourced from local Enterprises, a division of Group Acquired, collaborated.

ARUP Laboratory and PacBio confirmed their participation in research to boost the identification of uncommon diseases in Nov 2021, these have given the firm the ability to find cutting-edge paramount in ensuring and presenting corporate development opportunities.

Fulgent Genomics, Inc. reported in Aug 2021 that it will purchase CSI Laboratory to expand cellular molecular biology techniques and tumor detection. The business scope of the company has benefited from this transaction.
Key market players:
ACM Global Laboratories (US)
ARUP Laboratories (US).
Baylor Esoteric and Molecular Laboratory (US)
BioAgilytix Labs (US)
BP Diagnostic Centre SDN BHD (Malaysia)
BUHLMANN Diagnostics Corp (BDC, US)
Cerba Xpert (Belgium)
Eurofins Scientific (Luxembourg)
Flow Health (US)
Foundation Medicine (US)
Georgia Esoteric & Molecular Laboratory, LLC (US)
H.U. Group Holdings, Inc. (Japan)
Helius Limited (Australia)
HealthQuest Esoterics (US)
Kind star Global (Beijing) Technology, Inc. (China)
Labcorp (US)
Leo Labs, Inc. (India).
Mayo Foundation for Medical Education and Research (US)
National Medical Services Inc. (NMS) (US)
OPKO Health (US).
Quest Diagnostics (US
Sonic Healthcare Limited (US)
Stanford Clinical Pathology (US)
Thyrocare Technologies Ltd. (India)
Segments are covered in the report:
(Note*: We offer report based on sub segments as well. Kindly, let us know if you are interested)
By Type
Infectious Diseases Testing
Endocrinology Testing
Oncology Testing
Genetics Testing
Toxicology Testing
Immunology Testing
Neurology Testing
Other Testing
By Technology
Chemiluminescence Immunoassay
Enzyme-Linked Immunosorbent Assay
Mass Spectrometry
Real-Time PCR
Flow Cytometry
Other Technologies
By End User
Independent & Reference Laboratories
Hospital-Based Laboratories
By Geography
North America
Europe
Asia-Pacific

China
India
Japan
South Korea
Malaysia
Philippines

Latin America

Brazil
Rest of Latin America

Middle East & Africa (MEA)

GCC
North Africa
South Africa
Rest of the Middle East & Africa