The global fertility market was valued at USD 26.88 billion in 2020 and projected to reach USD 45.40 billion by 2027, at a noteworthy CAGR of 4.7% during the forecast period 2021 to 2027.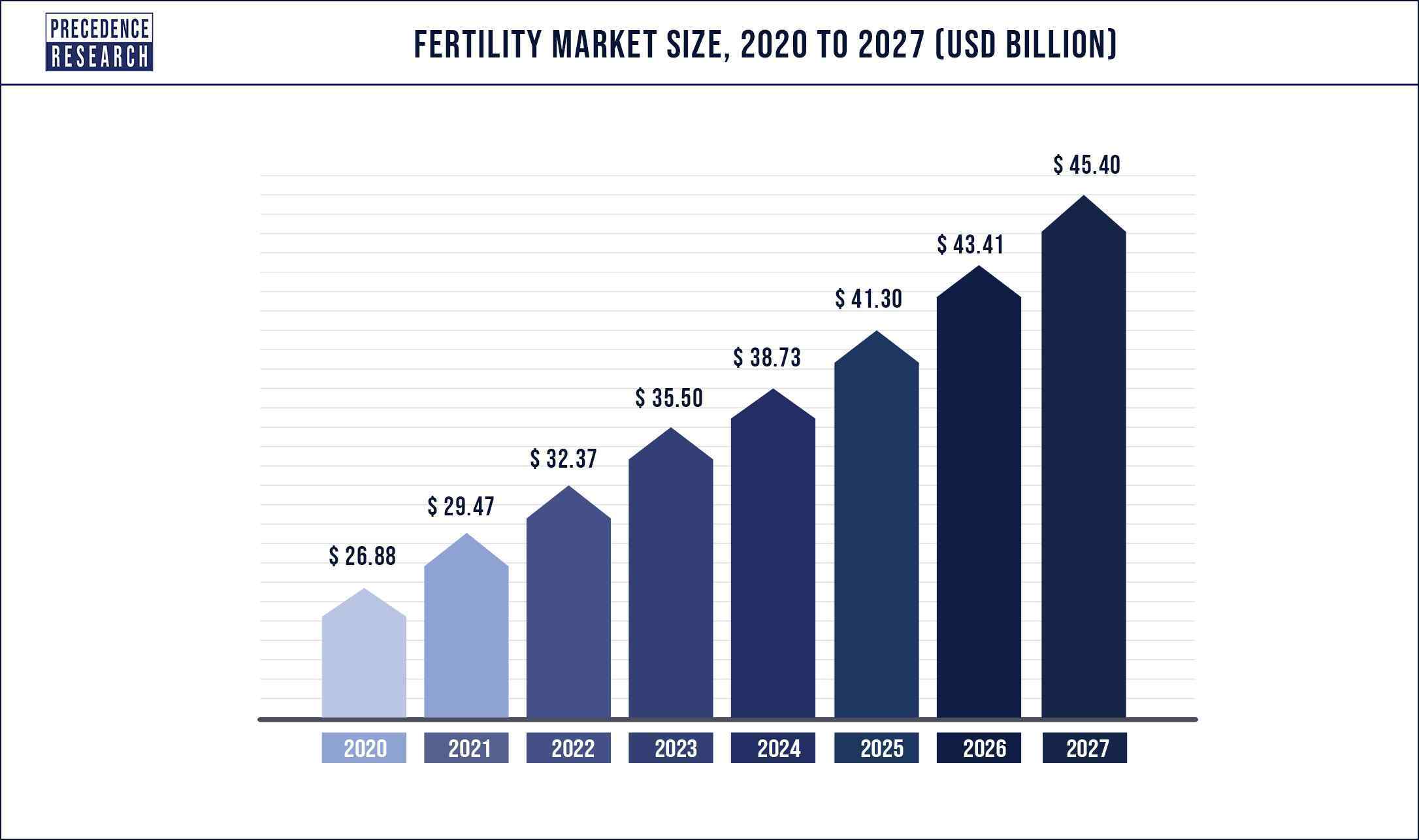 Access our Premium Real Time Data Intelligence Tool, Visit: Precedence Statistics
Key market Insights:
Research & developments are continually increasing in the healthcare industry for the infertility treatment which is expected to boost target industry growth in the near future. In the developed countries such as U.S and Canada the healthcare treatment, service costs are relatively high owing to availability of advanced healthcare infrastructure. Due to the ongoing healthcare technology advancements highly sophisticated tools and apps are used every day, around the globe. However, the emerging economies across the globe such as India, China are offering huge opportunities to the key operating players in the target market. Further, advancements in the healthcare infrastructure, coupled with growing medical tourism because of less costs of treatments are major factors boosting growth opportunities in the emerging economies, worldwide. Growth in the number of same-sex parents as well as solitary women selecting to have children has been exponential. All these factors are expected to boost growth and demand patterns for the global fertility industry in future.
Vital influences accountable for market growth are:
Declining fertility rates across the globe
Rising number of fertility clinics worldwide, coupled with technological advancements
Changing life style among the individuals across the globe
COVID-19 Impact on Global Fertility Market
The outburst of COVID-19 has affected most of the world's main markets, with no exception being the fertility market. For example, pregnant women do not appear to be at a higher risk of serious illness, according to data released by the WHO. In fact, in pregnant and non-pregnant women of reproductive age, the WHO notes that there is currently no established difference between the clinical forms of COVID-19. However, there is no information available about the precise effect of COVID-19 on fertility and abortion. The American Society for Reproductive Medicine released a guidance paper on fertility care during the COVID-19 pandemic, after considering the evidence relevant to COVID-19, calling for the termination of new treatment cycles, the cancellation of all embryo transfers and the suspension of elective surgery in March 2020. COVID-19, however, is increasingly resolving the situation and most companies are beginning their facilities at maximum capacity.
Report Scope of the Fertility Market
| | |
| --- | --- |
| Report Highlights | Details |
| Market Size | USD 45.40 Billion by 2027 |
| Growth Rate | CAGR of 4.7% From 2021 to 2027 |
| Base Year | 2020 |
| Historic Data | 2017 to 2020 |
| Forecast Period | 2021 to 2027 |
| Segments Covered | Offering, End user |
| Regional Scope | North America, Europe, Asia Pacific, Latin America, Middle East & Africa (MEA) |
| Companies Mentioned | Boston IVF Fertility Clinic, INVO Bioscience, San Diego Fertility Center, Celmatix, FUJIFILM IRVINE SCIENTIFIC, Carolinas Fertility Institute, Progyny Inc., Cook Medical, LifeGlobal Group (Cooper Surgical) |
Future of Global Fertility Market
Major companies of the global industry including Cooper Surgical and Cook Group are pointing towards commercial growth by adopting strategies like mergers and acquisitions, heavy investments in the manufacturing facilities that are predictable to flourish the global market growth in next few years. This trend is probable to continue and will augment growth of the target industry in the near future. For instance, in 2018, Cooper Surgical a leading player in the global industry acquired fertility business of Life Global Group. This has increased chances of a healthy pregnancies.
Segment Analysis:
The Assisted Reproductive Technology Segment Is Projected To Dominate the Offering Segment of Fertility Market Revenue
On the basis of offering the global market is segmented into three major types' assisted reproductive technology (ART), fertility drugs, and others. Fertility offerings involve different procedures utilized to treat genetic and fertility issues and assist with conception. The assisted reproductive technology offering global fertility market is segmented into In-vitro fertilization (IVF), surrogacy, artificial insemination and others. The Assisted Reproductive Technology (ART) segment is leading and expected to hold significant share in the forecast period.
Fertility Clinics Segment Is Predictable To Take over the End-user Segment of Fertility Market Revenue
On the basis of end user, the global market is segmented into four major types' fertility clinics, hospitals, and clinical research institute. The growth of this end-user segment has been driven by initiatives by regulatory bodies to upsurge the number of hospitals providing treatment of IVF and by growing number of surgical center. The clinical research institute segment is anticipated to grow at moderate CAGR of more than 3% over the forecast period.
North America is estimated to be the Largest Market for Fertility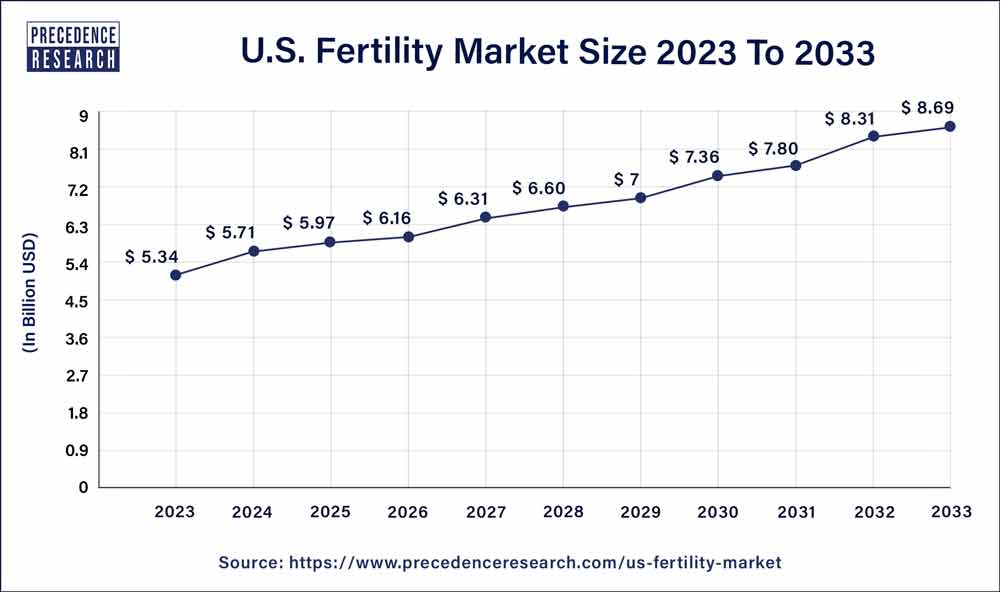 The study report covers key trends and prospects of fertility products across different geographical regions including North America, Europe, Asia-Pacific, Latin America, Middle East, and Africa. Geographically, fertility market is conquered by North America owing to due to the growing number of campaigns initiated by government and non-profit health care organizations such as Fertility Matters Canada to raise awareness of medications and fertility treatment. Such steps are also taken to empower people who cannot conceive to provide them with a forum to pursue their aspirations. In fact, well-developed healthcare infrastructure in North American countries is driving the rise of the target audience. Also, acceptance of technological advancements, increasing disposable income, presence of key operating players, and continued growth in developed economies like the U.S. are some among the major factors driving demand for the fertility industry in the North America. Asia Pacific fertility industry market is estimated to grow at noteworthy growth rate in the next 10 years. The China fertility industry market is anticipated to dominate in terms of revenue in the Asia Pacific region. Increasing the prevalence of obesity and chronic diseases and disorders in the countries of the region is a key driver of APAC market growth.The Brazil industry market is anticipated to dominate in terms of revenue in the region owing to growing population and increasing investment in the construction sector in the Brazil.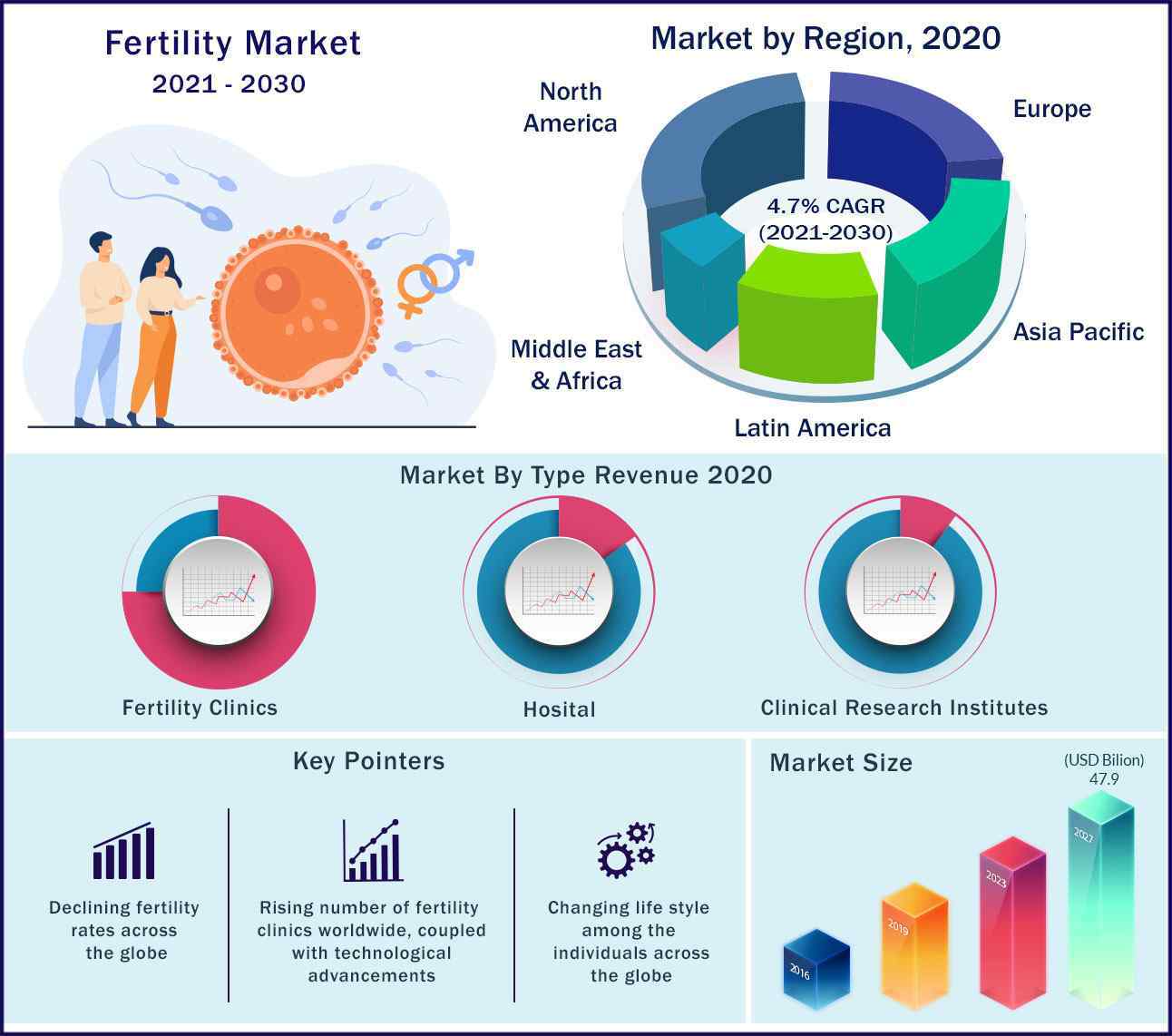 Top Players contending in the Market:
The companies focusing on research and development are expected to lead the global fertility market. Leading competitors contending in global fertility market are as follows:
Boston IVF Fertility Clinic
INVO Bioscience
San Diego Fertility Center
Celmatix
FUJIFILM IRVINE SCIENTIFIC
Carolinas Fertility Institute
Progyny Inc.
Cook Medical
LifeGlobal Group (Cooper Surgical)
For the better understanding the recent situation of the global fertility market and for most policies of the country, Precedence Research forecast the future evolution of the fertility industry. This research study offers qualitative and measureable insights on fertility market and valuation of market size and development trends for global market segments.
Key Market Developments:
In year 2020,Invo Bioscience, Trading pvt ltd, and Medesole healthcare, leading players worldwide came in to an agreement in order to operate dedicated invocell fertility clinics in the India.
In 2019, FUJIFILM Irvine Scientific a major player in the target industry introduced Vit Kit-NX for in vitro fertilization (IVF).
Major Market Segments Covered:
By Offering
Assisted Reproductive Technology

IVF
Artificial Insemination
Surrogacy
Others

Fertility Drugs

Gonadotropin
Anti-estrogen
Others

Others
By End user
Fertility Clinics
Hospitals
Clinical Research Institutes
By Geography
North America
Europe

Germany
France
United Kingdom
Rest of Europe

Asia Pacific

China
Japan
India
Southeast Asia
Rest of Asia Pacific

Latin America

Brazil
Rest of Latin America

Middle East & Africa (MEA)

GCC
North Africa
South Africa
Rest of Middle East & Africa