The global ferulic acid market size reached USD 68.61 million in 2022 and is projected to reach around USD 131.83 million by the end of 2032 and grow at a compound annual growth rate (CAGR) of 6.8% from 2023 to 2032.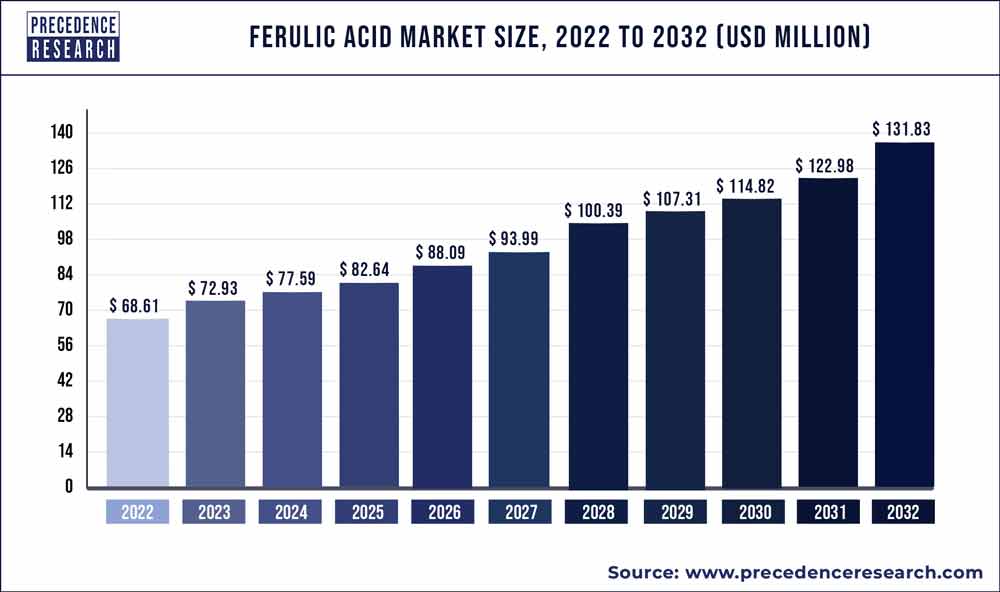 Access our Premium Real Time Data Intelligence Tool, Visit: Precedence Statistics
Ferulic acid is a naturally occurring molecule that may be discovered in plant cell walls and is a member of the hydroxycinnamic acid family. Ferulic is a powerful antioxidant that is an active substance (common natural phenol phytochemical). 4-Hydroxy-3-methoxy cinnamic acid is the chemical formula, and its molecular composition is C10H10O4. Because it is an effective free radical scavenger, ferulic acid has already been added to food to reduce lipid peroxidation. Large amounts of ferulic acid are removed from rice bran oil. Because ferulic acid is a potent antioxidant, it slows down the aging process by removing free radicals from the skin.
Additionally, ferulic acid assists to regenerate skin that has previously been overplayed to the sunlight and shields us from UV damage. Additionally, it improves the effectiveness and stability of both vitamin E and vitamin C. Due to developments in the pharmaceutical production industry, there has been an increase in demand for organic ferulic acid in that international market. Natural ferulic acid's advantageous characteristics have been a major factor in the expansion of the world market. Trans-ferulic acid, commonly known as natural ferulic acid, is obtained using rice bran.
Organic ferulic acid has an edge over other acids because of its capacity to prevent oxidation. As a result, it is anticipated that the global market for natural ferulic acid would generate considerable profits in the coming years. Natural ferulic acid could be used to reduce the harmful effects of various free radicals, and this is a major factor in driving market demand. Additionally, natural ferulic acid is used to stabilize vitamin E and vitamin C preparations. Natural ferulic acid has a variety of other qualities which have helped make it more well-known.
Report Scope of the Ferulic Acid Market
| | |
| --- | --- |
| Report Coverage | Details |
| Market Size in 2023 | USD 72.93 million |
| Market Size by 2032 | USD 131.83 million |
| Growth Rate from 2023 to 2032 | CAGR of 6.8% |
| Base Year | 2022 |
| Forecast Period | 2023 to 2032 |
| Segments Covered | Type, Application, Packaging, and Geography |
| Companies Mentioned | Ankang, Cayman Chemical Company, Inc., CM Fine Chemicals GmbH, Delekang, Healthful International, Hubei Yuancheng, Hunan Huacheng Biotech, Inc., Leader, Okayasu Co., Ltd., Oryza Oil & Fat Chemical Co., Ltd, Shanghai Bettersyn Biotech, Sisco Research Laboratories Pvt. Ltd., Suzhou Leader Chemical Co., Ltd., Tateyamakasei, Top Pharm Chemical Group, TSUNO CO., LTD., Xian App-Chem Bio (Tech) Co., Ltd., Yuansen, Zhejiang Delekang Food Co., Ltd. |
Growth Factors
This substance is essential in reducing the production of free radicals and improving the efficiency of different antioxidants including vitamins C, E, and A. Due to its effectiveness in fading age spots and wrinkles, it is frequently used as an anti-aging serum. Due to the increased popularity of dermal fillers and the expanding medical tourism industry, which offers numerous prospects for expansion, the worldwide anti-aging total market is anticipated to surpass in 2025. The market for natural ferulic acid should develop even faster because of increased affluence and rising stress levels brought on by fast-paced lives.
The use of organic ferulic acid in the processed food business should be encouraged by rising health consciousness and demographic changes. The size of the global processed food market exceeded in 2018 as a result of growing consumer awareness of food safety, which is a sign of enormous growth potential. Due to its antioxidizing properties, it is crucial for preventing heart disorders and decreasing cholesterol. Additionally, it is essential for avoiding bacterial infection and food deterioration. The growing market of packed baby food brought on by an increase in parents working and the rising popularity of natural baked goods should increase the market share of organic ferulic acid.
The market's expansion may be hampered by the potential for adverse reactions to ferulic acid due to pre-existing allergies to its demographics, including wheat, corn, and barley. This could cause redness, itchy rash, hives, and epidermal peeling. Upon inhalation, the substance may potentially induce breathing difficulties and exacerbate medical disorders like chronic bronchitis and emphysema. However, the majority of cosmetic producers make sure to use organic ingredients, which reduces these negative health consequences and should accelerate market growth.
Key Market Drivers:
Ferulic acid Is not toxic: Due to the non-toxic nature of this ferulic acid, demands in the international market for organic ferulic acid have been increasing. The fact that ferulic acid could be utilized with soy products, cereals, juices, and dried fruits is crucial in terms of market expansion.
Increasing use of canned meat: The demand for canned meat preservation has grown recently, which has benefited the international market for organic ferulic acid. Organic ferulic acid is suitable for use in this field because it is non-toxic.
Significant demand for naturally occurring ferulic acid: In the coming years, the market for pure ferulic acid is anticipated to grow significantly. This is a significant market development dynamic that has drawn the attention of well-known investors. The development of the international market has also been aided by the continuous sector of pharmaceutical testing and research. The demand for organic ferulic acid has recently increased dramatically due to the expansion of the chemicals sector. Investigating the developments of the abovementioned market sectors for pure ferulic acid on a worldwide scale is crucial. Knowing the growth rates of the worldwide ferulic acid market depends heavily on these sectors.
Key Market Challenges:
Most companies buying natural materials for cosmetics
The possibility of an allergic response to ferulic acid due to a history of hypersensitivity to its ingredients, such as barley, corn, and wheat, may restrain the market growth. A rash, peeling skin, hives, redness, and itching may result from this. The chemical can cause respiratory irritation and make conditions like emphysema and chronic bronchitis worse when breathed.
However, the majority of cosmetic manufacturers make it a point to use organic ingredients, which minimizes these harmful health effects and should support market growth.
Key Market Opportunities:
Creation of a unified pharmaceutical testing and research industry: The global market has grown as a result of the creation of a unified industry for pharmaceutical testing and research. Due to the expansion of the chemicals industry, the demand for natural ferulic acid has increased significantly on a global scale recently. The world's natural ferulic acid market has benefited recently from the rise in demand for canned preserved food.
Segmental Insights:
Type Insight
Ferulic acid can be found naturally throughout nature and is derived from plant leaves and seeds. Because of its conjugation to the cell membrane, it gives stiffness. Ferulic acid is created via biological reactions in plants. Commonly occurring commercial plants that contain ferulic acid include pineapple, oats, wheat, and rice. Additionally, it can be found in grasses, grains, flowers, and vegetables. The industry for ferulic acid as a whole is dominated by natural ferulic acid, which is anticipated to expand at a healthy rate throughout the projected period.
The two types of natural ferulic acid are called against form and sequence form. Against form is tinted white powder, whereas the Sequence form is yellow. Although synthesized ferulic acid is available on the market, it is not widely used globally. The chemical synthesis method is used to create synthesized ferulic acid, which is produced from rice bran oil and utilized extensively in the manufacture of cosmetics. Physical properties like antibacterial, antioxidant, anti-inflammatory, and hepatoprotective are displayed by synthesized ferulic acid. It is known that consuming ferulic acid from diet and medication can prevent heart and liver disorders. Currently making up the second-largest portion of all ferulic acid, synthesized ferulic acid is expected to experience rapid growth in the coming years.
Application Insights
By 2032, the world's natural ferulic acid industry from pharmaceutical formulations should expand by more than 6.7% due to rising medicine affordability and more public understanding of health issues. This chemical is frequently used to treat cancer, diabetes, and inflammation while also preventing microbial growth. It reduces sperm viability, protects against cardiac disease, and covers up the unpleasant flavors and odours of medications. Organic ferulic acid development should be accelerated by major economic growth, medical advancements, and manufacturing attempts to target the specialty disorders sector. Due to rising demand for ready-to-eat food products, the worldwide economy for natural ferulic acid used as a food preservative is anticipated to reach million in the anticipated timeframe. In addition to stabilizing natural oils in foods and preventing autoxidation, it also slows the growth of harmful bacteria like Staphylococcus aureus, E. coli, and bacillus subtilis. It is anticipated that increasing industrialization and rising consumer demand for longer-lasting food goods will speed category expansion.
In 2022, the market for natural ferulic acid used in cosmetics applications in the world was surpassed in part because of the growth of e-commerce and the negative effects of climate patterns on healthy skin. It improves the skin's absorption of vitamin C from personal care products and stops it from oxidizing. This chemical suppresses the production of melanin, which stops the skin from darkening by absorbing harmful UV rays from sunshine. The market for natural ferulic acid would continue to increase as demand for organic components and male acceptance of apparel products rise.
Ferulic Acid Market Share, By Region, 2022 (%)
| | |
| --- | --- |
| Regions | Revenue Share in 2022 (%) |
| North America | 29% |
| Asia Pacific | 37% |
| Europe | 23% |
| Latin America | 6% |
| MEA | 5% |
Region Insights
North America, led by Mexico, Canada, and the U.S., should experience growth of over 5.5%, primarily because of a rise in chronic conditions and growing public awareness of the importance of children's health. Along with lowering free radicals produced in muscles, this substance also enhances lipid profiles, decreases oxidative stress, and decreases cardiovascular disease risk. Increased demand for preventative healthcare, rising healthcare expenditures, and substantial technological advancements could all help to boost the organic ferulic acid industry growth in the area. Regarding the rise of novel medical procedures and personalized pharmaceuticals, the UK, and Europe, led by Germany, and France, outperformed in 2018. Alzheimer's disease, diabetes, atherosclerosis, cancers, and coronary heart disease can all be effectively treated with it. The market share growth for natural ferulic acid is expected to quicken due to rising biopharmaceutical adoption and the region's low tax and interest rates.
By 2032, the processed food market in the Asia Pacific, headed by India, Japan, and China, should surpass million due to rapid urbanization and the expansion of the online retail industry. Due to its capacity to stop ingredient photo-oxidation and lack of toxicity, this product is frequently utilized as a food ingredient and is especially well suited for dried fruits, cereals, juices, and soy products. Increasing government initiatives to grow the economy in the food industry together with rising canned consumption of meat due to its low price should support the organic ferulic acid industry.
Recent developments:
To attract a broader customer base, top vendors like Kingherbs and Hunan Huachung Biotech are concentrating on raising their marketing costs. These businesses' yearly revenue is expected to increase because of, this technique.
To create new and enhanced products, Fat Chemical and Oryza Oil, and is working on important research and development projects.
Key Market Players:
Ankang
Cayman Chemical Company, Inc.
CM Fine Chemicals GmbH
Delekang
Healthful International
Hubei Yuancheng
Hunan Huacheng Biotech, Inc.
Leader
Okayasu Co., Ltd.
Oryza Oil & Fat Chemical Co., Ltd
Shanghai Bettersyn Biotech
Sisco Research Laboratories Pvt. Ltd.
Suzhou Leader Chemical Co., Ltd.
Tateyamakasei
Top Pharm Chemical Group
TSUNO CO., LTD.
Xian App-Chem Bio (Tech) Co., Ltd.
Yuansen
Zhejiang Delekang Food Co., Ltd.
Segments Covered in the Report:
(Note*: We offer report based on sub segments as well. Kindly, let us know if you are interested)
By Type:
By Application:
Cosmetic
Pharmaceutical Intermediates
Others
By Packaging
Interior Packaging
Exterior Packaging
By Geography
North America
Europe
Asia-Pacific
Latin America
Middle East & Africa (MEA)