The global fitness tracker market size was evaluated at USD 47.54 billion in 2022 and is projected to hit around USD 258.48 billion by 2032, growing at a CAGR of 18.5% during the forecast period 2023 to 2032.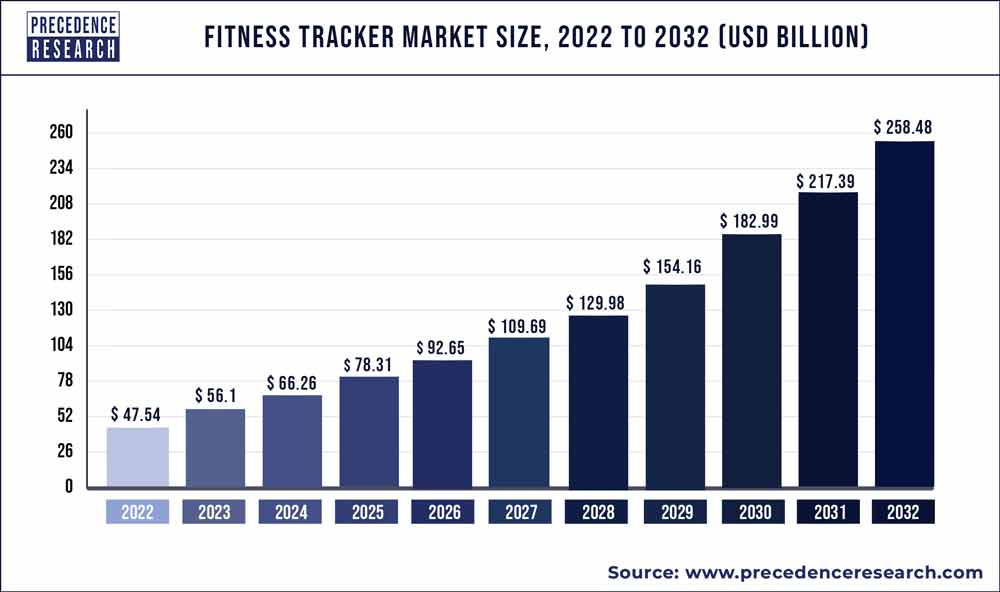 The increasing rise of the Internet of Things and the digital world are two primary reasons driving the growth of the fitness tracker industry. Furthermore, the primary requirement is to track the community's health and rising health difficulties. Additionally, with the rising technology economy, the wearable market has grown throughout the years. In addition, the prevalence of major diseases is increasing over time, particularly among the elderly. Individuals are becoming more aware of their health issues and leveraging the internet, growing demand for fitness tracker gadgets, and market expansion.
Key Takeaways:
North America generated more than 44% of the revenue share in 2022.
By type, the smartwatch segment contributed more than 50% of revenue share in 2022.
By application, the running application segment captured more than 24% of revenue share in 2022.
By distribution channel, the online distribution channel segment generated more than 62% of revenue share in 2022.
Market Dynamics
Drivers: Increase in Health disorders
There has been an increase in healthcare concerns over the years due to population growth and various infections. The population suffers from various healthcare issues, with the rise in non-communicable diseases being a pivotal contributor. Cancer, diabetes, and cardiovascular disease are examples of non-communicable healthcare issues. The prevalence of these non-communicable diseases grows, as does the technique of controlling them.
Furthermore, research shows that remaining fit and active might help avoid or delay illnesses such as heart disease, diabetes, and cancer. Fitness tracker smart devices can be used to track this fitness record, thus providing an excellent option for keeping a healthy lifestyle. Furthermore, as the prevalence of non-communicable diseases rises, the demand for fitness trackers increases. For example, According to WHO's 2019 Global Health estimates, non-communicable diseases now account for seven of the world's top ten causes of death. This significantly increased from four of the leading ten primary causes in 2000. As a result, this is the primary driving factor in market expansion.
Restraints: Safety and privacy concerns
Privacy concerns are always a problem, and a threat as the internet of things (IoT) grows. Smartwatch fitness tracker security concerns are similar to those of other smart and IoT devices. The ability of fitness tracker devices to detect position and track location is a significant security concern. Furthermore, fitness tracker bands are always connected to the phone, raising the possibility of data breaches directly from the phone due to data syncing. Moreover, fitness trackers have advantages in tracking health, but data breaching can be a hindrance factor and a significant safety concern in limiting the fitness tracking market's growth.
For instance, according to Planet's breach report, an unprotected database containing data from fitness trackers and wearables exposed more than 61 million records.
High cost of fitness devices
Due to the increased demand for smart devices as a result of the digital market and internet, smart devices are expensive and unaffordable and technology Smart watches and fitness trackers provide all of the necessary technology for tracking health-related readings, but the device pricing is high, which can be a major impediment to market growth.
Opportunities: Increase in the digital world
The increasing use of wearables and fitness tracker devices is a result of digital innovations. There are hundreds of these fitness apps available, covering almost every aspect of fitness that could possibly require. Some of the most intuitive fitness apps can track everything from nutrition to step trackers to individual exercises and videos on how to do them safely and effectively. As a result of the increase in digital innovations, the market for digital fitness trackers is expanding.
Report Scope of the Fitness Tracker Market
| | |
| --- | --- |
| Report Coverage | Details |
| Market Size in 2023 | USD 56.1 Billion |
| Market Size by 2032 | USD 258.48 Billion |
| Growth Rate from 2023 to 2032 | CAGR of 18.5% |
| Largest Market | North America |
| Base Year | 2022 |
| Forecast Period | 2023 to 2032 |
| Segments Covered | By Type, By Application, and By Distribution Channel |
| Regions Covered | North America, Europe, Asia-Pacific, Latin America and Middle East & Africa |

Segments Insights:
Type Insights:
The market for fitness tracker market is segregated into fitness tracker bands, smart wristwatches, and fitness armbands. The wrist smart watch type of market is majorly used, and it is anticipated to dominate the market in the forecast period. Watches are always a good accessory and have long been a status and punctuality symbol. The fashion of wearables has changed as digital networking, the internet, and social media have grown. These factors encourage the use of smartwatches, which combine a watch and a digital platform. Furthermore, smartwatches have a variety of applications, such as tracking your health status with a single click, and it is possible to obtain all of the health trackings quickly. Furthermore, getting out of the house during the pandemic was difficult due to the lockdown.
The pandemic has provided numerous reasons to monitor health status, with insights such as oxygen level in blood being a vital sign to track. With the help of artificial intelligence technology, smartwatches were able to detect early warning symptoms. For example, the Economic Times recently reported that extensive research has shown that AI can successively scan a large amount of data with great information to identify relevant patterns in body signals to recognize health conditions of interest.
Application Insights:
By Application, the fitness tracker market is segregated into glucose monitoring, heart rate monitoring, sleep rate, calorie count and others. The glucose monitoring applicative segment is anticipated to grow in the forecast period. The main factor that drives the growth is increasing diabetes in the population. According to the National Diabetes Statistics Report, of 37.3 million Americans, 1 out of 10 are diabetic.
Therefore, monitoring glucose is extremely important, resulting in the most used feature of the fitness tracker. Monitoring blood sugar levels can help you decide whether you are hitting your glucose targets, which could also allow you to prevent the unpleasant side effects of high or low blood sugar and avoid the long diabetes issues. It's important to remember that the statistics could be better or better; these are just information used to aid you in understanding what works well and how you can improve your diabetes treatment. As a result, increasing diabetes and health safety in people propel the market's growth.
Distribution Channel Insights:
By distribution channel, the fitness tracker market is segregated into online and offline or retail markets. The online market of fitness tracker is expected to dominate the market in the forecast period. Online shopping sales is a very huge market and currently trending a lot due to the increase in the usage of the internet, the increasingly digital world, the launching of numerous shopping apps, extensive marketing and saving of time and transportation cost. With these increasing trends, many people shopping online has increased over the years. For instance, according to the stats of 2021, around 214 billion people purchase products online. Additionally, due to increase in the smartphone device especially increase in smartphone usage, online shopping has been fuelled. Majority of the online sales and shopping is done from smartphone and according to the stats, around 50% of customers shop online through smartphones.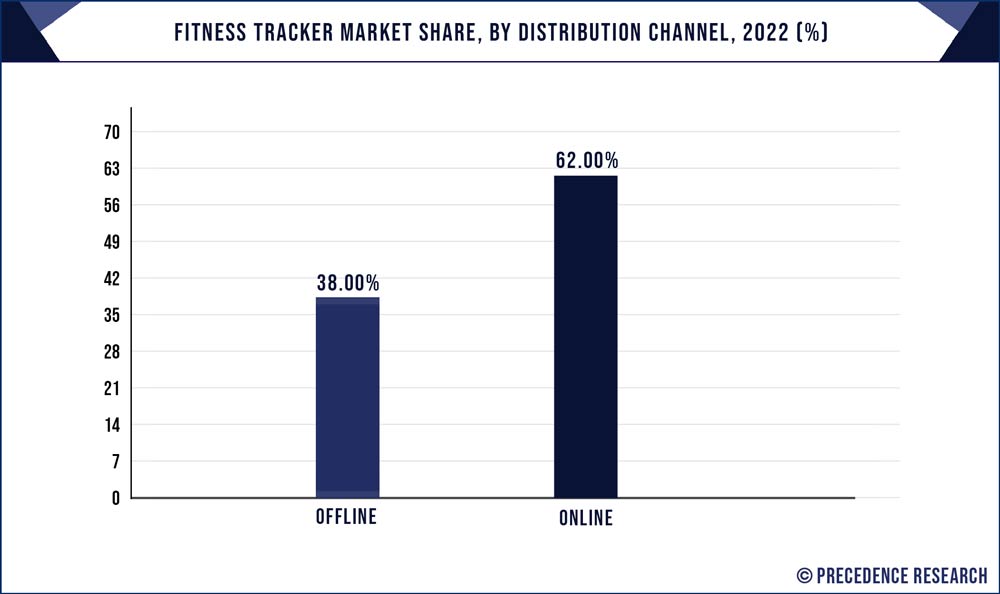 Furthermore, the online sales have been seen for all the products in electronics market including fitness trackers. Additionally, there is proper description and product information that makes it very feasible for the buyer to buy the product. There has been a demand for the market due to these reasons.
Regional Insights:
North America market is expected to dominate the market in the forecast period. The increase in the IT sector, advanced technology, increased research and development, increased digital infrastructure are the major reasons in expansion of the market in this region. The population in North America is very health conscious and they focus a lot on the healthy and fit lifestyle which fuels the market of fitness tracker devices.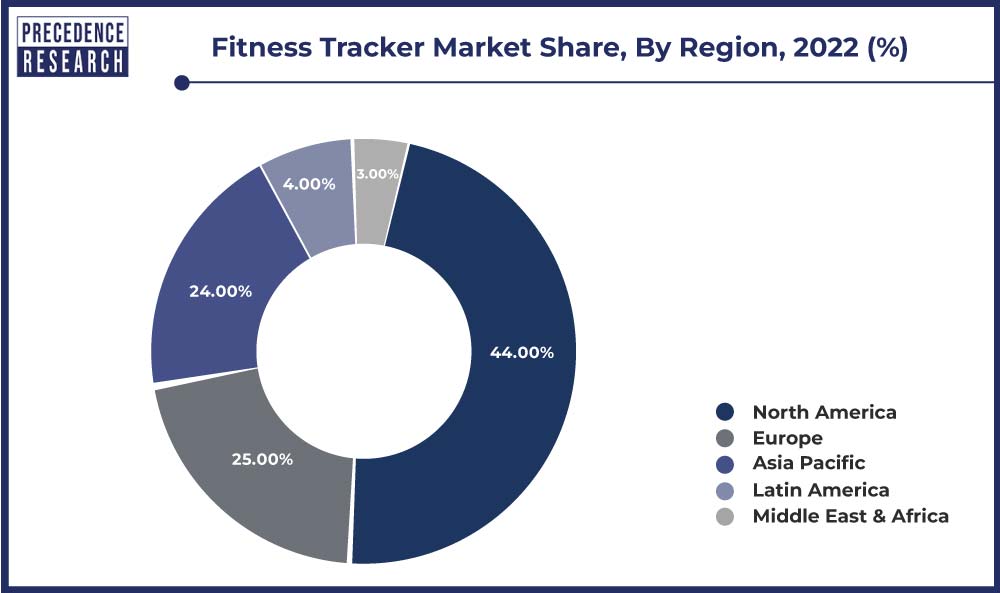 Additionally, growing penetration of smartphones in region is increasing the online sales and usage of such fitness track devices to track the health. Mainly the usage is seen more in U.S as it being a developed country, it has major advancements in technology and increase in the wearables trends gives demand to the market. Also, according to the global reports, U.S stand on number one spot in the technology market.
Recent Developments:
March 2022, Titan Company Ltd is interested in investing in the Indian wearable sector. Noise, a Gurugram-based wearable gadget firm, is in talks to purchase a major share in the company.
August 2022, Noise plans on manufacturing one million smartwatches every month. Noise plans to increase monthly domestic manufacturing of smartwatches to one million units per month beginning in August.
September 2022, Apple has revealed the Apple Watch Series 8 as well as the new Apple Watch SE. The Apple Watch Series 8 has quality healthcare features, such as a temperature sensor that allows additional functionality for women's health and damage detection for serious car accidents.
September 2022, Boat introduces the 'Wave Style' smartwatch. It allows you to monitor your heart rate and SpO2 levels. It can also track your sleep patterns, including the REM cycle, and rate your sleeping habits.
Key Market Players:
Apple, Inc.
Garmin Ltd.
Fitbit, Inc
Ambiotex GmbH
Huawei Technologies
Adidas AG
Samsung Electronics Co. Ltd
Xiaomi Inc
Fossil Group Inc
Nike Inc
Jawbone
Lumo bodytech Inc
Noise
Segments Covered in the Report:
(Note*: We offer report based on sub segments as well. Kindly, let us know if you are interested)
By Type
Fitness Bands
Smart Watches
Smart Arm Bands
Others
By Application
Heartbeat Rate
Glucose Monitoring
Sleep Rate
Calorie Count
Running
Others
By Distribution Channel
By Geography
North America
Europe
Asia-Pacific
Latin America
The Middle East and Africa