The global flow batteries market size was evaluated at USD 297 million in 2022 and is projected to hit around USD 2,382.81 million by 2032 with a registered CAGR of 23.2% during the forecast period 2023 to 2032.
A flow battery is a completely rechargeable electrical energy storage system in which fluids containing the active ingredients are pushed through a cell to promote reduction/oxidation on both sides of an ion-exchange membrane, producing an electrical potential.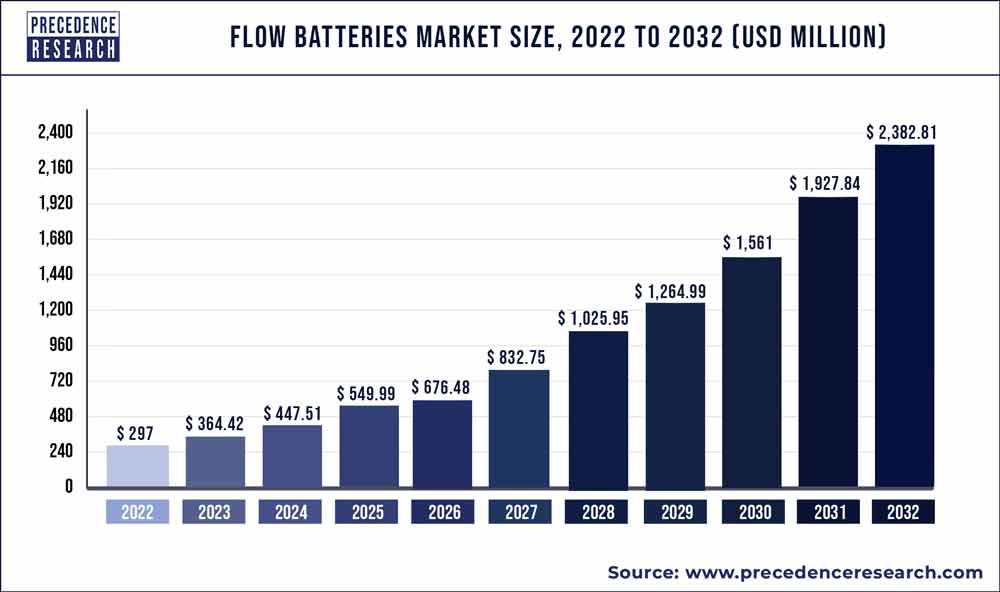 Growth Factor
There is a greater requirement for energy backup due to the rising need for a consistent supply in all major nations. In the event of power outages or high demands, flow batteries serve as a backup power source. The flow is viewed as a replacement for lithium-ion batteries and fuel cells. One distinctive feature that sets flow batteries apart from other alternatives is their ability to be scaled up and recharged simply by adding the necessary amount of electrolyte. The functioning of flow batteries is more adaptable because of the capability of recycling wasted electrolytes in storage tanks. Other benefits provided by flow batteries are their long operational life and low maintenance requirements. The demand for these batteries has grown along with the introduction of renewable energy sources like solar and wind, which has a negative impact on the market for flow batteries. With green energy targets set by several developed and developing nations, this trend is expected to continue globally. Utility companies use flow batteries primarily for energy storage. A further benefit for utility-scale grid operations is the scalability of the flow batteries, which can increase their capacity by using a higher amount of electrolyte. This, along with another benefit of longer operation duration and longer life, acts as a market driver for the global flow battery market. Flow battery installations have risen globally as a result of the expanding use of solar and wind energy.
The increase in investments in renewable energy sources and consumer acceptance of these sources.
The market value will be further impacted by the inherent benefits of flow batteries and high storage needs in data centers.
Rising demand from the utility sector
The rise in telecoms tower deployments
Report Scope of the Flow Batteries Market
Report Coverage
Details
Market Size in 2023
USD 364.42 million
Market Size by 2032
USD 2,382.81 million
Growth Rate from 2023 to 2032
CAGR of 23.2%
Base Year
2022
Forecast Period
2023 to 2032
Segments Covered

By Type
By Application
By Material
By Storage

Regions Covered

North America
Europe
Asia-Pacific
Latin America
Middle East & Africa

Key Market Drivers
High demand for the flow batteries in the utilities
As they deal with the grid penetration of renewable energy, utilities are one of the early application areas for flow batteries. Flow batteries are perfect for prolonged discharge times in MW scale power increments in utilities. Besides. They transmit energy during the interruption of grid services while avoiding interrupted power supplies. The majority of flow battery installation projects globally to date serve utility needs. Government and business organizations have been enhancing the electric grid infrastructure recently to meet the increased demand for electrification in rural and urban regions. Given the increased need for power, the governments of numerous countries are likewise investing heavily in grid construction.
Key Market Challenges
High initial expenditure needed to manufacture flow batteries
The flow battery has developed throughout time as a potential replacement for traditional batteries such as lithium-ion, lead acid, and sodium-based batteries. However, the high price of the flow batteries may serve as a significant barrier to the market's expansion. Components, materials, installation, repair, and maintenance costs are included in the flow battery's overall cost. These expenses are significant investments for small and medium-sized businesses. In addition, most flow batteries have rather expensive chemicals and parts compared to other traditional batteries.
Key Market Opportunities
The use of flow batteries in residential applications is expanding
Due to its ability to lower greenhouse gas emissions and power costs, solar PV systems have seen a significant increase in popularity in residential applications over the past several years. Solar PV systems aren't ideal for grid integration because of the unforeseen variations that are produced in the energy they capture as a result of the sun's intermittent irradiance. In place of a solar PV system, a battery energy storage system is used. Homes and small companies may secure the most energy possible, save energy costs, and prevent blackouts thanks to flowing batteries. The flow batteries are particularly well suited for residential and commercial applications due to inherent characteristics including a high life cycle count, adaptability, and huge storage capacity.
Segments Insight
Application Insights
Flow batteries are thought to be appropriate for utilities as well as commercial and industrial clients looking for long-term and lengthy hours of energy storage due to their big and hefty properties. Flow batteries are mostly used in utility applications as a buffer between the supply of energy from the electric grid and the demand for electricity. Since flow batteries can reliably store and discharge power, utility owners may reduce the amount of excess electricity produced. Additionally, utilities need batteries that can handle a significant penetration of renewable energy throughout the grid and are durable, robust, and long-lasting. The focus on improving the electric grid systems has increased due to the rising demand for power in rural and urban regions, which is likely what will lead to the adoption of flow batteries in utility applications.
Blackouts interrupted power supplies, and machine downtime all have an influence on commercial and industrial applications, which can severely hinder corporate operations since they can harm production lines, delay deliveries, and cause product damage. Unexpected power outages in certain places might persist for a minute, an hour, a day, or even a week. Here, flow batteries are essential because they save energy costs for commercial and industrial businesses while also enhancing power quality and dependability. Additionally, they lessen the chance that output may be lost during blackouts or power supply shortages. Battery storage systems make it easier to deploy renewable energy systems that provide affordable, environmentally friendly power and generate income by selling any extra energy or grid-stabilizing services.
Material Insights
The market is divided into All-Vanadium, Iron, Zinc-Bromine, Hydrogen-Bromine, Polysulfide Bromine, Organic, and Others based on the kind of material used. Vanadium is anticipated to expand at a 22.4% CAGR and reach US$819.7 Million. Vanadium electrolyte, which is present in the majority of flow batteries, may deliver dependable charging and discharge for numerous cycles without degradation. Vanadium's electrochemical characteristics, which make it simple to take electrons out of the element and then put them back in, make this possible. Vanadium redox couples (V2+/V3+ in the negative and V4+/V5+ in the positive half-cells) are used in the vanadium redox flow battery (VRFB), a suitable redox flow battery (RFB), to store energy. These batteries' power and energy ratings are independent of one another, and each may be tailored specifically for a certain application. Numerous nations have continually concentrated on expanding energy demand without any fluctuation, leading to the installation of numerous energy storage devices in independent and renewable energy systems. The country with the greatest commercial success in renewable energy is China, which in 2020 deployed 1.6 GW of energy storage. Other nations also have a number of new technology energy storage projects planned. At its electrolyte manufacturing plant in Arkansas, United States, U.S. Vanadium started the capacity expansion project in September 2021 to produce Ultra-High-Purity Vanadium Redox Flow Battery Electrolyte. A USD 2.1 million investment was made in the project. The program is anticipated to have an impact on the entire region's sales of vanadium redox batteries.
The commercial effects of the pandemic and the economic crisis it caused have been carefully examined, and the growth of the ZINC-BROMINE segment has been readjusted to a revised 24.1% CAGR over the following seven years. Currently, this sector holds a 23.1% market share for flow batteries worldwide. The market for vanadium-based flow batteries is predicted to expand rapidly as a result of the battery's unique benefits, particularly for large stationary applications. The leading energy storage technology is vanadium redox flow batteries, which are in great demand in the mini-grid, utility, and off-grid sectors. Since most manufacturers choose zinc-bromine over vanadium due to the latter's high price and restricted availability, zinc-bromine is predicted to see rapid development. Additionally, grid, residential, industrial, commercial, and microgrid applications have all seen an increase in the utilization of zinc-bromine flow batteries in the past.
Regional Insights
The flow battery market in the US was projected to grow to US$ 63 million in 2022. The country now controls 20.6% of the global market. Over the course of the study period, it is expected that China, the second-largest economy in the world, would expand at a considerable CAGR reaching an estimated market size of US$162 million in 2032.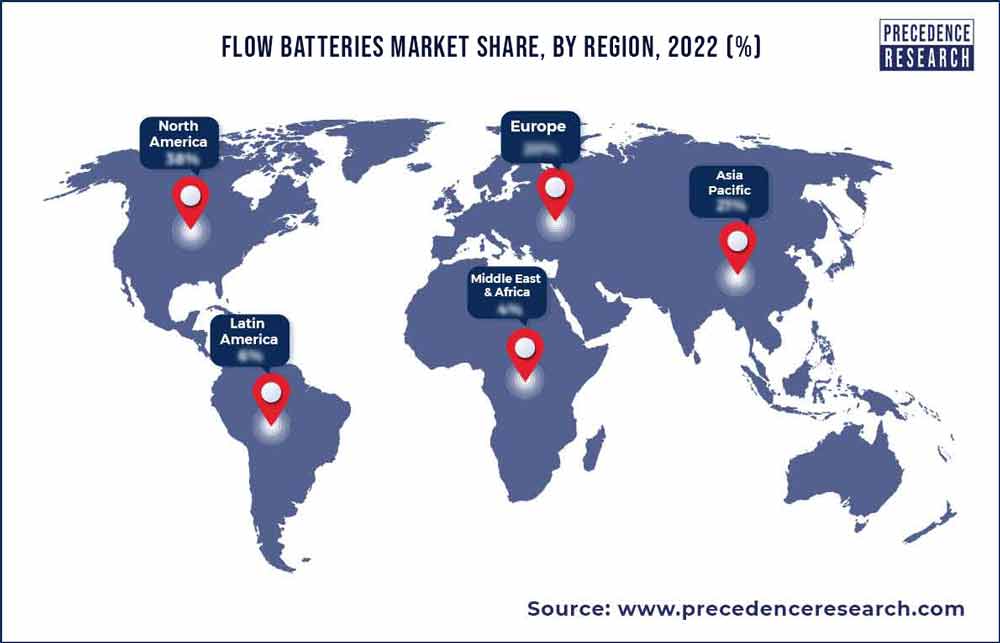 Two other important regional markets are Japan and Canada, with growth rates of 19.6% and 21.3% expected for each throughout the length of the inquiry. Germany is projected to grow within Europe at a pace of around 21.4% CAGR, and by the end of the research period, the market in the rest of Europe will be worth US$213.8 Million. Numerous flow battery-based systems with higher power ratings may be found in the Asia-Pacific area. Australia has the most flow battery-based projects in operation for its residential, utility, commercial, and industrial uses, while China has installed the most flow batteries to date with the highest capacity. One of the main factors propelling the market for flow batteries in the area is the necessity to store renewable energy.
Recent Developments
The first American wholesale power market to connect a ground-breaking form of flow technology battery to the grid was the California Independent System Operator in May 2019. A large-scale storage capability might be developed as a result of the use of flow batteries. Over a four-year period, the new storage technology would be assessed.
According to studies from many societies published in the American Chemical Society's journal in May 2019, they have solved the problem of the organic anthraquinone molecules that powered their ground-breaking battery degrading. The approach addressed not only how molecules decompose but also how to slow down, stop, or even reverse it so that molecules resume their original state of existence.
In order to accelerate the commercial adoption of flow battery technology, the American chemical business Chemours Company and the Washington-based manufacturer UniEnergy Technology merged in April 2019.'
Key Market Players
ESS Inc. (US)
GILDEMEISTER energy solutions (Austria)
Primus Power (US)
RedFlow (Australia)
redT Energy (UK)
SCHMID (Germany)
Sumitomo Electric. (Japan)
UniEnergy Technologies (US)
ViZn Energy (US)
EnSync Energy Systems (US)
Segment Covered in the Report
(Note*: We offer reports based on sub-segments as well. Kindly, let us know if you are interested)
By Type
Redox
Hybrid
Membrane less
By Application
Utilities
Commercial
Industrial
Military
EV Charging Station
Off Grid & Micro grid Power
Others
By Material
All Vanadium
All Iron
Zinc–Bromine
Hydrogen-Bromine
Polysulfide Bromine
Organic
Others
By Storage
By Geography
North America
Europe
Asia-Pacific
Latin America
Middle East & Africa (MEA)