The global food blenders & mixers market size was valued at USD 8.90 billion in 2022 and is expected to hit around USD 16.94 billion by 2032, poised to grow at a compound annual growth rate (CAGR) of 6.70% from 2023 to 2032.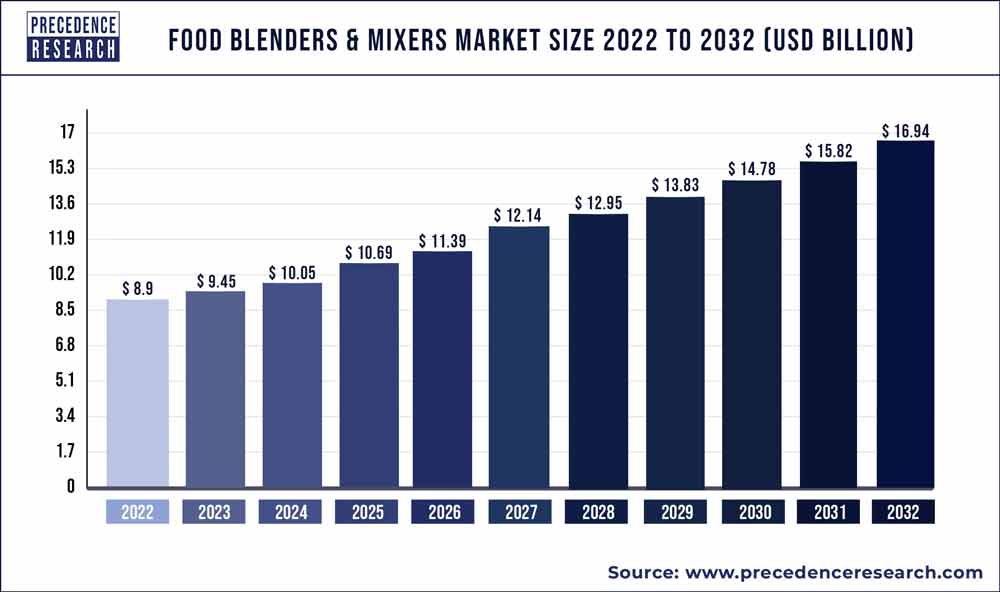 Access our Premium Real Time Data Intelligence Tool, Visit: Precedence Statistics
Equipment such as food blenders and mixers are utilized for various mixing procedures in both domestic and professional settings. Food and other ingredients are combined in a blender or liquidizer to produce a consistent, supple texture. Food mixers and blenders have a cap-sealed blender container to keep ingredients from spilling out. An electric motor drives a rotating blade at the bottom of the blender jar. They are designed to process various food ingredients. Electrical kitchen gadgets, food blenders and mixers consist of a jar with a detachable cover. These devices have a rotating blade that can be used to combine ingredients or cut, shred, or slice various substances and food stuffs. Juices, smoothies, purees, milkshakes, cocktails, frozen drinks, bakery goods, snacks, etc. are all made with blenders and mixers in both residential and commercial kitchens.
Report Scope of the Food Blenders & Mixers Market
| | |
| --- | --- |
| Report Coverage | Details |
| Market Size in 2023 | USD 9.45 Billion |
| Market Size by 2032 | USD 16.94 Billion |
| Growth Rate from 2023 to 2032 | CAGR of 6.70% |
| Base Year | 2022 |
| Forecast Period | 2023 to 2032 |
| Segments Covered | Type, Technology, Mode of Operation, Application, End-User, Distribution Channel, Geography |
| Companies Mentioned | Philadelphia Mixing Solutions Ltd., Diosna GmbH, Silverson Machines Inc., Sulzer Ltd., Buhler Industries Inc, John Bean Technologies Corporation, Fristam Pumps, Pentair PLC, ARDE Barinco (US), General Machine Company (GEMCo), Krones AG, Amixon Mixing Technologies, Primix B.V., Q-Pumps, Paul Mueller Co, Alfa Laval Corporate AB, EKATO Holding GmbH, TechnoSilos AP |

Growth factors
The leading companies in this market have implemented technological improvements that not only enable faster mixing and blending and high precision, but also hygiene, which is one of the most crucial criteria in this industry. With the advancements in processing technology, food and beverage processors have a wide range of options for mixing and blending equipment, including features like weighing and refrigeration. The number of players in the food and beverage business that are still using outdated facilities that use conventional processing techniques, demand a lot of human resources, and have low output per unit of time. Manufacturers in these sectors are eager to outfit cutting-edge production facilities with automated machinery and systems due to the rising demand for a variety of food and beverage items. Over time, high-performance mixing and blending tools have been created with improved processing capabilities, adaptability, and usability. The major companies that manufacture and sell food blenders and mixers equipment provide these tools that can prepare a variety of items.
Major firms are investing in boosting output, particularly in developing nations and areas, to keep up with the increased demand from the food and beverage industries globally. Manufacturers of food blenders and mixers can build their businesses profitably in the Asia Pacific region. Large numbers of food product manufacturers are present in the markets of India, China, and Japan, which is a crucial element anticipated driving market expansion in the area and supporting future growth of the worldwide food blenders & mixers market. The key reason propelling the growth of the food blenders & mixers market is the expanding food processing industry, along with the rising consumption of bread and dairy food products in emerging nations. Companies that produce food are moving quickly toward closed-system vacuum technology.
This would compel manufacturers of food blenders and mixers to produce closed systems for their mixing solutions in order to cater to this shifting preference, hence spurring market expansion. Additionally, the industry is expanding as a result of rising disposable money and people's busy lifestyles.
Type Insights
Depending upon the type, the high shear segment is the dominant player and is anticipated to have the biggest impact on food blenders and mixers market during the forecast period. This is due to the fact that high shear mixers are one of the main varieties and that there is a substantial demand for this type across a range of food processing applications. Due to its widespread application in fluid-based product mixing, high shear mixers are ultimately being driven by the expanding beverage industry. Additionally, the companies in industrialized regions like North America and Europe have substantially higher investment potential, which has led to a greater adoption of high shear mixers for the processing of dairy-based products and beverages.
In comparison to other types, the shaft mixer type of food blender and mixer has the second-largest market share. A shaft connecting the motor and the impeller makes up a shaft mixer. The shaft's diameter is chosen based on the torque needed for mixing. The size of the impeller determines how long it is. Due to their ability to handle high-solids, viscous applications that conventional mixers cannot, shaft mixers have more uses in the food processing industry.
Planetary mixers offer greater flexibility. They're frequently called "all-purpose" mixers. They are capable of making dough for cookies, pizza, and bread in addition to sauces, icing, and mashed potatoes. The whip, beater, and hook attachments are all removable, giving you considerably more mixing versatility.
Technology Insights
On the basis of technology, the batch mixing category is dominating in the food blenders and mixers market. Utilizing batch mixing Mixers and blenders are mostly used in the various food manufacturing and processing sectors that aim to generate goods and materials in predetermined quantities or groups. When manufacturing quantities are modest, component qualities are subject to change over time, and precise mix composition control is necessary, batch mixing technology is used. Due to its affordability, ability to produce goods of the appropriate quality, and availability of choices for customization and homogeneity, batch mixing technology has thus far dominated the market for food blenders and mixers.
The food blenders & mixers market by technology is predicted to experience the quickest growth in the continuous segment. A single, high-volume product is the sole focus of the continuous mixing technique equipment. The continuous mixing mechanism charges the mixer with components continually in accordance with the formulation. Continuous process technology has a number of major benefits, including increased efficiency, high output at small sizes, operational resource efficiency, automation-friendliness, and less product segregation and loss.
Application Insights
During the projected period, the bakery segment is anticipated to be the largest in the food blenders and mixers market. Products for bakeries are cooked in an oven, on hot stones, or in hot ashes while being exposed to dry heat. The dough and other items are prepared using blenders and mixers. An everyday necessity and a source of essential nutrients, bread has been produced locally or commercially since prehistoric times. The rising disposable incomes of consumers in emerging economies, who enjoy greater living standards and changing lifestyles as a result of cultural shifts and expanding emerging markets, are fueling the global demand for bakery products.
Due to the fact that mixing, and blending are essential steps in the beverage manufacturing process, the beverage industry is observing a gradually increasing demand in the global market for blenders and mixers, by application. Additionally, there is a greater demand for beverages in the European and North American markets. As a result, beverage producers in those areas invest in mixing and blending machinery to increase yields and volumes. In the coming years, the need for mixers and blenders is anticipated to increase due to the rising popularity of functional beverages, which call for the fortification of various nutritional elements in the finished items in food industry.
Regional Insights
The highest market share and dominant position in the food blenders & mixers market belongs to Asia-Pacific. The Asia Pacific food blenders & mixers market is predicted to grow due to factors such as changing lifestyles, hectic work schedules, an increase in the consumption of processed foods, and the relocation of production facilities and operations to developing nations because of these countries' low establishment and production costs, access to low-cost labor, and ease of obtaining raw materials. Moreover, the growth of the India and China food blenders & mixers markets, which is anticipated to support growth of the Asia Pacific market and contribute to global market growth, is largely driven by factors such as growing population, increasing awareness of the benefits of multipurpose blenders & mixers for different applications.
During the projected period, the North American market is anticipated to represent a sizably significant revenue share. The North American food blenders & mixers market is expanding due to the region's well-established food sector, technological advancements in food technology, appliances, and equipment, and rising consumption of processed foods including bakery goods, dairy goods, drinks, etc. The food blenders & mixers market in North America is anticipated to expand as a result of high volumes of production of these tools, which are widely employed in the food sector. The North American market is also expanding as a result of manufacturers operating in the area boosting their investments in technical improvements.
Key market developments
In January 2020, Tetra Pak entered into a partnership with Hexagon's PPM division, a leading global supplier of software for the design, construction, and administration of plants, ships, and offshore facilities. Tetra Pak will gain from this agreement by growing its Smart Solutions Platform, which will enable the business to work with clients globally while designing a thorough manufacturing facility, satisfying client needs, meeting the rising demand for food blenders and mixers, and ensuring a smooth project implementation.
Key market players
Philadelphia Mixing Solutions Ltd.
Diosna GmbH
Silverson Machines Inc.
Sulzer Ltd.
Buhler Industries Inc
John Bean Technologies Corporation
Fristam Pumps
Pentair PLC
ARDE Barinco (US),
General Machine Company (GEMCo)
Krones AG
Amixon Mixing Technologies
Primix B.V.
Q-Pumps
Paul Mueller Co
Alfa Laval Corporate AB
EKATO Holding GmbH
TechnoSilos AP
Segments covered in the report
(Note*: We offer report based on sub segments as well. Kindly, let us know if you are interested)
By Type
High shear mixer
Shaft mixer
Screw mixer & blender
Double cone blender
Ribbon blender
Planetary mixer
Others
By Technology
Batch mixing
Continuous mixing
By Mode of Operation:
By Application
Beverages
Dairy products

Milk
Ice cream & frozen desserts
Yogurt
Other dairy products

Bakery products
Meat, poultry, fish & seafood
Confectionery
Other applications
By End-User
By Distribution Channel
B2B
B2C

Store-based Retail

Hypermarkets/Supermarkets
Specialty Stores
Others

Online Retail
By Geography
North America
Europe
Asia-Pacific

China
India
Japan
South Korea
Malaysia
Philippines

Latin America

Brazil
Rest of Latin America

Middle East & Africa (MEA)

GCC
North Africa
South Africa
Rest of the Middle East & Africa