The global gardening equipment market size was evaluated at USD 64.25 billion in 2022 and it is expected to hit around USD 121.16 billion by 2032, poised to grow at a CAGR of 6.60% during the forecast period 2023 to 2032. The North America market has generated more than 36% of the revenue share in 2022.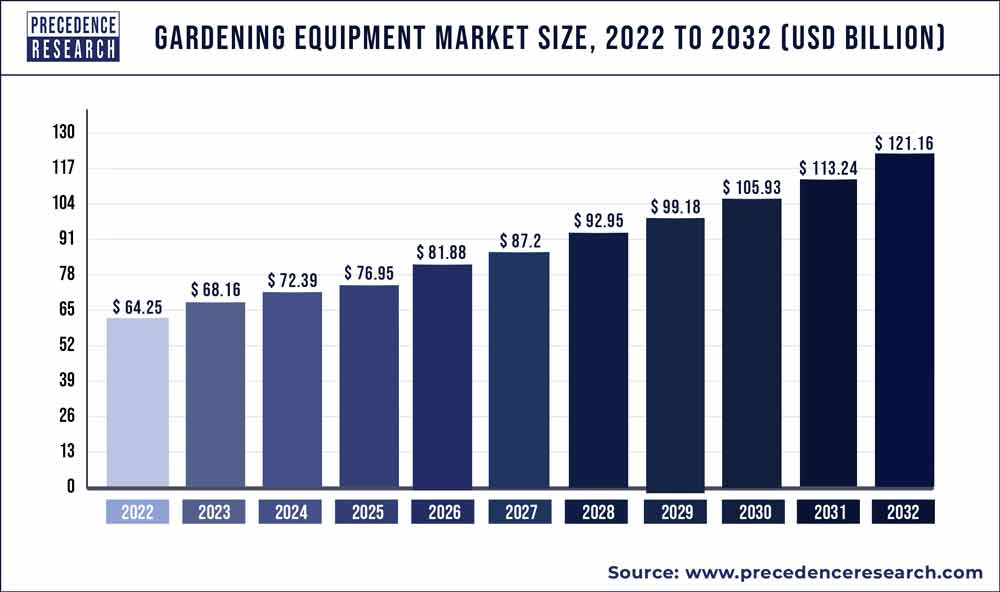 Access our Premium Real Time Data Intelligence Tool, Visit: Precedence Statistics
Any of the numerous gardening and planting tools that also fall under the umbrella of agricultural and horticultural tools is referred to as a garden tool. Hand tools and electric tools are two categories of garden equipment. The gardening equipment market refers to the industry that produces and sells tools and equipment used in gardening and landscaping activities. This market includes a wide range of products such as lawnmowers, hedge trimmers, chainsaws, blowers, hand tools, and irrigation systems.
The global gardening equipment market has been experiencing steady growth over the past few years due to factors such as increasing consumer interest in gardening, rising disposable income, and the growth of the landscaping industry. Additionally, the trend towards eco-friendly and sustainable gardening practices has increased the demand for gardening equipment that is energy-efficient and environmentally friendly.
Key Takeaways:
Asia Pacific is expected to expand at the fastest CAGR 6.9% between 2023 and 2032.
By Product, the lawn mowers segment is predicted to grow at a remarkable CAGR of 6.8% between 2023 and 2032.
By Sales Channel, the home center market is expected to expand at a fastest CAGR of 6.9% between 2023 and 2032.
By End Use, the commercial/government segment is projected to grow at a noticeable CAGR of 5.9% between 2023 and 2032.
Growth Factor:
One of the reasons influencing the demand for ergonomic grass and outdoor goods is the growing elderly population. Real estate developments have increased across all countries as a result of rising disposable income and falling house costs. This tendency is expected to increase demand for gardening tools over the anticipated time frame. The market development is also anticipated to be aided by a tendency among millennials to transform outdoor spaces into calming spaces with bars, amusement areas, outdoor kitchens, and party spots. The COVID-19 epidemic caused a slight drop in the market in the beginning of 2020. The market's slow expansion is attributed to two factors: a decrease in consumer demand for garden and tool tools and the interim closure of storefronts. However, a favorable environment, an extended growing season, and gardeners' choice for internet purchasing have lessened the effect of the epidemic. The guidelines urging people to spend a lot of time at home to stop the spread of COVID-19 have also encouraged people to remain at home, which has increased the demand for gardening tools.
The sudden increase in demand for battery-powered tools like augers, edgers, chainsaws, and trimmers in the first half of 2022 did not keep up with the pace of output. Production was further hampered by a shortage of semiconductors and lithium-ion batteries that OEMs experienced globally. In addition, it is expected that the Russian-Ukrainian war will decrease demand for gas-powered gardening tools due to supply chain disruptions that will increase the cost of raw materials and oil. As a result, OEMs might increase the cost of their goods. Although it is expected that these macroeconomic factors will decline, this is probably only a transient change.
The market is expected to expand during the projection period as DIY landscaping initiatives become more popular. DIY projects are designed for people from all backgrounds, including aficionados, amateurs, and homeowners working on tasks like repairs and remodeling that are usually categorized as house improvements. Due to increasing single-family construction expenditure and a rise in interest in Do-It-Yourself (DIY) initiatives, the market is predicted to perform well. Garden equipment OEMs are launching a product lineup that is affordable and user-friendly for domestic use in response to the rising appeal of DIY projects. For home improvement tasks, yard trowels, scoops, shovels, pruners, and other hand tools are necessary. These tools come in a wide variation and have a variety of uses.
The rise in prevalence of battery-operated ergonomic design tools is expected to support market growth over the course of the projection period. Digging up the ground, removing weeds, and trimming bushes are laborious gardening tasks that can cause persistent back pain due to repeated tension. Using gardening tools improperly, especially by elderly people, can put excessive pressure on the body and cause inflammation or discomfort in many areas, including the knees, arms, and back. In the upcoming years, it is expected that the market will grow due to the demand for ergonomic designing instruments among expert builders and landscapers as well as fans and amateurs.
One of the key factors fueling the expansion of the gardening tools market is the growing popularity of urban gardening and landscaping in domestic and business construction projects in both established and developing nations.
The market's expansion is accelerated by the rise in demand for grass equipment in landscaping services.
During the projection period, the market will also be impacted by the rise in demand for gardening supplies for various infrastructures, including sports grounds, public parks, and golf courses, among others.
Report Scope of the Gardening Equipment Market:
| | |
| --- | --- |
| Report Coverage | Details |
| Market Size in 2023 | USD 68.16 Billion |
| Market Size by 2032 | USD 121.16 Billion |
| Growth Rate from 2023 to 2032 | CAGR of 6.60% |
| Base Year | 2022 |
| Forecast Period | 2023 to 2032 |
| Segments Covered | By Product, By Sales Channel, and By End Use |
| Regions Covered | North America, Europe, Asia-Pacific, Latin America and Middle East & Africa |

Key Market Drivers:
The growing use of gardening power tools for do-it-yourself projects
DIY projects are growing in popularity among customers in developed nations like North America and Europe, where living standards are high and habits are shifting. Additionally, increasing discretionary income and population in developing nations are driving the DIY market, which is driving sales of landscaping power tools.
Comparing DIY projects to employing costly personnel to complete gardening work, consumers can save money over the long run. As a consequence, there is a rise in the demand for gardening power equipment among do-it-yourselfers. The emergence of e-Commerce has also given customers simple access and discounts. In addition, the cost-effectiveness of DIY gardening tools is a more affordable approach than hiring expensive personnel for performing gardening tasks is another factor significantly augmenting the use of DIY gardening tools.
Key Market Challenges
Heavy Maintenance Costs Restrain Market Development
One of the challenges facing the gardening equipment market is the high maintenance costs associated with power tools. While power tools provide convenience and efficiency in completing gardening tasks, they also require regular maintenance to ensure optimal performance. Heavy maintenance costs can restrain market development as consumers may opt to stick with traditional manual tools rather than invest in power tools that require ongoing maintenance and upkeep. Additionally, maintenance costs can also affect the profitability of manufacturers and distributors, as they may need to allocate significant resources to repair and replace defective products.
To address this challenge, manufacturers are investing in research and development to create power tools with better durability and reliability, reducing the need for frequent repairs and maintenance. Furthermore, manufacturers are also offering extended warranty and repair services, providing customers with peace of mind and reducing the financial burden of maintenance costs.
Key Market Opportunities:
The growing interest in hydroponic gardening
Hydroponic gardening techniques are being used more often in industrial farming. When compared to conventional sail-grown crop cultivation, hydroponics increases crop output 3 to 10 times in the same quantity of space. To make sure that plants receive the nutrients they need, a hydroponic system has the ability to regulate pH and fertilizers. The water that is not used by the vegetation is recycled in these confined systems.
By cultivating plants indoors, farmers can control the temperature and illumination patterns to increase plant output. Systems may be created to maximize vertical real estate and boost crop density. Additionally, hydroponic farming enables the creation of fields in locations with unfavorable soil conditions. Therefore, the market for gardening equipment is receiving a much-needed boost as hydroponic systems are increasingly used in industrial cultivation.
Segments Insight:
Product Insights:
The research measures the market size for water equipment, lawnmower hand tools, wheeled instruments, and portable power tools by product. Over the projection period, the lawnmower sector is expected to expand at a CAGR of 6.8%. One reason causing the market to grow is the quick adoption of technologically sophisticated equipment that gives customers more ease and convenience. Handheld motor tools include chainsaws, edgers, trimmers, and leaf blowers. The demand for ergonomic and lightweight equipment, as well as the post-medium-term decline in Li-ion battery costs brought on by the war in the Russian Ukraine, are expected to push the market.
The various groups for hand tools and motorized implements include cutting and pruning tools, handled tools, short-hand tools, wheeled implements, and striking tools. Long-handled instruments include rakes, hoes, spades, forks, and weeders. The market for hand tools and wheeled utensils is expected to expand at a 3.8% CAGR during the projection period. The market is expected to increase during the forecast period as a result of people using folding shovels more frequently for landscaping chores.
Sales Channel Insights:
The yard and garden specialized shops, home centers, hardware stores, online merchants, and discount stores make up the market's sales channel segmentation. The bulk of OEMs' revenue comes from third-party channels. The COVID-19 epidemic led to the interim closing of hardware and home center shops, which resulted in a slight drop in sales for the third-party channel market. The home center market is expected to grow at a CAGR of 6.9% during the forecast timeframe.
E-commerce makes up the primary route and will contribute 15.90 percent of market revenue in 2022. Over the forecast period, market development is expected to be supported by manufacturers' increasing preference for e-commerce platforms to expand their market footprint and carry out commercial activities without difficulty.
End Use Insights:
The demand for gardening tools increased in the domestic market over the course of the projection period. The increase in single-family houses and the increase in internet sales of gardening equipment are credited with boosting demand. Additionally, the demand for gardening tools in the domestic market has grown as a result of the appeal of DIY outdoor planting projects. The market is expected to have the greatest CAGR during the projection period.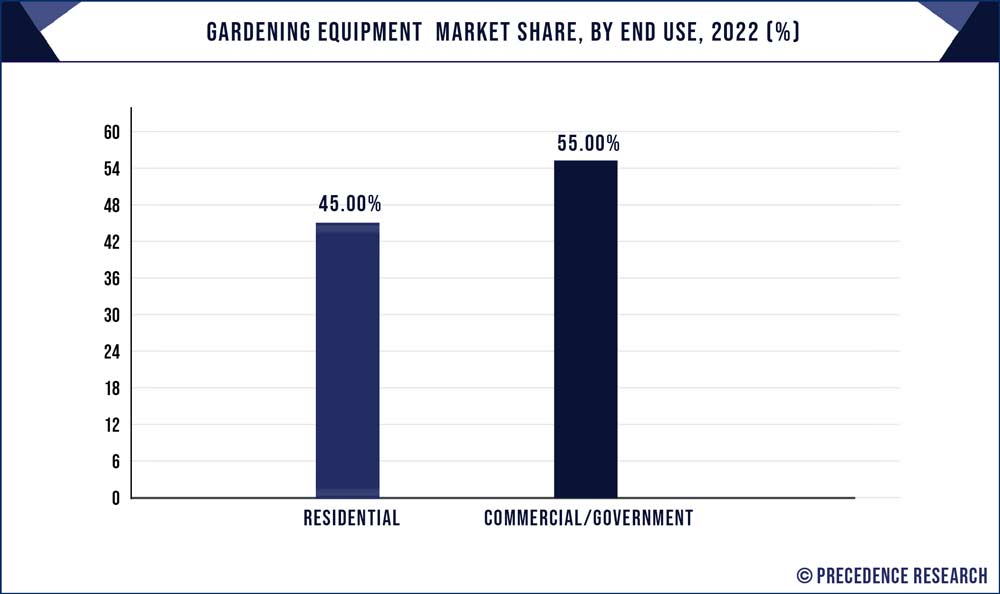 During the forecast period, the commercial/government sector is expected to grow at a CAGR of 5.9%. The section includes gardening for commercial properties like office buildings, motels, public buildings, sports fields, and other accommodation options. The steadily rising global tourism and leisure sectors are expected to contribute to the segment's growth.
Regional Insights:
With a stake of 36% in 2022, North America is anticipated to rule the market during the projection period. According to estimates, the U.S. region will control more than 72% of the worldwide industry in 2022. Demand for battery-powered, lightweight, and portable yard landscaping tools is expected to increase over the course of the forecast period. Additionally, a rise in the demand for instruments with batteries is expected to support market growth. North America has a mature market with high adoption rates of power tools and advanced gardening equipment.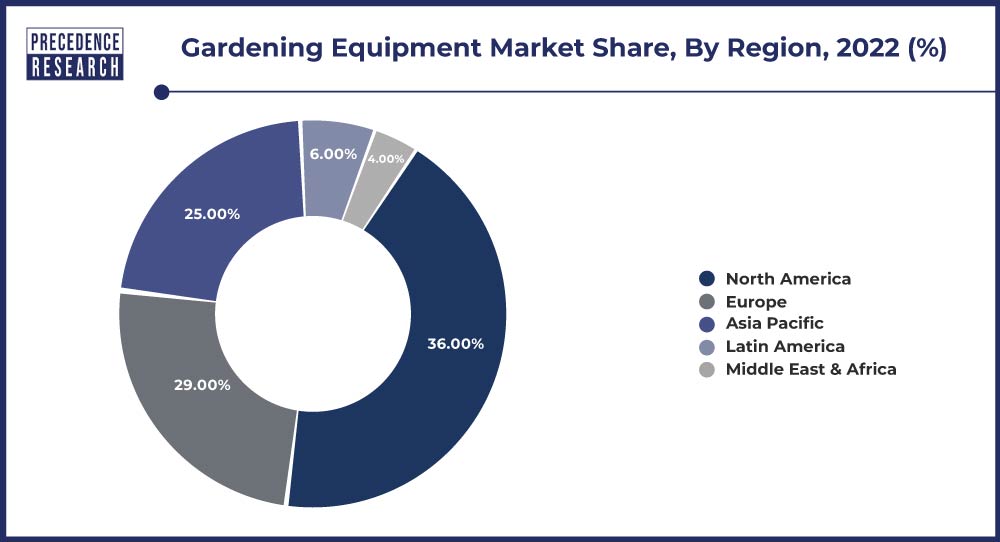 The demand for gardening equipment in Europe is driven by factors such as the rise in urbanization, the growing popularity of gardening as a leisure activity, and the increasing demand for landscaping services.
Over the projection timeframe, APAC is anticipated to experience a 6.9% CAGR. The industry's growth is credited to Asia's rapidly developing infrastructure. COVID-19 had a significant negative effect on important economies like China, India, and Japan. The high GDP, which promotes rising house investments and favors the market in APAC, demonstrates the stable economic condition of the country's infrastructure sector. In addition, the growth in the Asia Pacific region is attributed to the increase in disposable income, population growth, and rising interest in gardening and landscaping. The region is also home to a large number of manufacturers of gardening equipment, which further drives the market growth.
Recent Developments:
March 2021: ZAMA Corporation, a subsidiary of STIHL, and the Elrad International Group have joined forces to form a joint venture for the production of electronic assemblies. The two companies signed an agreement for the joint venture, which has since been approved by relevant antitrust authorities. The new company will be called ZE Electronic Manufacturing Service Ltd, with ZAMA owning 51 percent of the shares and Elrad holding the remaining 49 percent.
January 2021: DEWALT has unveiled its new 2x20V MAX* Self-Propelled Mower (DCMWSP244U2) and Push Mower (DCMWP233U2), both equipped with a high-efficiency brushless direct drive motor. These mowers are powered by two 10.0 Ah batteries of DEWALT 20V MAX*, which provide the capacity for high-voltage cutting power.
Key Market Players:
Ariens Company
American Honda Motor Co. Inc.
Briggs Stratton
Deere & Company
Falcon Garden Tools
Fiskars
Husqvarna Group
Robert Bosch GmbH
Robomow Friendly House
The Toro Company
Segments Covered in the Report:
(Note*: We offer report based on sub segments as well. Kindly, let us know if you are interested)
By Product
Lawn Mowers

Handheld Power Tools
Trimmers & Edgers
Chainsaws
Leaf Blowers
Others

Hand Tools & Wheeled Implements

Long Handled Tools
Short-Hand Tools
Cutting & Pruning Tools
Striking Tools
Wheeled Implements

Water Equipment
By Sales Channel
Home Centers
Lawn & Garden Specialty Stores
National Retailers & Discount Stores
Hardware Stores
E-commerce
By End Use
Residential
Commercial/Government
By Geography
North America
Europe
Asia-Pacific
Latin America
Middle East and Africa