The global geosynthetics market size was valued at USD 28.31 billion by 2021 and is expected to hit around USD 51.63 billion by 2030 and is poised to grow at a compound annual growth rate (CAGR) of 6.9% over the forecast period 2022 to 2030.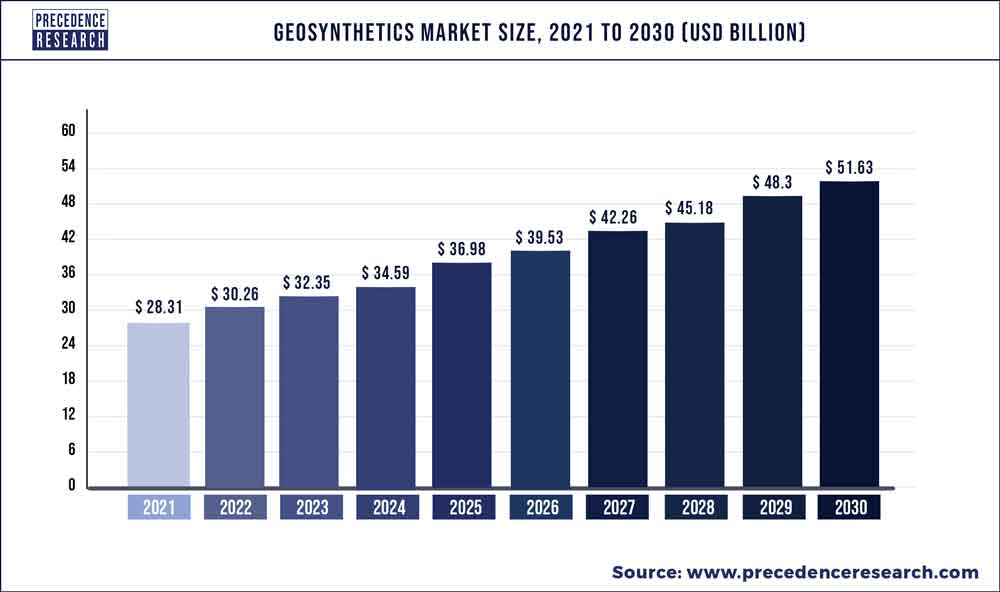 Access our Premium Real Time Data Intelligence Tool, Visit: Precedence Statistics
Key Takeaways:
The geotextiles product segment has generated at highest revenue share 48.5% in 2021.
Asia Pacific dominated the market with 41.9% revenue share in 2021.
The geomembranes segment is expected to reach at a CAGR of 11.4% from 2022 to 2030.
The water/wastewater management application segment is anticipated to hit at CAGR of 10.8%.
Over the forecast timeframe, it is expected that emerging markets like India and Brazil will accelerate infrastructure construction. Infrastructure improvements were stopped as a result of the implementation of a shutdown by the ruling authorities to stop the disease from spreading in 2020 resulting in the COVID-19 epidemic. Due to supply network obstacles, market participants noticed a decrease in demand for modern office buildings and other infrastructures. Companies within the industry are encouraged to enhance output by the raw material availability like Polypropylene (PP), which is made possible by the widespread presence of petrochemical compounds owned by corporations like ExxonMobil, Chevron Phillips, Shell, and BP.
Throughout the projection period, the abovementioned elements are predicted to fuel the desire for geosynthetic items in the United States. In the building of ponds, embankments, streets, and tunnels, geotextiles remain working as covering systems. Additionally, because they make it easier to separate layers of soil from the subsurface without obstructing the movement of groundwater, these materials are also utilized in the construction of a rail network. To safeguard the shoreline and encourage vegetative development, connectivity options and geocells are essential. This prevents soil erosion. Additionally, the market is anticipated to be driven by current soil preservation programs in several countries, like Canada, South Africa, Spain, and India.
Growth Factors:
Geosynthetics have recently become prevalent in several industries. In drainage channels, geosynthetics are employed as filtration components that produce continuous polyethylene threads, improving filtering effectiveness. To assure that the most dangerous particles are retained and not released into the atmosphere in bodies of water & soils, such textiles are used as filtering systems. By adding rigidity and strengthening the asphalt, geosynthetics are also combined with asphalt to boost resistance to cracking during road building. These are used in the dam construction process to lower the risk for coastal erosion when water runs over the geonet, extending the life of a barrier.
In contrast side, geomembranes are polymer sheeting that is used to line landfills, canals, and tunnels trod to keep the upper layer in position and prevent the dumping of debris. As a result, it plays a crucial role in making these places safe for human usage and extending life. Due to their capacity to disperse loads over a broader area, geocells are used in construction projects to limit degradation on steep slopes, as retaining walls, and as a sub-base reinforcement for road bases, railway tracks, etc. The development of the construction and construction industry has stayed enhanced by the upsurge in management disbursement to progress amenities in numerous countries in the effort to raise living standards, along with the rise in urbanization. Additionally, the need for Geosynthetics has been positively influenced by rising environmental precautions that aim to decrease sediment management and soil degradation. The industry for geosynthetic materials is expanding as a result of these causes and their numerous advantages.
Report Scope of the Geosynthetics Market
| | |
| --- | --- |
| Report Coverage | Details |
| Market Size in 2022 | USD 30.26 Billion |
| Market Size by 2030 | USD 51.63 Billion |
| Growth Rate from 2022 to 2030 | CAGR of 6.9% |
| Base Year | 2021 |
| Forecast Period | 2022 to 2030 |
| Segments Covered | Type, Application and Geography |
| Companies Mentioned | ABG Ltd, Advanced Drainage Systems, Inc., AGRU Kunststofftechnik GmbH, Berry Global, Cooley Group, Fibertex Nonwovens A/S, Garware-Wall Ropes Ltd., Geofabrics Australasia Pty. Ltd., Geotrst Environmental Science Technology, Global Synthetics, Gorantla Geosynthetics Pvt Ltd., GSE Environmental Inc., HUESKER Synthetic GmbH, Koninklijke Ten Cate N.V., Low and Bonar PLC, Maccaferri S.p.A., MacLine, MacMat, NAUE GmbH & Co. KG, Officine Maccaferri S.p.A., Polymer Group Inc., Propex Operating Company, LLC,, PRS Geo-Technologies, Raven Industries, Inc., SKAPS Industries, Solmax International, Inc., Suntech Geotextile Pvt. Ltd., Taian Modern Plastic Co, Tenax Corporation, TenCate Geosynthetics, Tensar International Corporation, Texel Technical Materials Inc., Thrace Group (Greece) |

Key Market Drivers:
Growing expenditures in the management of waste in developing nations can be attributed to the enlargement of the geosynthetics market
Rapid urbanization and the world's rapidly growing population both contribute to rising volumes of liquid and solid waste. Growing awareness of environmental issues is driving up the need for initiatives that properly handle water and waste. By lowering or preventing the post-closure production of trash and related medical costs, geotextiles are utilized as garbage tops to stop liquid movement into landfill. Due to the growing public concern about substantial and pervasive water contamination, geosynthetics are progressively existence employed in various flood mitigation operations. The requirement for geosynthetics is anticipated to increase during the projected time frame as a result of the usage of geosynthetics liners solutions in sewage treatment lagoons at sewage treatment plants to safeguard water supplies, such as rivers, lakes, ponds, reservoirs, and aquifers.
Growing Use of Geotextiles in a Variety of Applications Would Boost Sales
One of these is the geotextile category, which is anticipated to grow at a remarkable CAGR throughout the forecast period. The growing use of geosynthetics in building applications, such as railways, highways, harbors, and drainage structures, is credited with driving the company's development. Additionally, producers are providing geotextiles in lengths and qualities tailored to certain purposes, which is expanding the industry. With the appropriate separation and reinforcing material, geotextiles have experienced tremendous growth. Geosynthetic use greatly improves soil stabilization, avoids waterlogging, and hence increases the longevity of facilities. The expansion of the geotextiles industry is predicted to be aided by rising infrastructure building expenditures and rising consumer understanding of the advantages of geotextiles throughout the evaluation period.
Polypropylene's Growth Furled by Attractive Features
According to FMI, polypropylene is still the most popular raw material used to produce geosynthetic goods because of its many desirable qualities, including its high strength, lightweight, corrosion resistance, and longevity. Thus, the industry for geosynthetics would expand more quickly as polypropylene-based geosynthetic materials become more and more common throughout numerous sectors.
Key Market Challenges:
Raw material costs change as a result of crude oil price swings
The main variables influencing finished pricing are the costs and supply of raw materials. The crude oil market price has an impact on the plurality of materials used in the production of geotextiles, including polyethylene, ethylene propylene diene, polypropylene, & PVC polymers.
The cost of the raw resources needed to create geotechnical parameters is directly affected by changes in the price of petroleum products. Nevertheless, practically every government has restricted both domestic and foreign travel as a result of the present epidemic. As a result, there has been a major drop in the desire for transportation fuel which has had an impact on crude oil prices.
Key Market Opportunities:
Increasing oil and gas and mining industry demand: One of the biggest users of geosynthetics is still the resource sector. The mining sector is anticipated to be driven by the Asian need for minerals and metals. Chinese is the world's top producer of metals, rare earth metals, copper, gold, coal, and gypsum, whereas India has seen major investments in the sector. Furthermore, significant international mining companies are increasingly choosing to engage in mining in South America. Huge mining capacity exists in important nations like Peru, Brazil, and Chile, where during the last five years there has been a rise in foreign company investment. The geosynthetics market is anticipated to grow throughout the projected time frame as a result of the expanding use of improved separation techniques in mining operations.
Segmental Insights:
Type Insights
Geotextiles are constructed fabrics created using fibers that are permeable, long-lasting, and non-biodegradable. In geotechnical engineering uses like major construction, hydrogeology, building, paving, and environmental science, geotextiles are being used. Along with pavement maintenance and repairs, embankments, soil reinforcement & stabilization, asphalt replacements, and other uses, they also were utilized for draining and eroding management.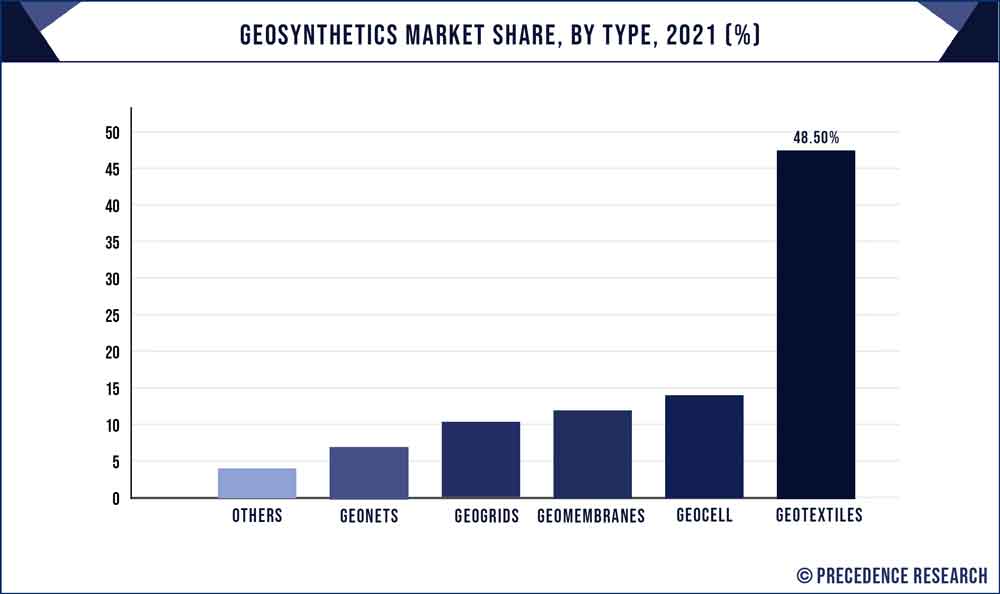 Due to its superior functionality and practical benefits over other substances, the segment dominated the market. PP, polyamide, and polyethylene polyester are the synthetic fibers used to make geotextiles. Due to growing awareness of such products' use as floater coverings for the reservoirs to regulate evaporating, decrease Volatile Organic Components (VOC) emissions, and reduce the need for draining and maintenance, geomembranes are predicted to grow at a stable CAGR in terms of profits from 2022 to 2030.
Application Insights
The highest sales volume belongs to resource disposal. Waste management uses geosynthetics to serve a variety of purposes, including drainage, filtration, separation, barriers, and reinforcement. industrial, Residential, and commercial garbage must be collected, moved, treated, recycled, and disposed of appropriately. Preventing the leaking of polluted liquids and gases into aquifers, freshwater, rivers, and other aquatic resources requires the use of geotextiles. During the projection period, there will likely be a greater need for waste management initiatives as a result of urbanization, population growth, and industrialization.
Geosynthetics Market Share, By Region, 2021 (%)
| | |
| --- | --- |
| Regions | Revenue Share in 2021 (%) |
| North America | 21% |
| Asia Pacific | 41.9% |
| Europe | 30% |
| Latin America | 4% |
| MEA | 3.1% |

Region Insights
APAC will rule the geosynthetics industry in 2021. The region is expanding more quickly, which supports the geosynthetics industry's rapid expansion. China, India, and other APAC nations' rising markets are expanding, which is fostering regional market expansion. The constantly growing population, urbanization, and industrialization in the area are the main drivers of market expansion. The need for waste management systems and growing investments in infrastructural development are the main factors boosting geosynthetics consumption in the area.
In 2021, Asia Pacific ruled the market and was responsible for the largest portion of worldwide revenue more than 41.9%. Over the projected period, the regional industry is anticipated to be driven by the increased demand for oil reinforcing in the initial work of residential properties in the expanding countries of India and China. Due to several construction directives, including M/107 or 89/106/EEC European Union, that have required the use of geosynthetics for construction projects, Europe accounted for a sizable portion of the market. Moreover, the municipal and commercial waste management techniques were subject to strict controls from the German government. Over the projected period, rising infrastructure projects in Central and South American developing economies, especially Brazil, are likely to increase geosynthetics utilization. The regional market is anticipated to increase as a result of increasing product utilization in water management procedures. The booming offshore industry for oil and gas in Brazil, Venezuela, and Argentina is another factor propelling the regional market. Geosynthetics are finding growing demand in the Middle East and Africa. Over the projection period, rising commercial and civil building projects in the area, including the building of hotels and stadiums, are projected to increase the demand for hybrid building materials like geosynthetics.
Recent Developments:
TenCate Geosynthetics, a Dutch supplier of geotextiles and commercial fabrics, was purchased by SOL MAX in June 2021. The company's capacity for development and global influence should expand as a result of the merger. For the business, the acquisition is anticipated to open up new commercial potential in infrastructural and container solutions for the mining, waste management, transportation, power, and civil engineering sectors.
SOL MAX will extend its business by opening a new geotextiles facility in Nevada, United States, in June 2019. By creating new, more dependable goods to serve a variety of end-use sectors, the development is anticipated to give the business a competitive advantage.
Under the trademark Secutex Green, NAUE created its first recyclable nonwoven geosynthetics fabric in July 2020. For use in structural engineering, the product is made from natural and sustainable elements.
Tensar International Company recently created an improved version of its TriAx geogrid, which is used in the transport industry. Road homogeneity and soil stabilization efficiency are significantly enhanced by TriAx geogrid.
In Gujarat, India, Strata System opened a new manufacturing plant in Feb 2019. The business plans to produce HDPE geocells and StrataGrid geogrid to meet the increasing need for geosynthetic reinforcement. The new plant is anticipated to have enough manufacturing capacity to supply both the domestic geotextiles Indian market and foreign exports.
Fibertex Nonwovens will spend USD 49 million in March 2021 to boost the capacity of production of its US production plant. To fulfill the increasing demand from the North American market, the new factory is anticipated to contain a spunlace operations line that focuses on sustainable product design.
At its location in Adorf, Germany, NAUE increased its geogrid manufacturing capacity in May 2019 by adding a new production line.
Key market players:
ABG Ltd (UK)
Advanced Drainage Systems, Inc.
AGRU Kunststofftechnik GmbH
Berry Global.
Cooley Group
Fibertex Nonwovens A/S
Garware-Wall Ropes Ltd.
Geofabrics Australasia Pty. Ltd.
Geotrst Environmental Science Technology (China)
Global Synthetics
Gorantla Geosynthetics Pvt Ltd. (India)
GSE Environmental Inc.
HUESKER Synthetic GmbH
Koninklijke Ten Cate N.V.
Low and Bonar PLC (UK) – Bontec
Maccaferri S.p.A. (Italy) – MacDrain
MacLine
MacMat
NAUE GmbH & Co. KG (Germany)
Officine Maccaferri S.p.A.
Polymer Group Inc. (US)
Propex Operating Company, LLC,
PRS Geo-Technologies
Raven Industries, Inc.
SKAPS Industries (US)
Solmax International Inc.
Suntech Geotextile Pvt. Ltd.
Taian Modern Plastic Co
Tenax Corporation
TenCate Geosynthetics
Tensar International Corporation
Texel Technical Materials Inc. (US)
Thrace Group (Greece)
Segments covered in the report:
(Note*: We offer report based on sub segments as well. Kindly, let us know if you are interested)
By Type
Geotextiles
Geomembranes
Geogrids
Geofoam
Geonets
Others
By Application
Waste Management
Water Management
Transportation Infrastructure
Civil Construction
Energy
Others
By Geography
North America
Europe
Asia-Pacific
Latin America
Middle East & Africa (MEA)