The global waste management market size was estimated at USD 1060.07 billion in 2022 and is expected to hit around USD 1782.5 billion by 2030, poised to grow at a compound annual growth rate (CAGR) of 6.71% from 2022 to 2030.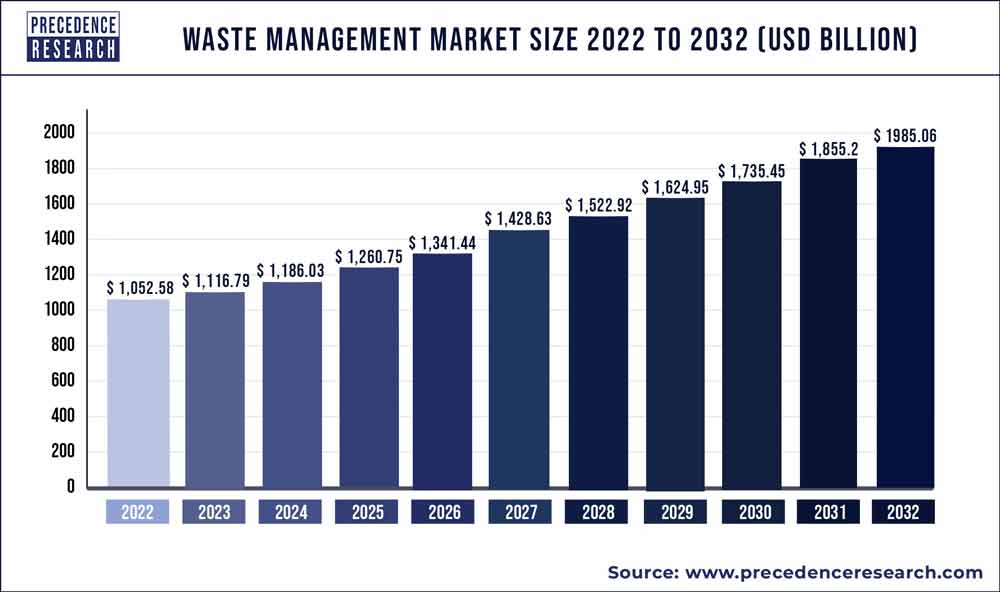 Key Takeway:
Asia Pacific region accounted 59% market share in 2022.
By waste type, municipal waste accounted 32.3% market share of the global market in 2022.
The e-waste segment is growing at a registered CAGR of 7.3% from 2022 to 2030.
By service type, the collection segment has garnered market share of around 63% in 2022.
The disposal service segment is poised to reach at a CAGR of 7.1% between 2022 to 2030.
The Middle East and Africa is expected to grow at a CAGR of 6.4% from 2022 to 2030.
India is projected to grow at a CAGR of 7.3% from 2022 to 2030.
Waste management is entails handling solid garbage and getting rid of undesirable goods and chemicals in a secure and effective way. Solid, liquid, and gaseous waste is all included in waste management. Municipal, industrial, and hazardous garbage are all dealt with via waste management. Waste produced during production and manufacturing operations in industries is referred to as industrial waste. Waste produced by the chemical, paint, pharmaceutical, and medical industries is referred to as hazardous waste.
Additionally, garbage is subject to significant collection and disposal efforts. Waste collection services include sorting, storage, and transportation of waste.
Growth Factors
Technology improvements and shorter product lifespans have led to an increase in e-waste. One of three factors-the end of their usable life, technological advancements, or shifting consumer preferences-causes electronic products to reach the recycling stage. Rapid technical advancements lead to the production of new electronic gadgets as well as enhanced versions of existing ones, such as laptops, mobile phones, and televisions. Similar to this, the shelf lives of electrical devices get shorter as people's purchasing power rises. New versions of smartphones and other electronic devices are released every year, and the previous versions are either thrown away or sold online for recycling. As a conclusion, as electronic product lifespans decrease, an increasing amount of e-waste is created. The accumulation of electronic waste drives the need for electronic waste management, which in turn drives the need for recycling electronic products. The average lifespan of consumer items and the components that create them has been gradually decreasing since the development of PCs and mobile phones.
Government rules that are projected to have a significant impact on the market are the Resource Conservation and Recovery Act and the Waste Shipment Regulation. These laws were designed to make this service better. The EPA has the power to regulate hazardous waste from the cradle to the grave, because to the Resource Conservation and Recovery Act (RCRA). This covers the production, movement, handling, handling, storage, and disposal of hazardous waste. To do this, the EPA creates rules, guidelines, and policies that guarantee the safe management and cleanup of solid and hazardous waste, as well as initiatives that support source reduction and useful reuse.
Report Scope of the Waste Management Market
| | |
| --- | --- |
| Report Coverage | Details |
| Market Size by 2030 | USD 1782.5 Billion |
| Growth Rate from 2022 to 2030 | CAGR of 6.71% |
| Largest Market | Asia Pacific |
| Fastest Growing Region | North America |
| Base Year | 2022 |
| Forecast Period | 2023 to 2030 |
| Segments Covered | Waste Type, Service Type, End User, Geography |
| Companies Mentioned | Waste Management, Veolia, Republic Services, SUEZ, Biffa Waste Connections, Clean Harbors, Covanta Holding, Daiseki, Hitachi Zosen |
Waste Type Insights
Depending upon the waste type, the industrial waste segment accounted largest market share 51% in 2021. The increasing amounts of e-waste, low collection crates, poor dumping, and handling of this material gravely threaten the environment and potentially human health.
Improper handling of e-waste also contributes to global warming. Since it is created in such large amounts and contains both useful and dangerous components, e-waste is a developing problem. The typical life expectancy of a PC is rapidly decreasing, and the global market for personal computers (PCs) is still far from being saturated, both of which contribute to the rapid increase of this waste stream.
The hazardous waste is average segment in the waste management market. Chemical production, manufacturing, and other industrial operations are the main sources of hazardous wastes, which can also include solids, liquids, sludges, or enclosed gases. Inadequate operations for storage, transportation, treatment, or disposal could result in damage. Improper handling, storage, or disposal of hazardous material frequently causes harmful water pollution by contaminating groundwater and surface water supplies. It can also cause hazardous land contamination.
Service Type Insights
During the projected period, the landfill segment is anticipated to be the largest. Today, solid waste is disposed of in properly operated and constructed landfills. Landfills are planned, placed, operated, and monitored to guarantee adherence to established requirements. They are also designed to protect the environment from pollutants that can be present in the waste stream. Two billion metric tons of solid garbage are produced worldwide each year, according to the BBC. Despite making up only 4% of the world's population, Americans produce the most rubbish per person, accounting for 13% of all garbage. Based on the same methodology, it was discovered that the U.S. was the only industrialized nation in the world whose MSW generation outpaced recycling.
Open dumping is also a prominent segment in service type of waste management market. Waste is disposed of in open, low-lying areas remote from the city. This practice is not eco-friendly because the open pits ruin the area's aesthetics and serve as a haven for insects that spread dangerous diseases, such as mosquitoes and flies.
End User Insights
On the basis of end user type, the residential segment is expected to be the largest market to show a tremendous growth during the forecast period. Waste gathered from single- and multi-family residences falls under this category. Consumer durables, toys, fast-moving consumer goods (FMCG), e-waste, household hazardous wastes, and other packaging materials make up the majority of household waste. Additionally, due to rising disposable income and consumers' preference for online shopping, the amount of plastic waste created by the residential sector has substantially increased.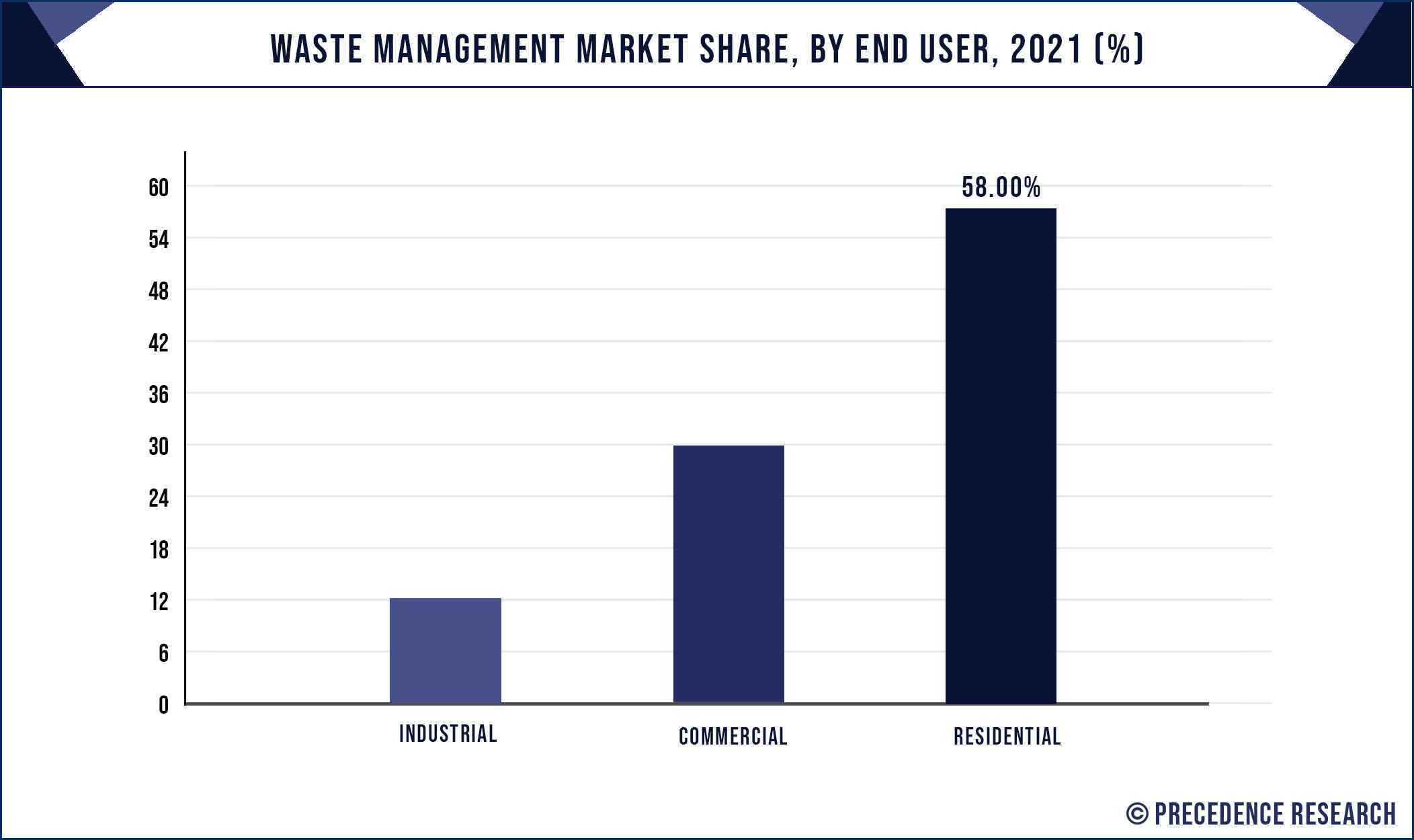 Industry waste is also a leading segment in the market. Construction, oil and gas, chemical, nuclear, agricultural, and mining industries all produce and collect industrial waste, which is made up of solid, liquid, and gaseous waste. There are hazardous and non-hazardous wastes in it. The majority of the hazardous industrial waste produced each year is produced by the chemical, oil & gas, and nuclear industries. Due to the increased demand for energy and chemical products around the world, these industries are expected to produce even more waste over the next years. Service providers who collect, treat, and dispose of hazardous industrial waste are expected to gain from this.
Region Insights
The highest market share and dominant position in the waste management industry belong to Asia-Pacific. As more people relocate from rural to urban areas across Asia Pacific, it is projected that the generation of solid trash will rise quickly. Industrialization has increased urbanization in the Asia Pacific region through rural people's migration to urban areas and the expansion of towns into cities. The region's steady economic progress is also giving customers in the Asia-Pacific region more money to spend, which has eventually increased demand for waste management services. The increased understanding of the detrimental environmental consequences of non-ecofriendly packaging, such as plastic packaging and other plastic product components, has had a considerable impact on the waste management business in this region.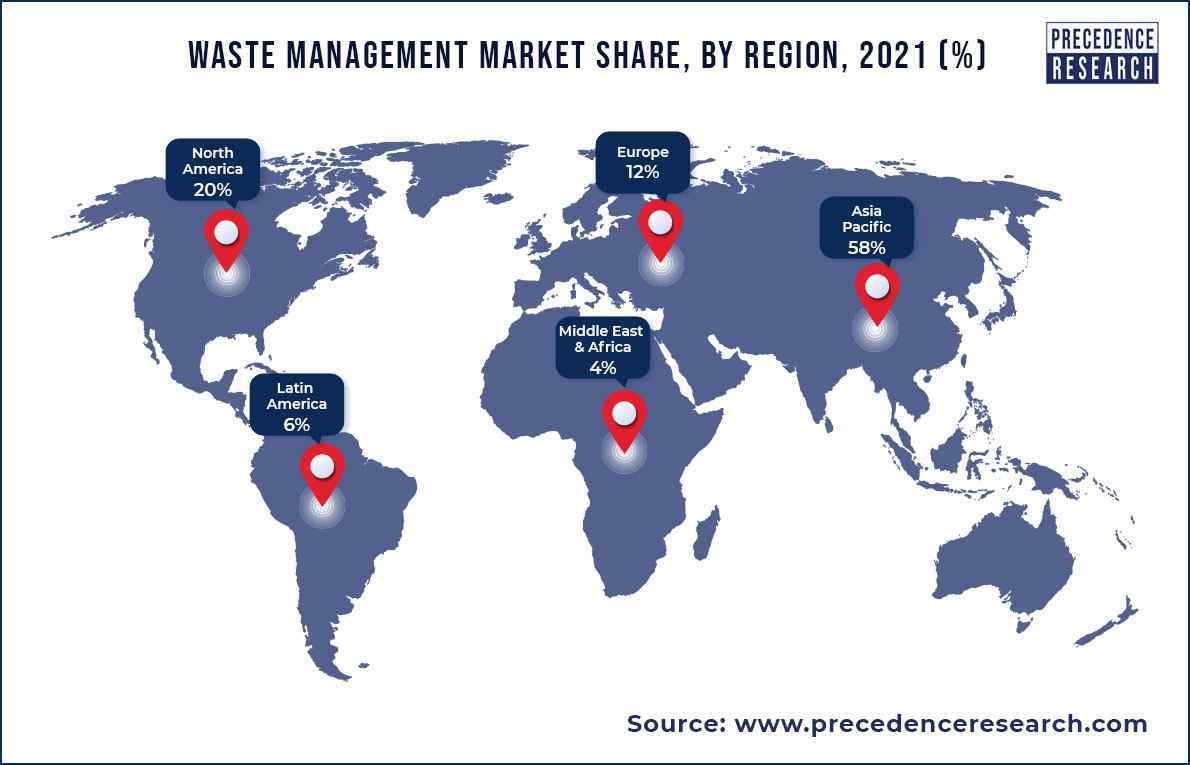 The market size in North America will grow as a result of government regulations requiring waste management in various industries and expanded infrastructure. The Resource Conservation and Recovery Act and the Waste Shipment Regulation are two government regulations that are anticipated to have a substantial effect on the market. These regulations were created to enhance the service.
North America and Europe regions held 12.5% and 23.5% revenue share of the global market, respectively, in 2021.
Key market players
Waste Management
Veolia
Republic Services
SUEZ
Biffa Waste Connections
Clean Harbors
Covanta Holding
Daiseki
Hitachi Zosen
Segments covered in the report
(Note*: We offer report based on sub segments as well. Kindly, let us know if you are interested)
By Waste Type
Hazardous Waste
E-waste
Municipal Waste
Plastic Waste
Industrial Waste
Others
By Service Type
Collection
Open Dumping
Incineration/Combustion
Landfill
Recycling
By End User
Residential
Commercial
Industrial
By Geography
North America
Europe
Asia-Pacific

China
India
Japan
South Korea
Malaysia
Philippines

Latin America

Brazil
Rest of Latin America

Middle East & Africa (MEA)

GCC
North Africa
South Africa
Rest of the Middle East & Africa