The global plastic waste management market size was valued at US$ 36.96 billion in 2021 and it is expected to hit over US$ 59.24 billion by 2030 with a registered CAGR of 5.4% from 2022 to 2030.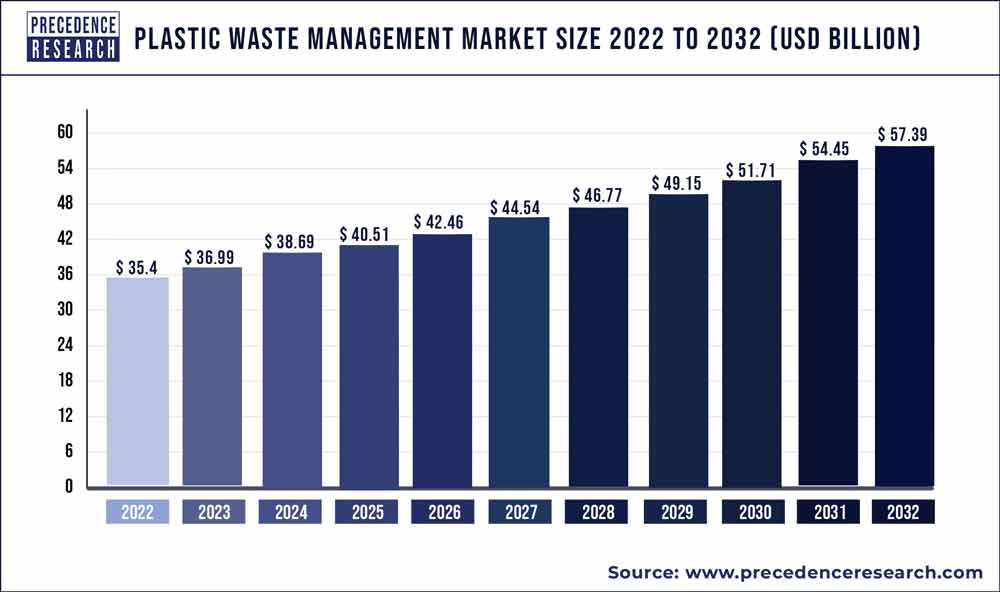 Growth Factors
Plastic recycling contributes to the value-added advantages of plastic by reducing its toxicity. Recycled plastic can also be used to make bottles, containers, bags, films, and other packaging products that are environmentally friendly. The reprocessing waste materials and waste plastics is growing owing to the numerous benefits associated with it, including a reduction in the amount of waste transported to landfills and incinerators, conservation of natural resources, and prevention of pollution.
Due to supportive policies and growing public awareness about the dangers of plastic waste, the plastic waste management program is widely used in North America and Europe. The increased recycling rates are predicted to give an exceptional opportunity for developing and emerging economy activities and employment creation all around the world. Furthermore, it is projected to provide a better plastic waste management system, cut fossil fuel usage, and minimize greenhouse gas emissions.
Machine learning and big data are paving the way for new growth opportunities in the plastic waste management industry. These technologies can save time and allow for more efficient resource planning. As a result, the overall cost of operation would be reduced. In addition, satellite-based identification of ocean plastic debris could pinpoint the specific location of densely populated places. Companies are saving time and resources by utilizing such devices to gather plastic trash.
Report Scope of the Plastic Waste Management Market
| | |
| --- | --- |
| Report Coverage | Details |
| Market Size by 2030 | USD 59.24 Billion |
| Growth Rate from 2022 to 2030 | CAGR of 5.4% |
| Packaging Segment Market Share in 2021 | 45% |
| North America Makret Growth Rate | CAGR of 15.5% from 2022 to 2030 |
| Base Year | 2021 |
| Forecast Period | 2022 to 2030 |
| Segments Covered | Service, Polymer, Source, End Use, Geography |
| Companies Mentioned | Veolia Environment, Waste Connections Inc., Covanta Holding Corporation, Stericycle, SUEZ, Waste Management Inc., Clean Harbors, Waste Connections Inc., Remondis SE, Biffa |
Plastic garbage output has increased as a result of factors such as economic expansion, increasing urbanization, industrialization, and people's changing lifestyles, posing an increasing threat to the environment. With advances in consumer education and rising knowledge about health and the environment, there has been a substantial increase in awareness regarding plastic waste management. The plastic waste management sector has seen new prospects as the population and income levels of individuals have risen.
Plastic recycling is a critical need in society because it not only ensures energy recovery but also reduces carbon emissions. For every ton of recycled plastic, roughly seven yards of land may be saved form landfills, and over 80% of energy can be saved for the creation of brand-new plastic material. Plastic is a very inexpensive and flexible material that is used to make a wide range of products, including carpets, garbage bags, textiles, films, bottles, and containers. Over the projected period, this plastic recycling technique will be enhanced to boost the plastic waste management market.
Furthermore, one of the major factors driving the plastic waste management market is the rise in government initiatives aimed at building an effective integrated waste management system for the conservation of natural resources and the protection of soil from contamination. Government and other regulatory authorities are increasingly contributing to the development of an effective waste management infrastructure facility around the world, resulting in the development of an efficient waste disposal management system. This is propelling the plastic waste management market even further.
The lack of skilled professionals and lack of knowledge of plastic waste management systems such as gathering, dispensing, and removal of plastic trash, storage control, transportation, and allocation are the factors limiting the growth of the global plastic waste management market. The plastic waste management system poses a significantly difficulty. Furthermore, the high cost of recycling and the presence of hazardous compounds are regarded as market limitations.
Service Insights
In 2021, the recycling segment dominated the plastic waste management market. This is attributed to tight government policies and a huge increase in recycling infrastructure. The recycled plastic has variety of applications.
The collection segment is predicted to develop at the quickest rate in the future years. The most vital as well as the most difficult service is collection. The residential, commercial, and industrial plastic garbage collection services are provided by key market players in the plastic waste management market.
Polymer Type Insights
The polypropylene segment dominated the plastic waste management market in 2021. Polypropylene is readily available, inexpensive, and adaptable to a variety of production techniques, making it ideal for both domestic and industrial uses.
The low-density polyethylene segment is expected to witness growth at a CAGR of 18% in 2021. The garbage can liners, floor tiling, furniture, trashcans, compost bins, and paneling are all made from recycled low-density polyethylene.
Source Insights
In 2021, the residential segment dominated the plastic waste management market. Plastics are an important part of everyday life and are widely employed in domestic applications.
The commercial segment, on the other hand, is predicted to develop at the quickest rate in the future years. The growing commercial spaces around the world including malls, office buildings, retail stores, and restaurants are expected to fuel plastic demand, resulting in a large volume of garbage.
End Use Insights
The packaging segment accounted revenue share of around 45% in 2021. This is due to the rising demand for plastics in product packaging to protect, preserve, convey, and display data.
The consumer product segment is fastest growing segment of the plastic waste management market in 2021 and reach at a CAGR of 3.5%. This is owing to the widespread use of plastic in consumer goods around the world.
Region Insights
Asia-Pacific dominated the plastic waste management market in 2021. This is due to increasing industrialization and the application of severe legislation pertaining to plastic waste management and disposable processes.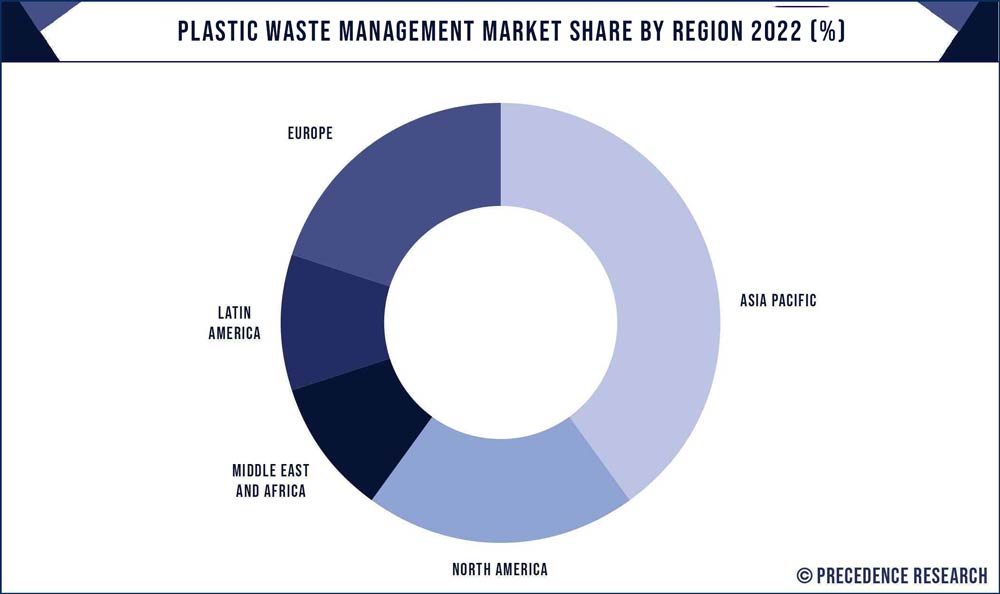 North America is expected to develop at the fastest rate during the forecast period and to reach at a CAGR of 15.5%. This is attributed to rising awareness of the need to reduce the carbon impact caused by plastic waste.
Key Developments
SUEZ opened a packaging sorting plant in Germany in July 2019. It's the most modern package sorting facility in Europe. This expansion is projected to improve Germany's waste management systems.
LC Packaging and Veolia Netherlands signed a strategic cooperation in May 2019 to reduce flexible packaging waste around the world.
Biffa PLC acquired Green Circle Polymers' only post-consumer plastic recycling facility in Scotland in June 2021. The strategic acquisition was made in order to meet the company's goal of increasing its plastic recycling capacity by 2030.
UPS Healthcare and Stericycle announced a collaboration in May 2021 to provide a medical waste sorting and disposable services. With this collaboration, both companies hope to preserve people's health while also contributing to the plastic circular economy in a responsible, long term, and safe manner.
The mergers and acquisitions, partnerships, new product development, business expansions, collaborations, supply contracts, agreements, and contracts are some of the important marketing strategies used by the major market players to maintain their market position.
Some of the prominent players in the global plastic waste management market include:
Veolia Environment
Waste Connections Inc.
Covanta Holding Corporation
Stericycle
SUEZ
Waste Management Inc.
Clean Harbors
Waste Connections Inc.
Remondis SE
Biffa
Segments Covered in the Report
(Note*: We offer report based on sub segments as well. Kindly, let us know if you are interested)
By Service
Collection
Recycling
Incineration
Landfills
By Polymer
Polypropylene
Low density polyethylene
High density polyethylene
Polyvinyl chloride
Terephthalate
Others
By Source
Residential
Commercial
Industrial
By End Use
Packaging
Textile
Consumer product
Transportation
Building & construction
Electrical & electronics
Others
By Geography
North America
Europe
Asia-Pacific

China
India
Japan
South Korea
Malaysia
Philippines

Latin America

Brazil
Rest of Latin America

Middle East & Africa (MEA)

GCC
North Africa
South Africa
Rest of the Middle East & Africa