The global plastic compounding market was valued at US$ 58.79 billion in 2019 and is projected to record compound annual growth rate (CAGR) of around 6.71% during period 2020 to 2027.
The global plastic compounding market size is expected to hit around US$ 104.1 billion by 2027.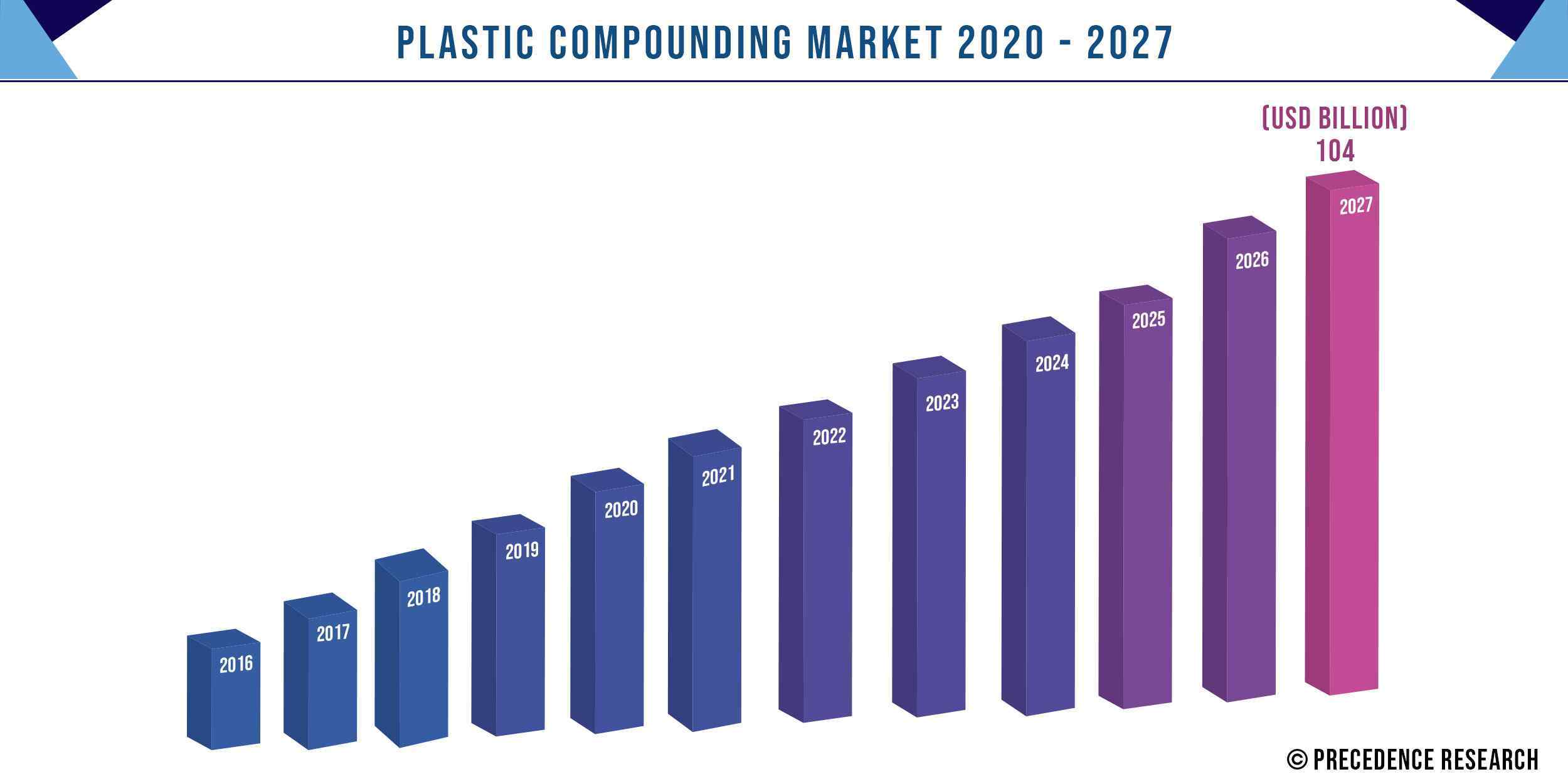 Growth Factors
Rising consumption from downstream sectors including construction, automotive, electronic, electrical and packaging are flourishing the growth of plastic compounding market. The demand for plastic is constantly growing inseveral industrial applications as it offers many advantages such as easy molding and ability to form preferred shape.Further, spurring use in the infrastructure area is one of the prominent influencing factors for the growth of plastic compounding market globally.
Environmental concerns and diminishing crude oil reserves due to practice of petrochemical polymers have triggered the requirement of bio-based products. Government limitations on consumption of polymers extracted from petrochemicals in many end use industries is anticipated to incentivize production of bio-based polymers. Bioplastic resin suppliers are increasing the raw material supply in anticipation of strong demand. Plastic additive producers are escalating capability to cater the rising demands of global plastic compounding markets.
Application Insights
Conventionally, construction sector has been a chief consumer of plastics for multiple applications including insulation, pipe fittings, masonry equipment and materials. Plastic compounds can bereformed as per their necessities. For example, flame retardant additives are mixed to polyvinyl chloride compounds in order to form a very vital facet of building materials. Polyurethane compounding is employed in order to achieve insulation function for buildings. The polystyrene and polypropylene compounding are commonly utilized in the construction sector as it has features such as economical nature, inherent strength and stress-free recyclability. The architects, builders, and service consultants are continuously seeking ways to augment energy efficiency in buildings. Overall, plastic compounding is gaining acceptance due to prerequisite for enhanced energy efficient buildings and rushing energy prices.
Product Insights
Packaging captured the largest market by application with a contribution with around 36% revenue share of the total market in 2019. Polypropylene is an outstanding packaging material as it provides lightweight and economical packaging. Additionally, polypropylene packaging can endure an extensive temperature range from microwave to freezing temperature. Both, polystyrene and polypropylene compounding can be employed for packaging. This fact supports the growth of polypropylene compounding segments growth in the market.
Regional Insights
Asia Pacific appeared as the prime market for plastic compounding products on account of cost-effective environment and the advent of plastic manufacturers in the region. Asia Pacific is the leading producer of electrical and electronic devices. Since last couple of years, there has been tremendous escalation in demand for electrical and electronic devices in this region on account of technological enhancements and improved R&D in the electronic and electrical sector. Numerous prominent electronic component industrialists have set up facilities in Indonesia,India, South Korea and China. This is indirectly projected to spur the sale of plastic compounding in this region.
Escalating industrialization and augmented in disposable income across the emergent nations like India and China have triggered the need for automobiles. Stimulating production of light weight vehicles and upsurge in demand for electric vehicles are few other influencers of the growth of the market. Europe has also appeared as rapidly growing market for plastic compounding. Germany, France, Russia and UK, are the some of the key revenue generating markets in this region.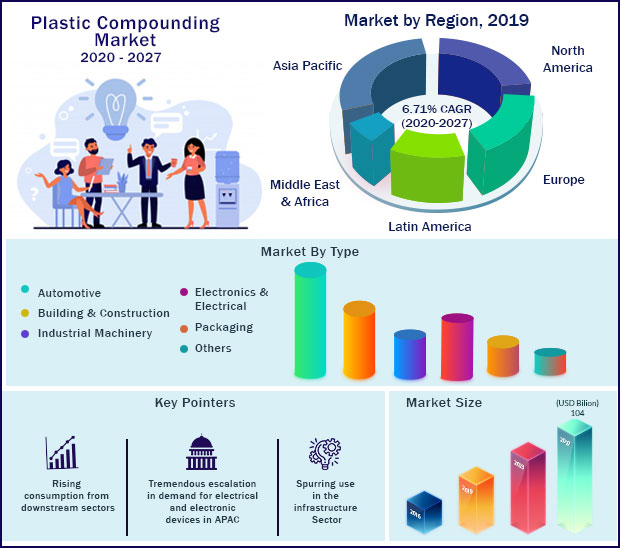 Key Companies & Market Share Insights
Backward integration is one of the foremost industry-wide drifts in the compounding business that is also happening in other facets of the plastics sector. By backward integration, a manufacturer can moderate the amount of operations in the production chain. Large processors like the notion of straight in-line compounding in their plants, wherein they purchase neat resin, put it straight into the compounding system, and then right away transfer the compounded resin to its processing or extrusion machinery.
Forthcoming demand and supply variations are also anticipated to retain prices of plastics very unstable. Most raw materials are created via downstream processes of petrochemicals. Instability in price crude oil caused due to demand and supply discrepancies, and seasonal deviations and political instability. Furthermore, the global market is extremely integrated from raw material procurement to distribution channels. Chief corporations have recognized supply agreement to cut overall cost of production. Such influences are anticipated to have great effect on plastic compounding prices.
The foremost key companies functioning in the global plastic compounding market are BASF SE, Kingfa Sci. and Tech. Co., Ltd., Asahi Kasei Corporation, Covestro AG, LyondellBasell Industries Holdings B.V., Celanese Corporation, Polyone Corporation, DowDuPont Inc., SABIC, and Solvay SA. These chief manufacturers are implementing multiple approaches like business development, acquisition and partnership to remain strong in the worldwide market competition. Some of the other market participants contributing the market growth include, Adell Plastics, Inc, Sojitz Corporation, Polyvisions Inc., Mexichem Specialty Compounds Inc., and Coperion GmbH. Some of the significant players in the plastic compounding market include:
BASF SE,
Asahi Kasei Plastics
The Dow Chemical Company
LyondellBasell Industries N.V.
SABIC
Covestro (Bayer Material Science)
Report Scope of the Plastic Compounding Market
| | |
| --- | --- |
| Report Highlights | Details |
| Market Size | USD 104.1 Billion by 2027 |
| Growth Rate | CAGR of 6.71% from 2021 to 2027 |
| Largest Market | Asia Pacific |
| Fastest Growing Market | North America |
| Base Year | 2021 |
| Forecast Period | 2021 to 2027 |
| Segments Covered | Product, Application, Region |
| Companies Mentioned | BASF SE, Kingfa Sci. and Tech. Co., Ltd., Asahi Kasei Corporation, Covestro AG, LyondellBasell Industries Holdings B.V., Celanese Corporation, Polyone Corporation, DowDuPont Inc., SABIC, and Solvay SA |
Segments Covered in the Report
This research report estimates revenue growth at global, regional, and country levels and offers an analysis of present industry trends in every sub-segment from 2016 to 2027. This research study analyzes market thoroughly by classifying global plastic compounding market report on the basis of multiple factors including application, product and region as follows:
By Application
Electronics & Electrical
Automotive
Packaging
Building & Construction
Industrial Machinery
Optical Media
Consumer Goods
Others
By Product
Thermoplastic Polyolefins (TPO)
Poly Vinyl Chloride (PVC)
Polypropylene (PP)
Thermoplastic Vulcanizates (TPV)
Polystyrene
Polybutylene Terephthalate (PBT)
Polycarbonate
Acrylonitrile Butadiene Styrene (ABS)
Polyethylene (PET)
Polyamide
Others
By Regional Outlook
North America
Europe

U.K.
France
Germany
Italy

Asia Pacific
Latin America
Middle East & Africa

Saudi Arabia
South Africa