The global plastic compounding market size is estimated at USD 63.4 billion in 2022 and it is expected to hit around USD 125.3 billion by 2032, expanding growth at a CAGR of 7.1% from 2023 to 2032.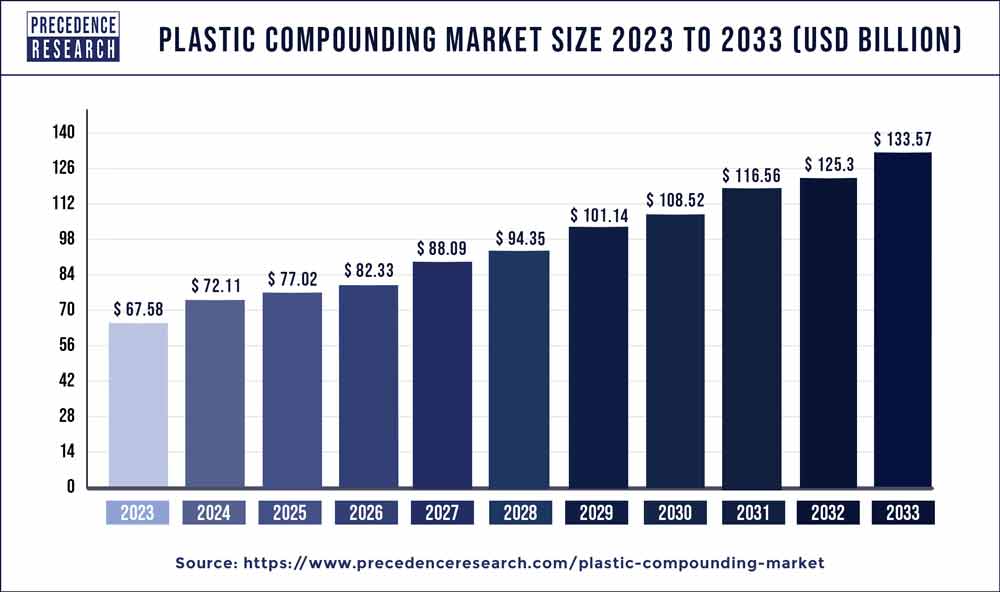 Access our Premium Real Time Data Intelligence Tool, Visit: Precedence Statistics
Key Takeaway
The thermoplastic polymers segment is growing at a CAGR of 4.9% over the forecast period.
The consumer goods segment will account for 26% of revenue share by 2032.
Asia Pacific region is expected to grow at a CAGR of around 6.4% CAGR from 2023 to 2032.
The Europe market accounted for 22.6% revenue share in 2022.
Plastic Compounding Market in the Asia Pacific 2023 To 2032
The Asia Pacific plastic compounding market size is valued at USD 28.53 billion in 2022 and it is projected to reach around USD 52.80 billion by 2032, growing at a CAGR of 6.40% between 2023 and 2032.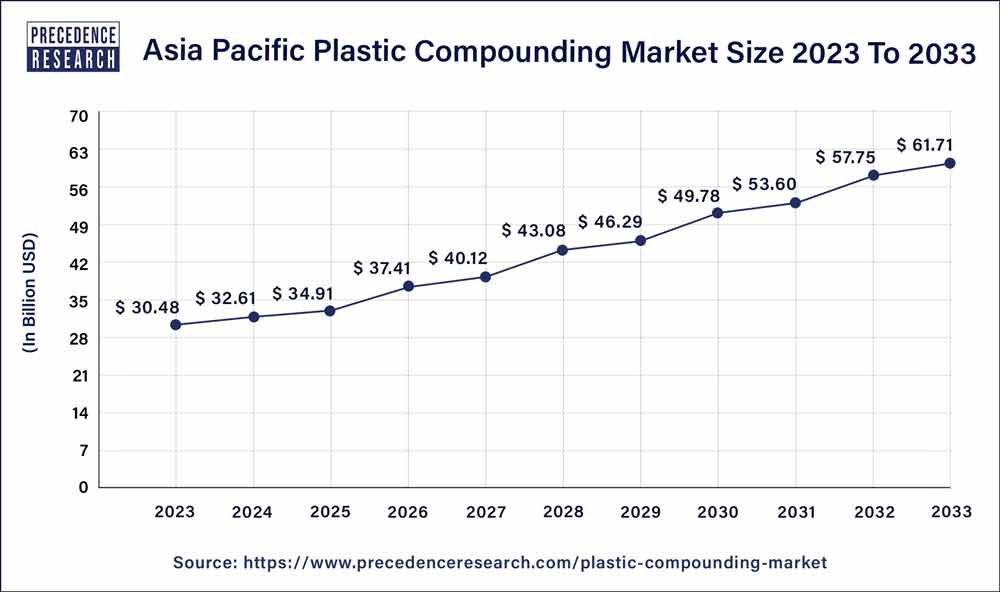 The primary cause of the sharp rise is the rising demand for biodegradable polymers in developing nations like China and India. PHA and PLA had sustainable market shares of the 2.11 million tonnes of bioplastics manufactured, respectively. Additionally, businesses are increasing their biodegradable plastic production due to regulatory restrictions on single-use plastic packaging. As a viable alternative to petroleum-based goods, biodegradable polymers from agricultural materials like corn and sugar cane are gaining popularity. For instance, BBCA, a supplier of lactic acids used as food additives, recently established a facility with the capacity to produce 50,000 tonnes of polymers from lactic acid (PLA) each year.
Furthermore, India consumes 9.7 kg of plastic per person annually, compared to China's average of 46 kg. When heated, thermoplastics do not distort plastically. Plastics are widely available, have a high output, a wide range of applications, are inexpensive, and the molding process is simple. Thus, growing economies like China and India employ these kinds of plastics. Also, Firms are turning to bioplastics because consumers in most Asian nations, including China, India, Bangladesh, and others, are worried about the environment. This helps businesses increase their consumer market share.
Asia Pacific accounted largest revenue share of 45% in 2022, owing to rise in its demand from arising operation sectors including construction, electrical & electronics, and automotive. In the construction sector, the adding demand for plastic composites is owing to rise in its use in floorings, sequestration accoutrements, storehouse tanks, performance safety windows, doors, pipes, and lines. Growth in domestic and marketable systems in developing economies similar as India and China, is boosting infrastructural development. Expansion of automotive and electronic and electrical element manufacturing shops across Asia-Pacific is anticipated to give economic openings in the market.
Asia Pacific appeared as the prime market for plastic compounding products on account of cost-effective environment and the advent of plastic manufacturers in the region. Asia Pacific is the leading producer of electrical and electronic devices. Since last couple of years, there has been tremendous escalation in demand for electrical and electronic devices in this region on account of technological enhancements and improved R&D in the electronic and electrical sector. Numerous prominent electronic component industrialists have set up facilities in Indonesia,India, South Korea and China. This is indirectly projected to spur the sale of plastic compounding in this region.
Escalating industrialization and augmented in disposable income across the emergent nations like India and China have triggered the need for automobiles. Stimulating production of light weight vehicles and upsurge in demand for electric vehicles are few other influencers of the growth of the market. Europe has also appeared as rapidly growing market for plastic compounding. Germany, France, Russia and UK, are the some of the key revenue generating markets in this region.
Growth Factors
Plastic compounding is a process of transubstantiating the characteristics of introductory plastics and thermoplastics using an admixture of plastics and complements. Plastic compounds have higher physical properties such as conductivity, wide range of flame retardancy, are light weight and wear resistance. These properties increase their demand in various buildings, automotive, and construction, packaging and electrical & electronics and therefore boosting the growth of the global plastic compounding market.
Rising consumption from downstream sectors including construction, automotive, electronic, electrical and packaging are flourishing the growth of plastic compounding market. The demand for plastic is constantly growing inseveral industrial applications as it offers many advantages such as easy molding and ability to form preferred shape.Further, spurring use in the infrastructure area is one of the prominent influencing factors for the growth of plastic compounding market globally.
Environmental concerns and diminishing crude oil reserves due to practice of petrochemical polymers have triggered the requirement of bio-based products. Government limitations on consumption of polymers extracted from petrochemicals in many end use industries is anticipated to incentivize production of bio-based polymers. Bioplastic resin suppliers are increasing the raw material supply in anticipation of strong demand. Plastic additive producers are escalating capability to cater the rising demands of global plastic compounding markets.
Report Scope of the Plastic Compounding Market
| | |
| --- | --- |
| Report Highlights | Details |
| Market Size in 2023 | USD 67.58 Billion |
| Market Size by 2032 | USD 125.3 Billion |
| Growth Rate from 2023 to 2032 | CAGR of 7.1% |
| Largest Market | Asia Pacific |
| Fastest Growing Market | North America |
| Base Year | 2022 |
| Forecast Period | 2023 to 2032 |
| Segments Covered | Product, Application, Region |
| Companies Mentioned | BASF SE, Kingfa Sci. and Tech. Co., Ltd., Asahi Kasei Corporation, Covestro AG, LyondellBasell Industries Holdings B.V., Celanese Corporation, Polyone Corporation, DowDuPont Inc., SABIC, and Solvay SA |
Future of Plastic Compounding Market
Increase in disposable income of individualities and rapid industrialization across the arising economies similar as China and India, have fueled the demand for vehicles. Growth in increase in demand for electric vehicles and light weight vehicles production are some of the major drivers of this market. Asia-Pacific is the leading manufacturer of electronic and electrical bias. Over the once many times, there has been a surge in demand for electrical and electronic bias across the region due to advancements in technology and R&D in the electrical & electronic market. Numerous leading electronic element manufacturers have set their shops in India, China, Indonesia, and South Korea. This is anticipated to drive the growth of the plastic compounding market.
Plastic Compounding Market Dynamics
Market Driver: Increasing Plastic Compounding in Infrastructure Development
As consumer awareness of appealing interiors rises, driving demand for these materials in interior designs, the frequency of residential and commercial projects in developing nations stimulates infrastructural development. The plastic compounding market is projected to benefit from the expanding construction sector. Through various products, including pipes, wires, cables, waterproofing membranes, and wood PVC composites, PVC and CPVC play a significant part in the sustainable management of this industry. The majority of developing nations, including Mexico, India, and others, are anticipated to profit from increased construction spending as well as from customers' propensity to choose sustainable and lightweight building materials over more traditional materials like metals and alloys.
Market Restraint: High Substitution Potential from its Bio-based Counterparts
The usage of bio-based polymer manufacture has been encouraged by various limits that governments have placed on the consumption of polymers made from petrochemicals in multiple sectors. Instead of using fossil fuels, these bio-compound polymers are produced from plants or other sustainable resources. Polymers derived from bio-based sources, such as Polyhydroxyalkanoate (PHA), Polylactic Acid (PLA), and Polybutylene Succinate (PBS), have demonstrated outstanding biodegradability, which their corresponding products derived from petrochemicals severely lack. As a result, these products are becoming increasingly popular, particularly for biomedical and agricultural uses.
Market Opportunity: Continued Advancement in Catalyst Technology to Boost Resin Performance and Yield
Some accelerators can boost resin yield, causing quality problems and poor product performance. The performance, adaptability, and yield of polyethylene and other resins will thus be improved by continuously developing polymerization catalyst technologies, creating a lucrative opportunity for the leading players to boost their output and compete favorably on the market.
COVID-19 Impact Analysis:
The outbreak of Covid-19 has affected the prices of raw material of plastic compounding. Furthermore, crude oil prices slummed due to the global pandemic recently.
Slowdowns or pause in production in the industries of manufacturing & a decline in demand, and further limitation in supply & travel are resulting in the drop of crude oil prices.
Therefore, the providers of raw material who can store crude oil in the present situation are likely generating a substantial profit margin.
Application Insights
Globally, the population is undoubtedly going to need a lot more infrastructure, and this is expected to increase construction activity, increasing demand for building supplies and plastic compounding goods. Automobile OEMs are adopting plastics as alternatives to metals like aluminum and steel in manufacturing automotive components in response to regulatory interference to lower vehicle weight to enhance fuel ability and cut carbon emissions. The global plastic compounding market is driven by an increase in demand for reinforced thermoplastic and thermoset materials used to produce automobile components.
The automotive segment dominated the market with a revenue share of 25.8% in 2022.
Conventionally, construction sector has been a chief consumer of plastics for multiple applications including insulation, pipe fittings, masonry equipment and materials. Plastic compounds can bereformed as per their necessities. For example, flame retardant additives are mixed to polyvinyl chloride compounds in order to form a very vital facet of building materials. Polyurethane compounding is employed in order to achieve insulation function for buildings. The polystyrene and polypropylene compounding are commonly utilized in the construction sector as it has features such as economical nature, inherent strength and stress-free recyclability. The architects, builders, and service consultants are continuously seeking ways to augment energy efficiency in buildings. Overall, plastic compounding is gaining acceptance due to prerequisite for enhanced energy efficient buildings and rushing energy prices.
Product Insights
Due to its affordability, durability, and resistance to chemical corrosion, polyvinyl chloride (PVC) is expected to continue to be in high demand in the building industry. Over the predicted period, there will be an increase in the usage of unplasticized polyvinyl chloride as an alternative for painted wood in window frames as well as sills. Polyvinyl chloride is used in packaging for medical equipment, device bottle sleeving, packaging, consumer electronics packaging, and other goods. Positive expectations are forecast for the expanding packaging business, particularly the plastic packaging industry. PVC is used in packaging for things like medical equipment and device packaging, bottle sleeving, and packaging for consumer electronics and other goods. Positive expectations are forecast for the expanding packaging business, particularly the plastic packaging sector.
Polypropylene (PP) segment holds the major share 33% in 2022, as it's extensively used in automotive operations. Plastic composites are light in weight and are replacing metal factors in automotive. To reduce the weight of the vehicles. These results in lower carbon emigrations and increase in energy effectiveness and performance of the vehicles. This factor is anticipated to increase the use of plastic in automotive operations. In addition, properties similar as good fatigue resistance, being light weight, and better temperature & chemical resistance are anticipated to increase the demand for polypropylene and therefore, likely to drive the growth of this market in future.
Polypropylene is an outstanding packaging material as it provides lightweight and economical packaging. Additionally, polypropylene packaging can endure an extensive temperature range from microwave to freezing temperature. Both, polystyrene and polypropylene compounding can be employed for packaging. This fact supports the growth of polypropylene compounding segments growth in the market.
Key Companies & Market Share Insights
Backward integration is one of the foremost industry-wide drifts in the compounding business that is also happening in other facets of the plastics sector. By backward integration, a manufacturer can moderate the amount of operations in the production chain. Large processors like the notion of straight in-line compounding in their plants, wherein they purchase neat resin, put it straight into the compounding system, and then right away transfer the compounded resin to its processing or extrusion machinery.
Forthcoming demand and supply variations are also anticipated to retain prices of plastics very unstable. Most raw materials are created via downstream processes of petrochemicals. Instability in price crude oil caused due to demand and supply discrepancies, and seasonal deviations and political instability. Furthermore, the global market is extremely integrated from raw material procurement to distribution channels. Chief corporations have recognized supply agreement to cut overall cost of production. Such influences are anticipated to have great effect on plastic compounding prices.
The foremost key companies functioning in the global plastic compounding market are BASF SE, Kingfa Sci. and Tech. Co., Ltd., Asahi Kasei Corporation, Covestro AG, LyondellBasell Industries Holdings B.V., Celanese Corporation, Polyone Corporation, DowDuPont Inc., SABIC, and Solvay SA. These chief manufacturers are implementing multiple approaches like business development, acquisition and partnership to remain strong in the worldwide market competition. Some of the other market participants contributing the market growth include, Adell Plastics, Inc, Sojitz Corporation, Polyvisions Inc., Mexichem Specialty Compounds Inc., and Coperion GmbH. Some of the significant players in the plastic compounding market include:
BASF SE,
Asahi Kasei Plastics
The Dow Chemical Company
LyondellBasell Industries N.V.
SABIC
Covestro (Bayer Material Science)
Key Developments in the Market place:
In October 2022, as part of ongoing initiatives to assist clients in meeting their sustainability goals, BASF Performance Materials Asia Pacific earned several certifications at its Pasir Gudang and Pudong factories.
In October 2022, Clariant introduces new additives at a K 2022 to aid in the sustainable development of plastics. Applications now have more resilience to facilitate prolonged use and reuse as we move toward circularity.
In July 2022, Asahi Kasei joined European Bioplastics (EUBP), a group of businesses engaged in the production of bioplastics.
In February 2022, Celanese Corporation and DuPont struck a legally binding agreement to purchase the majority of the latter's mobility and material (M&M) business. Celanese is purchasing the DuPont M&M plastics portfolio, divided into two main categories: automotive and electrical/electronics.
In February 2022, At its manufacturing facility in Paris Gudang, Malaysia, BASF SE increased the production capacity of the products Ultramid polyamide and Ultradur polybutylene terephthalate by 5,000 metric tonnes yearly.
In January 2021, a key player named Celanese Corporation, which is a worldwide chemical and specialty materials firm, declared a rise in price in the whole plastics engineering category, citing increases in energy, transportation, and raw material prices as well as surged demand for its goods. In resultant, the company's polyamides and PET costs are expected to climb per kg.
In May 2019, a key player named the capacity of the plastic compounding plant based in Altamira was increased by BASF. The company further provided plastics engineering product line among which the capacity of production was increased by 15 KT per year including Ultramid and Ultradur. Therefore, this expansion surged the demand for engineering plastics in the Mexico.
Segments Covered in the Report
This research report estimates revenue growth at global, regional, and country levels and offers an analysis of present industry trends in every sub-segment from 2020 to 2032. This research study analyzes market thoroughly by classifying global plastic compounding market report on the basis of multiple factors including application, product and region as follows:
By Application
Electronics & Electrical
Automotive
Packaging
Building & Construction
Industrial Machinery
Optical Media
Consumer Goods
Others
By Product
Thermoplastic Polyolefins (TPO)
Poly Vinyl Chloride (PVC)
Polypropylene (PP)
Thermoplastic Vulcanizates (TPV)
Polystyrene
Polybutylene Terephthalate (PBT)
Polycarbonate
Acrylonitrile Butadiene Styrene (ABS)
Polyethylene (PET)
Polyamide
Others
By Source
Fossil-based
Bio-based
Recycled
By Regional Outlook
North America
Europe

U.K.
France
Germany
Italy

Asia Pacific
Latin America
Middle East & Africa

Saudi Arabia
South Africa