The global medical plastic compounds market was valued at USD 52.24 billion in 2019 and expected to reach USD 79.56 billion by 2027, with at a compound annual growth rate (CAGR) of 5.4% during the forecast period 2020 to 2027.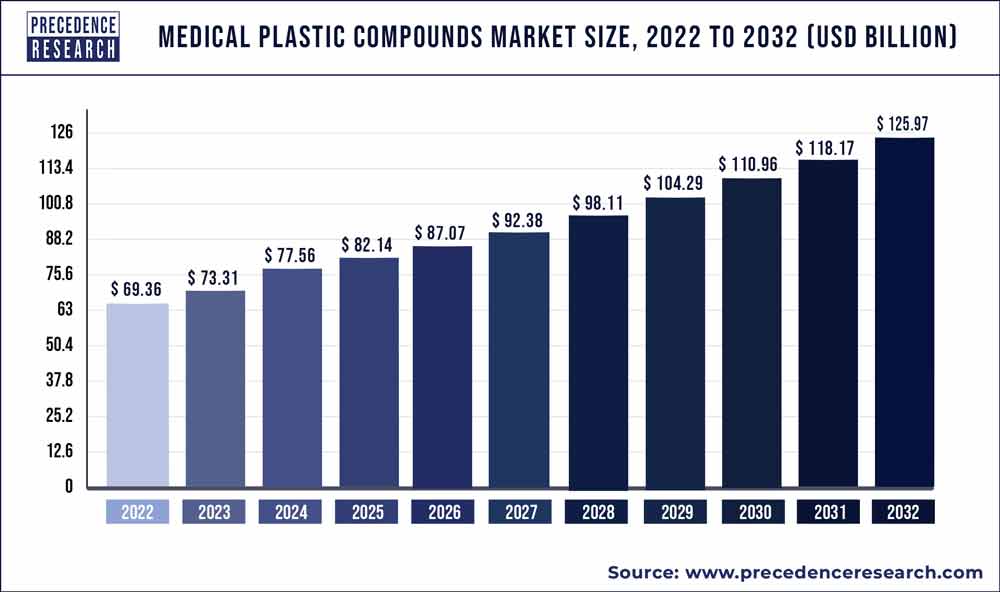 Growth Factors
Increasing awareness related to health issues along with subsequent amendments in the regulatory policies for the usage of plastics and its compounds due to environmental concern anticipated to impact considerably on the future growth trajectory of the medical plastic compounds market. Rising usage of disposable and sterilized devices coupled with the requirement for medical devices with longer shelf-life are the other major factors that expected to propel the growth of the market. Utilization of cost-effective and lightweight plastics and growing importance of prosthetics estimated to fuel the demand for medical plastic compounds over the analysis period.
Technological advancements, development of bio-plastics and environment-friendly plastic compounds, and evolved decontamination devices are some of the prime factors predicted to boost the demand for plastic medical devices. Increasing demand for polymers across various applications that include disposables, surgical instruments, catheters, implants, medical bags, and drug delivery systems expected to prosper the market growth.
Polymers exhibit superior properties that include flexibility, surface control, lightweight, strength, ease of fabrication, rigidity, and the capability to withstand long-term contact with the human body. Aging population particularly in the developing countries such as China, Japan, India, and Thailand is touted to elevate the demand for existing as well as new medical technologies.
However, crude oil prices have seen volatility since past few years. Political instability in significant crude oil-producing countries, that include Venezuela, Iraq, Libya, Nigeria, and Iran have negative impact on the supply of crude oil that is a prime factor to disturb the equilibrium in supply and demand for the raw material of polymer.
Product Insights
Polyvinylchloride (PVC) dominated the product segment with more than 30% market share in the year 2019. PVC is a versatile, fixed, or rigid material that is widely used as the polymer in single-use pre-sterilized medical devices. Further, rising demand for PVC for the manufacturing of disposables, surgical gloves, feeding, pressure monitoring, and tubing for dialysis anticipated to flourish the market growth over the forthcoming years.
In terms of revenue, Polypropylene (PP) accounted for major revenue share and valued at more than USD 5 billion in the year 2019. The compound is widely used in urinary catheters, heart valve structure, and disposable syringes due to high bacterial and chemical resistance.
Polycarbonate (PC) estimated to grow at a steady pace of nearly 6% during the forecast period from 2020 to 2027. PC exhibits superior properties that include optical clarity, better inherent strength, high heat distortion temperature, and dimensional stability.
Application Insights
The disposables emerged as the largest application segment accounting for a value of over USD 10 billion in the year 2019. Further, in terms of demand, the segment accounted for a prominent share because of rising usage of disposable and sterilized gloves and syringes in the healthcare industry mainly in the countries that include China, Germany, the U.K, and India.
Besides this, the catheters application segment estimated to witness a steady growth rate of approximately 5.5% during the years 2020 to 2027 due to its increasing application in the healthcare industry such as cardiac electrophysiology, angiography, and angioplasty.
Polymers used for producing medical implants include polyethylene, Polymethyl Methacrylate (PMMA), polyurethane, Polyethylene Terephthalate (PET), polycarbonate, and fluoropolymers. Technological development for example CAD/CAM dentistry that is mainly applied in orthodontic applications anticipated to thrive the growth of implants application segment over the coming years.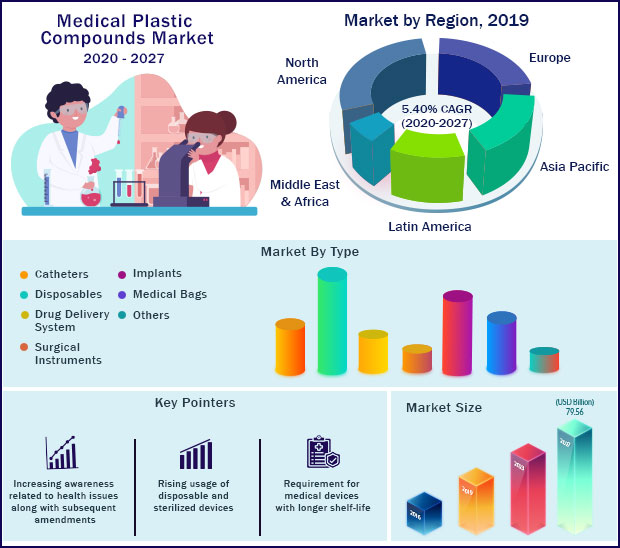 Regional Insights
North America expected to dominate the global medical plastic compound market accounting for a revenue share of over 35% in 2019. The market in the region is mainly driven by the rising incidence of lifestyle oriented diseases along with government initiatives to improve the facilities and quality of treatments in healthcare industry.
Surge in medical tourism predominantly in the countries for example the U.K., Germany, and France projected to propel the demand for plastic medical devices. Further, rising home healthcare devices coupled with self-medication in Europe estimated to prosper the industry growth over the analysis timeframe.
The Asia Pacific healthcare industry is a rapidly growing industry and generates significant demand for the new and advanced medical devices that in turn expected to propel the market growth for medical grade plastic compounds in the region with an estimated rate of 6% between 2020 and 2027.
Key Companies & Market Share Insights
The global medical plastic compounds market is highly attractive owing to increasing implementation of bio-based plastic compounds for the manufacturing of medical devices and several other applications. The market players significantly believe in expanding their production capacity in order to cater maximum consumer base.
Some of the prominent players in the medical plastic compounds market include:
Nolato AB
Freudenberg Medical LLC
Rochling Group
GW Plastics Inc.
MedPlast Inc.
Phillips Medisisze Corporation
C&J Industries Inc.
Tekni-Plex, Inc.
Pexco LLC
Medical Plastic Devices Inc.
Report Scope of the Medical Plastic Compounds Market
| | |
| --- | --- |
| Report Highlights | Details |
| Market Size | USD 79.56 Billion by 2027 |
| Growth Rate | CAGR of 5.4% from 2021 to 2027 |
| Largest Market | North America |
| Fastest Growing Market | Asia Pacific |
| Base Year | 2021 |
| Forecast Period | 2021 to 2027 |
| Segments Covered | Product, Application, Region |
| Companies Mentioned | Nolato AB, Freudenberg Medical LLC, Rochling Group, GW Plastics Inc., MedPlast Inc., Phillips Medisisze Corporation, C&J Industries Inc., Tekni-Plex, Inc., Pexco LLC, and Medical Plastic Devices Inc. |
Segments Covered in the Report
This research study comprises complete assessment of the market by means of far-reaching qualitative and quantitative perceptions, and predictions regarding the market. This report delivers classification of marketplace into impending and niche sectors. Further, this research study calculates market size and its development drift at global, regional, and country from 2016 to 2027. This report contains market breakdown and its revenue estimation by classifying it on the basis ofproduct, application, and region:
By Product
Polyethylene
Polyvinylchloride
Polypropylene
Polyester
Polystyrene
Polycarbonate
Acrylics
Polyurethane
Others
By Application
Catheters
Disposables
Drug Delivery System
Surgical Instruments
Implants
Medical Bags
Others
By Regional Outlook
North America
Europe
Asia Pacific

China
India
Japan
South Korea

Rest of the World