The global medical polymer market size was estimated at USD 20.22 billion in 2022 and is expected to expand to USD 43.85 billion by 2032, poised to grow at a compound annual growth rate (CAGR) of 8.1% between 2023 and 2032.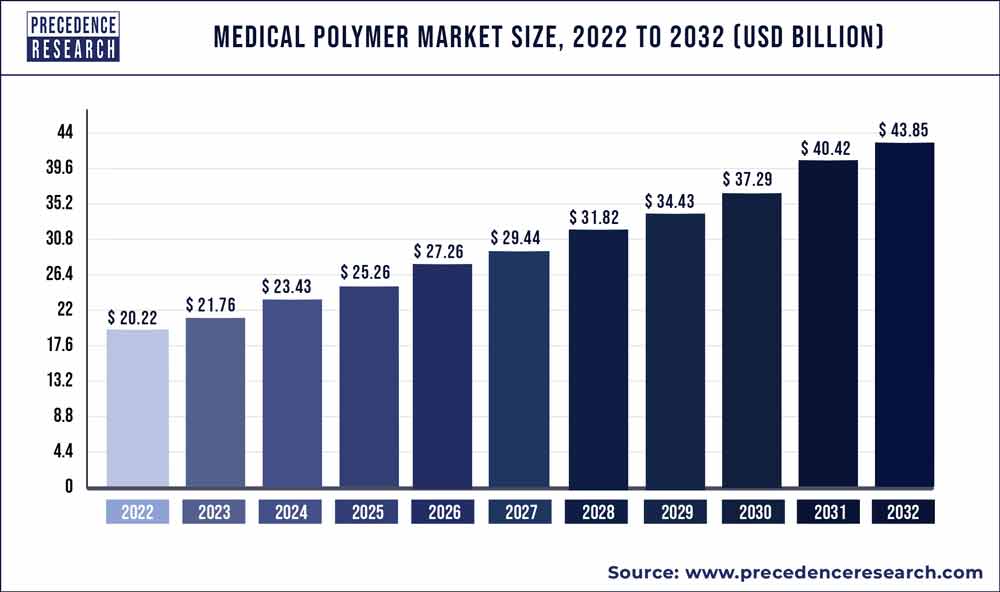 Key Takeaways:
North America region has garnered a 43.5% market share in 2022.
By product, the fibers & resins segment has dominated the market with 54% market share in 2022.
The biodegradable segment is growing at a 10.3% CAGR b from 2023 to 2032.
By application, the medical components accounted for 41% market share in 2022.
Medical polymers, also known as clinical grade polymers, are synthetic materials that are often organized as elastomers, filaments, and saps. Clinical polymers are utilized as additives and fillers in clinical plastics, as well as other clinical devices and packaging. The growing interest in dealing with the COVID-19 pandemic situation throughout the world is expected to considerably increase interest. The market is expected to be significantly impacted by the consistently expanding demand in clinical bundling products for COVID-19. Because the region contains substantial medical care item makers, North America is expected to lead the expanding interest. They provide adaptability, strength, adaptability, biodegradability, biocompatibility, sanitization solidness, and tiredness, as well as heat and electrical resistance. Several manufacturers are now displaying several types of therapeutic polymers with varying molecular weights, crosslinking and crystallization levels, copolymers and blends, and further bioactive surface fictionalization. Furthermore, the growing interest in novel and inventive healthcare devices is increasing the need for clinical polymers globally to aid in device innovation and supportability. The two primary categories of biomedical polymers are naturally occurring polymers and synthetic polymers. Natural polymers include proteins, polysaccharides, and polynucleotides.
The most often hydrolytically destroyed biomedical polymers include homo-and copolymers of polyamides, polyesters, polyanhydrides, poly (orthoesters), poly (amido amines), and poly (-amino esters). These materials, which are largely employed in biotechnology and medicine, are referred to as biopolymers and smart polymers. Furthermore, therapeutic polymers are less costly than metals and polymers. Engineered plastics used as medical polymers can rival metals and polymers in structural strength, stability, inertness, durability, and formability while being less adequate and more difficult to deal with. Growing interest in clinical polymers in the assembly of clinical devices and equipment, as well as clinical bundling, is expected to fuel growth.
The global medical polymers industry study offers a comprehensive analysis of the market. The research provides a thorough examination of major segments, trends, drivers, constraints, the competitive landscape, and factors that are significant in the market. Factors such as rising medical sector demand are expected to drive demand for the medical-grade polymers. These Polymers are categorized as the synthetic or natural based on their source component. Wood, bio-base polymers and the natural rubber are some of the examples of naturally occurring polymers, whereas the synthetic polymers includes the thermosets and thermoplastic resins, elastomers, and also the fibres.
Report Scope of the Medical Polymer Market
| | |
| --- | --- |
| Report Coverage | Details |
| Market Size in 2023 | USD 21.76 Billion |
| Market Size by 2032 | USD 43.85 Billion |
| Growth Rate from 2023 to 2032 | CAGR of 8.1% |
| Base Year | 2022 |
| Forecast Period | 2023 to 2032 |
| Segments Covered | Product, Application, Processing Method and Geography |
| Companies Mentioned | BASF SE, NatureWorks LLC, Covestro AG, Celanese Corporation, Eastman Chemical Corporation, Evonik Industries AG, Dow Inc., Exxon Mobil Corporation, Arkema, Koninklijke DSM NV, Formosa Plastics Corporation, Foryou Medical, KRATON CORPORATION, SABIC, Trinseo S.A. |
Growth Factors
One of the primary factors impacting market expansion in North America is rising per capita healthcare expenditures in the type of health insurance coverage. This is likely to boost demand for generic medicines and medical devices in the future years, propelling the North American market during the forecast period. Medical component manufacturing and pharmaceutical packaging are two significant uses for this business. The presence of the very significant government programs such as Affordable Care Act (ACA) and Medicaid has allowed a huge proportion of the population in the United States to get the access to large healthcare facilities and the services. This has increased demand for the branded medications, the medical devices, and the healthcare services, fueling the country's demand for medical polymers, specifically in applications like as the medical components, packaging, and the wound care. Both the public and private sectors are making considerable investments in the Canadian healthcare sector.
The Canadian Institute for health Information (CIHI) estimates that the government will spend USD 308 billion on healthcare in 2021. The country is known for its high health consciousness and long life expectancy, with women living an average of 85 years and men living an average of 79 years, presenting attractive development potential for medical polymer makers in Canada.
Wide use of medical polymers in manufacturing of medical devices and packaging, substantial growth in the pharmaceutical sector in recent years has led in a growth of the market for medical polymers, which will increase the industry share by 2032. Government organizations are pushing R&D investment in the pharmaceutical business in order to build technically complex equipment that will aid in the elimination of dangerous ailments in the region. The increasing need to develop novel medical gadgets will benefit the medical polymers market growth over the forecast period. Because of its cost-effectiveness and convenience, patients' desire for homecare health treatment has led to an increase in worldwide demand for medical disposables. This will contribute greatly to gaining a higher market share within the predicted period.
Continuous product innovation by industry leaders is a prominent market trend. Clariant Plastics & Coatings Healthcare Polymer Solutions, for example, announced the development and testing of novel polymer materials in February 2020. Clariant's 'medical grade components are covered by the new compounds offered under the MEVOPUR brand name. These items are particularly useful in applications such as medical catheters. The high demand for the medical devices, essentially driving medical polymer market growth. Biocompatible medical polymers exist in nature. Polyether ether ketone is a polymer that is widely employed in the healthcare industry for a variety of applications including neuro-devices, and robotic assistance the structural heart, infection control. As the result, mounting demand for the medical devices is moving the medical polymer market forward.
Polymer usage in the medical industry has grown over the previous decade, thanks to the development of the engineering plastics such as PEEK, ABS the PMMA, and PET. These polymers are safe for use in medical equipment and appliances. Furthermore, medical polymers are less expensive than alternatives such as ceramics, glass, and metals. Engineering plastics used as medical polymers can rival metals and ceramics in inertness, durability, structural strength, stability, and formability while being the lighter and more resource efficient. Furthermore, because to their lightweight, cheap cost, resilience, and transparency, medical polymers are employed for packaging. As a result, the numerous benefits provided by medical polymers are raising their demand in the medical sector, consequently fuelling medical polymer market expansion.
Segment Insights
Product Insights
Fibers and resins led the market in terms of both volume and revenue in 2022, owing to the excellent chemical and electrical resistance afforded by resins like polyethylene (PE) the polypropylene (PP) and (PE). Furthermore, strength, and toughness, polycarbonate polymer resins have high heat resistance, allowing them for replace the metal and the glass in a wide range of medical applications. Optical clarity is an important feature in therapeutic and diagnostic contexts where blood, tissues, and other fluids must be seen. Extrusion of the medical polymers can result in the monofilaments; those are the single threadlike synthetic fibres. These medical-grade monofilaments can be used like the alternative to metal filaments in the magnetic resonance imaging (MRI).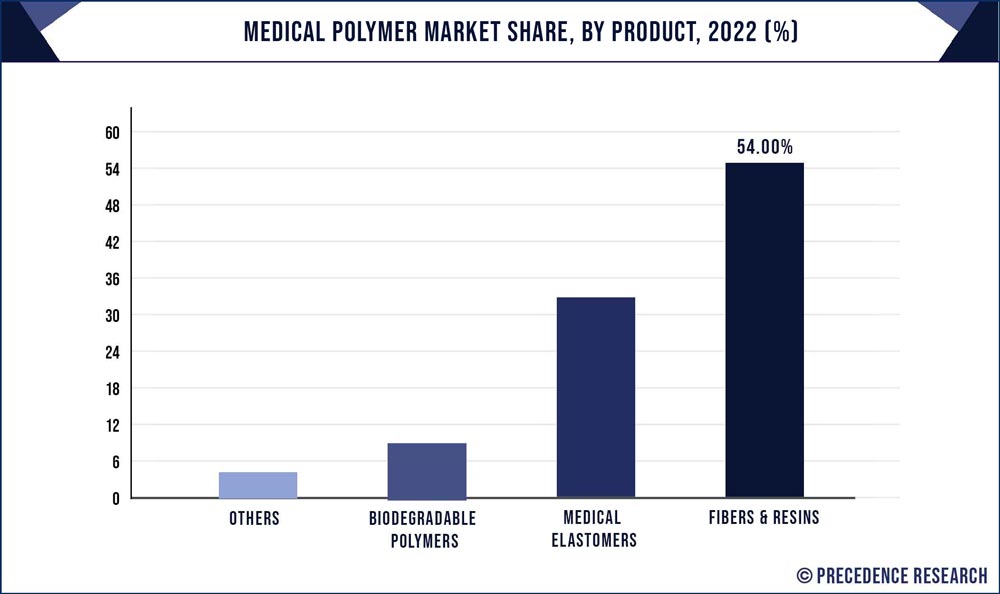 Furthermore, medical polymer fibres have a high the strength-to-weight ratio and making them an excellent choice for a wide range of minimally invasive devices and medical apparel. Silicone is a common medical elastomer used in medical applications. Its advantages include the capacity to function in temperatures ranging from -50 °C to +250 °C, the water repellency, great resistance to ozone, weather, and UV rays, non-allergic nature, and compatibility with steam, ETO, and the gamma radiations, making it perfect for use in medical applications.
Application Insights
Medical device packaging, mobility assistance, wound treatment, medical components, and dental implants are among the uses being examined for the North American the medical polymers sector. In the region, rising rates of lifestyle-related disorders such as heart attack and diabetes have resulted in higher healthcare spending by the population. This has been predicted to increase demand for and healthcare services, the medical equipment, the generic pharmaceuticals, affecting the worldwide medical polymer market size positively.
Propylene and polyether ether ketone (PEEK) polymers are in high demand because to increased global use of orthopedic soft products. Because of its great strength and tolerance to unfavorable environmental conditions, the PEEK polymer is chosen as it is a premium material for the manufacturing plastic casts and braces used in those medical applications. Furthermore, worldwide demand for PEEK polymers is predicted to expand because to increased attempts by orthopedic goods producers to reduce overall weight of their products through material replacement. Furthermore, worldwide demand for PEEK polymers is expected to be fueled by its simple moulding capabilities, which will result in enhanced shape of orthopedic goods.
Medical Polymers Market Share, By Region, 2022 (%)
| | |
| --- | --- |
| Regions | Revenue Share in 2022 (%) |
| North America | 43.50% |
| Asia Pacific | 20% |
| Europe | 30.20% |
| Latin America | 4% |
| MEA | 2.30% |
Regional Insights
In 2022, North America was the biggest segment, accounting highest market revenue. Medical Components lead the market in terms of both volume and revenue in 2022. Mounting he demand for the medical polymers in packaging of pharmaceutical applications as well as the fast expansion of pharmaceutical businesses in Mexico and Canada, is likely to propel growth further. For example, the Mexican government's removal of tough laws restricting the development of new manufacturing where it led in the establishment of new pharmaceutical production facilities in Mexico by large corporations like as Takeda and Astellas.
The region's growing senior population and the frequency of chronic illnesses have increased demand for medical gadgets. Over the forecast period, this is likely to increase demand for medical polymers in equipment manufacture. Increasing government investments in the healthcare sector, as well as the increasing home healthcare market, are likely to increase demand for medical devices, favourably influencing the growth of the medical polymers market throughout the forecast period.
With the rise in heart disease in North America and Europe, as well as the growing desire for minimally invasive treatments, the market for drug-elating stents is fast expanding. Furthermore, medicinal polymers are employed as scaffolds in tissue engineering. Porous polymer scaffolds designed to facilitate the development of biological tissue are expected to boost the revenue of the medical polymers market.
Key Market Developments
SIBUR and BASF cooperated in June 2019 to create novel polymer solutions at SIBUR's PolyLab Research and Development Center in Moscow.
In response to the COVID-19 pandemic, Celanese Corporation, the global chemical and the specialty materials company, is prioritizing its operations in April 2021 to provide with the specialty materials used in applications like ventilators, respirators, and the other critical medical equipment and supplies in support of the healthcare and medical devices industry.
BASF intends to spend US $29.56 million in its superabsorbent polymer business in March 2021.
Key market players
BASF SE
NatureWorks LLC
Covestro AG
Celanese Corporation
Eastman Chemical Corporation
Evonik Industries AG
Dow Inc.
Exxon Mobil Corporation
Arkema
Koninklijke DSM NV
Formosa Plastics Corporation
Foryou Medical
KRATON CORPORATION
SABIC
Trinseo S.A.
Segments covered in the report
(Note*: We offer report based on sub segments as well. Kindly, let us know if you are interested)
By Product
Fibers & Resins

PVC
PP
PE
PS
Others (engineering thermoplastics such as nylon, PET, PLA, PHA, PA, PC, ABS)

Medical Elastomers

Styrene Block Copolymer
Rubber latex (NR + Butyl Rubber+Silicone rubber)
Others (TPU, TPO, TPV)

Biodegradable Polymers
Polyhydroxyalkanoate (PHA)
Others
By Application
Medical Device Packaging
Medical Components
Orthopedic Soft Goods
Wound Care
Cleanroom Supplies
BioPharm Devices
Mobility Aids
Sterilization & Infection Prevention
Tooth Implants
Denture-based Materials
Other Implants
Others
By Processing Method
Blow Fill Seal
Extrusion Blow Molding
Injection Stretch Blow Molding
Others
By Geography
North America
Europe
Asia-Pacific
Latin America
Middle East & Africa (MEA)