The global waste oil market size was estimated at USD 69.57 billion in 2022 and is expected to hit around USD 127.55 billion by the end of 2032 with a increasing CAGR of 6.30% during the forecast period 2023 to 2032.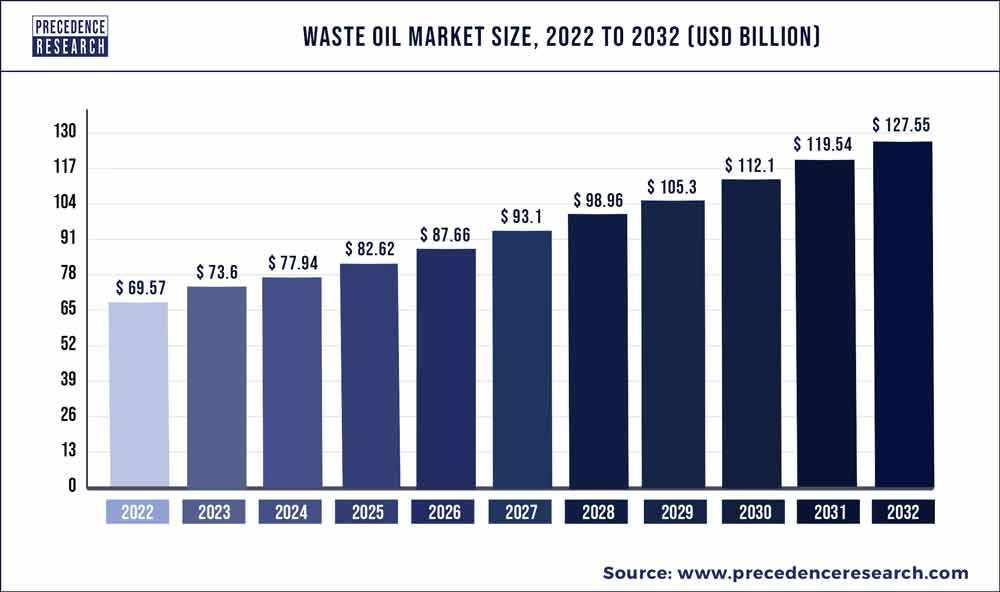 Access our Premium Real Time Data Intelligence Tool, Visit: Precedence Statistics
Key Takeaways:
By type, lubricant segment has dominated with 58% revenue share in 2022 and growing at a CAGR of 6% from 2023 to 2032.
By application, re-refiners segment is poised to grow at a CAGR of 5% from 2023 to 2032.
By technology, vacuum distillation process segment has generated 71% market share in 2022.
Asia-Pacific region has garnered the highest revenue share of over 41% in 2022.
Around 200 million gallons of liquid waste are inappropriately disposed of in The Us, based on the Environment Protection Agency. New techniques for recycling old oil are now being developed to grow the waste oil sector. Innovation in the simplest things has created geniuses deserving of praise for the brilliant way to use waste oil. Because waste oil is being used more frequently in the industrial and automotive industries, the market for waste oil is expected to grow in the coming years. Waste oil could be recovered or put to use once again. It is predicted that factors including increasing industrialization, urbanization, and rising power consumption will fuel the growth of the global waste oil market in the coming years.
The development of waste oil technologies and continued government support are other factors in the market's growth. Businesses that break the Clean Environmental Act face fines and stern punishment from government agencies. For instance, the Food Handling and Standard Government of India initiative Repurpose Spent Cooking Oil collects and repurposes used cooking oil. Additionally, the necessity to create waste oil is prompted through its supportable use and recycling during times of high crude prices globally. Because waste oil re-refining frequently calls for suitable disposal and recycling procedures, small businesses with restricted wealth expenditures are likely to be discouraged from embracing waste oil due to the high infrastructure costs of waste oil plants. The innovative robot created by the start-up autonomous moves around the pipelines in industrial facilities to find and locate gas and oil leaks. The plant operators can quickly identify waste thanks to this effect.
Additionally, these robots gather pipeline data for preventive maintenance. By regularly checking for leaks in the pipeline, the operator may improve productivity, stop harmful emissions, protect the integrity of the infrastructure, and reduce costs. The pharmaceutical, nuclear-powered, and biochemical industries are served by the abovementioned robotic leak detecting system, offering potential growth within the waste oil industry.
Report Scope of the Waste Oil Market
| | |
| --- | --- |
| Report Coverage | Details |
| Market Size in 2023 | USD 73.60 Billion |
| Market Size by 2032 | USD 127.55 Billion |
| Growth Rate from 2022 to 2030 | CAGR of 6.30% |
| Base Year | 2022 |
| Forecast Period | 2023 to 2032 |
| Segments Covered | Type, Technology, Application, and Geography |
| Companies Mentioned | Alexandria Petroleum Company, All Waste Matters Ltd, Business Waste, Enfields Chemicals CC, Enva, EWOR, Falzon Group, Gecco Fuels, Goins Waste Oil company inc, J.J. Richards and Sons Pty Ltd, MIB Waste Services, Oil Salvage Ltd., Omnia Group., Safety-Kleen Systems, Inc, Sliker Recycling, Solway Recycling Ltd, Valgrove |
Growth Factors
Oil products that have been produced for several uses are referred to as waste oil. Waste is any artificial or petroleum-based petroleum that has degraded to the point where it is no longer fit for its intended use. It is mostly made from used motor oil and engine garbage. It is additionally used as roadway oil to manage dust and is occasionally blended with essential oil to be utilized in boilers to generate electrical or thermal energy. Many places currently use the technique of purifying liquid waste to create fuel or lubrication oil. Waste oil is torched or carelessly poured into the ground, which appears to be a harm to the environment. Government organizations must create efficient reuse and disposal methods to refine waste oil. This aids in preventing the illicit disposal of waste oil and safeguards the ecosystem.
New techniques for the treatment and removal of waste oil enable more effective service even while reducing environmental risk. The desire for Waste Oil is rising as a result of the introduction of strict rules intended to reduce dangerous carbon dioxide emissions. Many countries are providing financing and encouragement for the creation and implementation of cutting-edge methods for the production of waste oil. The Waste Oil Sector will advance in the upcoming years due to the extensive use of Liquid Waste in the transportation and industrial sectors. The petition meant for Waste Oil is rising as a result of increased Re-refining operations and the development of other application sectors. In addition, the sustainable, use as well as recycling of used oil during periods of high crude prices globally fuels the need to produce waste oil.
The construction of Waste Energy infrastructure is also likely to be delayed or stopped in the upcoming years due to political upheaval around the world. Nevertheless, the Worldwide Crude Oil Market is anticipated to be driven in the coming years by an increase in energy demand brought on by an increasing global population. Furthermore, because advanced technology apparatus is less prevalent in emerging economies than in developed ones, these regions offer the industry tremendous potential possibilities.
Key Market Drivers:
Industrialization growth is increasing the demand for waste oil
The worldwide waste oil market is anticipated to be driven by socioeconomic factors like the increase in GDP in the European Community, the steady retrieval of the economic sector within the region, as well as the increase in energy consumption due to the increasing population throughout the world. As equipment with innovative technology is less prevalent in emerging economies, the industry has tremendous potential opportunities.
Due to the increased energy consumption of the expanding population, especially in advanced countries, the auto industry recovered in 2017. Strong economic expansion in Europe and Asia is to blame for this. In the United States, last year's good circumstances were brought about by expansion plans and a rise in re-refining demands. Throughout the projected term, this is anticipated to persist.
The wasted oil market will be dominated by the re-refining sector
For re-refining purposes, waste oil is used in the automotive and industrial industries. The demand for waste oil is driven by an increase in investments in automotive operations as a result of rising industrialization and urbanization. Waste oil can be gathered, recycled, and used again after it has been used.
The implementation of rigorous regulations aimed at reducing dangerous carbon emissions
Waste oil is highly sought after because of the world's car industry's explosive growth, which is being pushed by urbanization and industrialization. You can recycle and repurpose old oil. In the coming years, there will probably be more collaboration between manufacturers and technology companies in the global waste oil sector. As a consequence of the adoption of stringent regulations intended to reduce harmful carbon dioxide emissions, the need for Liquid Waste is rising. Modern waste oil production technologies are being researched and put into practice in several nations through funding and promotion.
The significant use of liquid waste in the transportation industry will propel the worldwide waste oil sector forward in the coming years. The need for waste oil is rising as a result of more activities for re-refining it and the development of new market segments. In the foreseeable future, the world's expanding population would probably boost energy demand, propelling the global waste oil sector.
Key Market Challenges:
The economic downturn and political turmoil across the world
Over the next few years, infrastructure investment for waste oil is likely to be postponed or abandoned due to an economic slowdown and political unrest around the world. The overall waste oils market is expected to grow shortly as a result of growing industrialization and rising energy consumption in the majority of global regions.
When industries violate the Clean Environmental Act, governing authorities punish them and take harsh measures. Waste oil adoption by small enterprises with little capital expenditure is expected to be constrained by the high installation costs of waste oil plants.
Key Market Opportunities:
Increased usage of used oil in the industrial and automotive sectors: The overall waste oil market is expanding as a result of rising industrialization, rising usage of liquid waste in the industrial and automotive sectors, and rising energy consumption worldwide. In addition, advancements in waste oil technology and ongoing government assistance will open up new prospects in the years to come.
Segments Insight:
Type Insights
The market segment with the most market share is expected to continue to rule during the forecast timeframe. One of the many industries that contribute to the share of the market is the automotive industry. Other industries include business, industry, aviation, and marine. As significant advancements in the management and disposal of lubricants have been made, this industry has grown more ecologically conscious. The oil that has never been employed as a result of being contaminated, usually by contamination, and is no longer suitable for its original use is known as waste oil. Because used or waste lubricating oil contains metals and polycyclic aromatic hydrocarbons that are produced by the engines throughout fuel combustion, it is dangerous.
Technology Insights
The market sector for vacuum separation processes had the biggest share. This method offers high recovery for a variety of uses while efficiently preventing Waste Oil pollution. As a result of vacuum distillation's effectiveness and market dominance, treated the wasted amount of oil can be utilized as fuel either on its own or in combination with other fuels. As a result, this technology is frequently employed in the market to process waste oil. Market dominance was in the distillation process processing facility.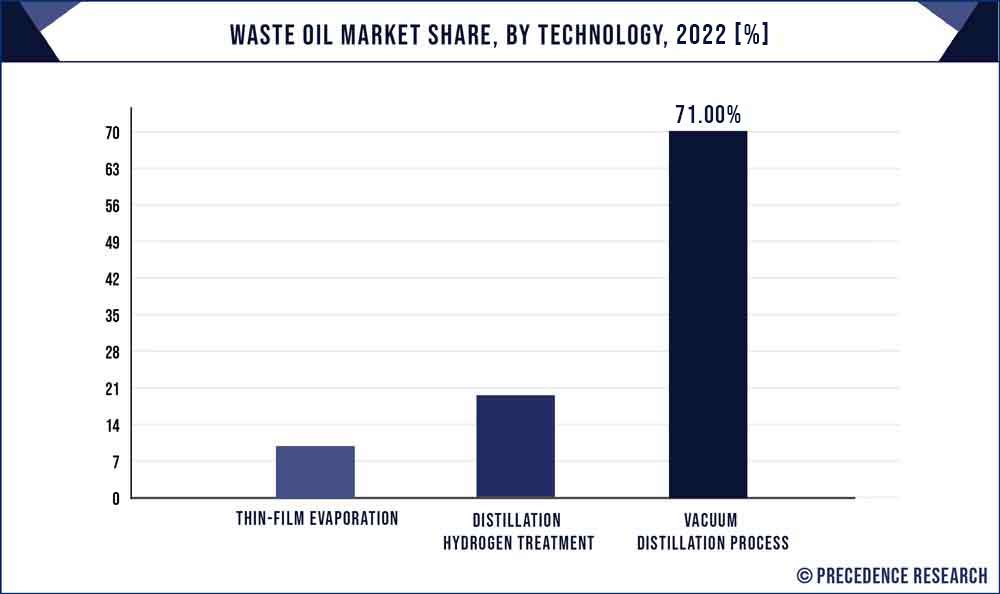 The vacuum distillation procedure involves creating a vacuum, lowering the pressure within the columns directly above the solvent to a level below the mixture's moisture content, and allowing the vapor to escape from the component with low vapor pressures. With this technique, waste oil degradation is successfully avoided, and excellent recovery is also possible in a variety of applications.
Application Insights
The re-refiners market share was the highest. Due to a significant focus on expanding Waste Oil generation activities, this segment is anticipated to experience profitable growth prospects during the projection period. Additionally, the well-equipped research facility and R&D work have decided to make the re-refinery a dominant section of the industry. The technological innovation and processes utilized in the contemporary re-refinery are significantly more environmentally efficient and sustainable than standard techniques, contributing powerfully to sustainable development and market conservation.
Additionally, this area is equipped with cutting-edge technology and security features that can process 100,000 tons of spent lubricating oils annually. The refiner's industry segment held the largest market share. Re-refining is a process for renovating used oil and turning it back into a high oil. The oil is mixed with a fresh batch of chemicals, such as dispersants, detergents, and anti-foaming agents, to bring it back to its former efficacy. This industry is projected to see profitable development potential throughout the projection period due to a strong focus on enhancing Waste Oil production operations.
Waste Oil Market Share, By Region, 2022 (%)
| | |
| --- | --- |
| Regions | Revenue Share in 2022 (%) |
| North America | 22% |
| Asia Pacific | 41% |
| Europe | 29% |
| Latin America | 5% |
| MEA | 3% |
Regional Insights
During the forecast period, it is predicted that the market that dominated the global waste oil sector in 2021 would continue to expand at the fastest rate. Due to a rise in automobiles brought on by population development, has contributed to the spread of the industrial and automotive industries in the Asia-Pacific area, particularly in Japan, China, and India. As a result, it is projected that this will fuel the growth of the waste oil sector during the next years. Due to its extensive network of service and treatment centers, North America dominates the industry. Market expansion and an increase in re-refining demands led to favorable conditions. Due to market development and rising re-refining demand, favorable conditions emerged in North America. They are most likely to continue during the anticipated timeframe.
The North America region is expected to develop at the fastest CAGR. The industrial sector, carparks or repairers, engineering sectors, and excellent transport systems in India, Indonesia, China, and Thailand are all predicted to significantly contribute to regional market expansion in the Asia Pacific due to growing industries, future technologies, and these sectors. In Europe, the worldwide waste oil sector is anticipated to grow as a result of the continent's strong environmental concerns. The worldwide waste oil market is anticipated to witness more manufacturer-technology development partnerships in the coming years.
Recent Developments:
To provide communication systems and communications networks to the business sector, Granite Telecommunication services, LLC, a provider of communications services to multi-location businesses and federal agencies, announced a partnership with group purchasing organization OMNIA Collaborators, Private Industry on December 2020.
To establish a Chemical and Lubricant Integrated Program, an Acrylics/Oxo Alcohol Project, as well as other infrastructure improvements at its Gujarat Refinery in Vadodara, IOCL and the Governor of Gujarat inked an MOU for Private Investment in June 2021.
HPCL debuted its full line of lubricants and specialized fluids for BS-VI, electrical, and hybrid vehicles in Feb 2020.
9th Jul 2021, The Repurposing Wasted Cooking Oil project, which gathers used frying oil and turns it into biodiesel, has been launched by the Food Handling and Standard India Authority. The RUCO program also strives to ensure that used cooking oil is disposed of appropriately as it is commonly sold to small eateries, food stalls, and street vendors or abandoned in an environmentally hazardous manner.
Segments Covered in the Report:
(Note*: We offer report based on sub segments as well. Kindly, let us know if you are interested)
By Type
Transmission Oils
Engine Oils
Refrigeration & Compressor Oils
Metalworking Fluids & Oils
Lubricants
Others
By Technology
Vacuum Distillation Process
Distillation Hydrogen Treatment
Thin-film Evaporation
Others
By Application
Waste Oil Boilers
Biodiesel
Special Space Heaters
Steel Mills
Re-refiners
Asphalt Plants
Others
By Geography
North America
Europe
Asia-Pacific
Latin America
Middle East & Africa (MEA)