The global high barrier packaging films market size accounted for USD 18 billion in 2022 and it is projected to surpass around USD 27.11 billion by 2032, poised to grow at a CAGR of 4.18% during the forecast period 2023 to 2032.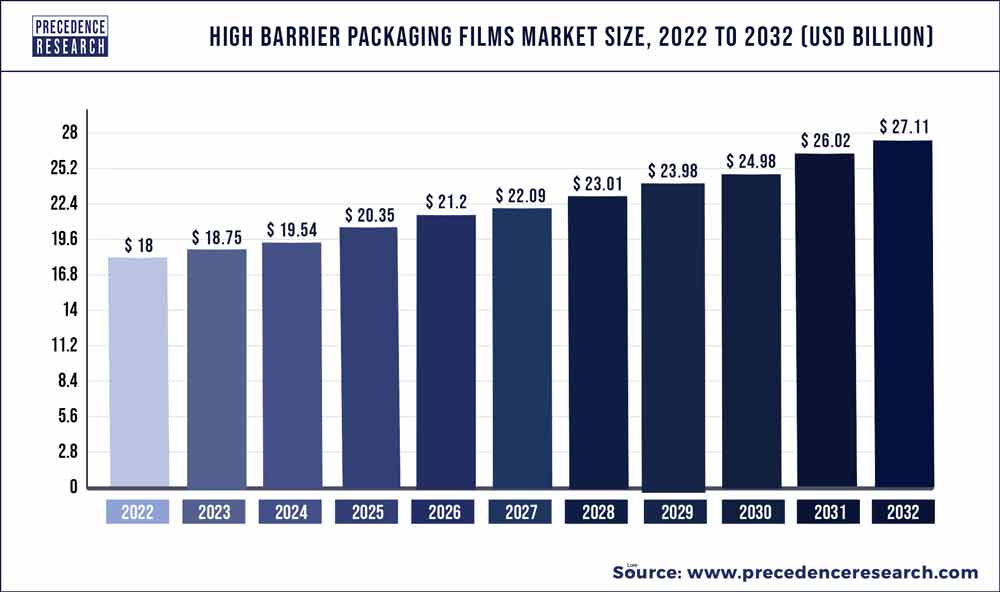 Key Takeaways:
By region, The market for high-barrier packaging films is anticipated to grow significantly in North America due to the rise in demand for packaged and consumer goods.
By material, the plastic segment, accounted for the majority of sales.
By product, bags and pouches segment expected to drive the market.
By technology, the market for multi-layer films is anticipated to grow fastest.
By application, the beverage and food industry will drive the high barrier packaging films market.
Market Overview:
The overall packaging market is witnessing a massive demand with the rising demand for packaging materials from multiple industries. This demand is particularly obvious in the beverage, food, and pharmaceutical industries. Concerns have been raised about plastics' capacity to exchange gases and vapours that could jeopardize the quality and safety of packaged goods as they have become more widely used. So, several barrier innovations have been made commercially available that preserve, protect, and optimize, decrease the need for preservatives, deliver transparency and gloss, and promote; optimize as a printing substrate. Without this barrier packaging, perishable products like food, drinks, and medicines would be vulnerable to various deterioration processes.
However, Barrier packaging has limitations due to costs, recycling issues, and deterioration susceptibility. Multilayer structures containing multiple types of plastic also present a challenge for mechanical recycling because they are difficult to recycle. Many businesses have responded by reducing their packaging due to environmental pressure groups raising concerns about the growth in food packaging.
Growth Factors:
The market for high-barrier packaging films is expanding due to the rising demand for packaged foods and drinks. The requirement for high-barrier packaging films has significantly increased due to a surge in demand for ready-to-eat meals and convenient food. These films are very good at keeping food and beverages fresh and of high quality while expanding their shelf life.
The market is expanding due to the expanding pharmaceutical industry, which extensively uses high-barrier packaging films to protect medicines from moisture, oxygen, and other environmental factors. Although raw material price fluctuations impact market growth, the rising demand for consumer-friendly packaging creates lucrative growth opportunities.
Report Scope of the High Barrier Packaging Films Market:
| | |
| --- | --- |
| Report Coverage | Details |
| Market Size in 2023 | USD 18.75 Billion |
| Market Size by 2032 | USD 27.11 Billion |
| Growth Rate from 2023 to 2032 | CAGR of 4.18% |
| Largest Market | North America |
| Base Year | 2022 |
| Forecast Period | 2023 to 2032 |
| Segments Covered | By Material, By Product, By Technology, and By Application |
| Regions Covered | North America, Europe, Asia-Pacific, Latin America, and Middle East & Africa |

Market Dynamics:
Driver:
Rising demand for multi-layer packaging to keep oxygen and water out
High-barrier packaging films have multiple layers that limit the effects of mineral oil and UV light and contact with moisture, oxygen, and other gases like carbon dioxide. This strong barrier, built using functional materials, helps preserve the integrity of the materials stored in them, including the food's quality, color, aroma, texture, taste, and flavor. To maintain their integrity, it is crucial to give products all the necessary barrier properties, such as gas, moisture, and aroma. High-barrier films are essential to providing products with these characteristics needed. High-barrier films are solvent-free and won't react with packaged goods like medicines because they have an impenetrable, co-extruded, flexible structure.
Consumer preference moving from unpackaged foods to packaged foods
The increasing need for processed and ready-to-eat packaged foods drives demand high-barrier packaging films from the food and beverage manufacturing sector. The market for high-barrier packaging films will expand in the near future as students and professionals who work are more willing to spend money on packaged foods and ready-to-eat convenience items due to increasing disposable income. Foods that are easy to carry, open, and prepare quickly, such as freezer-to-microwave, ready-to-cook and eat, and processed, are in high demand.
Restraint:
Vulnerability to degradation
Plastic films' oxidation mechanisms can change when exposed to heat. Though not present in the natural environment, such as aquatic and marine habitats, controlled conditions such as elevated temperature and pressure are necessary to completely degrade biodegradable polymers.
Thus, these high-barrier packaging films are expected to deteriorate and lose their properties under less-than-ideal circumstances. This might limit the market for high-barrier packaging films worldwide.
Strict government regulations and environmental issues
Plastics, such as polypropylene, polyethylene, etc., are the primary raw materials that create high-barrier packaging films. These substances harm the environment, which includes water and land, and are non-biodegradable, challenging to recycle, and non-recyclable. Governments, regulatory agencies, and environmentalists have been raising awareness of the risks of watching such films.
Plastic is used to a greater than 40% extent in the packaging industry, and many nations oppose the consumption and use of plastic because it takes a long time to decompose.
Opportunity:
Increased demand for packaging that is consumer-friendly
The Consumers consider a few essential factors before choosing packaging films. Some include cleanliness and food safety, usability, label information, shelf life, durability, appearance, and environmental effects. The fiber-based packaging made of recycled and recyclable plastic is more appealing to customers. Thus, there is a massive opportunity for the market for high-barrier packaging films to capitalize on to experience substantial expansion in the future due to the rising trend and demand for consumer-friendly packaging. This can be accomplished by introducing more consumer-required, easy-to-use, long-lasting, and environmentally friendly products.
Segments Insight:
Material Insights:
Concerning the revenue from high-barrier packaging film, the plastic segment, which accounted for the majority of sales in 2022, contributed significantly. These materials will be utilized for their high tensile strength, chemical and dimension stability, reflectivity, transparency, gas and odour barrier properties, and electrical insulation during the anticipated period. They are frequently used to stop food, nutrients, drinks, pharmaceuticals, and cosmetics from deteriorating physically, chemically, and microbiologically. By shielding the contents from outside influences and maintaining the packaged products' flavor and natural properties, barrier films of these materials inhibit gas and water permeability
For Instance, February 2022- Mondi and Henkel collaborated to introduce an entirely recyclable mono-material refill pouch. The two businesses will collaborate on developing a packaging system that enables refilling plastic bottles from flexible pouches.
A metalized film is a high barrier layer with a core layer and a metal bonding layer, often created by co-extruding. It has high oxygen and moisture barrier properties. These are polymer films with a thin layer of metal; typically, this layer is made of aluminum, but chromium and nickel are also used. The coating decreases the film's water, light, and oxygen permeability. It gives electronics, confectionery, and decorative purposes excellent durability. Oxide films are chemically created by revealing the material's surface to precisely controlled oxygen and temperature levels. As a result of stopping further reactions, they lessen corrosion on the material's surface. Because they offer the best protection against corrosion and are amphoteric oxides, which do not react with acids and zinc oxide, bases, and aluminium oxide layers are the most frequently used oxide films.
Product Insights:
Throughout the forecast period, it is expected that the bags and pouches segment will account for a larger revenue share in the global market because of the increasing demand for bags and pouches in the transporting and storing processes.
Due to essential factors like high barrier properties, which are primarily used in a variety of industries, including food and beverage, cosmetics, personal care, pharmaceuticals, and others for packaging and storage of products, this segment's demand will be supported by growth in revenue during the estimated time frame. Thus, the increasing demand for high-barrier packaging films across various industries positively impacts market expansion.
Technology Insights:
The market for multi-layer films is anticipated to grow fastest because it has minimal permeation and efficiency. A multi-layer film is created using numerous extruders and special dies. Additionally, a variety of substrates and polymers are used in the production of multi-layer high-barrier packaging. Sales of these films are significantly boosted by their ongoing demand in various food and non-food packaging applications.
For Instance, Klockner Pentaplast introduced plans to expand its post-consumer recycled content (PCR)capacity in North America and to diversify its portfolio of environmentally friendly innovations for the pharmaceutical, customer healthcare, and food packaging sectors in January 2022.
Furthermore, eco-friendly barrier coating films are more environmentally friendly than multiple-layer metallic and non-metallic high-barrier packaging films. Such films feature organic coatings or coatings free of solvents. One of the key elements driving the increase in sales of environmentally friendly barrier packaging films is the changing priorities of top packaging manufacturers and end users toward highly environmentally friendly and recyclable flexible packaging solutions.
Application Insights:
The food and beverage segment is expected to hold the most significant share of the market during the forecast period. The food and beverage industry uses high-barrier packaging films to package, store, and ship a variety of products like meat, ready-to-eat meals, bakery, seafood, dairy products, confectionery, fruits, and vegetables, as well as alcoholic and non-alcoholic beverages. Compared to other industries, the food and average segment is in the lead for demand and usage of high-barrier packaging films. To fulfill the demands of the industry, manufacturers provide a range of high-barrier film packaging products to the pharmaceutical sector.
Medical products that require high-barrier film packaging include blood oxygenators, medication, glucose monitors, and test kits. Every step of the product sales cycle, such as manufacturing operations, transportation to the dealer, warehousing, packaging, handling, and display, calls for protection from adverse impacts and proper maintenance. Personal hygiene and beauty products are produced by the personal care and cosmetics industry, and High-barrier packaging films benefit these products by providing increased shelf life and safety.
Regional Insights:
The market for high-barrier packaging films is anticipated to grow significantly in North America due to the rise in demand for packaged and consumer goods. In addition, the expansion of high-barrier packaging films in the region is anticipated to be fuelled by a surge in applications for high-barrier film packaging in the coming years. The requirement for barrier films is rising due to increased milk production and consumer demand for other packaged beverages. The United States manufactured 217,500 million pounds of milk in 2018, according to the United States Department of Agriculture (USDA). The food industry makes up more than 5% of the US economy and is constantly growing due to rising consumer demand for packaged goods. The advantages of convenience at home and flexibility while on the go are now significant factors influencing the purchase of packaged meals.
The European e-commerce sector is experiencing a shift due to consumers' rising propensity for online shopping and excessive smartphone use. High-barrier packaging film can be replaced with tamper-evident, flexible, tear-resistant, and precise alternatives. It makes product shipping and transit simple and safe by shielding the goods from harm and environmental effects.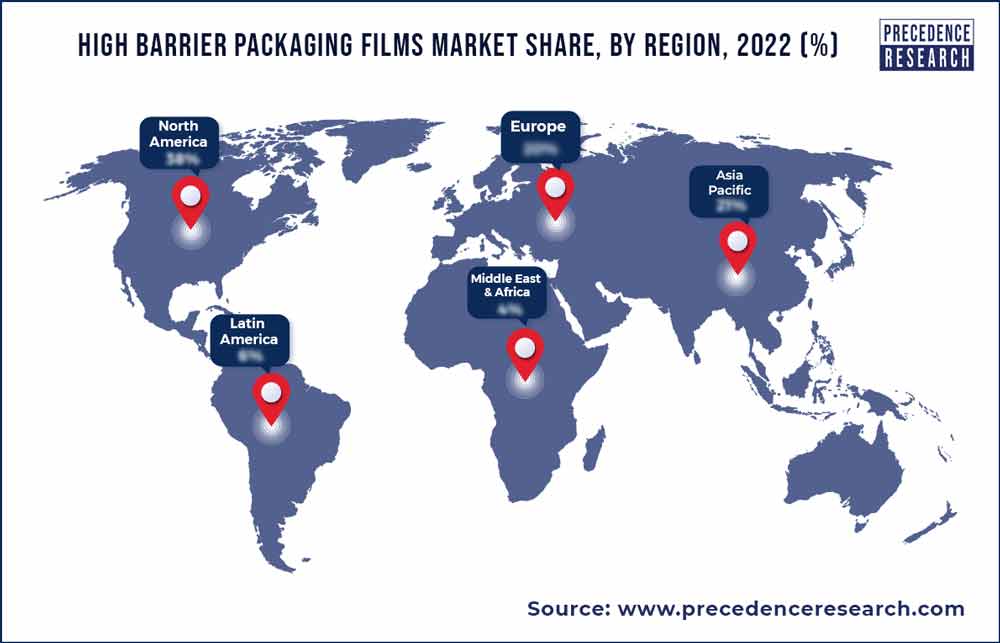 Due to their wide variety of products from premium brands, supermarkets are becoming increasingly well-liked by customers. Additionally, products with high barrier packaging film packaging are gaining ground in hypermarkets and major retail chains in developed nations of Europe because of their extended shelf lives and improved food quality.
Asia Pacific carries the largest share in the global high barrier packaging market, the accessibility of raw materials and low labor costs will support the region's high-barrier packaging film growth during the anticipated period due to expansion in manufacturing and urbanization in developing countries.
In the Middle East and Africa, several significant players are now present in this market more actively to gain a sizable market share. In addition, the rising investments in the market are observed to act a driver for the market's growth. Several essential players are operating in this market more actively to gain a significant market share, drive the fastest market growth in the Middle East and Africa in the upcoming years, and invest heavily in technological developments that will further improve the effectiveness of barrier films and generate more money.
Recent Developments:
June 2022- An additional 25,000 MT of annual rated capacity was added to Cosmo Films Limited's manufacturing facility in Aurangabad, India.
January 2022- With a sizable investment, Klockner Pentaplast announces plans to increase its post-consumer recycled content (PCR)capacity in North America and broaden its sustainable innovation portfolio for the pharmaceutical, consumer health, and food packaging industries.
Market Key Players:
ACG Worldwide Pvt., Ltd.
Amcor Ltd.
Bemis Co., Inc.
Berry Global Group, Inc.
Bischof + Klein GmbH & Co. KG
Dunmore Corporation
Flex Ltd.
Huhtamaki Oyj
LINPAC Packaging
Mondi plc
Polyplex Corporation Ltd.
ProAmpac
Schur Flexibles Holding GesmbH
Sealed Air Corporation
Shrinath Rotopack Pvt Ltd.
Toray Plastics (America), Inc.
Segments Covered in the Report:
(Note*: We offer report based on sub segments as well. Kindly, let us know if you are interested)
By Material
By Product
Bags And Pouches
Trays Lidding Films
Wrapping Films
Blister Packs
Others
By Technology
Multi-Layer Films
Sustainable Barrier Coating Films
Besela Barrier Films
Others
By Application
Food And Beverages
Pharmaceutical
Personal Care And Cosmetics
Others
By Geography
North America
Europe
Asia-Pacific
Latin America
Middle East and Africa