The global high performance computing market was valued at US$ 41.22 billion in 2022 and is expected to hit around US$ 85.34 billion by 2032, poised to grow at a CAGR of 7.6% during the forecast period 2023 to 2032.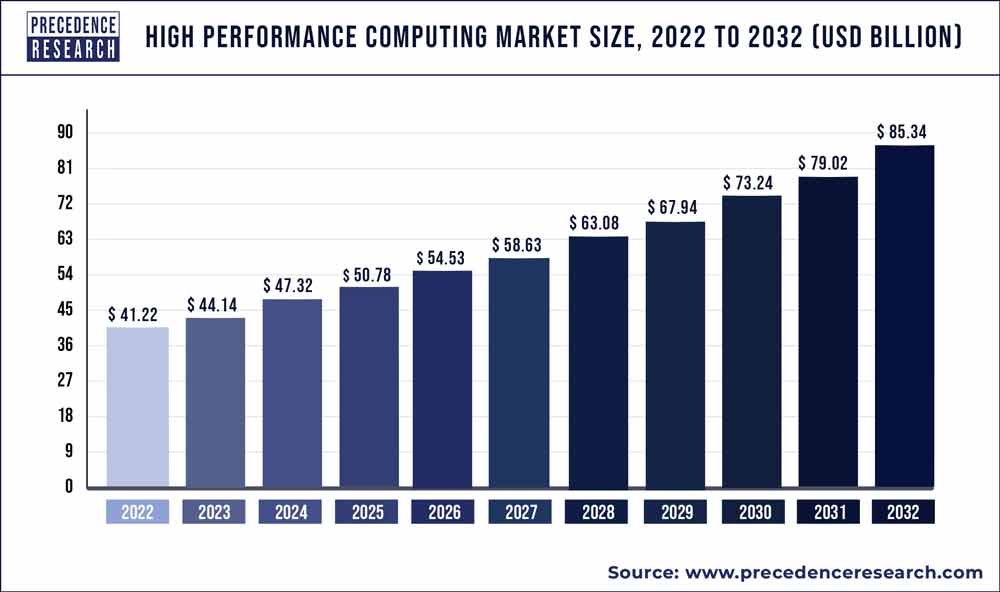 Key Takeaway:
By component, the servers segment has captured the highest revenue share of 34% in 2022. The services segment is expanding at a CAGR of 4.8% from 2023 to 2032.
By deployment, the on-premise segment has accounted revenue share of 61% in 2022. The cloud segment is expanding at a CAGR of 8.1% during the forecast period.
By end-use, the government and defense segment held a revenue share of 26.2% in 2022.
The North America region has garnered the largest revenue share of 41.5% in 2022.
The Asia Pacific region is expected to reach a CAGR of 8.6% from 2023 to 2032.
Growth Factors
The high performance computing is a practice of aggregating the powers of the computer which delivers high performance abilities while handling large number of problems in the fields of business, science, and engineering. Furthermore, high performance computing systems comprise of all the types of micro servers and servers which are being utilized for highly data intensive and computational tasks. At present, as high performance computing has been decisively linked to the economic scientific advances and competitiveness it is becoming essential for all the nations. Also, the global study regarding HPC expresses, more than 3/4TH of the key players have opted the platforms of supercomputing and have expressed that their survival is impossible without it.
Micro server's capabilities of faster computing or high performance computing systems, enhanced the effectiveness of performance and operation & smarter deployment with high quality of service are some of the major key factors boosting the market growth of high performance computing all around the globe. Furthermore, some of the major challenges faced regarding these systems are cooling system operation, power, and data & storage management. The implication of data & storage management would endure to grow in the forthcoming time period. Moreover, the software hurdles will further continue to rise, which are hampering the market growth. The methodology is being majorly adopted among various diligence and academic institutions in order to make robust and dependable products which will enable to maintain an edge of competition in the business. Various sellers are further aiming to give technology solution based on high performance. Thus, this trend is likely to boost the market it will continue its growth in future.
Report Scope of the High Performance Computing Market
| | |
| --- | --- |
| Report Coverage | Details |
| Market Size in 2023 | USD 44.14 Billion |
| Market Size by 2032 | USD 85.34 Billion |
| Growth Rate from 2023 to 2032 | CAGR of 7.6% |
| Base Year | 2022 |
| Largest Market | North America |
| Fastest Growing Market | Asia Pacific |
| Forecast Period | 2023 to 2032 |
| Segments Covered | Deployment, Application, Region |
| Companies Mentioned | Atos SE, Advanced Micro Devices, Inc., Hewlett Packard Enterprise Development LP, Cisco Systems, Inc., Dell Technologies Inc., Fujitsu, Intel Corporation, IBM Corporation, Lenovo, Inspur |
However, the market is likely to pick gradually its pace from the year 2022 owing to rising demand for high performance computing systems owing to its benefits, like enhanced power and ability of the computation in order to calculate algorithms which are complex in nature. Also, the growing cloud computing popularity, mixed with the initiatives of digitization have been adopted by various governments, which would play a conclusive role in propelling the market growth in the forthcoming time period.
In addition, high performance computing, which is also known as supercomputing, foresees the use of parallel processing for the data processing at accuracies & higher speeds and thus also provide efficient output. This parallel processing is attained by allocating the program instructions amid various processors so that the time consumed to for running the algorithms is decreased majorly. The HPC systems also comprise of a group of computers, whose total or clubbed power further offer high capabilities of computation. Which means, HPC systems can simplify potentially business procedures which are complex in nature. In resultant, the demand for HPC systems is likely to grow in future.
There was a positive impact due to the outburst of Covid19 over the high performance computing market. Furthermore, The White House declared the launch of the COVID-19 consortium of high performance computing, which is a unique private & public consortium led by the IBM, White House Office of Technology and Science Policy, the National Science Foundation (NSF), and the U.S. Department of Energy. The high performance computing consortium allows the researchers to have access of the resources which are most powerful high-performance computing in order to accelerate the better understanding of the corona virus and to develop methods for combating it.
Deployment Insight
On the basis of premisis, deployment was the leading market segment in the year 2022, however, cloud based technology segment is expected to grow due to its high adoption rate, while the usage on-premise deployment method would drop down slowly. The different types of deployment methods of high performance computing are cloud and on-premise based methods. Cloud deployment is gaining high traction in the industry, as cloud computing technologies are being majorly adopted by the players in different industries.
Application Insight
The dominating segment are high performance technical computing and high performance business computing. Technical computing of the HPC comprise of various sectors similar as bio-sciences, government, academic institutions, chemicals, consumer products, energy, electronics and many others. Furthermore, data analysis of high performance is being utilized in governmental sector for crime fighting & public security. In addition to this, high performance computing are used in fraud discovery and client accession/ retention across other sectors. High performance business computing includes media entertainment, online gaming, retail, fiscal service, ultra-scale internet, transportation and others.
Region Insights
North America held the largest share of 41.5% in 2022. This is attributed to the region being the largest indigenous market for technology- grounded solution. Also, it's anticipated to be a strong player in the global economy, especially in the perpetration and development of new technologies. While the need to reuse large volumes of raw data is growing, having robust security measures in place is of consummate significance. This is driving the need to apply the rearmost technologies, which, in turn, is encouraging the adoption of HPC systems. Also, North America is the major area of functioning for some of the big enterprises, similar as General Motors and Boeing, which alongside with other SMEs, are aggressively opting for HPC systems to help them in easing the specialized conditions they're facing. As a result, the relinquishment of HPC systems is growing in North America.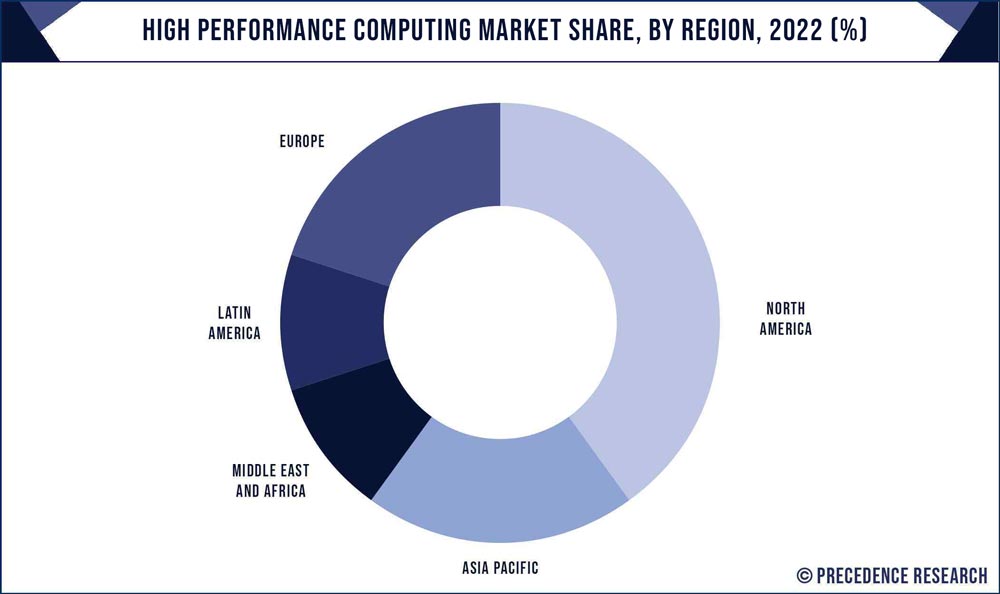 Asia Pacific is projected to expand at the highest CAGR over the forecast period owing to the growing adoption of HPC systems for scientific exploration and weather forecasting. At the same time, China happens to be among the top 10 countries leading in the high performance calculating market. China is also home to supercomputers, similar as Tianhe-2 (Milkyway-2) and Sunway TaihuLight.
Key Market Developments
In April 2021, the key player named OpenFive, which is a provider of silicon-focused and customizable solutions with differentiated IP, declared the successful tape out of a high-performance SoC with IP solutions integrated in nature with targeted for networking, AI/HPC, and solutions of storage. Coupled with advanced 2.5D packaging solutions named as OpenFive and low power, high performance, and low latency D2D/HBMIPinterface, which enabled the designers to create systems-on-chip (SoCs).
Some of the prominent players in the global high performance computing market include:
Atos SE

Advanced Micro Devices, Inc.

Hewlett Packard Enterprise Development LP

Cisco Systems, Inc.

Dell Technologies Inc.

Fujitsu

Intel Corporation

IBM Corporation

Lenovo

Inspur
Segments Covered in the Report
Market By Deployment
Market By Application
High Performance Technical Computing

Government
Chemical
Bio-Science
University /Academic
Large Product Manufacturing
Consumer product Manufacturing
Energy
Electronics
Others

High Performance Business Computing

Media Entertainment
Online Game
Retail
Financial Service
Ultra-scale Internet
Transportation
Others
By Components
Solutions

Servers
Storage
Networking Devices
Software

Services

Design and Consulting
Integration and Deployment
Support and Maintenance, and Management
By Server Price Band
USD 250,000 to 500,000 and Above
USD 250,000 to 100,000 and Below
By Organization Size
Small and Medium-sized Enterprises (SMEs)
Large Enterprises
By Geography
North America
Europe
Asia-Pacific

China
India
Japan
South Korea
Malaysia
Philippines

Latin America

Brazil
Rest of Latin America

Middle East & Africa (MEA)

GCC
North Africa
South Africa
Rest of the Middle East & Africa