The global home automation market size was reached at USD 56.15 billion in 2022 and is projected to hit around USD 207.23 billion by 2032, growing at a CAGR of 14% during the forecast period from 2023 to 2032.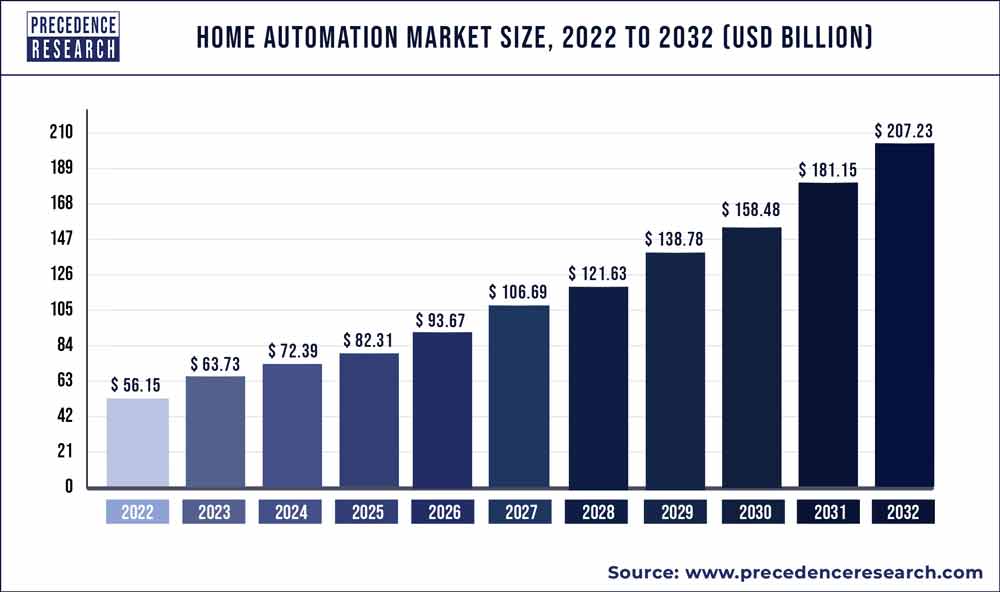 Access our Premium Real Time Data Intelligence Tool, Visit: Precedence Statistics
Key Takeaways:
By application, the safety and security segment is projected to hold the largest share of the market during the forecast period. Lighting and entertainment segments are anticipated to show noticeable growth.
By technology, the wireless segment is expected to continue its dominance during the forecast period, the wired segment is expected to show steady growth.
By end user, the residential segment holds the largest market share, the segment will continue to grow at a significant rate during the forecast period.
North America dominates the global home automation market, Asia Pacific is expected to witness the fastest growth during the forecast period.
Market Overview:
The home automation market refers to the global market for products and services related to home automation, which involves the use of technology to automate and remotely control various aspects of a home, such as lighting, security, entertainment, temperature and appliances. A diverse ecosystem of players, including technology companies, consumer electronics manufacturers, home security providers, energy management companies, and service providers, characterizes the home automation market.
These players offer a variety of products and services, ranging from standalone smart devices to comprehensive home automation systems that integrate multiple devices and systems together. Home automation systems can be customized to suit the specific needs and preferences of homeowners and can include a wide range of features and functionalities.
One of the leading providers of home automation, Johnson Controls stated in their annual report for fiscal year 2022 that the company experienced an increased revenue of 7%. Moreover, the company stated that the orders for their products and services increased by 13% versus the prior year.
An IoT analyst firm, Berg Insight estimated in its report that by 2026, 74.6 million houses in North America will be smart automated. On the other hand, the same report stated that almost 100 million houses in Europe region will be smart houses by the end of 2026.
60.4 million United States households actively use smart home devices in 2023, which is 3% more than 2022 where 57.4 million US households were reported to use smart home devices.
Growth Factors:
The rising consumer preferences are observed to boost the market's growth during the forecast period. Growing consumer awareness about the benefits of home automation, such as convenience, energy efficiency, security, and comfort, has led to increased adoption of smart home devices. Consumers are increasingly seeking smart home solutions that can enhance their quality of life, provide convenience, and offer energy savings, which has contributed to the growth of the home automation market.
Rapid technological advancements, particularly in areas such as wireless communication, the Internet of Things (IoT), artificial intelligence (AI), and voice recognition, have enabled more sophisticated and seamless home automation solutions. These advancements have improved the performance, reliability, and interoperability of smart home devices and systems, making them more appealing to consumers. Technological advances in the development of smart home automation systems are observed to propel the development of the home automation market.
For instance, in February 2023, Joshai., a U.S.-based artificial intelligence company, announced that the company is working on a prototype using the assistance of ChatGPT in order to develop a ChatGPT-driven voice home assistance system.
Additionally, the rising strategic business activities, including acquisitions, partnerships, and international trade, are observed to support the growth of the home automation market. For instance, in 2022, Johnson Controls closed two significant acquisitions in Foghorn and Tempered while maintaining a strong balance sheet and returning over $2 billion.
Report Scope of the Home Automation Market:
| | |
| --- | --- |
| Report Coverage | Details |
| Market Size in 2023 | USD 63.73 Billion |
| Market Size by 2032 | USD 207.23 Billion |
| Growth Rate from 2023 to 2032 | CAGR of 14% |
| Largest Market | North America |
| Fastest Growing Market | Asia Pacific |
| Base Year | 2022 |
| Forecast Period | 2023 to 2032 |
| Segments Covered | By Application, By Technology, and By End-User |
| Regions Covered | North America, Europe, Asia-Pacific, Latin America and Middle East & Africa |

Market Dynamics:
Driver:
Deployment of internet of things (IoT) technology
IoT enables various smart devices, such as smart thermostats, smart lighting, smart appliances, smart security systems, and smart entertainment systems, to be connected and interoperable with each other. This allows homeowners to create a cohesive ecosystem of smart devices that can communicate, share data, and work together to automate tasks and routines within their homes. Homeowners can set up automated routines where the smart thermostat adjusts the temperature; the smart lighting turns on or off, and the smart security system arms.
The deployment of IoT in the home automation market has spurred innovation and the development of a rapidly expanding ecosystem of smart devices, platforms, and services. This has resulted in a wide range of options for homeowners to choose from, with continuous advancements and new offerings being introduced to the market. The growing ecosystem of IoT-enabled devices and services, along with increasing interoperability standards, has made it easier for homeowners to adopt and integrate home automation technologies into their homes, driving the overall growth of the home automation market.
Restraint:
Privacy and security concerns
Home automation systems typically collect and process a vast amount of data, including personal information, usage patterns, and behavior patterns. This data may be stored in the cloud or transmitted over networks, which is prone to raise concerns about data privacy and security. People may worry about their personal information being accessed or hacked by unauthorized parties, leading to potential identity theft, data breaches, or other privacy violations. Some home automation systems, such as security cameras or smart doorbells, may raise concerns about surveillance and invasion of privacy.
Homeowners may worry about being constantly monitored or recorded within their homes, which can be seen as an infringement on their privacy rights. Privacy concerns related to surveillance can deter homeowners from adopting home automation technologies that involve video or audio monitoring. Considering the significant drawbacks of such security systems, the privacy and security concerns associated with home automation systems are observed to act as a restraint for the market's growth.
Opportunity:
Increasing focus on energy efficiency
The increasing focus on energy efficiency has created significant opportunities for the home automation market, including energy monitoring and management, energy-efficient scheduling and automation, integration with renewable energy sources, participation in demand response programs, and compliance with green building certifications and regulations. Home automation systems can monitor and manage energy usage in real-time, providing homeowners with insights into their energy consumption patterns and enabling them to optimize their energy usage. For example, smart thermostats can learn and adapt to homeowners' preferences, occupancy patterns, and weather conditions, and automatically adjust temperature settings for optimal energy efficiency.
Smart lighting systems can be programmed to turn on or off based on occupancy or natural light levels, reducing unnecessary energy consumption. Home automation systems can also provide detailed energy consumption data for various devices, allowing homeowners to identify energy-intensive appliances and take steps to reduce their usage. This emphasis on energy monitoring and management has created opportunities for home automation solutions that help homeowners save energy and reduce their carbon footprint.
Segments Insight:
Application Insights:
The safety and security segment holds the largest share of the home automation market. The rising safety and security concerns, especially in residential areas, are expected to fuel the demand for home automation for safety and security purposes.
Home automation can provide enhanced user authentication methods, such as fingerprint, facial, or voice recognition, to ensure that only authorized users can access and control the home automation system. This adds an additional layer of security and prevents unauthorized access.
On the other hand, the lighting segment is expected to witness a significant increase during the forecast period. The rising preferences towards energy efficiency for both residential and commercial buildings are expected to boost the adoption of lighting applications in home automation systems; lighting system in home automation promotes energy saving by sensing human movements in the environment in order to control the lighting.
Technology Insights:
The wireless technology segment held the largest share in 2022, with the growing technological advancements across the globe; the wireless segment is projected to maintain its dominance in the home automation market. Wireless home automation is becoming popular due to easy installation, flexibility, cost-effectiveness, convenience, retrofitting options, aesthetic appeal, interoperability, and future-proofing capabilities. These advantages make wireless home automation systems accessible, convenient, and adaptable for a wide range of homeowners, driving their increasing popularity in the market.
End-User Insights:
The residential end-user segment is the leading segment of the market; the rising construction activities in developing countries are anticipated to grow the demand for home automation systems during the forecast period.
Home automation allows homeowners to automate various tasks and processes, making their lives more convenient and comfortable. Automated lighting, smart door locks, and remote control of appliances and devices can provide convenience and ease of use for individuals with mobility or other physical challenges. This has led to increasing demand for home automation in residential buildings as a way to support aging-in-place and improve accessibility.
The commercial end-user is expected to witness a noticeable rate during the forecast period. As technology continues to evolve, integrating home automation in commercial buildings can ensure that the building is equipped with the latest smart features and can remain competitive in the ever-changing business landscape.
Regional Insights:
North America accounted for the largest share of the home automation market in 2022; the region is anticipated to continue its growth during the forecast period. The North American home automation market is characterized by intense competition, with companies constantly innovating and expanding their product portfolios to meet evolving consumer demands. Factors such as affordability, ease of installation, interoperability, and compatibility with existing home systems are critical considerations for consumers when choosing home automation solutions.
In addition, the North American commercial sector is focused on the adoption of home automation systems for multiple convenience purposes. The North America home automation market is expected to continue its growth trajectory in the coming years, driven by technological advancements, increasing consumer awareness and adoption, and growing demand for connected homes.
The presence of major key players in the region is another factor to propel the growth of the home automation market. Key players in the North American home automation market include technology companies, consumer electronics manufacturers, home security providers, and service providers specializing in smart home solutions. These companies offer a wide range of products and services, including smart hubs/controllers, smart thermostats, smart lighting, smart locks, smart security systems, smart appliances, and other connected devices.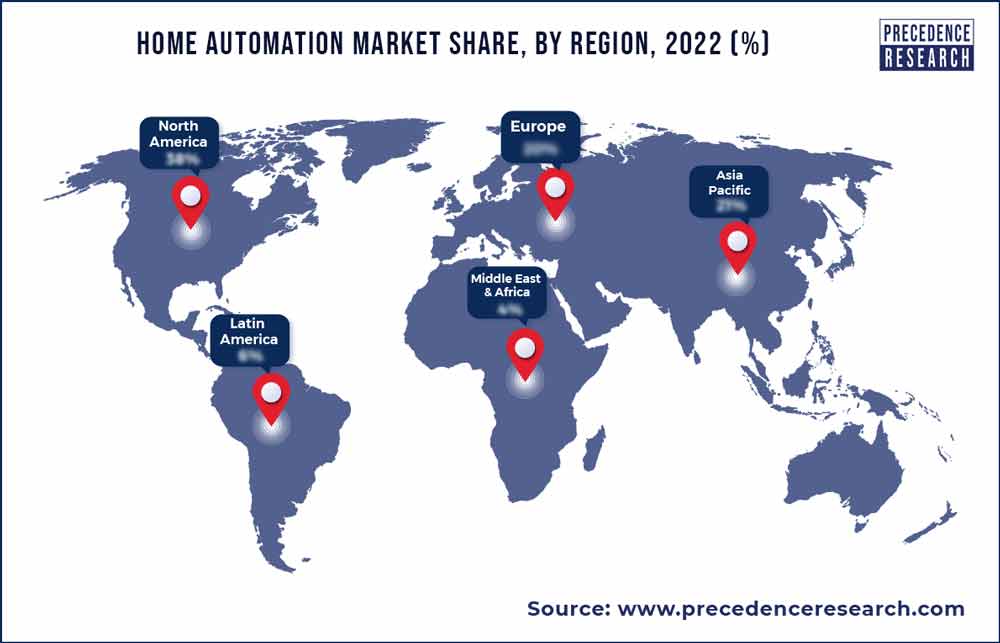 Asia Pacific is the fastest-growing region for the home automation market. The Asia Pacific region is experiencing rapid urbanization, with an increasing number of people moving to urban areas. Urban dwellers are often seeking ways to enhance their quality of life, and home automation offers convenient and modern solutions to manage their homes efficiently. The middle-class population in Asia Pacific is expanding, with rising disposable incomes and changing lifestyles. Middle-class consumers are increasingly looking for ways to improve their homes and lifestyles, and home automation is seen as a way to add value, comfort, and convenience to their homes.
The Asia Pacific region has seen significant advancements in technology, particularly in the areas of Internet of Things (IoT), artificial intelligence (AI), and connectivity solutions. These technologies have enabled the development of sophisticated home automation systems that are more affordable, reliable, and user-friendly, making them more accessible to a broader range of consumers.
Europe is another lucrative marketplace for the home automation industry. Europe has an aging population, and home automation can provide solutions that make homes more accessible and convenient for elderly individuals. Europe has been at the forefront of the global energy efficiency and sustainability movement. Home automation systems offer features such as smart thermostats, energy-efficient lighting, and automated heating, ventilation, and air conditioning (HVAC) systems that can help homeowners in Europe optimize their energy consumption, reduce their carbon footprint, and contribute to a greener lifestyle.
Recent Developments:
In April 2023, iPlug Control System Pvt Ltd., India's leading and innovative automation system provider brand, announced opening of its first experience center for consumers at Xion Mall, Pune. With the opening of this experience center, the company aims to offer a glimpse of superlative technologies associated with home automation systems.
In January 2023, a division of Alltero Robotics, Shelly, announced the launch of eight new smart home automation devices at the Consumer Electronics Show (CES). The newly launched home automation devices offer energy efficiency, affordability, and interoperability. The new home automation devices are designed for Shelly's consumers in Italy and the United Kingdom.
In March 2023, Hubitat announced the launch of 'The Hubitat Elevation Model C-8', an intelligent home automation hub. The company has launched the new model with enhanced performance while maintaining its commitment towards home automation systems. The new home automation system by Hubitat consists of radio and antennas for an increased range of communication.
In March 2023, Enabot launched the EBO X home robot, one of the most advanced home automation systems, on the Kickstarter campaign. The new product by Enabot is a stabilized 4k camera that combines a smart speaker as well as a pet companion.
In June 2022, a prominent home automation solution provider, Hogar Controls, announced the launch of a new range of smart home automation devices that include smart touch panels, world-class controllers, smart curtain motors, and digital door locks. The United States-based company has launched all devices in the Indian market with a strategic commitment to producing customized home automation products for consumers in India.
Key Market Players:
The global home automation market is fragmented with multiple small-scale and large-scale players, few prominent companies in the global home automation market are:
ABB
ADT
Samsung Electronics
Legrand
Johnson Controls
Larsen & Toubro Ltd.
Honeywell International Inc
Siemens AG
Creston Electronics
Segments Covered in the Report:
(Note*: We offer report based on sub segments as well. Kindly, let us know if you are interested)
By Application
Lighting
Safety & security
HVAC
Entertainment
Others
By Technology
By End-User
By Geography
North America
Europe
Asia-Pacific
Latin America
Middle East and Africa