The global human growth hormone market size was exhibited at USD 4.86 billion in 2022 and is projected to hit around USD 10.67 billion by 2032, growing at a CAGR of 8.18% from 2023 to 2032.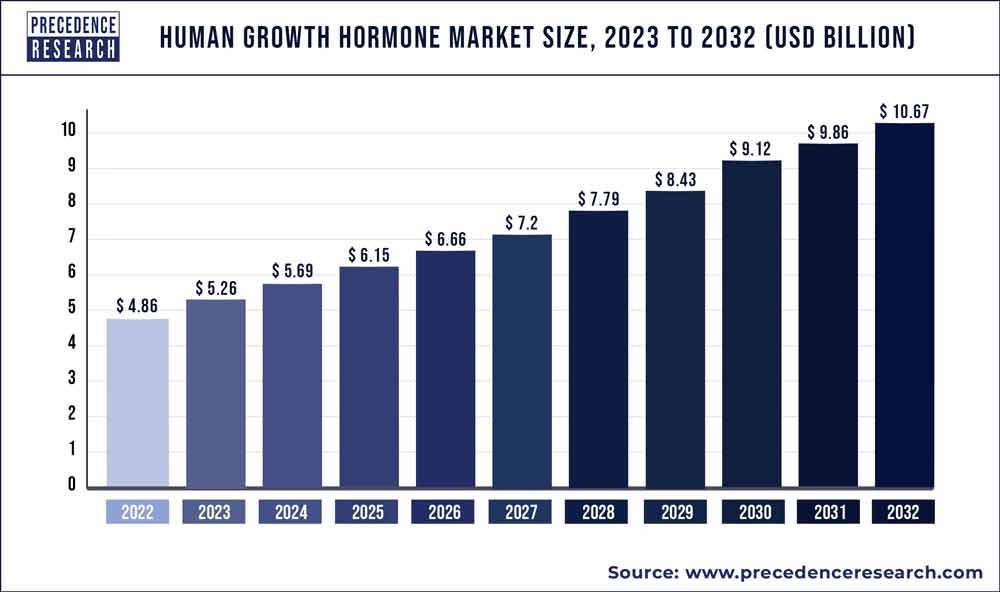 Access our Premium Real Time Data Intelligence Tool, Visit: Precedence Statistics
Key Points:
North America will generate the maximum market share between 2023 and 2032.
The growth hormone deficiency application segment contributed the maximum market share in 2022.
The hospital pharmacy distribution channel segment had a significant market share in 2022.
The pituitary gland produces human growth hormone which induces growth in adults and in children and this is a peptide hormone which does the work of regeneration, reproduction, repair and cell metabolism. This hormone primarily engages in regulating growth. Fat metabolism and body fluid regulation is other functions of human growth hormones. They also help in the growth of muscles and bones. Fat accumulation is caused due to the deficiency of this hormone. It also leads to various diseases which may cause short bowel syndrome, muscle wasting, acromegaly and gigantism. The prevalence of chromosomal disease which is Turner's disease or Turner syndrome, is due to the deficiency of growth hormones. Increasing awareness among the consumers about the health benefits associated with the consumption of human growth hormone drugs is expected to drive the market in the long run. It also aids in the improvement of muscular strength and performance.
The COVID-19 epidemic is expected to have an effect on the worldwide human growth hormone market. According to a Frontiers article, patients with low growth hormone production are at risk for COVID-19, which requires attention to aid in COVID-19 prevention. Patients suffering from Prader-Willi syndrome must also take precautions. Turner syndrome patients are at an increased risk of serious disease from the COVID-19 virus.
A growth hormone deficiency occurs in humans when the pituitary gland does not have an appropriate concentration of human growth hormone. This deficiency is addressed by injecting human growth hormone subcutaneously. Growth hormone deficiency can also be caused by genetic illnesses such as Prader-Willi syndrome and Turner syndrome, resulting in delayed puberty and lower height than usual.
Growth Factors
A growth hormone shortage develops in humans when the pituitary gland does not produce enough human growth hormone. Human growth hormone is subcutaneously injected to treat this deficit. Genetic diseases such as Prader-Willi syndrome and Turner syndrome can also induce growth hormone deficit, resulting in delayed puberty and shorter height than typical.
Furthermore, several firms are investing in R&D to create a growth hormone with fewer side effects and that will be a long-term therapy. The expansion of the market can be associated with the increasing cases of disorders caused by the deficiency of this hormone. Constant efforts made by governments and other private groups to raise awareness of growth hormone deficiency and high productivity. Other reasons such as enhanced treatment awareness, and growing g cases of numerous health conditions like the neuropsychiatric conditions will create more demand for Human Growth Hormone drugs and favour market growth. The quick development of new human growth hormone molecules is projected to fuel the growth of the human growth hormone market.
The public's knowledge of the usage of synthetic growth hormone treatment has gradually improved over time. However, increased industry research into the causes of growth abnormalities, as well as an increase in diagnosis, has resulted in increased market growth. Among these conditions are paediatric growth hormone insufficiency, idiopathic short height, adult growth hormone deficiency, and inherited disorders such as Turner syndrome and Prader-Willi syndrome. One in every 3800 children worldwide has a growth hormone deficiency. Turner syndrome affects around one in every 2000 females, while Prader-Willi syndrome affects approximately one in every 30,000 people.
Report Scope of the Human Growth Hormone Market
| | |
| --- | --- |
| Report Coverage | Details |
| Market Size in 2023 | USD 5.26 Billion |
| Market Size by 2032 | USD 10.67 Billion |
| Growth Rate from 2023 to 2032 | CAGR of 8.18% |
| Fastest Growing Region | Asia-Pacific |
| Largest Market | North America |
| Base Year | 2022 |
| Forecast Period | 2023 to 2032 |
| Segments Covered | By Application, By Distribution Channel |
| Regions Covered | North America, Europe, Asia-Pacific, Latin America and Middle East & Africa |

Key Market Drivers
Steady Growth in Industries
Human growth hormone is essential for human development. In humans, growth hormone (GH) shortage occurs when the pituitary gland does not produce enough HGH. In humans, this deficit is addressed by subcutaneous injections of recombinant human growth hormone. Human growth hormone insufficiency can also be caused by genetic illnesses such as Prader-Willi syndrome and Turner syndrome, resulting in delayed puberty and shorter-than-average height.
Increasing R and D initiatives
The market for human growth hormones is likely to be driven by a robust product pipeline and substantial R&D initiatives for the development of innovative growth hormone treatments. In 2018, Novo Nordisk was engaged in Phase II clinical trial results for Somapacitan, an experimental GH medication recommended for the treatment of juvenile growth hormone insufficiency. Furthermore, Ascendis Pharma A/S announced Phase III clinical trial findings for their TransCon hGH, intended for juvenile growth hormone insufficiency, in May 2019.
Key Market Challenges
Adverse effects of synthetic growth hormones
However, the adverse effects of synthetic growth hormones, such as muscular soreness, joint pain, and fluid retention, as well as the high cost of therapies utilising artificial growth hormones, are impeding market expansion. Furthermore, strict government clearances are projected to limit industry growth and development in the approaching years. On the contrary, rising disposable income and increased healthcare spending in developing nations are expected to generate attractive possibilities for growth hormone manufacturers in the future.
The high cost of hGH treatments, as well as the severe undesirable effects associated with hGH, may stymie market growth throughout the projection period. For example, UPMC Children's Hospital of Pittsburgh reports that possible side effects of this hormone are joint pains, knee pain and hip pain. It may also cause allergies like swelling, rash, hives and also an increase in the levels of blood sugar.
Key Market Opportunities
The growing number of hospital pharmacies will provide considerable market expansion potential
The growth hormone business is divided into three distribution channels: online medstores, retail pharmacies, and hospital pharmacies. The hospital pharmacy segment is estimated to account for around 55% of the market in 2021, and it is expected to grow at a moderate rate over the forecast period. As the prevalence of diagnosis of growth disorders in hospitals grows, so does the need for growth hormone therapy in hospital pharmacies.
Segments Insights:
Application Insights:
The GH deficiency category had the biggest market share in 2022 and is likely to maintain its dominance throughout the forecast period. This is due to increased awareness regarding the early detection and treatment of GH insufficiency in people, as well as the introduction of innovative medications into the hGH market. For example, Ascendis Pharma A/S gained Orphan Designation from the European Commission (EC) in October 2018 for its experimental long-acting GH medication for humans, TransCon hGH, which is recommended for the treatment of paediatric GH deficiency.
Similarly, Ferring Pharmaceuticals Inc. got USFDA clearance in January 2018 for its novel recombinant HGH, Zomacton (somatropin), which is approved for the treatment of adults with GH insufficiency. The GH deficiency sector is further subdivided into adult GH deficiency and paediatric GH deficiency, with the latter expected to dominate the market throughout the projection period due to a rising number of pipeline medications. For example, in October 2019, Pfizer Inc. and its partner OPKO Health Inc. stated that their Phase III research of Somatrogon in pre-pubertal children with hGH fulfilled its primary goal of non-inferiority to daily somatropin.
Turner's syndrome accounted for the second-largest market share in 2022 and is expected to emerge as a profitable category during the projected period. This might be linked to increased efforts by different public and private groups to raise awareness about Turner syndrome early diagnosis and treatment. Every year in February, non-profit groups such as Turner Syndrome Support Society (UK), Turner Syndrome Society of the United States, and Turner Syndrome Foundation observe "Turner Syndrome Awareness Month"; and undertake a worldwide campaign to raise awareness of the illness.
Distribution Channel Insights:
The human growth hormone market has been classified into hospital pharmacy, retail pharmacy, internet pharmacy, and specialty pharmacy. In 2022, the hospital pharmacy category had a sizable market share. This large percentage can be ascribed to an increase in hospital visits as people become more aware of GH insufficiency and its treatment. According to the Children's Hospital of Philadelphia (CHOP), prescriptions for growth hormone have climbed from 5.1 patients per 10,000 enrollees in 2001 to 14.6 patients per 10,000 in 2016.
Because of the increasing prevalence of pharmacies in developed nations such as North America and Europe, the online pharmacy segment is likely to grow at a considerable CAGR over the forecast period. Furthermore, the growing popularity of online pharmacies in emerging markets such as India and China is likely to propel category expansion in the future years.
Regional Insights:
North America is expected to account for the highest share due to variables such as favorable reimbursement scenarios, established healthcare infrastructure, considerable government initiatives, and expanding healthcare awareness. Furthermore, increasing access to innovative pharmaceuticals as a result of the presence of important firms in the region benefits the North American market. Pfizer, Inc., Eli Lilly and Company, and Genentech, Inc. are three significant players located in the United States that provide a diverse variety of human GH medicines in the region.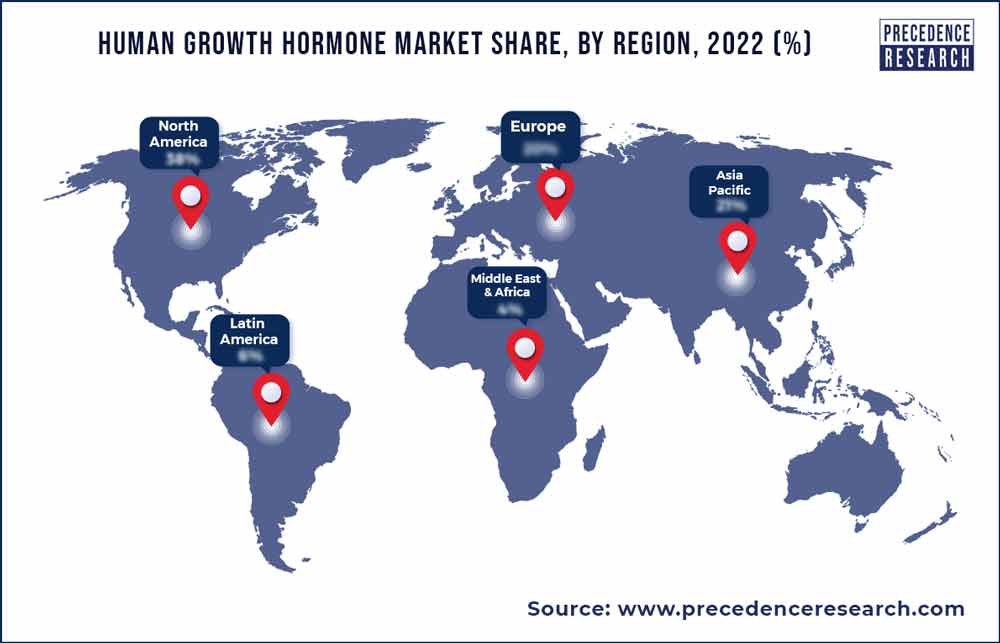 Over the projection period, Asia Pacific is expected to grow at a rapid pace. Key competitors are focusing on attaining a significant market share in prospective Asia Pacific nations such as Japan and China through product approval and launch. For example, in March 2017, Novo Nordisk A/S, a Danish pharmaceutical firm, began a phase III clinical study in Japan for their HGH somapacitan, which is designed for the treatment of adult growth hormone insufficiency.
Technological advancements in China and the growing disposable income will play a significant role in the growth of the Asia Pacific market. Advancements in the research and development to an increased consumption of human growth hormones in Japan. Many investments are made by the government in various nations of the Asia Pacific region and this is expected to fuel the market growth in the long run. Prevalence of genetic diseases in the Asia Pacific region will have a significant impact on the growth of this market. Short term treatment for various disorders with the help of human growth hormone in the European nations will support this market. Government expenses made on treating such diseases will have a positive impact on the market growth. Germany is the leading market of human growth hormone in the European region
Recent Developments
February 2021: The Pfizer and OPKO Health Inc. announced that the European Medicines Agency has authorised Somatrogon for the treatment of individuals lacking in juvenile growth hormone. Pfizer and OPKO have been working together to develop and market Somatrogon for GHD therapy since 2014.
Key Market Players
Novo Nordisk
Merck & Co.
Eli Lilly & Company
Pfizer Inc.
Teva Pharmaceutical Industries
Novartis AG
Anhui Anke Biotechnology (Group) Co., Ltd
Roche
Ipsen
Segments Covered in the Report:
(Note*: We offer report based on sub segments as well. Kindly, let us know if you are interested)
By Application
Growth Hormone Deficiency
Prader-Willi Syndrome
Turner Syndrome
Small For Gestational Age
Others
By Distribution Channel
Hospital Pharmacy
Retail Pharmacy
Online Pharmacy
By Geography
North America
Europe
Asia-Pacific
Latin America
The Middle East and Africa