The global human microbiome market size was evaluated at USD 157.16 million in 2022 and is projected to hit around USD 1499.36 million by 2032, growing at a CAGR of 25.3% from 2023 to 2032.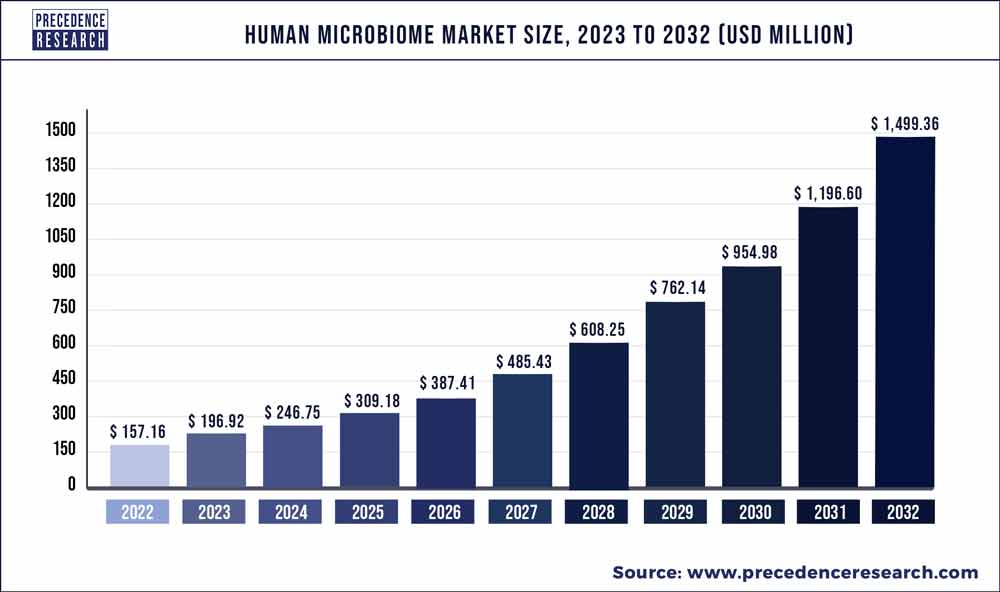 Access our Premium Real Time Data Intelligence Tool, Visit: Precedence Statistics
Key Insights:
By geography, The Europe and North America lead the market.
By product, the drug segment accounted more than 36% of revenue share in 2022.
By application, the therapeutics segment had the most significant market share in 2022 and is anticipated to achieve a sizable CAGR from 2023 to 2032.
Market Overview
The human microbiome is the collection of microorganisms that live on and inside the human body. It includes bacteria, fungi, and viruses and plays a crucial role in maintaining human health. The human microbiome market is focused on developing products and therapies that manipulate the microbiome to improve human health. This includes probiotics, prebiotics, synbiotics, and other products designed to alter the microbiome's composition. The market for these products is multiplying as more research highlights the microbiome's importance in various health conditions. Some key players in the human microbiome market include Nestle, Danone, and Procter & Gamble.
Due to its links to several respiratory illnesses and immunology, the human microbiome has recently attracted attention. Immune health has been linked to healthy gut flora. Lung, pulmonary, and other diseases can arise as a result of variations in the number of microbes, including firmicute, actinobacteria, and Bacteroidetes, according to research.
For instance, Persephone Biosciences Inc. Started building a microbiome therapeutic that is immune-boosting in April 2020 to aid in the prevention and treatment of the novel coronavirus (SARS-CoV-2) as well as a potential diagnostic test that is stool-based intended to assist in identifying which patients are most at risk for experiencing severe complications and mortality after contracting COVID-19. To confirm this increase, more research investigations on the microbiome are one of the main factors. Since the pandemic raised microbiota therapies and diagnosis awareness, the market will likely continue to grow in this direction even after the outbreak.
The rising burden of diseases linked to a sedentary lifestyle and the increasing elderly population are additional significant drivers of this market's expansion. For instance, the International Diabetes Federation estimates that 52.7 million individuals in Europe between the ages of 20 and 79 have diabetes, with the figure rising to 69 million by 2045. For the forecast period, it is likely that increased gut microbial diversity—more particularly, an increase in butyrate-producing bacteria—will boost insulin resistance and type 2 diabetes risk, adding to the burden of lifestyle diseases like diabetes.
Report Scope of the Human Microbiome Market
| | |
| --- | --- |
| Report Coverage | Details |
| Market Size in 2023 | USD 196.92 Million |
| Market Size by 2032 | USD 1499.36 Million |
| Growth Rate from 2023 to 2032 | CAGR of 25.3% |
| Base Year | 2022 |
| Forecast Period | 2023 to 2032 |
| Segments Covered | By Product, By Application and By Disease Type |
| Regions Covered | North America, Europe, Asia-Pacific, Latin America and Middle East & Africa |

Covid-19 Impact
The market has not been significantly impacted by COVID-19. Growing study interest in human microbiomes due to their correlation with various respiratory illnesses and immunology has proven beneficial to the industry. The pandemic caused many research and development projects to be suspended, impacting this sector. Therefore, an increase in relaxation would be advantageous for the market. For instance, in July 2021, Nestlé Health Science and Seres Therapeutics, Inc. signed a contract to market SER-109 in the United States and Canada jointly. This investigational microbiome therapeutics goal is to pave the path for an entirely new therapeutic approach.
Segments Insight
Application Insights
The therapeutics segment, under these, had the most significant market share in 2022 and is anticipated to achieve a sizable CAGR in the years to come. This is primarily because of a rise in R&D spending for microbiome-based medicines and technology developments, which promotes segment growth.
Due to technological and scientific advancements in mapping the human genome and the advent of omics technologies, the diagnostics industry will likely grow at the quickest rate by application.
Product Insights
The market includes prebiotics, probiotics, drugs, and medical foods. The drug segment generated more than 36% of the revenue share in 2022. The human microbiota, a collective term for the billions of microorganisms that cover human tissues, contains bacteria, fungi, and viruses. The term "microbiome" refers to all of these microorganisms' genes.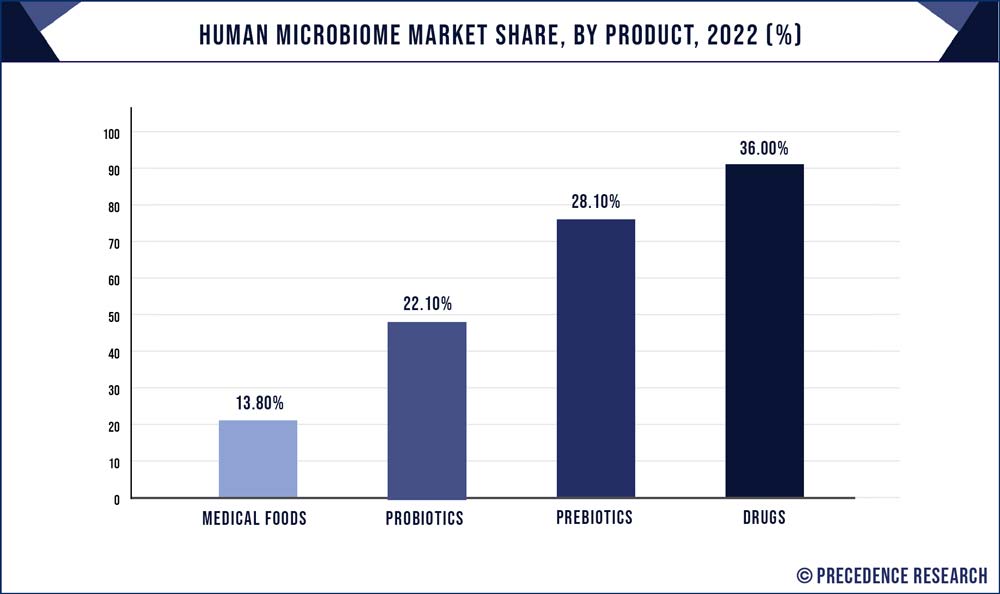 The most significant product section belonged to the drugs category. This segment's considerable market share may be due to an increase in medicinal treatments based on the human microbiome that are now undergoing clinical trials and increasing funding for their development.
Regional Insights
The Global Human Microbiome Market consists of North America, Asia Pacific, Europe, and the Rest of the World based on regional analysis. Because of their superior microbiological and biotechnological research infrastructure, Europe and North America lead the worldwide human microbiome market. Rising rates of autoimmune disorders and lifestyle diseases have also contributed to expanding the human microbiome industry in these countries.
The largest market in North America for the human microbiome is in the United States, followed by Canada. Germany, France, Spain, and the United Kingdom hold most of the European human microbiome market.
The region's escalating disease burden is contributing to the market's expansion. For instance, according to the American Cancer Society, there will be around 1,918,030 new cancer cases in the US in 2022. Additionally, the Globocan 2020 numbers show that there are currently 274,364 new cancer cases, with an anticipated 400,564 instances by 2040. As a result, the rising incidence of cancer will likely fuel market expansion as gut microbiota regulate tumor therapy by improving patients' receptivity to immunotherapy and minimizing the adverse effects of chemotherapeutic drugs.
The expansion of the market in the area is also being aided by the rising number of research studies and the regulatory bodies' support for the investigation. For example, 4D pharma plc, in February 2022, gained FDA approval for two Live Biotherapeutics, MRx0005 and MRx0029, which are investigational new drugs (IND) for the treatment of Parkinson's disease. The market will likely develop as a result of these approvals.
Recent Developments
Sept 2022: The FDA's BLA application process for Seres Therapeutics Inc.'s SER-109 drug to stop recurrent C. difficile infection has been completed (CDI). It is a brand-new approach to treating rCDI that aims to advance the existing standard of care.
Sept 2022: The FDA's Vaccines and Related Biological Products Advisory Committee approved Ferring Pharmaceuticals' RBX2660 for use in its investigational microbiota-based live biotherapeutic trial for its ability to lower the C. difficile infection (CDI) recurrence after antibiotic therapy.
April 6, 2020: A four-year strategic partnership between Gilead Sciences, Inc. and Second Genome, a pioneer in the field of microbiome research, has been announced. The goal of the association is to find new potential drug candidates and targets for the cure of inflammatory bowel disease as well as to identify biomarkers linked to clinical response in up to five of Gilead's pipeline compounds for the treatment of fibrosis, inflammation, and other diseases (IBD).
March 8, 2021: According to a press release from DuPont, it has signed a legally binding deal to buy Laird Performance Materials for $2.3 billion from Advent International, one of the biggest private equity companies in the world, using existing cash reserves. The transaction will likely close in the third quarter of 2021, barring any necessary regulatory approvals or other closing conditions.
December 31, 2020: DuPont announced the start of its exchange offer (split-off), in which DuPont stockholders can choose to surrender their shares in exchange for common stock of Nutrition & Biosciences, Inc. ("N&B"). The exchange offer is a component of the Reverse Morris Trust deal between DuPont and International Flavors& Fragrances, which was previously revealed.
April 15, 2020: As part of its ongoing efforts to stop the spread of COVID-19 and safeguard healthcare workers, DuPont introduced a new program called Tyvek Together to boost the overall supply of Tyvek personal protective apparel. By enabling others to join us in safeguarding even more frontline responders, our program has the potential to produce 6 million extra non-surgical isolation gowns each month when operating at total capacity.
Competitive Analysis
The market for the human microbiome is moderately competitive, and many competitors are developing new goods. Organizations including Axial Biotherapeutics, Inc., Series Therapeutics, DuPont, Second Genome, and Synthetic Biologics hold significant market shares. Important firms are improving the therapies pipeline by creating effective and secure medications.
The key players in the market are as follows:
AOBiome
Yakult Honsha Co.
Metabiomics Corp. (BioSpherex LLC)
Enterome Biosciences SA
Osel, Inc.
Microbiome Therapeutics LLC
Second Genome
Rebiotix, Inc.
Synthetic Biologics, Inc.
Seres Therapeutics
4D Pharma
Vedanta Biosciences
Ferring Pharmaceuticals
Du Pont De Nemours and Co.
Segments Covered in the Report:
(Note*: We offer report based on sub segments as well. Kindly, let us know if you are interested)
By Product
Prebiotics
Probiotics
Drugs
Medical Foods
By Application
By Disease Type
Metabolic
Infectious
Endocrine
By Geography
North America
Europe
Asia-Pacific
Latin America
The Middle East and Africa