The global insurtech market size accounted for USD 9.8 billion by 2021 and is expected to hit around USD 172.6 billion by 2030 and is poised to grow at a compound annual growth rate (CAGR) of 37.54% during the forecast period 2022 to 2030.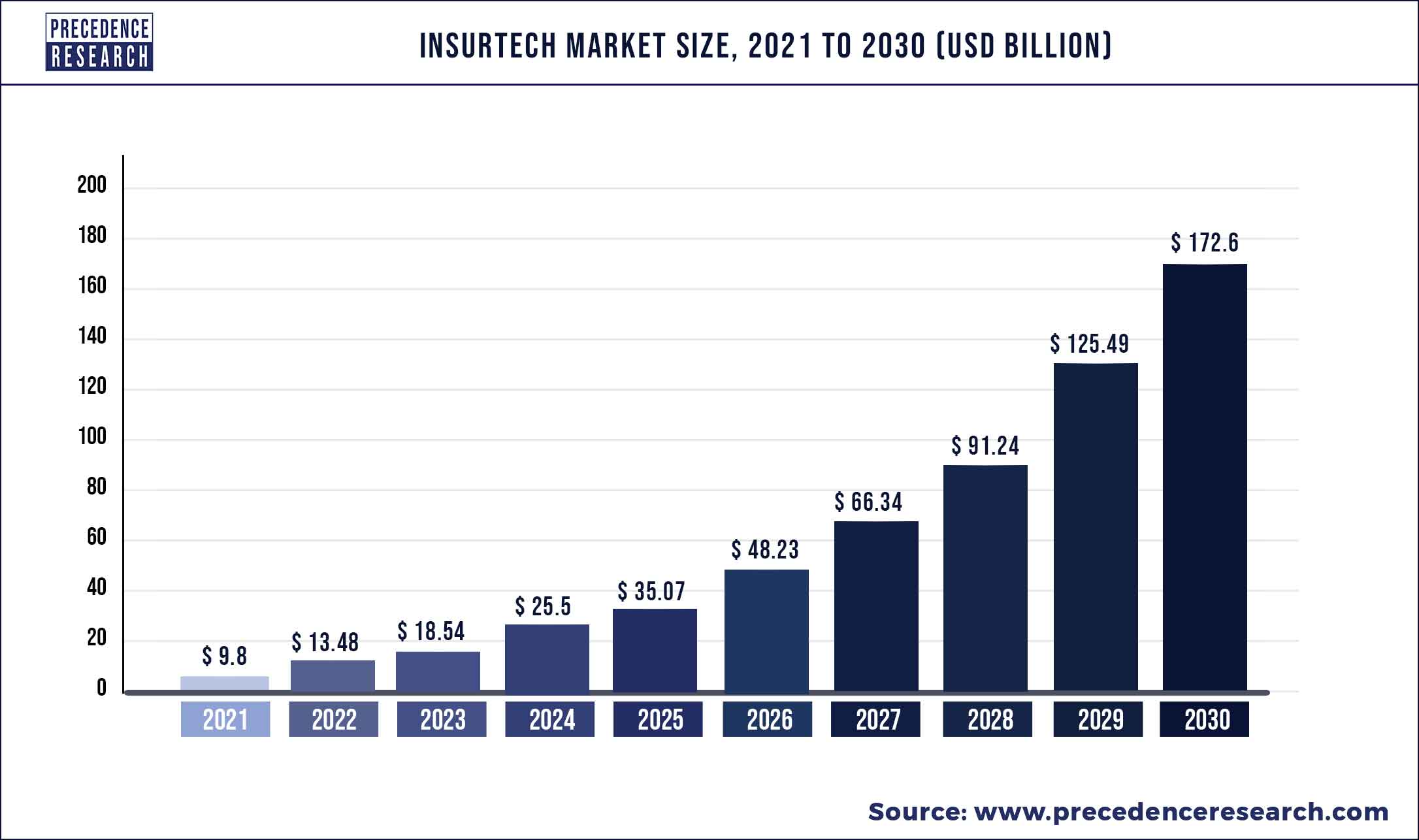 Access our Premium Real Time Data Intelligence Tool, Visit: Precedence Statistics
Insurtech refers to technological innovations that are made and executed to work on the productivity of the protection business. Insurtech powers the creation, conveyance, and organization of the protection business. Venture entrepreneurs are keen on Insurtech in light of the fact that the protection business is very much ready to exploit troublesome and imaginative innovation. Insurtech helps huge insurance agency investigate new choices beyond customary human endeavors. This could incorporate powerfully evaluated insurance contracts, independent venture protection, and social protection choices. Insurtech likewise gives insurance agency admittance to information streams from IoT gadgets. This makes a unique evaluating framework in light of economic situations and client conduct.
Growth Factors
The rising number of protections claims overall is one of the central points complementing the market development. Auto, life, and home are the most well-known protection claims got by individuals around the world. As per a recent report by the Insurance Barometer, 36% of American respondents wanted to buy extra security in 2021. Insurance agency are progressively putting resources into advanced innovations to lessen functional expenses and to work on functional proficiency and the whole client experience.
Computerized innovations are utilized to comprehend client needs and to upgrade their contributions in view of the changing client needs. As per a study directed by EIS Group, a product organization, 59% of the insurance agency studied expanded their interest in computerized foundation in 2021. Benefits presented by blockchain innovation, like expense investment funds, quicker installments, and misrepresentation alleviation, are driving its interest among insurance agency around the world. Blockchain innovation is utilized in insurance agency for applications like Know Your Customer (KYC), Anti-illegal tax avoidance (AML) methods, guarantee dealing with, and making distributed models.
A few Insurtech organizations are going into associations with insurance agency to offer blockchain innovation-based arrangements. For example, in December 2020, Amodo, an Insurtech organization, reported its organization with Galileo Platforms Limited, an innovation organization. Through this organization, the organizations would utilize blockchain advances to help insurance agency offer new protection arrangements and change their client experience. Insurance agency are progressively tolerating digital money-based installments. For example, in December 2021, Metromile, an accident protection organization, reported its arrangement to permit policyholders to pay expenses and guarantee installments utilizing digital money. This drive is supposed to assist the organization with fortifying its market position.
Moreover, in June 2021, Universal Fire and Casualty Insurance Company zeroed in on offering conventional property and loss insurance to private ventures began tolerating digital currency for payment installments. This pattern is supposed to incline toward the development of the Insurtech market. The interest for on-request protection is developing among shoppers as it empowers them to buy protection inclusion on their cell phones whenever the timing is ideal. Organizations in the on-request protection space are progressively utilizing imaginative advances like the web of things, man-made reasoning, enormous information, and prescient support to reevaluate how on-request protection items are endorsed, made, and appropriated.
Report Scope of the Insurtech Market
| | |
| --- | --- |
| Report Coverage | Details |
| Market Size in 2022 | USD 13.48 Billion |
| Market Size by 2030 | USD 172.6 Billion |
| Growth Rate from 2022 to 2030 | CAGR of 37.54% |
| Base Year | 2021 |
| Forecast Period | 2022 to 2030 |
| Segments Covered | Services, Deployment Model, Type, Technology, Application, End Use, and Geography |
| Companies Mentioned | Damco Group, DXC Technology Company, Insurance Technology Services, Majesco, Oscar Insurance, Quantemplate, Shift Technology, Trōv, Inc., Wipro Limited, ZhongAn Insurance |

Key Market Drivers
The deals of Insurtech arrangements are becoming because of moving plans of action. Organizations are using creative advanced answers for scale their organizations and assemble product offerings relying upon specialty client interest, which is anticipated to impel the interest for Insurtech arrangements and help in Insurtech market development.
Different protection area standards and regulations, as well as security and security concerns, are a portion of the variables that limit Insurtech market extension. Moreover, the rising interest for Insurtech arrangements in developing countries, especially arising economies like Australia, China, India, Singapore, and South Korea, gives extensive possibilities to the deals of Insurtech answers for extend and foster the in general Insurtech market.
Key Market Challenges
The COVID-19 pandemic is expected to decidedly affect market development in 2021. Various insurance agency are reevaluating their drawn out methodologies and momentary necessities as the COVID-19 and its effects have sped up the execution of online stages and new versatile applications to address shopper issues. A few insurances agency are going into organizations with computerized arrangement suppliers to improve their contributions. For example, in December 2021, Duck Creek Technologies, a center framework supplier for Property and Casualty (P&C) back up plans, declared that SECURA Insurance, a P&C insurance transporter, chose Duck Creek Rating, Claims, Contract, and Insights to smooth out its P&C business.
Market Opportunities
The interest for Insurtech arrangements is ascending as it sets better expectations of purchaser expectations, increments buying amounts, upgrades direction and protection arranging using AI, man-made consciousness, and distributed computing. The deals of Insurtech arrangements are becoming because of the help of different hearty innovations like AI, AI, blockchain, and distributed computing that offer continuous reconnaissance and checking of safeguarded action for some organizations.
Segmental Insights
Services Insights
The managed services portion held the main income portion of over 43% in 2021. Overseen administrations suppliers can give guarantors a deliberate door to change by integrating mastery and ability with new innovations. Overseen administrations suppliers additionally offer best cycles, rehearses, and administrative contemplations to guarantors. Simultaneously, oversaw administrations empower back up plans to address difficulties and open doors in protection IT and activities. Back up plans have begun recognizing and embracing the worth of further developed plans of action, accordingly setting out development open doors for the oversaw administrations portion.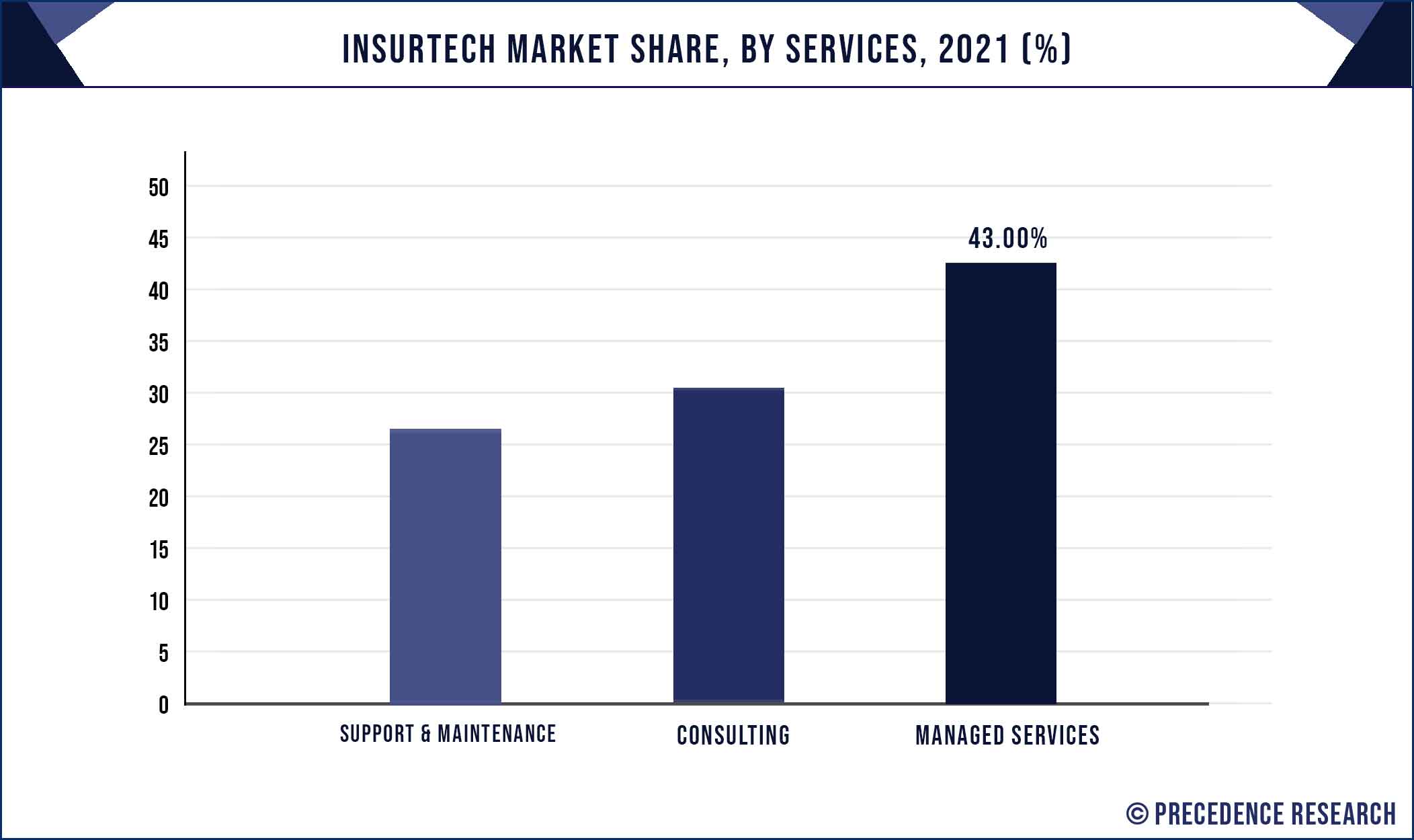 The support and maintenance fragment are expected to enroll the most elevated development over the estimate period. The development of the help and upkeep fragment can be ascribed to the rising reception of cutting-edge innovations and dissemination channels by insurance agency. Various insurance agency across the globe is zeroing in on conveying trend setting innovation and tweaking heritage programming items to explicit necessities. This is supposed to drive the interest for help and support administrations across the globe.
Type Insights
The health fragment ruled the market in 2021 and represented over 26% portion of the worldwide income. The rising interest for computerized stages, which associate trades, representatives, suppliers, and transporters in medical coverage, is expected to fuel the interest for the health portion. Life and health safety net providers are zeroing in on utilizing progressed examination to all the more likely serve and grasp their clients. Various health care coverage organizations are embracing Insurtech answers for smooth out claims handling techniques. Back up plans are additionally zeroing in on consolidating their medical coverage administrations with versatility highlights for added comfort.
The home fragment is expected to enlist the most noteworthy development over the estimate period. Various home insurance agency is trying to make inventive items for business and private realtors and their individual occupants and inhabitants. These organizations are taking on Insurtech answers for quicker incline to-rent time. These arrangements use AI innovation to make and convey customized insurance contracts and proficiently handle claims for clients without requiring protection intermediaries. For example, in June 2021, Farmers Insurance coordinated Zesty.ai's out of control fire risk scoring model into its mortgage holder protection guaranteeing processes. Through this association, the previous organization intends to take on an imaginative methodology for dealing with its fierce blaze openness by assessing individual out of control fire dangers to mortgage holders.
Technology Insights
The cloud computing portion drove the market with an income portion of more than 28% in 2021. Distributed computing has changed the protection business with its cleverness, simplicity of sending, and adaptability. Far and wide acknowledgment of Bring Your Own Device (BYOD) arrangements, combined with the developing measure of information insurance agency gather, is supposed to drive the development. Insurance agency are embracing distributed computing arrangements attributable to benefits, like fast sending, cost-viability, and versatility.
Simultaneously, associations between distributed computing arrangement suppliers and insurance agency are assisting organizations with improving their Insurtech items, as most would consider to be normal to drive market development. For example, in November 2021, Amazon Web Services Inc. reported that American International Group, Inc., an insurance agency, has chosen it as a favored public cloud supplier. Through this drive, American International Group intends to convey better administrations to its clients.
The blockchain section is expected to enlist the most elevated development over the gauge period. Blockchain innovation empowers insurance agency to reduce down on functional expenses and drive functional efficiencies. This innovation can be utilized to drive development, incorporate fluctuated Insurtech stages, and empower new administrations to come to advertise, especially for the individuals who couldn't get to protection already. Insurtech organizations are supposed to forcefully pick blockchain innovation attributable to its highlights like shrewd agreements, high level mechanization, and solid online protection.
End User Insights
The BFSI section overwhelmed the market and represented over 22% portion of the worldwide income in 2021. BFSI organizations are broadly embracing Insurtech answers for further developing business proficiency. The expansion in the quantity of associated gadgets in the BFSI area is prompting the age of an enormous measure of information. Additionally, insurance agency has understood that they can utilize such information to convey better administrations, upgrade costs, gain bits of knowledge, and lift incomes. Simultaneously, the developing infiltration of cell phones overall is additionally expected to drive the interest for Insurtech arrangements across the BFSI area.
The medical services section is supposed to enroll the quickest development over the gauge period. The rising digitization in the protection area is supposed to drive the reception of Insurtech arrangements in the medical care industry. The developing number of gadgets has made a requirement for viable checking, the executives, and upkeep of information across medical care associations. The developing digitization among clients has enhanced the interest for simpler and better admittance to protection innovation administrations. Moreover, the ascent in the utilization of blockchain-based innovation among health and life coverage organizations is additionally expected to drive the portion development.
Insurtech Market Share, By Region, 2021 (%)
| | |
| --- | --- |
| Regions | Revenue Share in 2021 (%) |
| North America | 37% |
| Asia Pacific | 23.4% |
| Europe | 27.5% |
| Latin America | 7% |
| MEA | 5.1% |

Geography Insights
North America overwhelmed the market for Insurtech in 2021 and represented in excess of a 37% portion of the worldwide income. The district is seeing an expanded reception of Insurtech arrangements inferable from the rising expenditure of clients for protection related items. In addition, these arrangements offer adjustable and adaptable designs for property and medical coverage. The developing number of Insurtech new companies across the locale is likewise driving the market development in the district.
Asia Pacific is expected to arise as the quickest developing local market over the conjecture period. The locale is supposed to observe huge development because of the presence of various arising economies and monetary centers in Singapore, India, and Hong Kong. Insurance specialist organizations in the locale are planning to offer reasonable protection payment plans.
Recent Developments
Metromile, an accident coverage business, expressed in December 2021 that supporters would have the option to pay charges and guarantee payouts utilizing bitcoin. This drive ought to help the association to advance its market position.
General Fire and Liability Insurance Company, which represents considerable authority in giving conventional property and setback insurance to little ventures, started tolerating digital currencies for installment installments in June 2021.
Key Market Players
Damco Group
DXC Technology Company
Insurance Technology Services
Majesco
Oscar Insurance
Quantemplate
Shift Technology
Trōv, Inc.
Wipro Limited
ZhongAn Insurance
Segments covered in the report
(Note*: We offer report based on sub segments as well. Kindly, let us know if you are interested)
By Services
Consulting

Support & Maintenance

Managed Services
By Deployment Model
By Type
Auto

Business

Health

Home

Specialty

Travel

Others
By Technology
Blockchain

Cloud Computing

IoT

Machine Learning

Robo Advisory

Others
By Application
Product Development & Underwriting

Sales & Marketing

Policy Admin Collection & Disbursement

Claims Management
By End User
Automotive

BFSI

Government

Healthcare

Manufacturing

Retail

Transportation

Others
By Geography
North America
Europe
Asia-Pacific
Latin America
Middle East & Africa (MEA)