The global integrated circuit market size was estimated at USD 562.53 billion in 2022 and it is expected to hit around USD 1,921.42 billion by 2032, expanding at a CAGR of 13.07% during the forecast period from 2023 to 2032.
Key Takeaways:
North America region is projected to capture the highest market share between 2023 and 2032.
Asia Pacific is expected to expand at the fastest CAGR from 2023 to 2032.
By Type, The analog IC segment is estimated to dominate the global market from 2023 to 2032.
By Product Type, the application-specific IC segment is predicted to hold the biggest market share from 2023 to 2032.
By Industry Vertical, The consumer electronics segment is anticipated to dominate the global market from 2023 to 2032.
Market Overview:
An integrated circuit (IC) is a miniature silicon semiconductor chip. It is a representation of an assemblage of manufactured small active and passive electronic devices. It was developed to build nanoscale circuits with many different parts and connections between them. A microprocessor, amplifier, counter, oscillator, timer, or computer memory can all be implemented using integrated circuits (ICs). An integrated circuit may be categorized as analog, digital, or hybrid. The use of mechatronics in industrial and automotive applications has caused a significant increase in the demand for electronic parts containing integrated circuits. Moreover, the increasing demand for consumer electronics such as smartphones, tablets, TVs and others drive the market growth over the forecast period.
More than 10 million electric vehicles were sold globally in 2022, according to the latest edition of the IEA's annual Global Electric Vehicle Outlook, and sales are projected to increase by another 35% this year to reach 14 million. According to the most recent IEA predictions, this fast growth has resulted in an increase in the share of electric cars in the entire auto market from 4% in 2020 to 14% in 2022 and is expected to reach 18% this year.
In 2022, the global electronics market was projected to be worth US$ 2.9 trillion. In its National Policy for Electronics (NPE) 2019, the Indian government has extensively acknowledged the strategic relevance and growth potential of this industry. By creating a competitive environment for the industry, NPE aims to transform the nation into a comprehensive hub for Electronics System Design and Manufacturing (ESDM). As one of the top 25 priority sectors under the government's Make in India plan, the ESDM industry also plays a significant role in economic growth. The development of sustainable electronic device production and exports has received significant attention from Indian officials. In general, the electronics manufacturing industry had an exponential expansion, going from US$ 37.1 billion in 2015–16 to US$ 67.3 billion in 2020–21.
Report Scope of the Integrated Circuit Market:
| | |
| --- | --- |
| Report Coverage | Details |
| Market Size in 2023 | USD 636.06 Billion |
| Market Size by 2032 | USD 1,921.42 Billion |
| Growth Rate from 2023 to 2032 | CAGR of 13.07% |
| Largest Market | North America |
| Fastest Growing Market | Asia Pacific |
| Base Year | 2022 |
| Forecast Period | 2023 to 2032 |
| Segments Covered | By Type, By Product Type, and By Industry Vertical |
| Regions Covered | North America, Europe, Asia-Pacific, Latin America, and Middle East & Africa |

Market Dynamics:
Driver:
An increase in data traffic and the use of IoT-connected devices
The market is expected to rise as more IoT-connected devices are used and data traffic increases. The adoption of digital IC components like magnitude comparators and priority encoders, which offer high-speed data processing, reduced power consumption, enhanced audio and video signal processing, and many other advantages, helps meet customer demands. The overall monthly mobile data traffic in India would increase from 9.4EB to 12EB in 2021, according to Ericsson's mobility research. These components will boost the demand for ICs, strengthening the outlook for the ICs sector.
Restraints:
Complexities in designing and programming digital ICs
Complexities in the design and programming of digital IC architectures provide a significant challenge and restrain market expansion. Chip designers struggle to create or program while preserving parameters like cheap costs, low power consumption, great performance, and optimum processing, which restricts the market's expansion. Furthermore, the production costs for semiconductor manufacturers are increased by the large requirement for a professional and trained workforce due to the high accuracy and precision necessary while making these ICs. These variables significantly hinder the expansion of the ICs market.
Opportunities:
Growing automotive industry
The growing automotive industry is expected to provide a lucrative opportunity for market growth during the forecast period. The ICs used in various components of the vehicles including ADAS, in-vehicle networking, engine management, transmission control system and infotainment. According to the ACEA, around the world, 79.1 million motor vehicles were produced in 2021, a rise of 1.3% over 2020. Thus, the growing automotive industry is expected to offer a lucrative opportunity for market growth.
Segments Insight:
Type Insights:
Based on the type, the global integrated circuit market is segmented into Digital IC, Analog IC and Mixed-Signal IC. The Analog IC segment is expected to dominate the market over the forecast period. The growth in the segment is attributed to the various application of analog IC. Operational amplifiers, linear regulators, oscillators, active filters, and phase-locked loops are all designed using analog integrated circuits. Additionally, analog integrated circuits operate with time-varying signals. Analog integrated circuits require external components. They are employed in the creation of electronic circuits like as voltage comparators and amplifiers, among others. Thus, this is expected to drive the segment growth over the forecast period.
Product Type Insights:
Based on the product type, the global integrated circuit market is divided into General-Purpose IC and Application-Specific IC. The Application-Specific IC segment is expected to hold the largest market share over the forecast period. ASICs - Application-Specific Integrated Circuits An integrated circuit type known as an "application-specific integrated circuit" (ASIC) is created specifically for a given use or application. An ASIC can run more quickly than a programmable logic device or a conventional logic integrated circuit because it is made expressly to accomplish one thing and does it well. Additionally, it can be reduced in size and electrical usage. In addition, a wide variety of ASICs are used for things like personal digital assistants, emission control, and environmental monitoring. Thereby, driving the segmental growth over the forecast period.
Industry Vertical Insights:
Based on the industry vertical, the global integrated circuit market is divided into Consumer Electronics, Automotive, IT & Telecommunications, Manufacturing and Automation, Healthcare, Aerospace & Defense and Others. The consumer electronics segment is expected to dominate the market over the forecast period. The increasing use of ASICs in phones, tablets, and laptops around the world is expected to create considerable growth prospects for all the firms involved in the value chain in the consumer electronics vertical. These ASICs provide several benefits, including as low power consumption, IP security, small size, and better bandwidth, which has led to a growth in the use of the ICs in the consumer electronics sector. Consistent performance and increased energy efficiency are also made possible by the quick development of electronic devices, which is driving the market for application-specific integrated circuits.
Regional Insights:
North America is expected to capture the largest market share over the forecast period. The growth in the region is attributed to the robust healthcare infrastructure and the continuous development of healthcare devices and equipment. Medical gadgets including pacemakers, ultrasound machines, and insulin pumps all make use of ICs. By processing signals, keeping track of vital signs, and managing the administration of medications, ICs play a crucial role in these devices. The development of more sophisticated and advanced medical equipment and technologies has been made possible by ICs, which have played a significant role in the healthcare sector. Healthcare improvements and advancements have been made possible by ICs, which have produced more individualized and efficient healthcare solutions. The rising prevalence of cardiovascular disease is predicted to increase pacemaker demand, which will fuel market expansion throughout the forecast period.
According to the CDC, in the United States, heart disease claims the lives of around 697,000 people annually, or 1 in every 5 fatalities. Thus, the increasing usage of medical devices for various diseases is expected to drive market growth in the region over the forecast period.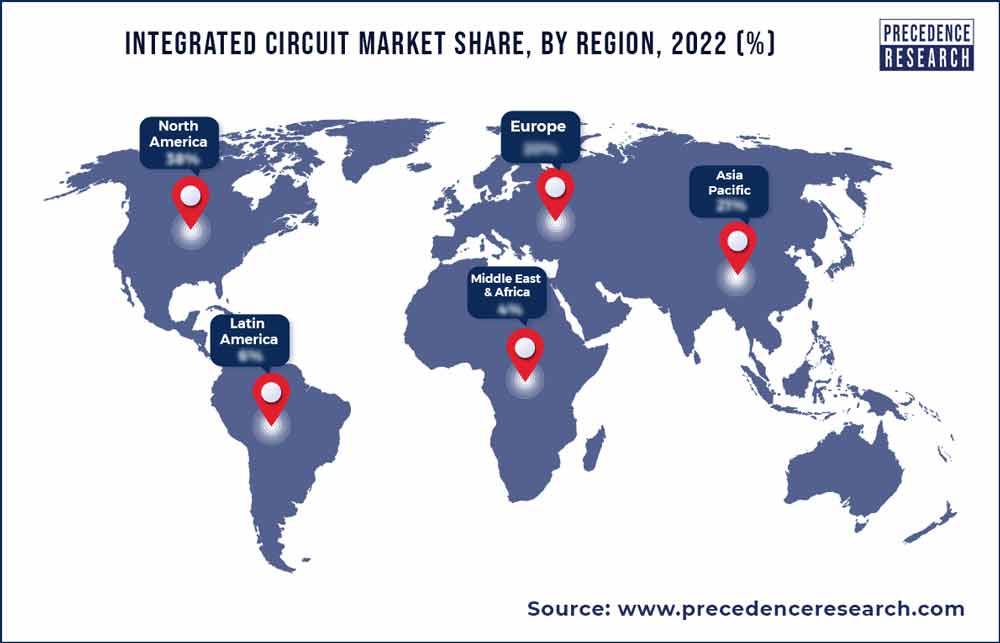 The Asia Pacific is expected to grow at the fastest rate over the forecast period. The regional growth is attributed to the increasing consumer electronic industry and the growing automotive sector. The revenue for integrated circuits is mainly coming from the countries like India and China owing to the rapid growth in these industries. The consumer electronics and automotive industries use ICs extensively in products including tablets, smartphones, televisions, laptops, home appliances, infotainment, and ADAS. For instance, according to Statista, 85% of the population in Japan is expected to use a mobile device by 2022, and that percentage is expected to keep rising. According to survey findings, there will be 115.5 million smartphone users worldwide by 2027, or more than 94% of the population. Moreover, China experienced the EV market's fastest growth in 2021, selling almost 3.2 million EVs. This was a 2 million unit gain over 2020, exceeding the total increase of all other regions put together. Thus, the increasing demand for consumer electronics and automobiles is expected to florish the integrated circuit industry over the forecast period.
Recent Development:
In February 2023, Semtech Corporation, a provider of high-performance semiconductors, IoT systems, and Cloud connectivity services, announced its partnership with Shanghai Fudan Microelectronics Group Co., Ltd. to introduce the MCU+SX126x reference design to offer more affordable solutions for customers in the fields of instrumentation, fire prevention and security, environmental monitoring, and other applications.
In August 2022, with the introduction of "TB67S549FTG," a stepping motor driver IC contained in a tiny package with built-in constant-current regulation that does not require additional circuit components, Toshiba Electronic Devices & Storage Corporation increased its lineup of stepping motor driver ICs. The new driver helps circuit boards use less space and is appropriate for industrial equipment like office automation and banking equipment.
In May 2023, a developer of electronic design automation systems for the creation of integrated circuits (ICs), Diakopto has been acquired by ANSYS ANSS. Diakopto focuses on solving crucial problems brought on by layout parasitics, which have gotten more complicated in contemporary semiconductor designs using cutting-edge process node technologies. The purchase is anticipated to give design engineers the ability to "shift left," identifying interconnect parasitic issues early in the design cycle and reducing expensive design cycle recurs. Through the acquisition, ANSYS will be able to make use of Diakopto's distinctive methodology and provide designers with practical fixes for the aforementioned problems. In addition, it will aid designers in enhancing IC performance and reliability and speeding up time to market.
In January 2023, the industry leader in silicon carbide (SiC) and gallium nitride (GaN) power ICs and the only pure-play, next-generation power semiconductor company, Navitas Semiconductor, recently announced an agreement to acquire Halo Microelectronics' remaining minority stake in its silicon control IC joint venture for $20 million in Navita's stock. To design application-specific silicon controllers that are tuned to work with Navitas GaN ICs to set new records for efficiency, density, cost, and integration for a variety of applications, Navitas and Halo established a joint venture in 2021.
Key Market Players:
Analog Devices Inc
Texas Instruments Inc
Intel Corporation
Infineon Technologies AG
NXP Semiconductors N.V.
STMicroelectronics N.V.
On Semiconductor Corporation
Renesas Electronics Corporation
Microchip Technology Inc
MediaTek Inc.
Segments Covered in the Report:
(Note*: We offer report based on sub segments as well. Kindly, let us know if you are interested)
By Type
Digital IC
Analog IC
Mixed-Signal IC
By Product Type
General-Purpose IC
Application-Specific IC
By Industry Vertical
Consumer Electronics
Automotive
IT & Telecommunications
Manufacturing and Automation
Healthcare
Aerospace & Defense
Others
By Geography
North America
Europe
Asia-Pacific
Latin America
Middle East and Africa