The IoT-based asset tracking and monitoring market size was valued at USD 3.8 billion in 2022 and is expected to hit around USD 8.32 billion by 2032, with a registered CAGR of 8.2% between 2023 and 2032.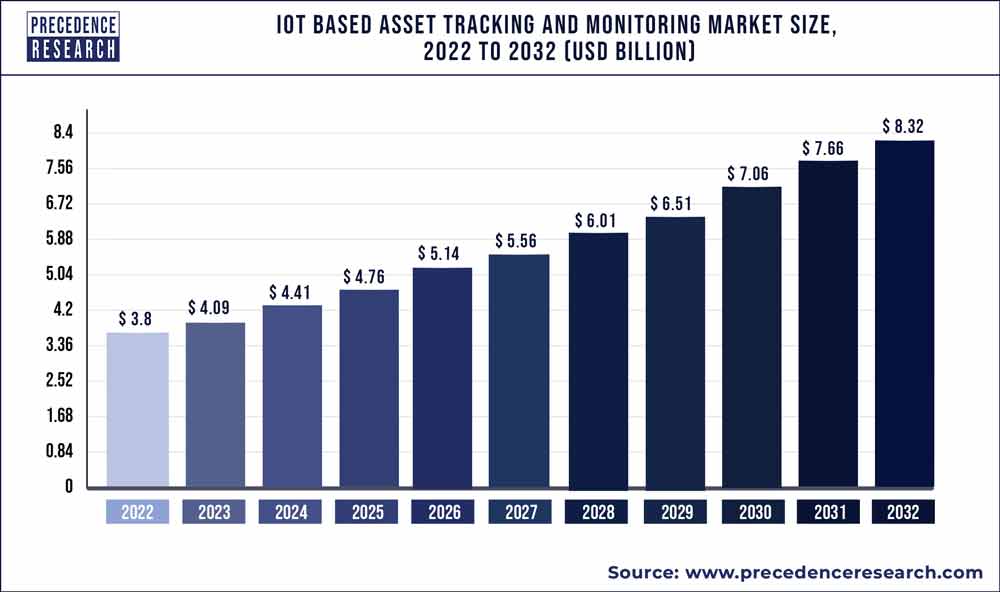 Access our Premium Real Time Data Intelligence Tool, Visit: Precedence Statistics
Key Takeaways:
The manufacturing application segment will reach at USD 2.9 billion by 2032.
The Europe region market is growing at a CAGR of 10.1% from 2023 to 2032.
The Asia Pacific region is expected to reach at a CAGR of 11.5% from 2023 to 2032.
North America has made up 43% market share in 2022.
Most firms now provide incredibly simple-to-configure cloud-based video management tools. Users may unite several cameras with one VMS by simply enrolling in the mobile app with valid credentials. They may also use the same technique to provide several people access to study surveillance footage. Anyone may perform the setting method totally on their own without the aid of specialists. Everything is up and running in a matter of minutes. An IoT asset monitoring system can track the location of critical assets in real time.
A system for finding assets can also generate information or data that can be used to improve maintenance schedules and boost asset utilisation. IoT asset monitoring may be used for a variety of purposes, including inventory management, fleet management, and security. Asset tracking IoT solutions are the systems which use IoT devices and sensors to follow the geographical location and status of the valuable assets on a real time basis. These systems may be used to track a variety of valuable assets, including as cars, machinery, animals, and people. IoT asset tracking systems frequently use GPS tracking devices or radio frequency identification tags to obtain information about asset location. This data is received and transmitted by a central server so that authorised users may read it. IoT asset tracking solutions provide several advantages, including reduced theft, higher asset utilisation, and enhanced asset deployments. As IoT solutions for asset tracking evolve, they will extend to new sectors.
Growth factors
The performance of industrial assets is changing dramatically as a result of smart internet of things solutions, which improve production quality. In order to produce an accurate analysis for better decision-making, real-time monitoring uses sensors to continuously monitor pressure, assets' temperature, condition, and other factors. The government and major industrial players throughout the world are investing more money in internet of things technology, which is accelerating industry expansion. Additionally, the demand for IoT-based asset tracking and monitoring is expected to grow profitably in the coming years due to expanding digitalization, increased proliferation of connected and IoT-based asset tracking and monitoring initiatives, and an increase in the number of R&D activities internationally.
Report Scope of the Electric Vehicle Polymers Market
| | |
| --- | --- |
| Report Coverage | Details |
| Market Size in 2023 | USD 4.09 Billion |
| Market Size by 2032 | USD 8.32 Billion |
| Growth Rate from 2023 to 2032 | CAGR of 8.2% |
| Base Year | 2022 |
| Forecast Period | 2023 to 2032 |
| Segments Covered | Application, Connectivity, and Geography |
| Companies Mentioned | Quectel (China), Sierra Wireless (Canada), Telit (U.K.), u-blox (Switzerland), Thales (France), Sony Semiconductor Israel Ltd. (Israel), Fibocom Wireless Inc. (China), Nordic Semiconductor (Norway), GosuncnWelink Corporation (China), Laird Connectivity (US), Semtech (US), Mediatek Inc. (Taiwan), Analog Devices, Inc. (US), Sequans (France), MeiG Smart Technology (China), Neoway Technology (China), Xiamen CHEERZING IoT Technology (China), HiSilicon Technologies (China), Skyworks Solutions, Inc. (US), Omnitracs (US), Hilti (US), Samsara (US), Azuga (US), Sunsea AIoT Technology Co., Ltd (China) |
Key Market Drivers
Growing acceptance of cost-effective and connected devices & sensors: As a result of the growing use of devices which are connected, IoT is producing significant amounts of data, and as a result, flow implementations for data are expanding in many industries, such as agriculture, production, aviation, and the auto industry. Because of decreasing infrastructure costs, it is now possible to produce in large quantities and accelerate product delivery. Enterprises employ IoT and analytics to run and improve operations while maintaining market competitiveness. According to a recent poll, a substantial number of United States businesses collect and subsequently use data from smart IoT modules to enhance fleet management, manufacturing methods, animal feed monitoring, and other duties.
The automotive industry's adoption of data analytics- The growth of automation has radically changed the way the automobile industry functions and raised public awareness of the Internet of Things. Automobile manufacturers, for example, are utilising IoT in advanced planning and scheduling to collect real-time inventory and production data, and cut cycle times.
Key Market Challenges
High initial investment required for these solutions: The majority of contemporary building technology was not developed with IoT in mind. While certain devices may be quickly converted for IoT, it can be costly. Deploying IoT solutions in diverse platforms is expensive. The cost comprises the creation of the platform as well as the hardware, as well as an additional life cycle cost. The process of designing an application is costly and varies by country.
Key Market Opportunities
Increased usage of 5G technology in the automobile industry: The rise of automation has altered the workings of the automobile industry from the inside out, making IoT appealing. Automobile manufacturers, for example, are using IoT in advanced planning and scheduling to gather real-time production and inventory data and reduce waste and cycle time.
Real-time location tracking benefit of IoT-based asset tracking and monitoring for better planning- A solid asset tracking and monitoring strategy supports corporate goals while improving industrial performance and lowering costs. Unlike other business sectors, the manufacturing industry is rapidly embracing IoT-enabled asset tracking and monitoring technologies. Asset management facilitated by IoT assists industrial organizations in tracking, organizing, and locating every piece of equipment. All of these jobs require a significant amount of time and effort to execute manually. For inventory control, most firms use expensive portable scanners. These assets may now be tracked automatically utilizing IoT-enabled asset tracking technologies. Companies are shifting toward IoT-enabled asset monitoring to manage on-floor equipment, which is driving demand for extremely dependable and quicker connectivity modules such as 5G cellular.
Segmental Insights
Application Insights
The cold chain monitoring segment is anticipated to hold close to one-fifth of the market over the projection period. For fleets that transport products that must be maintained at a specified temperature or ranges all through the transit process, such as food, pharmaceuticals, or other necessary commodities, cold chain monitoring devices are an invaluable tool. The devices send real-time temperature data to prevent waste or damage in the cold chain distribution network.
Cold chain monitoring devices, commonly referred to as temperature data loggers, seem to be wireless sensors which use IoT technology to deliver real-time temperature data. Typically installed in reefers, refrigeration units, or cold rooms, these IoT-based asset tracking and monitoring devices help cold chain managers and customers comprehend temperature.
Connectivity Insight
In 2022, the LoRa segment gained a sizable revenue share of the IoT-based Asset Tracking and Monitoring Market. LoRa offers a solution for battery-powered IoT applications that is easy to incorporate into existing infrastructure. Semtech (US) has implemented LoRa technology in its chipsets. Such chipsets are incorporated in the items offered by its vast network of IoT clients, as well as the LPWANs supplied by mobile network operators worldwide.
With the advent of 5G services and the incorporation of IoT into new technologies, demand for the category is expected to rise throughout the projected period. Cellular networks are increasingly being used in high-power applications across sectors to detect and manage assets. The Bluetooth category is expected to account for a sizable proportion over the projection period. The advancement of Bluetooth® location techniques enable businesses and organizations to attain high accuracy and dependability. Bluetooth tracking tags capable of tracking and monitoring functions can be installed in environments such as offices, clinics, building sites, factories, and retail areas, among others.
IoT Based Asset Tracking and Monitoring Market Share, By Region, 2022 (%)
| | |
| --- | --- |
| Regions | Revenue Share in 2022 (%) |
| North America | 43% |
| Asia Pacific | 21.40% |
| Europe | 28.70% |
| Latin America | 4% |
| MEA | 2.90% |
Geography Insight
In the Asia Pacific region, the market is predicted to expand at the fastest CAGR during the forecast period. For the manufacture of semiconductors and modules, Asia Pacific is a significant market. In especially in the developing countries of Asia Pacific, the adoption of IoT and its integration across all industries are anticipated to be in their early phases. The area has become a focal point for considerable investments and business expansion opportunities globally.
Asia Pacific's manufacture and consumption of electronic devices is expected to grow dramatically in the coming years. Additionally, the region IoT-based asset monitoring and tracking market is growing significantly due to the presence of major chip and module manufacturers.
According to estimates, the North American market for IoT-based asset monitoring and tracking would be dominated by the United States throughout the projected period. In the medical, automobile, third-party logistics, and aerospace sectors, the United States is a crucial nation with a sizable presence of top companies. These companies are looking for ways to employ IoT solutions like asset monitoring, predictive maintenance, and automated control solutions to lower operating costs and increase profitability in response to the COVID-19 outbreak. The CARES ACT, a stimulus programme sponsored by the state government, will help the IoT-based asset tracking and monitoring market in the United States as more businesses focus on boosting the productivity of well-planned asset management, monitoring, and predictive maintenance.
Recent Developments
June 2022: U-blox introduced the MIA-M10, the world's smallest GPS module that can be used as a trustworthy, long-lasting asset tracking solution. This device has several advantages, including the ultra-low-power u-Blox M10 GNSS platform's outstanding sensitivity and quick acquisition times. Furthermore, the MIA-M10 series offers a highly appealing option for power- and size-constrained end devices, particularly in the growing wearable tracking device industry.
In April 2022, Semtech Corporation stated that its LoRa Edge device-to-Cloud geolocation solution will now have multi-band capabilities. Global mobility across several regulatory zones with LoRa Edge LR1120, ultra-low power trackers with higher interoperability, and more integrated, flexible connections for a streamlined operation are all advantages for intercontinental logistics companies.
In March 2022, Sierra Wireless and T-Mobile, the industry leader in 5G, expanded their collaboration to deliver the most extensive and fastest nationwide 5G network in the United States. This expansion intends to enhance the availability of Low Power Wide Area (LPWA) connection globally through its Smart Connection service. Additionally, by integrating its purpose-built IoT network with T-robust Mobile's mobile network's LPWA, LTE, 4G, and 5G coverage, this agreement will strengthen Sierra Wireless' IoT connectivity offering.
Key Market Players
Quectel (China)
Sierra Wireless (Canada)
Telit (U.K.)
u-blox (Switzerland)
Thales (France)
Sony Semiconductor Israel Ltd. (Israel)
Fibocom Wireless Inc. (China)
Nordic Semiconductor (Norway)
GosuncnWelink Corporation (China)
Laird Connectivity (US)
Semtech (US), Mediatek Inc. (Taiwan)
Analog Devices, Inc. (US)
Sequans (France)
MeiG Smart Technology (China)
Neoway Technology (China)
Xiamen CHEERZING IoT Technology (China)
HiSilicon Technologies (China)
Skyworks Solutions, Inc. (US)
Omnitracs (US), Hilti (US)
Samsara (US), Azuga (US)
Sunsea AIoT Technology Co., Ltd (China)
Segments Covered in the Report
(Note*: We offer report based on sub segments as well. Kindly, let us know if you are interested)
By Application
Livestock Monitoring
Automotive
Railways
Aviation
Manufacturing
Cold Chain Monitoring
Others
By Connectivity
Wi-Fi
Bluetooth
Cellular
NB-IoT
LoRa
SigFox
UWB
GNSS
Others
By Geography
North America
Europe
Asia-Pacific
Latin America
Middle East & Africa (MEA)