The global IoT microcontroller market size was estimated at USD 4.8 billion in 2022 and is expected to hit around USD 14.97 billion by 2032, poised to grow at a compound annual growth rate (CAGR) of 12.1% between 2023 and 2032.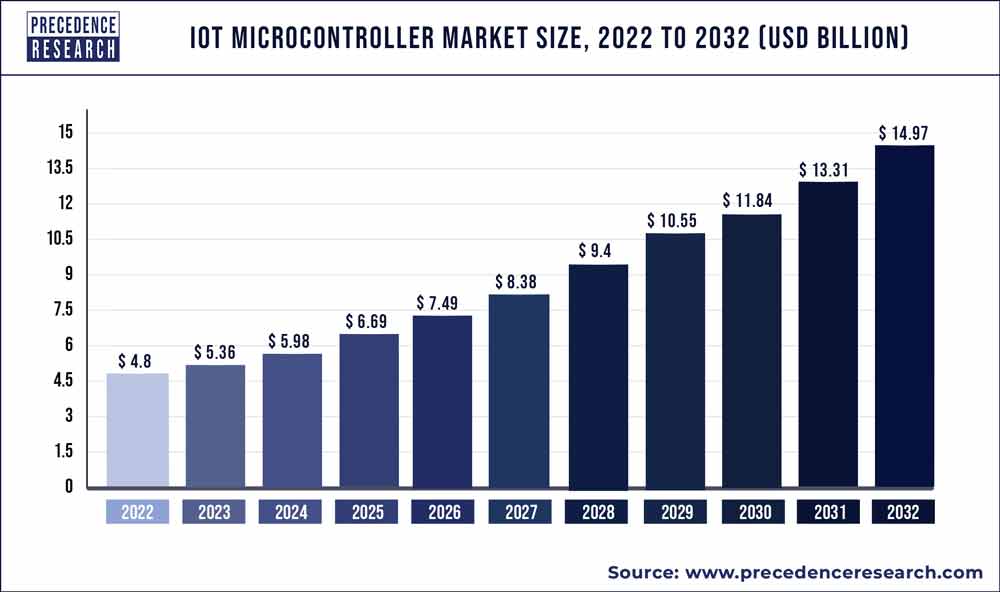 Access our Premium Real Time Data Intelligence Tool, Visit: Precedence Statistics
Key Takeaways:
By product, the 32 Bit MCU segment dominated the market with a revenue share of 41% in 2022 and is growing at a CAGR of 13.7% between 2023 to 2032.
The 8 Bit MCUs segment is expanding at a registered CAGR of 12.1% during the forecast period.
Asia Pacific dominated the market with a revenue share of around 40% in 2022 and is growing at a CAGR of 13.5% over the forecast period.
The Europe region accounted revenue share of over 22% in 2022.
The wearables segment is expanding at a CAGR of 13.2% from 2023 to 2032.
A microcontroller is a small integrated circuit that controls a single process in an embedded system. A typical microcontroller is a single chip that houses a CPU, memory, and input/output (I/O) peripherals. Due to advances in communication, microelectronics, and information technology, the idea of the Internet of Things (IoT) has been widely applied in a variety of industries, including smart cities, smart homes, consumer electronics, automation and so forth. The Internet of Things (IoT) and smart devices frequently employ microcontrollers (MCUs) to supply computational power. These are essentially mini computers that give smart devices access to memory, processing power, and peripherals for input and output.
Microcontrollers are designed to carry out certain functions and are used in a variety of applications, such as wearable technology, industrial gear, warehouse inventories, home appliances, and more. As a result of IoT's extensive uses in the digitally connected world, microcontroller integration with IoT has become increasingly popular. Some of the key reasons driving the market expansion are the rising number of IoT connections between the consumer and business sectors and the demand for connected items with high performance, low power consumption, and low energy consumption.
Growth Factors
Growing Internet of Things (IoT) technological breakthroughs, a sharp increase in the number of connected devices, and a more interconnected infrastructure are some of the factors boosting market demand. The business is also getting a boost from the rising number of autonomous and electric vehicles that utilize linked infrastructure. The Internet of Things refers to the networking of several devices. IoT is used by self-driving cars, for instance, to update their algorithms depending on input from users. A few other key factors driving the industry's expansion are rising digitization, an increase in smartphone shipments, and the development of 5G technology.
The coronavirus epidemic has changed both how the semiconductor business operates and how society as a whole function. Business operations on the microcontrollers market have slowed down as a result of a severe chip scarcity. To create stable revenue streams despite the ongoing epidemic, manufacturers are concentrating on sectors with high growth potential like consumer electronics, healthcare, and IT.
The demand for IoT microcontroller is expected to rise in the predicted years as it has more demand than any other.

IoT lead technology is used in almost every sector and has a great future hence, future of this product is expected to boom in the coming years.
Report Scope of the IoT Microcontroller Market
| | |
| --- | --- |
| Report Coverage | Details |
| Market Size in 2023 | USD 5.36 Billion |
| Market Size by 2032 | USD 14.97 Billion |
| Growth Rate from 2023 to 2032 | CAGR of 12.1% |
| Base Year | 2022 |
| Forecast Period | 2023 to 2032 |
| Segments Covered | Product, Application, and Geography |
| Companies Mentioned | Broadcom, Espressif Systems (Shanghai) Co., Ltd, Holtek Semiconductor Inc., Infineon Technologies, Microchip Technology Inc., Nuvoton Technology Corporation, NXP Semiconductors, Silicon Laboratories, STMicroelectronics, Texas Instruments Incorporated, Renesas Electronics Corporation |

Key Market Trends
App controlled management

: People started to live a smart life where they prefer to complete their daily action by the technology and hence, technology enabled devices are controlled using IoT which influences the sale.

Changes in using home appliance products preference:

Consumers are preferring IoT enabled products than previous due to its specifications and ease of doing actions. IoT has make the products look smarter and work efficiently.

Cost Effective:

The new advancements and ongoing research on IoT enabled sensor technology is expected to become cheaper which will influence the IoT microcontroller market in the coming days.
Market Drivers
Increasing Demand for Wearables
Intelligent gadgets known as wearables can be integrated in clothing, implanted in the user's body, or worn as accessories. Wearables can be combined with IoT technology thanks to the downsizing of sensors and advancements in modern technologies like Artificial Intelligence, Machine Learning, and Big Data Analytics. People are motivated to pursue fitness-related activities and use wearables to track their performance by lifestyle factors like obesity.

Wearables are continuously improving in terms of ergonomics, product material, battery life, storage capacity, functionality, performance, and usability as a result of the realization that size, weight, power consumption, durability, ruggedness, reliability, and ease of use are some of the crucial factors end users are taking into account when making a purchasing decision for wearable devices. The adoption of wearables is anticipated to be fueled by the millennial generation's growing preference for fitness wearables.
Fleet management places a strong emphasis on operational efficiency
IoT can be utilized in a variety of fleet management applications, including asset tracking, fleet route planning, and predictive fleet maintenance, to improve operational flexibility and enable logistics and transportation businesses to spend less on both capital and operational expenses. An emerging technology called IoT in fleet management enables extremely high operational efficiencies in logistics and transportation processes. Fleet management service providers now have more prospects thanks to the digitalization of vehicles, the unrelenting growth of the transportation and logistics sectors, and other factors.

The primary factor supporting the implementation of IoT in fleet management has been the growing desire to reduce costs while enhancing operational efficiencies and boosting profitability. Moreover, real-time monitoring of vehicle data is possible with the aid of IoT technology in conjunction with sensors, cameras, navigation systems, and mobile portable devices. Fleet management with IoT has made it simple to track and monitor important vehicle data and driver performance. The expanding use of IoT in fleet management is encouraging for the market for IoT microcontrollers during the upcoming years.
Market Challenges
Design Challenges

- The market could be hampered, though, by design challenges in high-speed and power-critical applications. Because of their low price and small size, manufacturers are spending money on research and development to create cutting-edge microcontrollers.

High Power Consumption

-

During the projection period, it is anticipated that the microcontroller's high-power consumption would be a significant issue impeding the market growth.
Segmental Insights
Product Insights
According to product type, the 32 Bit MCU segment is in the lead and is anticipated to contribute most to the IoT microcontroller market. 32bit MCUs are the most adaptable for use in Internet of Things applications. It processes multiple peripherals efficiently, is widely used in industrial applications including factory automation and building automation, and is also competitively priced. Because they can execute arithmetic operations on 32-bit values, 32-bit microcontrollers perform operations faster than other microcontrollers. They can complete operations in less instruction cycles thanks to its wider data bus. As a result of the increased need for IoT everywhere, businesses have started releasing 32-bit microcontrollers constantly.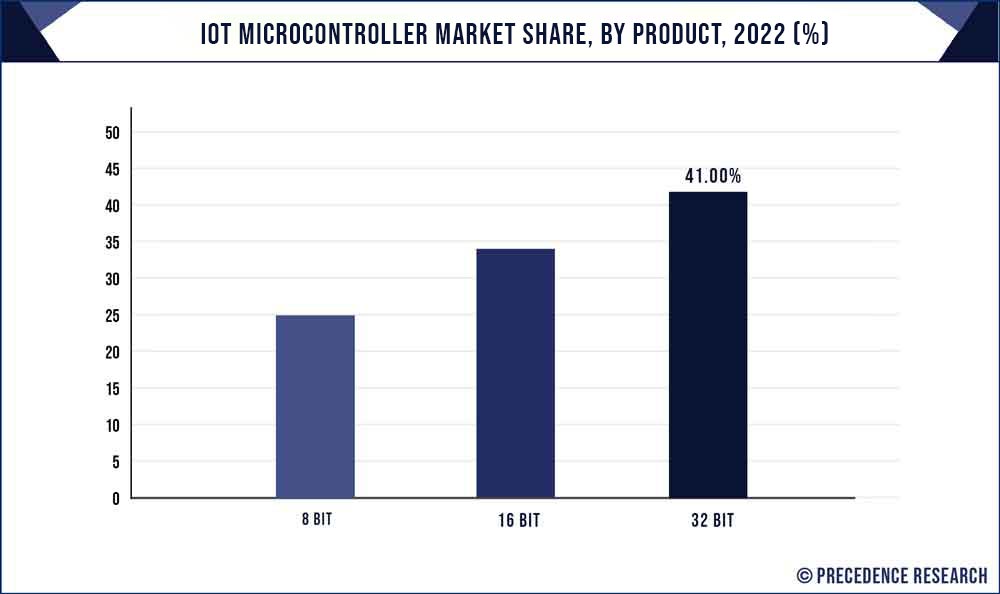 Over the projection period, it is anticipated that the 8 Bit MCUs market would grow significantly. For low-power applications like connected devices and smart wearables, the 8-bit segment is widely employed. The adoption of wearables is anticipated to be fueled by the millennial generation's increased demand for fitness wearables. Obesity and other lifestyle diseases encourage people to engage in various fitness-related activities and track their progress using wearables, which is projected to be positive for the market's growth over the coming years.
Application Insights
During the projected period, the smart homes segment is anticipated to be the largest in the IoT microcontroller market. Home appliances are included in the smart home category. A trend that is anticipated to support the market growth for the smart home segment over the coming years is the increase in demand for safe, secure, and energy-efficient applications like HVAC and energy management, lighting, and infotainment. This is especially true of app-controlled smart devices, particularly mobile apps.
Consumer electronics segment is expected to grow significantly. Smartphones, wearable technology, and other items fall under the consumer electronics category. The staff were forced to work remotely due to the COVID-19 outbreak. This has increased the demand for smart devices like fitness trackers and smartwatches. Wearables sales are anticipated to increase over the next few years due to millennials' rising fitness and health consciousness. IoT MCU sales are therefore anticipated to be driven by the use of low-power MCUs along with short-range wireless communication, particularly 8 bit combined with Bluetooth/KNX/Zigbee/Wi-Fi-based protocols, over the forecast period.
IoT Microcontroller Market Share, By Region, 2022 (%)
| | |
| --- | --- |
| Regions | Revenue Share in 2022 (%) |
| North America | 27% |
| Asia Pacific | 40% |
| Europe | 22% |
| Latin America | 7% |
| MEA | 4% |

Geography Insights
During the forecast period, Asia-Pacific is expected to maintain its dominant position. The key driving forces behind the expansion are China, India, and Japan, which collectively accounted for more than 50% of the market share. Rising demand for smart wearables and favorable government investment to assist initiatives for smart cities can be credited with this. The recent Regional Comprehensive Economic Partnership (RCEP) trade agreement between China and ASEAN nations, as well as the surge in disposable income in growing economies like Vietnam, Malaysia, and Indonesia, should allow consumers to buy smart home gadgets at competitive costs. Ultimately, this will fuel market expansion over the projection period.
Europe is considered as second largest region in the IoT microcontroller market. This region includes UK, Germany, and France. As part of ambitious expenditures in grid modernization, more than 50% of the electricity meters in Europe have been replaced by smart meters. The installation of smart meters in European nations like France, Spain, and the U.K. has been especially accelerated by favorable government investments, which supports the market expansion over the forecast period. All of these elements should create chances for market participants to increase profitability, which is positive for the market growth of IoT microcontrollers throughout the forecast period.
Key Market Developments
The first Wi-Fi 6E client device, BCM4389, was introduced by Broadcom Inc. A smartphone combo chip called the BCM4389 provides speeds of over 2 Gbps and improved battery life for smartphones as well as potential augmented reality (AR) and virtual reality (VR) applications.
Key market players
Broadcom

Espressif Systems (Shanghai) Co., Ltd

Holtek Semiconductor Inc.

Infineon Technologies

Microchip Technology Inc.

Nuvoton Technology Corporation

NXP Semiconductors

Silicon Laboratories

STMicroelectronics

Texas Instruments Incorporated

Renesas Electronics Corporation
Segments covered in the report
(Note*: We offer report based on sub segments as well. Kindly, let us know if you are interested)
By Product
By Application
Industrial Automation

Smart Homes

Consumer Electronics

Smartphones

Wearables

Others

Others (Smart Utility, Smart Transportation& Logistics, Smart Retail, and other enterprise application)
By Geography
North America
Europe
Asia-Pacific
Latin America
Middle East & Africa (MEA)