The global iron deficiency anemia therapy market size was reached at USD 4.92 billion in 2022 and it is projected to be worth around USD 24.91 billion by 2032, growing at a CAGR of 17.61% during the forecast period from 2023 to 2032. North America is predicted to dominate the global market during the forecast period.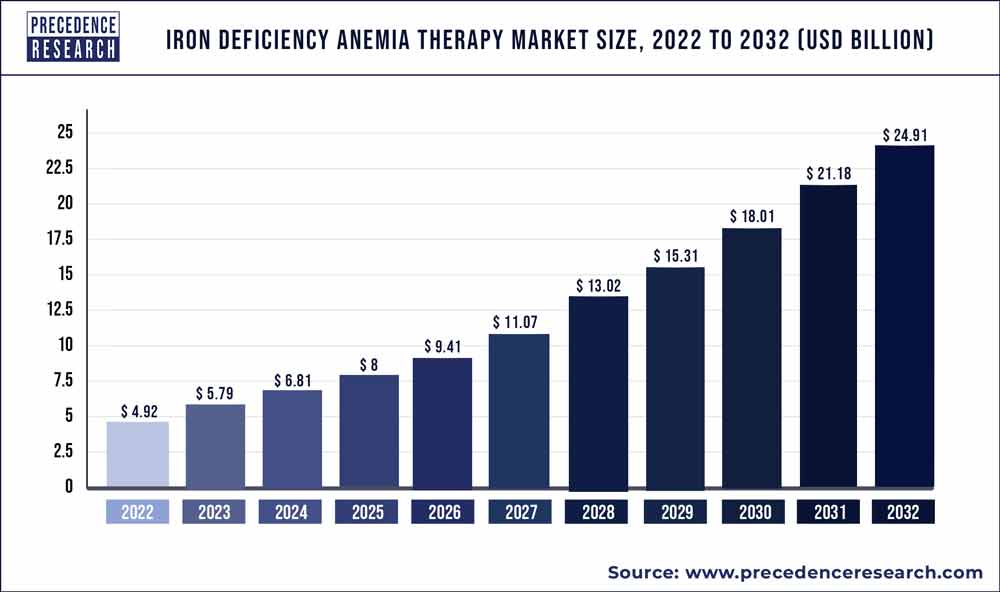 Access our Premium Real Time Data Intelligence Tool, Visit: Precedence Statistics
Market Overview:
Iron deficiency anemia is one of the most typical types of anemia that arises from a lack of iron in the body. Low levels of healthy red blood cells are the cause of anemia, a medical disorder. The body's tissues receive oxygen via red blood cells (RBCs). Hemoglobin, a component of red blood cells, is made in large part by iron. A hemoglobin deficit is a sign that the body is getting less oxygen. Therefore, maintaining iron levels is crucial. The human body needs iron for the transportation of oxygen. Consuming foods high in iron, such as meat, vegetables, fruits, and cereals, can help avoid it. A complete blood count (CBC) test frequently reveals iron deficiency-related anemia. Healthcare experts frequently prescribe iron supplements (oral and parenteral) and advise dietary adjustments to manage this illness. Low levels of red blood cells, which can result in paleness, weariness, and weakness, are the main signs of anemia. The chronicity, size, and origin of the RBCs are used to categorize the subtypes.
Anemia caused by a lack of iron or a rise in hemolysis, or the destruction of red blood cells, can result from blood loss and a decrease in the synthesis of red blood cells. Iron malnutrition is the main cause of anemia. In addition, the main causes of iron deficiency anemia in developing countries are malaria and other worm infections.
Around 229 million cases of malaria were reported worldwide in 2019, with 94% of those cases occurring in the WHO's Africa Region, according to Medicines for Malaria.
In 2019, malaria claimed the lives of over 409,000 individuals worldwide. Children under the age of five are most adversely impacted by malaria. The prevalence of iron deficiency anemia is raising as a result of the high burden of helminth illnesses, such as malaria.
Report Scope of the Iron Deficiency Anemia Therapy Market:
| | |
| --- | --- |
| Report Coverage | Details |
| Market Size in 2023 | USD 5.79 Billion |
| Market Size by 2032 | USD 24.91 Billion |
| Growth Rate from 2023 to 2032 | CAGR of 17.61% |
| Largest Market | North America |
| Base Year | 2022 |
| Forecast Period | 2023 To 2032 |
| Segments Covered | By Therapy Type and By End User |
| Regions Covered | North America, Europe, Asia-Pacific, Latin America, and Middle East & Africa |

Market Dynamics:
Driver:
Market size is anticipated to be large for the oral iron therapy segment
Oral iron therapy is predicted to experience significant growth over the forecast period in the market under study due to factors like a rise in the number of anemia patients and disorders that cause anemia. The growing body of research that supports the use of oral iron therapy as an alternative to intravenous treatments in hospital settings is also expected to increase public acceptance of the therapy, promoting sector growth.
According to a report released by the IRESPUB Journal of Life Sciences in January 2022, oral iron supplementation, for instance, has been identified as the primary treatment for treating iron deficiency anemia in children that affects their growth and development. Similar to the above, it has been noted that oral iron therapy is the first line of treatment for mild iron deficiency anemia and iron deficiency without anemia during pregnancy, per a study published in the Oman Medical Journal in September 2020. The same source also suggests that liposomal iron might be a good oral iron therapy for expecting mothers who have iron deficiency anemia. This substance has a high rate of gastrointestinal absorption and bioavailability and a low frequency of negative effects. The rising demand for oral iron therapy is anticipated to enhance market expansion. Throughout the forecast period, rising business efforts to create oral iron treatment products and supplements, as well as an increase in product releases, are also anticipated to drive market expansion.
For instance, Shield Therapeutics plc introduced Accrufer in July 2021 for the treatment of Americans with an iron deficit with or without anemia.
Restraints:
High cost
The therapy's high cost will slow the market's rate of growth. A dearth of skilled workers and a lack of healthcare infrastructure in developing countries will pose problems for the iron-deficiency anemia therapy industry. The total costs include the price of the medical tests that must be performed to confirm the anemia as well as the costs of medications and, if necessary, surgery. To boost the amount of iron and raise the red blood cell count, though, sometimes a more invasive procedure is required. Furthermore, it is anticipated that throughout the forecast period, a lack of information among people will act as a hindrance and hinder the market's revenue growth.
Opportunities:
An increase in iron deficiency anemia prevalence will drive the market
During the projected period, growth in the prevalence of iron deficiency anemia around the world is anticipated to boost the market for treatments for the condition. A frequent type of nutritional anemia is iron deficiency anemia, which is regarded as a major public health issue on a global scale. Iron deficiency anemia is becoming more prevalent, especially in women and children, as a result of low dietary iron intake and excessive red blood cell loss.
The WHO estimates that anemia affects 1,500 million to 1,740 million individuals worldwide, with iron deficiency being responsible for 50% of all cases.
This can lead to developmental abnormalities in growing children and fetuses in pregnant women, respectively. Observations show that in 2020, anemia was found in about 53% of women.
3 million people in North America are thought to have anemia, according to figures from the National Heart, Lung, and Blood Institute.
The yearly incidence rate of iron deficiency anemia ranged from 7.2 to 13.9 per 1,000 person-years, according to a study done for national primary care databases in Germany, Belgium, Spain, and Italy. The increased prevalence of target diseases such as autoimmune diseases, rheumatoid arthritis, renal issues, liver disorders, cancer, thyroid diseases, and inflammatory bowel diseases is one of the major reasons influencing the growth of the iron-deficiency anemia therapy market.
Segments Insight:
Therapy Type Insights:
Red blood cell transfusions, parenteral iron therapy, and oral iron therapy are the three main categories of therapy in the market. The typical first-line treatment for iron-deficiency anemia is considered to be oral iron therapy. However, poor absorption, gastrointestinal disturbances, and treatment non-adherence—estimated to vary from 10% on day 14 of therapy to 32% after two months—all reduce the efficiency of oral iron. However, in some cases, parenteral iron therapy is necessary to treat functional iron deficiency, treat patients who are resistant to or intolerant of oral iron therapy or treat patients who are receiving recombinant erythropoietin therapy. Iron dextran, ferric gluconate, and iron sucrose are the three parenteral iron preparations that are now offered.
Iron dextran, ferric gluconate, and iron sucrose are the three parenteral iron preparations that are now offered. Patients who are unable to tolerate or absorb oral preparations may benefit from parenteral medication. Through a little tube inserted into a vein in your arm, donated blood is given to you during a red blood cell transfusion. Blood loss from surgery or an injury can be replaced with the help of this potentially life-saving technique. The ideal transfusion trigger is still elusive, although research has indicated that a restrictive transfusion trigger of 7 g/dL can decrease RBC transfusions without hurting patient outcomes.
End User Insights:
The global market for the treatment of iron deficiency anemia has been segmented into hospitals, clinics, and home healthcare based on end users. Due to advantages such as customized treatment programs, high-quality medication, and growth in hospitals in developing nations, the hospital sector led the market in 2022. Hospitals are facilities for medical treatment that are primarily run by qualified doctors, surgeons, and nurses. They are commonly known as inpatient hospitals where people are admitted due to illnesses or accidents. Hospitals can be general or specialized, and they provide a wide range of services.
On the other side, medical clinics prioritize outpatient care. You can return home after receiving care if you're an outpatient. Public, commercial, or governmental organizations can all run medical clinics. Although certain clinics may also welcome walk-ins, appointments are frequently required to see a medical facility. In general, routine medical care, preventative care, and sick care are the types of health-related services that you can receive at a medical clinic. While some clinics specialize in certain medical conditions, many offer more general healthcare services. In the convenience of your own home, home healthcare is a particular kind of healthcare service. Clinical services are offered at home, including nursing care, physical therapy, and occupational therapy. It differs from home care, which offers non-clinical assistance with daily tasks.
Regional Insights:
During the forecast period, it is expected that North America will account for the largest market share for the treatment of iron deficiency anemia globally. Product approvals, women's awareness, technological advancements, and a large number of tests are some of the major influencing factors in this field. One of the most prevalent blood illnesses today is anemia. Some of the most common anemia in North America include plastic anemia, hemolytic anemia, sickle cell anemia, and iron and vitamin deficiencies. Anemia, which affects more than 3 million Americans, is the most common blood ailment, according to the National Heart, Lung, and Blood Institute. The dominance of this region can be attributed to elements like high awareness of women's health, high rates of testing among women, and technological developments in the treatment of iron deficiency anemia.
For instance, the National Center for Biotechnology Information (NCBI) reports that, with pregnant women omitted from the measurement, the prevalence of anemia in the United States was 5.6% in 2016.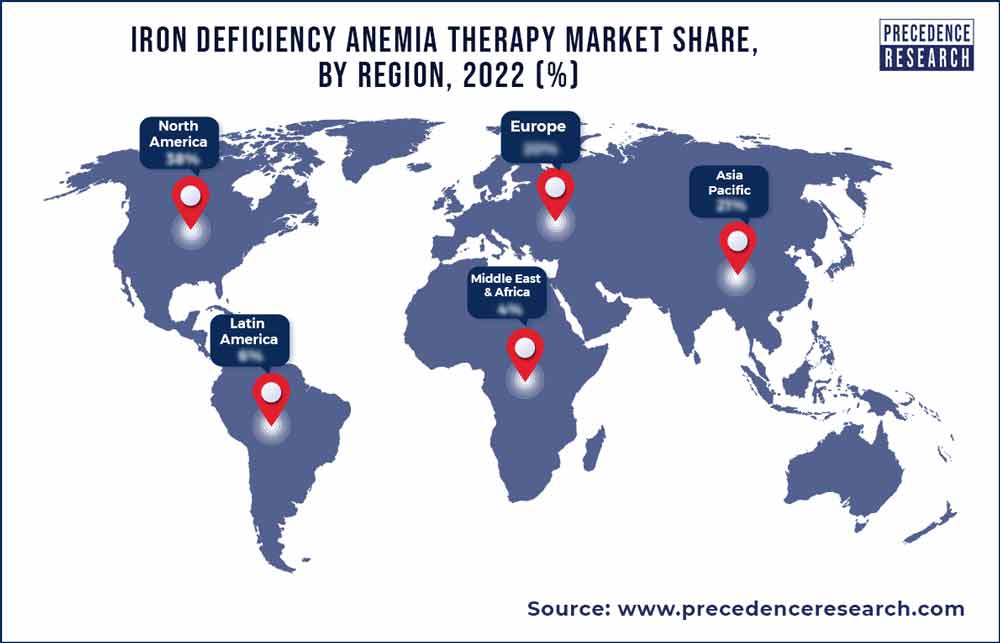 The increased focus of the region's major key players on cutting-edge technology is also expected to boost the market's revenue. According to a 2018 study that was published in Mechanisms of Aging and Development, iron deficiency anemia is more common in children and pregnant women. In the United States, one-third of children (12 months to 36 months) are at risk for iron deficiency anemia, which has a frequency of about 10% among women of reproductive age. Additionally, the presence of major market players helps the region's market share grow throughout the forecast period.
On the other hand, it is anticipated that Asia-Pacific will experience rapid growth soon. Over the projection period, India and China are expected to be attractive markets for the treatment of iron deficiency anemia due to their expanding private health sectors, robust insurance players, and expanding economies. The presence of a sizable senior patient population with iron deficiency as well as an increase in healthcare spending in these nations are expected to contribute to the Asia-Pacific market's anticipated revenue growth throughout the forecast period. The Asia-Pacific region is anticipated to grow at the fastest rate during the forecasted period due to its growing population, rising healthcare costs, government initiatives to support the healthcare sector, and rising demand for IDA treatment. India and China are anticipated to be desirable markets during the projection period for the treatment of iron deficiency anemia. Over the next few years, it is anticipated that the market in the Asia Pacific will grow due to the presence of a sizable senior patient population with iron deficiency and a rise in healthcare spending in these nations.
Recent Developments:
September 2022, Pharmacosmos A/S of Denmark sold Zydus Lifesciences the rights to market the iron deficiency anemia medication MonoFerric (iron isomaltose) injectable in India and Nepal. According to the company's regulatory filing, MonoFerric is indicated for the treatment of iron deficiency in adult patients when oral iron preparations are inefficient or cannot be administered or if there is a clinical need to deliver iron quickly.
January 2020, The United States Food and Drug Administration (US FDA) recently approved the use of PHARMACOSMOS A/S's ferric isomaltose injectable for the treatment of people with iron deficiency anemia who had an intolerance to, or inadequate response to, oral iron or who had non-hemodialysis-dependent chronic renal disease.
Key Market Players:
Vifor Pharma Ltd.
Teva Pharmaceutical Industries Ltd.
Sanofi
Pfizer Inc.
Novartis AG
Mylan N.V.
Lupin
Zydus Cadila
GlaxoSmithKline plc
Fresenius SE & Co. KGaA
F. Hoffmann-La Roche Ltd.
Segments Covered in the Report:
(Note*: We offer reports based on sub segments as well. Kindly, let us know if you are interested)
By Therapy Type
Oral Iron Therapy
Parenteral Iron Therapy
Red Blood Cell Transfusion
Others
By End User
Clinics
Hospitals
Home Healthcare
By Geography
North America
Europe
Asia-Pacific
Latin America
Middle East and Africa