The global LED driver market size was estimated at USD 5.68 billion in 2022 and is predicted to reach around USD 51.02 billion by 2032, growing at a CAGR of 24.6% during the forecast period 2023 to 2032.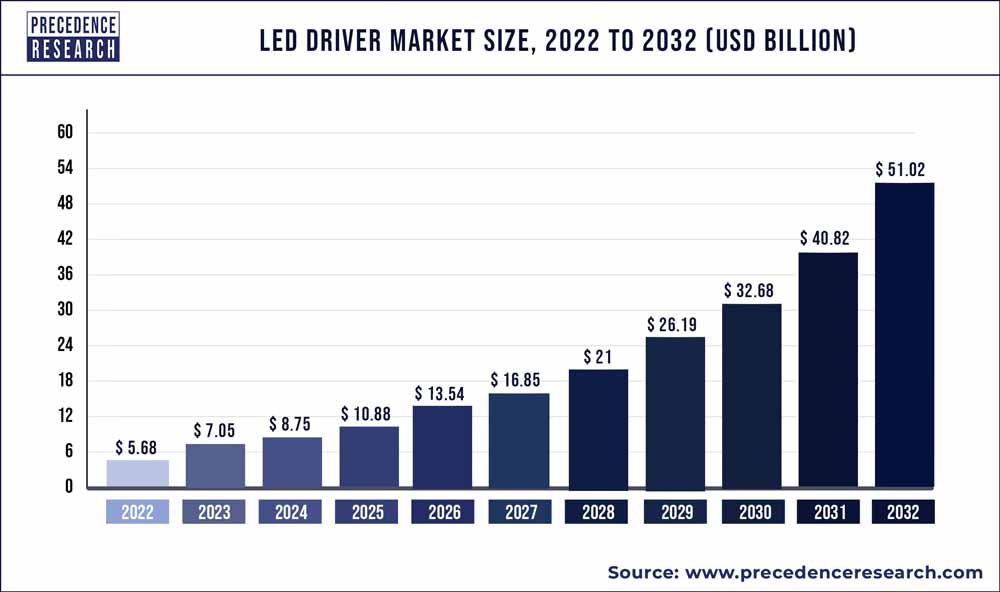 Key Takeaway:
The Asia Pacific region has held the highest revenue share of around 45% in 2022.
By product, the constant current segment has accounted for 59.8% of revenue share in 2022.
By application, the electronic devices segment contributed more than 42% of revenue share in 2022.
The segment for exterior and general lighting is anticipated to increase at the fastest rate from 2023 to 2032.
By luminaire type, the type A lamp segment accounted largest revenue share in 2022.
By component, others segment dominated the market with the highest revenue share in 2022.
Market Overview
An LED driver is a piece of electrical equipment that helps send electricity to a series of LEDs in some kind of controlled manner. By regulating the thermal runaway, the LED driver is utilized to stop the LEDs from failing too soon. A condition known as "thermal runaway" occurs when an LED's temperature rises and light output falls as the current increases. Numerous aspects are taken into account while building an LED driver, including the need for a constant current or constant voltage driver, the available space, the kind of LED to be used, and the fixture's intended usage. The drivers of LED provide a shield to the LED lights from current and voltage alterations. Regardless of changes in the mains supply, the drivers make sure that perhaps the current & voltage going to the LED lights stay within their operational range. The safeguard prevents supplying excessive current & voltage that would harm LEDs or insufficient current that would lessen light output.
Even though there is a major worldwide movement towards the use of power-efficient lighting options, and predictions indicate that LED & compact fluorescent lamps will eventually replace 90% of the world's indoor lighting, the use and acknowledgment of LED depend on the individual, their decision-making, their awareness, their lifestyle, and associated environmental issues. Due to strict laws, the utilization of LED alternatives is expanding, although consumer knowledge of the advantages of LEDs is still much lower but growing significantly. Consumers should refrain from making purchases of improved lighting solutions purely based on their advantages.
COVID-19 Impact on the LED Driver Market
Because China, the country where Covid-19 originated and from where a significant portion of LED products are supplied, this pandemic had a significant impact on the market for LED drivers. Price changes, delivery problems, and lower production affected the whole industrial sector. Although these difficulties might motivate regional manufacturers to advance their enterprises and procedures, the scarcity of LED drivers presents a significant barrier. Due to postponed construction projects, the growth rate of the LED driver market revenue has decreased. However, the epidemic increased the demand for LEDs from the medical sector. Market participants also made investments in the study and creation of smart lighting systems. The expansion of LED having a direct impact was impeded by the decline in demand for electronic devices and lighting systems, and the worldwide supply chain was severely damaged by the material shortage. The global economy was also affected by cutbacks in different capital budgets and delays in major projects in many industries.
Report Scope of the LED Driver Market
| | |
| --- | --- |
| Report Coverage | Details |
| Market Size in 2023 | USD 7.05 Billion |
| Market Size by 2032 | USD 51.02 Billion |
| Growth Rate from 2023 to 2032 | CAGR of 24.6% |
| Asia Pacific Market Share | 45% in 2022 |
| Constant Current Segment Market Share | 59.8% in 2022 |
| Base Year | 2022 |
| Forecast Period | 2023 to 2032 |
| Segments Covered | Product, Luminaire Type, Component, Control Feature, Application , End User, Region |
Market Dynamics for LED Driver Market
Market Driver: With technological advancements in LED driver design, small drivers can now be used in a variety of light fittings
The market for LED will grow as demand for energy-efficient lighting technology and programmable LED drivers both soar. Expanding smart systems in developing markets will support the demand for LED drivers. The market for LED drivers will expand in new directions thanks to supportive power-efficient regulations developed by the federal govt and councils that encourage funding of the production of energy-efficient equipment. According to reports, a lot of people are using LED systems in their cellphones, laptops, televisions, and tablets since they enable lower power consumption and have a smaller impact on electricity expenses. This will cause the market for LED drivers to develop significantly.
LED drivers are more favored by end users due to their portability and extended life term, which influences market trends. Thanks to technological advancements in LED driver design, small drivers can now be used in a variety of light fittings and applications. Because more and more compact LEDs are being used in lighting systems, dome lights, welcome lights, car headlights, and fast-acting taillights, there is considerable growth in the demand for LED drivers. Increased efforts to adopt energy-saving alternative options and the integration of stringent government regulations regarding the installation of precautionary measures, such as effective headlights, to protect lights from flashing on drivers in oncoming vehicles and causing accidents, are other factors propelling the growth of the LED driver industry.
Market Restraint: The increase in the nonappearance of standards for the production and installation of these products is expensive
The main factors limiting market growth, among others, are the increase in the nonappearance of standards for the production of these product lines, lack of understanding regarding the advantages and the product's availability in the various emerging economies, and increase in major concerns the high expenses associated with the potential substitute of the commodity in the event of any malfunction or complications in its operations. Additionally, there is a misconception that installing LED drivers is expensive, and as a result, the industry may see certain unfavorable trends. The producers' lack of agreement on standards could make it difficult to develop LED drivers. This is also anticipated to restrain the growth of the worldwide LED driver market.
Market Opportunity: Increasing population and expansion of the industry
A rise in the world's energy demand has also been caused by recent trends in population increase and industrial expansion. The globe is currently experiencing an energy crisis due to dwindling resources and rising power demand. To address the energy crisis, several nations have established laws requiring the use of consumer gadgets with low energy usage. The need for external forces is also anticipated to rise dramatically globally as a result of different smart city programs, which are being undertaken by governments all over the world to cut costs and reduce emissions. This suggests that there will be a rise in the need for exterior LED drivers for outdoor lighting systems like street lights.
The automotive industry has evolved as an important application area for LED drivers as the industry transitions away from conventional HID & halogen lights in favor of enhanced LED. Many countries have laws in place that forbid the use of hazardous HID bulbs. For instance, aftermarket automotive HID lighting systems that emit visible blue light instead of the necessary white-to-yellow range are forbidden in California.
Market Challenges: Absence of manufacturing standards in production lines
There is a misconception that installing LED drivers is expensive.
Additionally, the absence of universal standards among manufacturers may make it difficult for the market to expand.
The high expenses associated with the commodity's replacement should any problems or issues arise.
By Product Insights
Constant Voltage LED Driver & Constant Current LED Driver are the market segments based on the Driver Method. During the anticipated period, the constant current LED driver segment is anticipated to rule the market. The ability of constant power LED driver segments to avoid exceeding the current rating specified for the LEDs and preventing thermal runaway is credited with their supremacy in the LED driver market.
Further, the market is divided into Attractive Lamps, Integrated LED Module, Reflectors, and Type A-Lamps based on the Luminaire Category. The market leader is the Type A-Lamps category. However, the market for integrated LED modules is expanding quickly because end users prefer completely integrated modules inside of a LED configuration over conventionally manufactured LED systems since they can save money.
By Application Insights
The electronic devices segment accounted more than 40% of revenue share in 2022. The growing use of mobile phones & TVs in underdeveloped nations around the world. In both of these markets, LED is replacing traditional LCD screens because it provides better visual quality, higher color accuracy, and uses less electricity. These parts are also found in the display panels of many different consumer gadgets, including air conditioners, refrigerators, and other devices. Users have been forced to embrace LED lighting due to the rising need for power-efficient lighting across all industries worldwide. As the industry moves away from traditional HID and halogen lights towards elevated led, the automobile sector has emerged as a viable application field for LED drivers.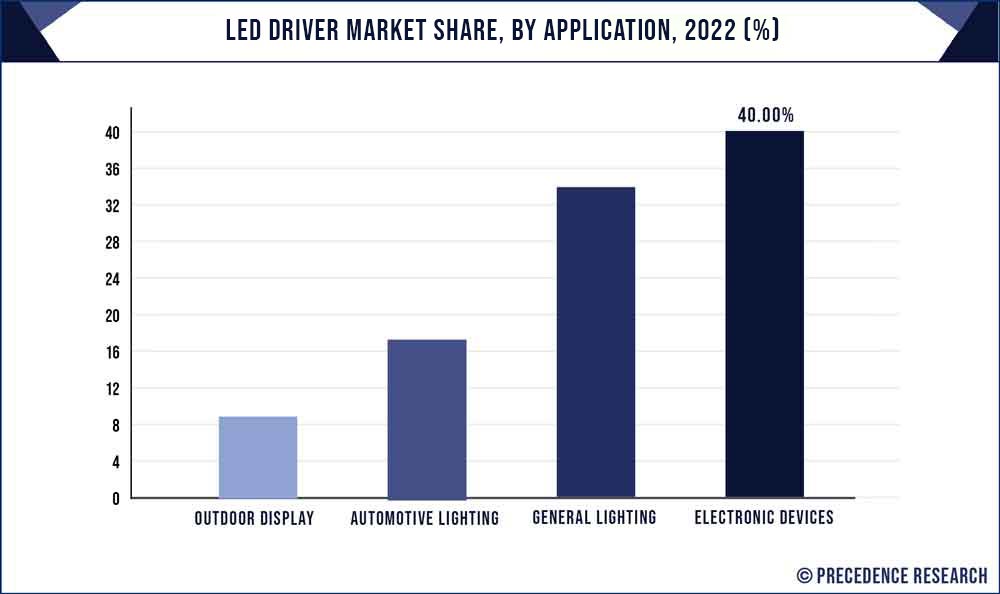 Many nations have put rules into place to prevent the use of dangerous HID bulbs. In California, for instance, aftermarket car HID light systems that emit blue visible light rather than the required white-to-yellow range are prohibited. Signage, kiosks, video walls, and other familiar application displays are all included in the outdoor display category. Due to an increase in digital marketing and advertising, the need for video walls has expanded primarily in industrialized nations like the U.S., the United Kingdom, and Japan.
By End-User Insights
Residential Lighting, Industrial Lighting, Exterior & Traffic Lighting, Commercial Lighting, and Others are the market segments based on end-user. Over the projected period, the segment for exterior and general lighting is anticipated to increase at the fastest rate. To fully benefit from energy savings, the streets, major thoroughfares, and highways require various control systems, and many projects necessitate several solutions.
By Regional Insights
The marketplace for LED drivers was dominated by Asia Pacific and was contributed more than 45% revenue share in 2022. Government subsidies, an increase in the use of LED lighting, and improved production lines in the area are all responsible for the region's rise. In March 2021, the Indian government introduced the GRAM UJALA scheme, which will offer LED lights to rural communities for just Rs. 10 each. Rural consumers can receive 7-watt & 12-watt LED lights with a 3-year warranty if they send in functional incandescent bulbs. Additionally, the Indian government distributed 36.78 cr INR worth of LED lights all around the country. Such initiatives are accelerating market expansion in the area.
China is a significant distributor of LED drivers across the globe as well as a major global hub for the production of industrial and consumer electronics. Over the forecast period, the market for these parts is anticipated to be driven by the growing demands for LEDs across consumers, including smartphones, laptops, T.V.s., and tablets. In addition, the lighting business is in great demand due to technical developments, a drop in the average cost of the drivers, and other factors. With the growing use of LED lighting in high- and low-end automobile segments, Europe & North America are truly to see growth. The use of technologies for exterior applications has expanded in nations like the U.S. and Canada. The European market is seeing increased demand for LED components due to the European Union's prohibition of less effective halogen bulbs as well as lucrative incentive programs for LED.
Recent Developments in the LED Driver Market
To meet energy-saving requirements in March 2022, the lighting design for the Yangtze River International Conference Center incorporated LF-AADxxx series LED drivers that are DALI dimmable. Meanwhile, the Yangtze River International Conference Center has received the highest grade mark from the China Green Building Evaluation & Certification System because of the precise control of lighting energy provided by the DALI lighting control system, as well as its combination with the building's strong curtain walls and environmental protection landscapes.
The PLI scheme was modified in June 2022, by the Department of Telecommunications, to enable LED Manufacturing of telecom components to build India's 5G ecosystem. Market-available LED drivers are acquiring new and more advanced components as well as becoming increasingly efficient at handling power fluctuations. As an illustration, Infineon debuted the BCR431U Constant-Current Linear LED Driver IC in June 2020. The incorporated driver IC drop at the new IC, which offers low-voltage drop capability for controlling LED current, can be as low as 105 mV at 15 mA.
In June 2019, Lumenetix, a maker of customizable color light motors and digital controllers, was bought by ERP Power, a provider of integrated LED drivers for the LED sector. ERP seeks to integrate Lumenetix tunable light with its power control to minimize original equipment manufacturer complexity. A quicker time to market for LED lighting fixtures will result from this.
This SREC development opened up opportunities for the development of LED drivers with integrated thermal protection in December 2018, replacing the thermal protection typically used in downlight luminaires. Together with UL and Intertek, Imply is a well-known security pioneer. They have expanded their cutting-edge safety engineering advancements to include LED class P drivers, led Lighting, and other products.
Programmable output drivers from Mean Well Enterprises Co. Ltd. were released in August 2020 and feature major power conservation and dimmer compatibility. The new PTB Series drivers would be accessible in the Americas in Q3 2020 from Digikey, Mouser, & WPG.
The key players operating in the LED Driver market are:
ACE LEDS
Cree LED
Signify Holding
Maxim Integrated
Texas Instruments Incorporated
NXP Semiconductors
STMicroelectronics
Bokedriver
MEAN WELL Enterprises Co.
Inventronics Inc.
Segments Covered in the Report
(Note*: We offer reports based on sub-segments as well. Kindly, let us know if you are interested)
By Product
Constant Voltage
Constant Current
By Luminaire Type
Decorative Lamps
Reflectors
Type A Lamp
Others
By Component
Driver IC
Discrete Component
Others
By Control Feature
By Application
General Lighting
Electronic Devices
Automotive Lighting
Lighting Outdoor Display
By End-User
Residential
Commercial
Industrial
By Geography
North America
Europe
Asia Pacific
Latin America
MEA