The global light-powered catalyst market size was evaluated at USD 3.8 billion in 2022 and it is projected to surpass around USD 12.18 billion by 2032, poised to grow at a CAGR of 12.4% during the forecast period 2023 to 2032.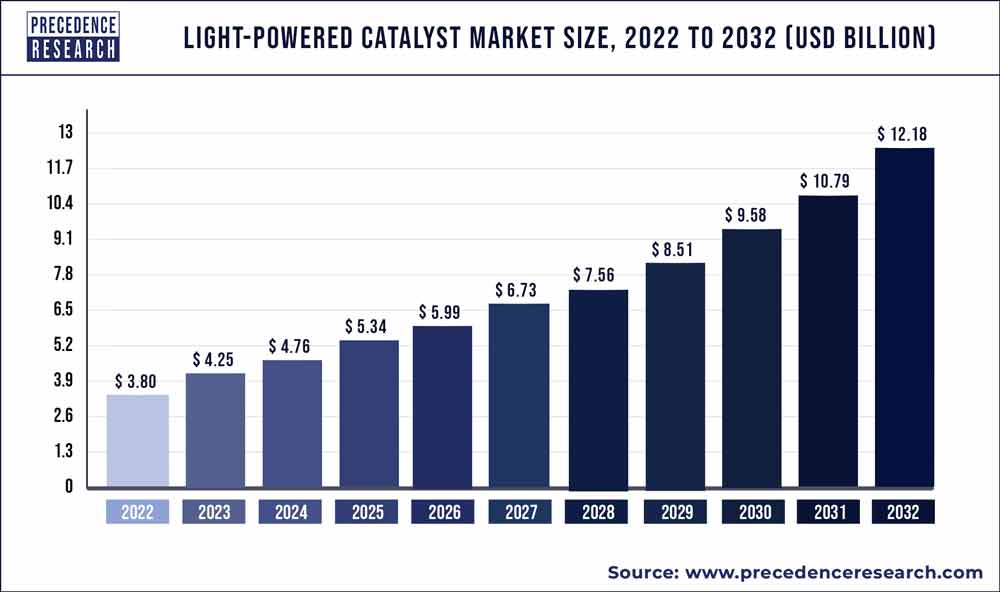 Light-driven chemical reactions provide a strong tool for scientists developing novel methods of producing medicines and other important molecules. Photoredox catalysts, that absorb light and transmitting energy to those chemical processes, are required to harness the light energy. The innovative catalysts, that could be tailored to conduct a wide range of reactions, might potentially be put into other materials such as fabrics or particles. Photoredox catalysts operate by receiving photons and then converting that light energy into chemical energy, similar towards how chlorophyll in plant cells receives solar energy and utilizes it to make sugar molecules.
The catalysts also might be utilised coat magnetic beads, rendering them easier to remove from the solutions once the reaction is complete, as well as to coat reaction vials or fabrics. The researchers are currently focusing on adding a larger range of catalysts into their polymers, as well as designing the polymers to optimise them for various uses.
The increasing need for catalysts across applications such as polymers and petrochemicals, chemical synthesis, petroleum refining and environmental is creating a market among manufacturers worldwide for process optimization, yield improvement, cost-saving and energy-saving. Furthermore, environmental catalysts assist manufacturers in meeting all of the strict NOx, SOx, and co2 emission standards. Catalyst consumption has increased due to shifting energy patterns toward alternative fuels such as biodiesel and shale gas fuel. Furthermore, businesses aiming to add value to their feedstock or refining by generating value-added petrochemicals and chemicals such as methanol and polyolefins have boosted demand from petrochemicals and chemicals applications.
The unusual outbreak of COVID-19, which has resulted in the closure of industries and production facilities, has resulted in a large drop in demand for oil, the first such occurrence in a decade. Furthermore, the price war between Russia and Saudi Arabia has resulted in a significant drop in oil prices. Due to a stop in air travel and national lockdowns, global gasoline demand is predicted to fall by 15-10% in Q2, 2020. A number of facilities have been shut down, and others are operating at reduced rates, which may have an influence on market demand, particularly in Iran, the United States, France, Italy, China, India, and the United Kingdom, which are among the worst-affected economies.
Growth factors
A biohybrid photocatalyst is a novel form of catalyst that incorporates a light-harvesting protein that collects light and transmits the energy to a metal-containing catalyst. This catalyst then converts the energy into reactions that can be used to synthesise medications or transform trash into bio fuels or other valuable molecules. This sort of photocatalyst might also be employed to drive a reaction known as lignin depolymerization, which could aid in the production of bio fuels from hardwood or other challenging plant materials.
Catalysts currently employed in the synthesis of solar fuels have severe limits, driving research into the creation of an efficient, resilient, and sustainable catalyst that is triggered by light, known as a photocatalyst. Imperial College London researchers are one step closer to doing this after a recent study uncovered the capability of organic photocatalysts known as hyper-cross linked polymers (HCP). This means that solar fuels may be generated more sustainably, assisting in the transformation to net zero emissions.
The need for rare-earth elements raises serious concerns about sustainability. Extraction of rare-earth metals, for example, is costly and inefficient, requiring extensive regions to be mined, which can cause severe environmental damage as well as leakage of poisonous and radioactive elements. Furthermore, typical semiconductors are frequently active at ultraviolet wavelengths, which account for around 4% of the sun spectrum, limiting their applicability. This has resulted in the creation of more efficient and robust visible-light-active photocatalysts that need less rare-earth metals.
The scientists also demonstrated that depending on the application, they could alter the physical features of a polymer backbone, such as thickness and porosity. They demonstrated, for example, that they could create fluorinated polymers that would adhere to fluorinated tubing, which is commonly used in continuous flow production. Chemical reagents flow through with a series of tubes when additional components are introduced or other stages such as filtration or isolation are conducted during this sort of production.
In recent years, the development of novel materials such as graphene and graphene oxide (GO) as photocatalysts has increased due to their sustainability and flexibility in photocatalyst modification and design. In addition to these benefits, the inclusion of cationic or anionic dyes can be used to enhance the photocatalytic activity of GO under visible light. Some dyes that are sensitive to visible light are employed in photocatalytic devices. Under visible light irradiation, excited dyes can inject electrons into semiconductor conduction bands, initiating photocatalytic processes.
One of the most important reactions in organic chemistry is selective oxidation. Solar light photocatalytic oxidation of organic molecules is a potential technique for ecologically friendly conversion processes. In recent years, the ability to use low-cost and environmentally acceptable procedures rather than powerful oxidants that create hazardous wastes has become critical. As a result, there is considerable interest in performing these processes in light-powered catalysts.
Report Scope of the Light-powered Catalyst Market
Report Coverage
Details
Market Size in 2023
USD 3.8 Billion
Market Size by 2032
USD 12.18 Billion
Growth Rate from 2023 to 2032
CAGR of 12.4%
Base Year
2022
Forecast Period
2023 to 2032
By Raw Material

Chemical compounds
Metals
Zeolites
Others

By Product

Heterogeneous Catalyst
Chemical synthesis
Petroleum refining
Polymers and petrochemicals
Environmental

Companies Mentioned

Albemarle Corporation Johnson Matthey, BASF SE, Chevron Phillips Chemical Company LLC, Clariant AG, Dorf Ketal Chemicals (I) Pvt. Ltd., Dow Chemical Company, Evonik Industries AG, Exxonmobil Corporation, Johnson Matthey, W.R. Grace and Co

Raw Material Insights
In 2022, chemical compounds emerged as the market's dominating raw material category, with a 39% value share. Hydrofluoric, Sulphuric acid, acid, and calcium carbonate are utilised as catalyst raw materials in a wide range of applications in the chemical, petrochemical, and polymer industries. Noble metals (platinum, palladium, ruthenium, rhodium, gold, and copper) and non-noble metals (tungsten and molybdenum) are utilised for dehydrogenation and hydrogenation, while nickel and cobalt are also employed as essential catalyst raw materials. These metals accelerate the process of breaking and reorganizing aromatics and olefins to form alkanes and naphthenes.
Aside from metals and inorganic compounds, zeolites are another type of notable raw material utilised in catalysts. Due to their porosity and vast surface area, zeolites are mostly employed in catalyzing and adsorbent applications. Because of their porous structure, zeolites can accept a wide range of ions. These can be acquired naturally or created commercially through crystallization processes.
Light-powered Catalyst Market Segment on the basis of product
With a value share of 73% in 2022, heterogeneous catalysts emerged as the market's most important product group. To minimise toxicity, homogeneous catalysts are transformed into heterogeneous catalysts using solid supports. Suffocated carbon materials, Sulphated zirconia, sulfonated silica materials, and sulfonated MOF materials are all examples of heterogeneous catalysts.
The advantages of heterogeneous catalyst application include low cost, easy separation of catalyst from products, and convenience of application, all of which are expected to promote the industry. Furthermore, the acceptability of heterogeneous catalysts over homogeneous equivalents for biodiesel production is expected to boost catalyst market growth throughout the forecast period.
Homogeneous catalysts include hydrochloric acid, boric acid, phosphoric acid, p-toluenesulfonic acid, and sulphuric acid. These catalysts are said to perform better in industrial and raw material reactions than heterogeneous equivalents. These operations, however, generate massive volumes of hazardous waste, posing environmental risks. This has driven the need for environmentally friendly catalysts, and the development of biodegradable homogeneous catalysts such as methanesulfonic acid (MSA) has aided in meeting such needs.
Light-powered Catalyst Market Segment on the basis of application
Chemical synthesis ranked as the market's most important application category in 2022, with a value share of 26.5% for heterogeneous catalysts. Chemical synthesis comprises raw material and raw material chemistry, where catalysts are used in processes such as Haber, Contact, and turning ammonia to nitric acid. As a result, expansion in the worldwide chemical sector is predicted to boost catalyst demand throughout the forecast timeframe.
Catalysts are widely used in chemical synthesis because of their superior traits and qualities, such as the stimulation of alkene and alkyne activation, enantioselective processes, and increased stability. They also have excellent functional group tolerance, are cost-effective, and do not require extra ligands. All of the aforementioned factors are driving the segment's growth by boosting the usage of catalysts in chemical synthesis.
Catalysts are typically utilized in the cracking feedstock components of petroleum refining to boost the production of high-quality products, in addition to chemical synthesis. The use of a catalyst increases the optimization of hydrocracking processes while also conserving money and energy. This has aided market expansion in petroleum refinery applications.
Light-powered Catalyst Market segment on the basis of region
Asia Pacific is expected to account for the greatest value share 32% in 2022, owing to China's predominance in the vehicle, petrochemical products, polymer, and chemical sectors. China had a significant number of chemical and polymer production companies, and as a result, it has emerged as a manufacturing desired location for petrochemical and chemical products, owing to rising domestic demand and low manufacturing costs in comparison to the United States and European Union countries. The increased FDI investments and attractive development prospects presented by developing nations such as India and Vietnam are boosting market expansion there in Asia Pacific region.
North America positioned at second-largest market, due to the region's developing low sulphur and automobile standards, which necessitate the use of environmental catalysts. The rising use of gasoline in the United States is expected to increase demand for catalysts used in the conversion of heavy crude oil into light fractions such as the diesel, kerosene and also gasoline. Furthermore, the expansion of Mexico's oil and gas and chemical industries is a crucial driver supporting to market growth in The Region.
Because of the region's oil and gas sector supremacy in Saudi Arabia, Oman, Kuwait, and Qatar, the Middle East and Africa, which constituted a market value share of 6.8% in 2022, are likely to provide attractive possibilities for petroleum refining catalysts. A boom in local demand in the construction, packaging, automotive and pharmaceutical industries is projected to prompt chemical firms in the Middle East to increase their output of polymers and petrochemicals.
Key market players
Albemarle Corporation Johnson Matthey
BASF SE
Chevron Phillips Chemical Company LLC
Clariant AG
Dorf Ketal Chemicals (I) Pvt. Ltd.
Dow Chemical Company
Evonik Industries AG
Exxonmobil Corporation
Johnson Matthey
W.R. Grace and Co
Segments covered in the report
(Note*: We offer report based on sub segments as well. Kindly, let us know if you are interested)
By Raw Material
Chemical compounds
Metals
Zeolites
Others
By Product
Heterogeneous Catalyst
Chemical synthesis

Chemical catalysts
Adsorbents
Syngas production
Others

Petroleum refining

FCC
Alkylation
Hydrotreating
Catalytic Reforming
Purification
Bed grading
Others

Polymers and petrochemicals

Ziegler Natta
Reaction Initiator
Chromium
Urethane
Solid Phosphorous Acid catalyst
Others

Environmental

Light-duty vehicles
Motorcycles
Heavy-duty vehicles
Others
By Geography
North America
Europe
Asia-Pacific

China
India
Japan
South Korea
Malaysia
Philippines

Latin America

Brazil
Rest of Latin America

Middle East & Africa (MEA)