The global logistics outsourcing market size was estimated at USD 1,206.44 billion in 2022 and it is expected to hit around USD 1,909.73 billion by 2032, expanding at a CAGR of 4.7% during the forecast period 2023 to 2032.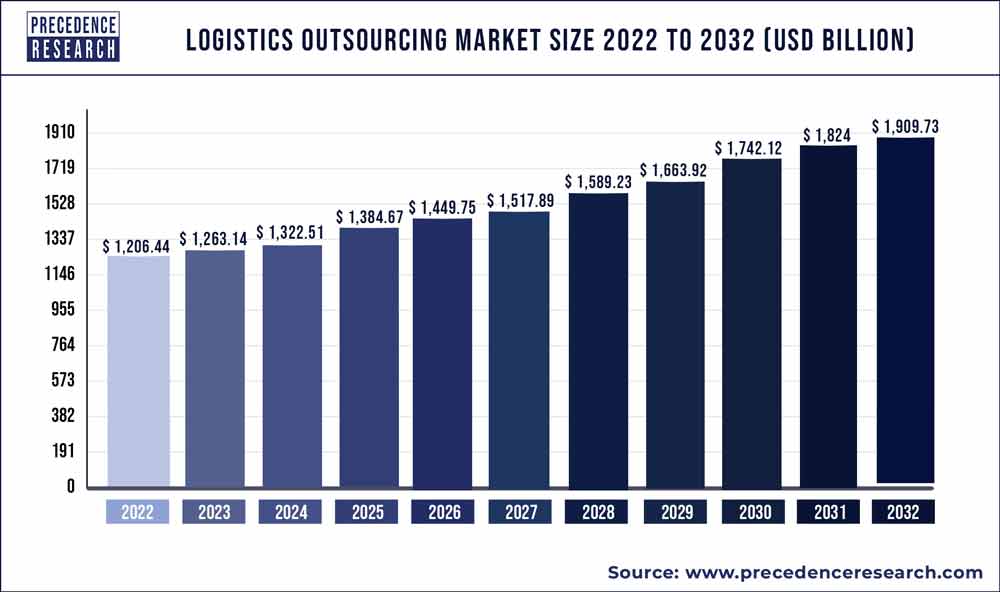 Key Takeaways:
Asia Pacific is expected to hold the dominating share of the market throughout the forecast period.
By Type, the supply chain management segment is expected to dominate the global logistics outsourcing market during the forecast period.
By Transportation type, the highway transportation segment is expected to hold the largest share of the market during the forecast period.
By End-user, the e-commerce segment is expected to hold the dominating share of the market during the forecast period.
Market Overview:
Outsourcing logistics occurs when a company delegates one or more supply chain tasks to a third party or other external source. Logistics outsourcing includes storing, shipping, packaging and delivering the end product. Outsourcing reduces the logistics industry's total cost as the requirement for infrastructure is reduced with outsourcing logistical operations. The benefits of outsourcing logistics include lowering freight operation risk. The global logistics outsourcing market offers sustainable, accountable and reliable solutions for businesses that are focused on improving specialized services.
Growth Factors:
The global logistics outsourcing market is observed to be accelerated with the rising number of e-commerce businesses, especially in urban areas. The increased demand connected services by multiple industries create a significant growth factor for the market to grow. In addition, rising emphasis on consumer satisfaction and adoption of advanced services will promote the market's growth.
Additionally, outsourcing logistics can assist companies in overcoming the difficulties involved with global logistics, such as freight forwarding, transportation coordination, and documentation. Providers of logistics services can handle every step of the logistics process, from freight planning to customs clearance, guaranteeing the quick and efficient transfer of commodities across international boundaries. This enables businesses to concentrate on other important facets of their international expansion plan.
Report Scope of the Logistics Outsourcing Market:
| | |
| --- | --- |
| Report Coverage | Details |
| Market Size in 2023 | USD 1,263.14 Billion |
| Market Size by 2032 | USD 1,909.73 Billion |
| Growth Rate from 2023 to 2032 | CAGR of 4.7% |
| Largest Market | Asia Pacific |
| Base Year | 2022 |
| Forecast Period | 2023 to 2032 |
| Segments Covered | By Type, By Transportation Type, and By End User |
| Regions Covered | North America, Europe, Asia-Pacific, Latin America and Middle East & Africa |

Market Dynamics:
Driver:
Cost reduction offered by logistics outsourcing
The logistics outsourcing business is mostly driven by the desire to reduce costs. To cut expenses and boost their bottom line, many businesses prefer to outsource their logistical operations to third-party logistics providers (3PLs). Companies can minimize the upfront costs and recurring costs of running an internal logistics department by outsourcing the logistical services to specialized providers. Outsourcing logistics enables companies to do away with or significantly lower infrastructure expenses. It can be expensive to build and operate distribution centres, transportation networks, and warehouses. Companies can minimise the up-front costs of acquiring property, building buildings, and buying equipment by outsourcing these logistics-related tasks. Instead, customers can make use of the 3PLs' already-existing infrastructure, which is furnished with modern, effective, and technologically advanced amenities.
Outsourcing logistics lowers labour costs. A trained logistics crew can be difficult to find and expensive to manage. By outsourcing, businesses may rely on the knowledge and experience of 3PLs, who have specialised staff members trained in a range of logistics tasks, including order fulfilment, inventory management, and transportation. Furthermore, 3PLs can give access to a broader talent pool and use their size to bargain for lower labour costs.
Additionally, by outsourcing logistics, businesses can avoid the expenses related to purchasing and maintaining transportation assets. Being the owner of a fleet of trucks or other transportation vehicles entails large capital expenditures, insurance costs, maintenance costs, and regulatory compliance. Companies can take advantage of the providers' current transportation networks and assets by outsourcing transportation to 3PLs, taking advantage of their economies of scale and specialised knowledge.
Outsourcing logistics lowers costs by enhancing operational effectiveness. 3PLs frequently use cutting-edge technologies, like transportation management systems (TMS) and warehouse management systems (WMS), to optimize inventory levels, expedite procedures, and improve route planning. Through increased inventory accuracy, shortened order cycle times, reduced transportation costs, and enhanced warehouse space utilisation, these technologies can result in cost reductions.
Restraint:
Reliability concerns
While there are many advantages to outsourcing logistical tasks, relying too much on outside providers can also cause problems and limitations for businesses. The lack of direct control over logistical operations is one of the main issues with relying on outside providers. When logistics activities are outsourced, businesses lose the control they once had over such processes. Because of this lack of control, there may be scepticism related to the effectiveness, dependability, and quality of the logistical processes. If businesses believe they would not have enough monitoring or control over their supply chain, they could be reluctant to outsource.
It is crucial for businesses to have solid connections with their logistics partners in order to handle this difficulty. Service level agreements (SLAs), frequent performance reviews, and open and transparent channels of communication can all help establish expectations and guarantee accountability. Additionally, businesses should work closely with their LSPs or 3PLs, sharing pertinent information and coordinating their aims and objectives.
The risk connected with third-party suppliers' operational and financial stability is another concern. The supply chain may be disrupted, resulting in delays or service interruptions, if a logistics provider experiences financial issues or performs below expectations. Additionally, businesses can think about changing up their logistics partners or creating backup plans in case of disruptions. Maintaining solid connections with a variety of suppliers and having backup plans can offer flexibility and guarantee supply chain continuity. Firms manage this difficulty with the support of effective communication, teamwork, and risk mitigation techniques, even though reliance on third parties is a constraint in logistics outsourcing.
Opportunity:
Global expansion of businesses
Multiple businesses in the manufacturing, agriculture and automotive sectors have the potential to grow and expand globally with the rising international trade. A similar element is expected to create a set of opportunities for the global logistics outsourcing market. Outsourcing logistical tasks can give businesses access to established networks, distribution channels, and local knowledge, promoting global trade and assisting in the removal of logistical obstacles in international markets. Businesses have a number of difficulties when entering new markets, including strange legislation, customs procedures, language obstacles, and cultural differences. Global logistics service providers are skilled at handling these obstacles. They have developed connections with local transportation companies and customs authorities, and they can offer insights into regional legislation and advice on customs clearance procedures.
Companies can more effectively enter new regions or areas by working with logistics service providers to take advantage of their current infrastructure and expertise. Businesses may easily and swiftly reach customers in multiple places owing to the networks of warehouses, distribution centres, and transportation routes that these providers have developed. They can help with inventory management as well, making sure the appropriate goods are available at the appropriate times to fulfil client demand.
Additionally, there may be financial benefits to outsourcing logistical operations globally. Local logistics service providers frequently have established connections with transportation companies, allowing them to bargain for lower prices and choose the best routes. Additionally, by combining shipments from various clients, they can achieve economies of scale and reduce shipping costs. Businesses can increase their competitiveness in overseas markets and provide clients with more competitive pricing by taking advantage of these benefits.
Segments Insight:
Type Insights:
Based on type, the global logistics outsourcing market is divided into channel management, shipment packaging, material management, supply chain management and distribution management. The supply chain management segment is expected to hold the largest share of the market during the forecast period. The segment's position is propelled due to multiple factors such as expanding transits in international trade, growing e-commerce business and substantial growth in retail industry. The supply chain management is required to handle mixed shipping, storing, packing and delivering physical goods. As the demand for services that can optimize businesses for retail and e-commerce businesses increases, the segment is expected to grow at a robust pace.
On the other hand, the distribution management segment is expected to grow at a significant rate during the forecast period. During logistics outsourcing, inventory management is required to boost the effectiveness of operations. Distribution management in logistics outsourcing offers cost savings for the company. Distribution management ensures the active movement of the logistics, this brings a reliable solution for the business that is operating businesses with outsourcing methods.
Transportation Insights:
Based on transportation, the global logistics outsourcing market carries four major segments that are sea transportation, rail transportation, air transportation and highway transportation. the highway transportation segment is expected to dominate the market during the forecast period. The already established network for highway or road modes for transportation highlights the segment's share in the market. Highway transport is observed to be the most cost-effective and reliable solution for managing logistics services, this element also supplements the development of the segment.
With the rising concerns of environment, multiple e-commerce platforms are shifting their focus on electric vehicles for the overall distribution management. This factor promotes the growth of the market while offering a sustainable solution to the highway transportation method.
End-User Insights:
Based on end-user, the global logistics outsourcing market in divided in e-commerce, aerospace and government, automotive, agriculture, chemical, consumer packaging goods and food and beverages. The e-commerce segment is expected to dominate the global logistics outsourcing market during the forecast period. The surge in e-commerce businesses across the globe with the rising use of smartphones and advanced technology support the growth of the segment. E-commerce businesses are focusing on enhancing consumer experience with improved and faster services, this element promises a growth factor for the segment.
Regional Insights:
Asia Pacific is expected to dominate the global logistics outsourcing market throughout the forecast period. The potential in the region in terms of industrialization and urbanization has brought multiple opportunities for the logistics outsourcing market to grow. Asia Pacific is home to multiple manufacturing firms, the rising demand for sophisticated and accountable management solutions for manufacturing firms is expected to promote the growth of the segment. Countries such as India, Japan, China and South Korea are observed to continue as major contributors for the market during the forecast period.
Moreover, the expansion of e-commerce businesses in the region acts as another growth factor for the market. China is observed to contribute to the largest share of the market during the forecast period. While leading the manufacturing and overall operational activities, China has successfully achieved the logistics arrangement. In addition, high level of logistics connectivity in the country plays a significant role.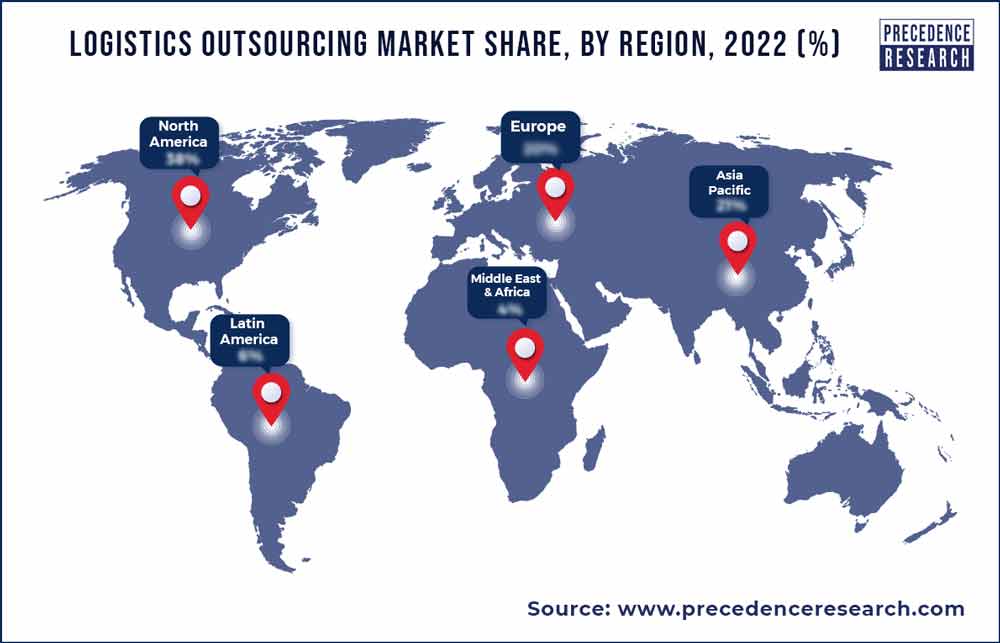 On the other hand, North America is expected to grow at a robust pace during the forecast period. The presence of a plethora of opportunities for logistics businesses in the region acts as a major growth factor for the market. The e-commerce and automotive end-users are expected to lead the market in North America. As the presence and adoption of advanced solutions such as machine learning, artificial management and location intelligence increases, the market for logistics outsourcing in North America is expected to develop.
Recent Developments:
The opening of its first specialised reverse logistics centre in Harrisburg, Pennsylvania, was the highlight of a number of capability and service enhancements for Ingram Micro Inc.'s U.S. IM-Logistics division announced on May 7. Ingram Micro Inc. is the largest global wholesale provider of technology products and supply chain management services.
Key Market Players:
United Parcel Service of America, Inc.
XPO Logistics, Inc.
A.P. Møller - Mærsk A/S
DHL International GmbH
Kuehne + Nagel International AG
FedEx Corporation
Deutsche Bahn AG
Nippon Express Co., Ltd.
DSV A/S
SNCF Group
Segments Covered in the Report:
(Note*: We offer reports based on sub-segments as well. Kindly, let us know if you are interested)
By Type
Material Management
Supply Chain Management
Distribution Management
Shipment Packaging
Channel Management
By Transportation Type
Air Transportation
Sea Transportation
Railway Transportation
Highway Transportation
By End User
E-commerce
Aerospace, and government
Agribusiness
Automotive
Chemical
Consumer packaged goods
Food & beverages
Others
By Geography
North America
Europe
Asia-Pacific
Latin America
Middle East and Africa