The global low melting fiber market size was valued at US$ 1.80 billion in 2020 and is predicted to hit US$ 2.95 billion by 2030, growing with a CAGR of 6.76% during the forecast period 2021 to 2030.
Vital factors accountable for market growth are:
The upsurge in population along with growing rate of urbanization has positive inference on the home furnishings sector in the U.S.
Rising demand automotive industry and for bedding accelerates the demand for low melting fiber
Strategic partnerships by the key players operating in the global market in order to strengthen the market position.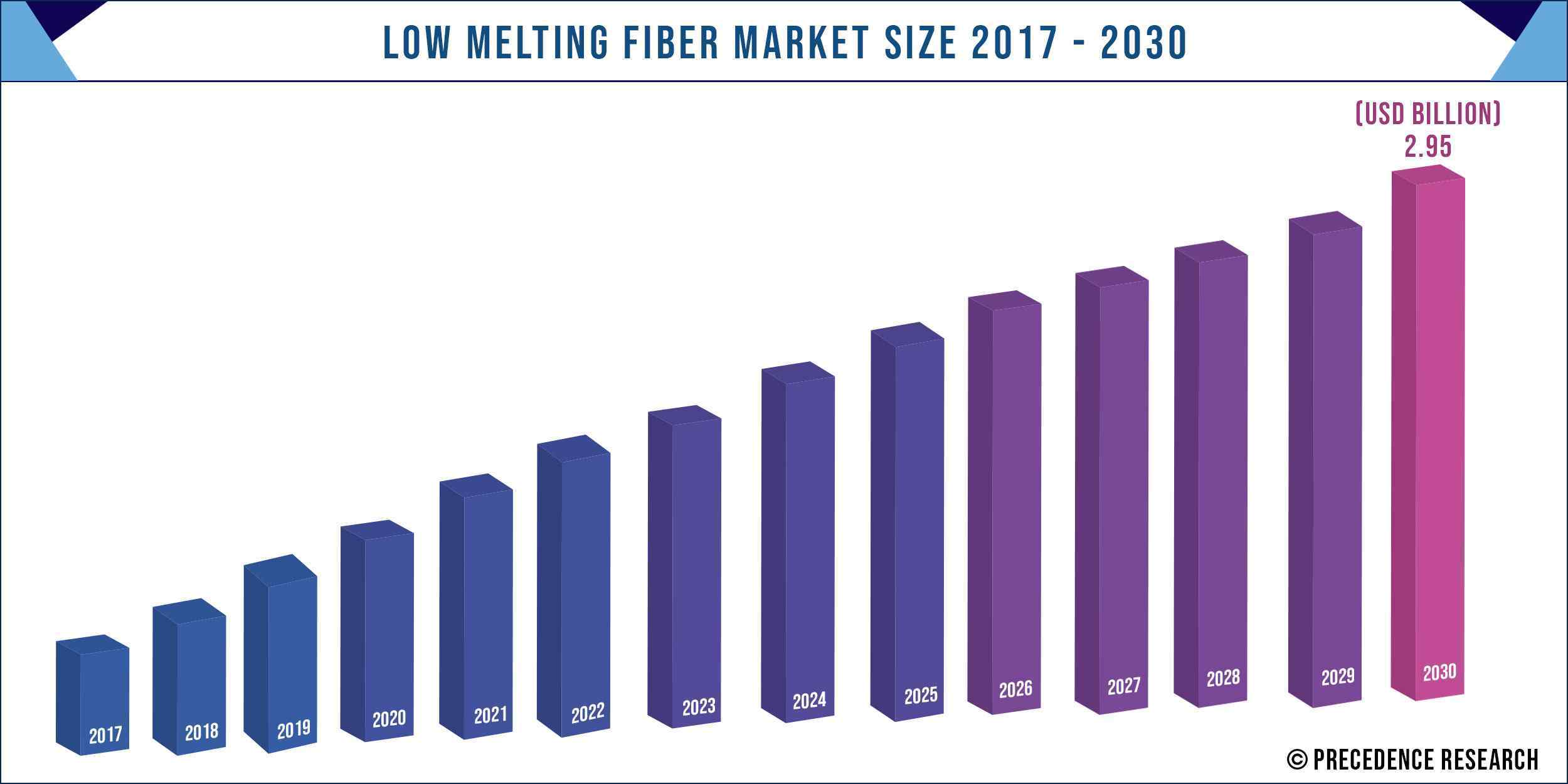 Access our Premium Real Time Data Intelligence Tool, Visit: Precedence Statistics
Key market Insights:
Low melting fiber can be melted at temperature such as 100~200°C that bonds with other fibers deprived of any injurious adhesives than normal polyester fiber which can be melted at higher temperature of above 280°C. This property subsidizes to environmental preservation by producing low heat and carbon dioxide. It finds application in several areas such as door trims, automotive car interiors, ceiling materials, head liners, construction, furniture, industrial sector.
COVID-19 Impact on Global Low Melting Fiber Market
Occurrence of novel coronavirus disease has obstructed the globe economy. Leading countries across the globe announced the lockdown situations most of the key players in the global low melting fiber market forced to the shutdown their production plants and sales as well as production of the automotive, construction components has been stopped which has directly affected on the target market industry. Major industries affected due to the distribution in the supply chain as well as lockdowns across the globe. However, the key supplies are resuming to the work, in order to accomplish their previous order by following government norms. COVID-19 situation is resolving gradually and most of the industries are starting their facilities at full capacity. The global low melting fiber industry is expected to grow post COVID world at significant growth rate.
Future of Global Low Melting Fiber Market
Increasing focus on the manufacturing of the vehicles is expected to fuel growth global low melting fiber industry in the near future. Heavy investment from the global EV's as well as automakers, are expected to drive growth of the automotive and in turn growth of the global low melting fiber industry in the near future. In the manufacturing of automotive components including celling material, engine hoof, truck among others, low melting fiber plays vital role. Emergence of COVID has increased usage of the heightened hygienic products and low melting fiber is used in the production of such a various hygiene products including sanitary pads and dippers which is expected to fuel the target market industry in the near future. Further, post COVID world the bedding & furniture industry is anticipated to register significant growth rate owing to increasing adoption of the end use products like sofa and mattresses. This trend can have positive impact on the target industry growth over the forecast period of time.
| | |
| --- | --- |
| Report Highlights | Details |
| Market Size | US$ 2.95 billion by 2030 |
| Growth Rate | CAGR of 6.76% From 2022 to 2030 |
| Base Year | 2021 |
| Historic data | 2017 to 2021 |
| Forecast Period | 2022 to 2030 |
| Segments Covered | Type, Application |
| Regional Scope | North America, Europe, Asia Pacific, Latin America, Middle East & Africa (MEA) |
| Companies Mentioned | Huvis, Taekwang, Toray Chemical Korea, Hickory Springs, Ningbo Dafa, Yangzhou Tianfulong, Nan Ya Plastics, XiangLu Chemical Fibers |
Segment Analysis:
Melting point ≤130 Segment Reported Major Market Share in 2020
On the basis of types, low melting fiber market is classified into melting point>130 and melting Point ≤130. Among these types, melting point ≤130 segment is projected to garner considerable market share during the forecast period. This product is ecological and obeys to low temperature. It further has outstanding bonding, improved mixing characteristics, and high resiliency which drive its demand across various application sectors.
Mattress is Projected to Govern the Low Melting Fiber Market Revenue
Among various applications of low melting fiber, mattress segment dominated the market in terms of both volume and value in 2020. This high growth of the segment is credited to snowballing requirement from households and institutional, commercial sectors such as education, hospital and corporate segment. The development of the hospitality segment is helping to lift the advancement of mattress market. There is an augmented requirement for mattresses that offer outstanding coziness and sound sleep. Non-woven low melt fibers avert bed bug infestations hence widely employed in mattresses.
North America is Estimated to be the Largest Market for Low Melting Fiber
Low melting fiber market research report covers crucial trends and predictions of low melting fiber products across diverse geographical regions such as North America, Asia-Pacific, Europe, Latin America, and Middle East and Africa. China is the fastest advancing segment for low melting fiber across the globe. China accounted for considerable share for the global low melting fiber production in 2020. Also, in 2016, it was the significant importer of low melting fiber due to growing textile, carpet sector, and intensifying construction activities. China produced over 20 million tons of low melting fiber in 2010. China is the 2nd largest user of petroleum and derivative of petroleum distillation that is the feeder material for low melting fiber is likewise accessible in huge quantities.
North America market also offers noteworthy growth due to speedy growth of home furnishing industries and automotive sector. Further, rising bedding sector which is among the foremost sectors that employs low metal fiber drives the market demand in this region.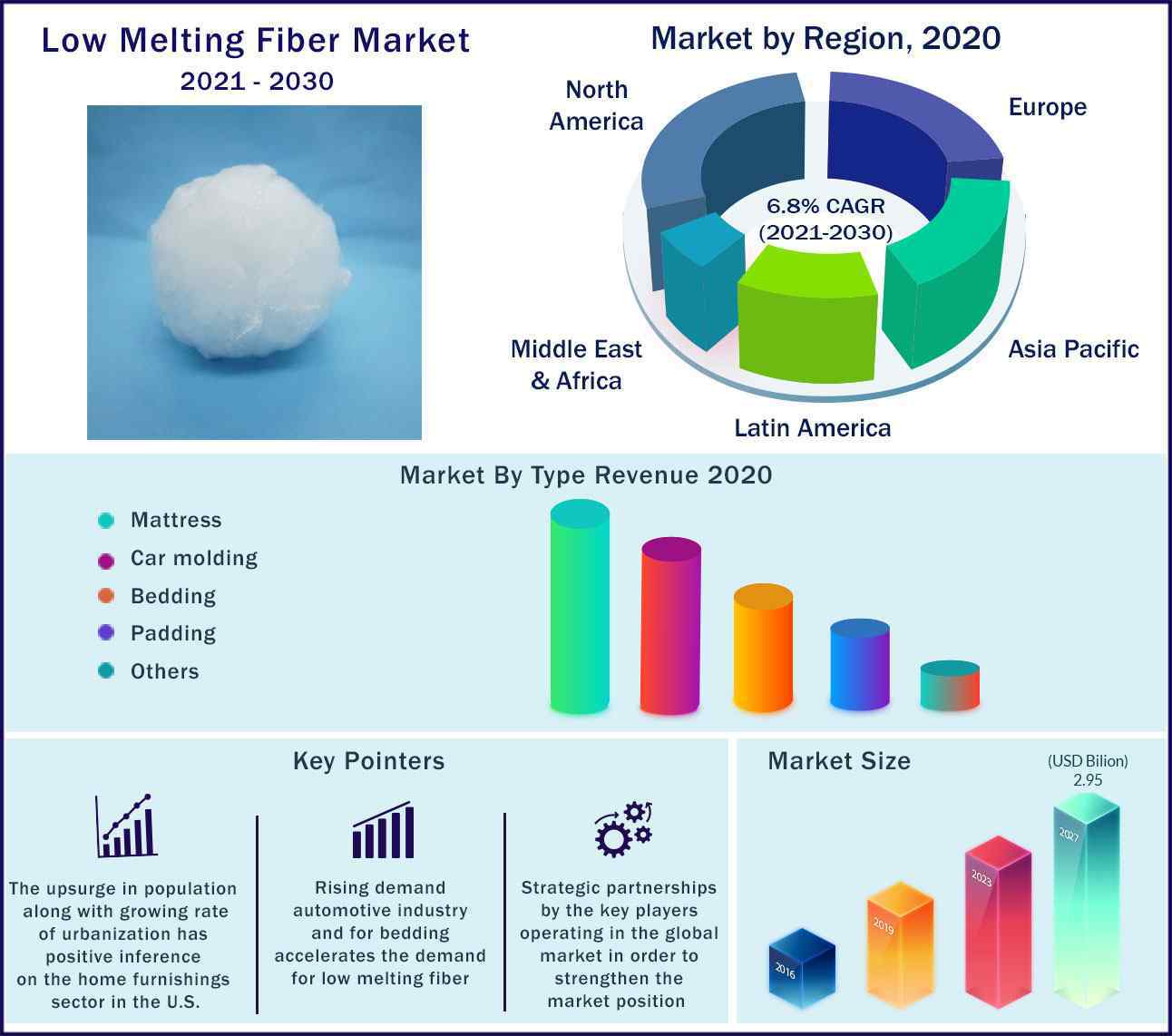 Top Players contending in the Market:
Currently, Huvis is the global leader, and grasps over 30% market share in terms of production. Huvis, is the largest polyester company in Korea and was formed in 2000 when Samyang Corporation and SK Chemical divided their fabric divisions. Currently, the world's largest low melt fiber company manufactures around 40% low melting fiber across the globe and exports to nearly 80 countries such as North America, Europe. The global low melting fiber sector has high concentration. The main manufacturers are concentrated in China, and Korea including Toray Chemical Korea, Huvis, Far Eastern New Century, XiangLu Chemical Fibers and Nan Ya Plastics.
Leading competitors operating in global Low Melting Fiber market are as follows:
Huvis
Taekwang
Toray Chemical Korea
Hickory Springs
Ningbo Dafa
Yangzhou Tianfulong
Nan Ya Plastics
XiangLu Chemical Fibers
In order to better recognize the current status of acceptance of Low Melting Fiber, and policies adopted by the foremost countries, Precedence Research predicted the future evolution of the Low Melting Fiber market. This research study bids qualitative and quantitative insights on Low Melting Fiber market and assessment of market size and growth trend for potential market segments.
Key Market Developments:
Huvis a leading key player in the global low melting fiber industry established its joint venture in the United States along with the Indorama Ventures, in the year 2018. This joint venture is attributed to achieve leading position in the low melting fiber industry in the near future.
Major Market Segments Covered:
By Type
Melting Point ≤130
Melting Point >130
By Application
Mattress
Car molding
Padding
Bedding
Others
By Geography
North America
Europe

Germany
France
United Kingdom
Rest of Europe

Asia Pacific

China
Japan
India
Southeast Asia
Rest of Asia Pacific

Latin America

Brazil
Rest of Latin America

Middle East & Africa (MEA)

GCC
North Africa
South Africa
Rest of Middle East & Africa