The global abaca fiber market size was reached at USD 0.6 billion in 2022 and it is projected to surpass around USD 2.3 billion by 2032, expanding at a CAGR of 14.38% from 2023 to 2032.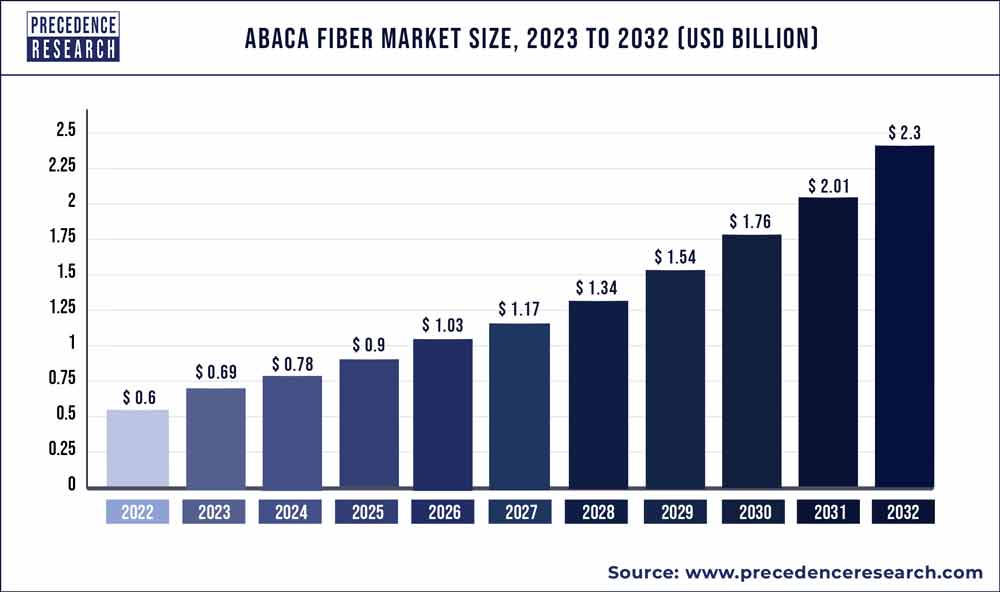 Market Overview:
The market is anticipated to be driven by the quickly expanding use of abaca fiber in the expanding pulp and paper industry for products like disposable tea and coffee bags, disposable medical and food papers, and cigarette filter papers.
Because of the product's superior high mechanical strength and long fiber length resistance to salt-water damage, there has been a rise in the need for it in recent years in the manufacture of curtains, paper, clothing, screens, and furnishings. This requirement is anticipated to continue driving market growth. In addition, the market is expected to expand as more people worldwide adopt products.
As natural fibers are increasingly used in the production of cars, the use of abaca fibers, mainly in the automotive industry, is also expanding. In the automotive industry, these fibers are used in various applications, such as filler material for bolster and exterior semi-structure components and interior trip parts to replace glass fiber in reinforced plastic elements.
Because abaca fibers are becoming more widely used in various industries, including medical fabric, automotive, paper, and handicraft industries, demand for them has increased globally in recent years. Low productivity, though, has been present in the market and hasn't been sufficient to meet demand.
Over the projected period, the pulp and paper sector is predicted to dominate all other application segments. Abaca fiber specialty papers are thin and have high tensile strength. Abaca fibers are preferred by businesses in the paper and pulp industry for uses like tea bags, currency, large sausage casings, security papers, and cigarette and filter papers because of these qualities.
Due to the growing demand for natural fibers, the abaca fiber industry is anticipated to grow in importance over the forecast period. Throughout the forecast period, consumers' demand for abaca fiber will be driven by superior quality and strength.
Report Scope of the Abaca Fiber Market
| | |
| --- | --- |
| Report Coverage | Details |
| Market Size in 2023 | USD 0.69 Billion |
| Market Size by 2032 | USD 2.3 Billion |
| Growth Rate from 2023 to 2032 | CAGR of 14.38% |
| Largest Market | Asia Pacific |
| Base Year | 2022 |
| Forecast Period | 2023 to 2032 |
| Segments Covered | By Product |
| Regions Covered | North America, Europe, Asia-Pacific, Latin America and Middle East & Africa |

Market Dynamics:
Drivers
The growth and demand for abaca fiber in various applications are being fueled by several market factors. Among some of the key factors are:
Sustainability and eco-friendliness: Natural, biodegradable, and renewable abaca fiber is a resource that is kind to the environment. The demand for abaca fiber has grown as more people and businesses look for eco-friendly substitutes for synthetic materials.
High strength and durability: Due to its high strength and durability, abaca fiber is an excellent choice for products like ropes, twines, and another cordage that must be strong and resilient. This has increased the demand for abaca fiber in the transportation, construction, and maritime sectors.
Unique properties and characteristics: Abaca fiber is desirable for specialty paper products, textiles, and luxury goods due to its distinctive qualities, including luster, texture, and flexibility. As a result, abaca fiber is now more in demand in high-end clothing, specialty paper, and other luxury markets.
Growing demand for specialty paper products: Teabags, money paper, filter paper, and other specialty paper goods are made with abaca fiber. Abaca fiber demand and the need for these goods are anticipated to rise.
Government support: Many governments of abaca-producing nations, including the Philippines, offer support for the growth of the abaca industry. This covers funding and subsidies for abaca farmers and producers, as well as research and development. The market for abaca fiber has grown thanks to this support.
Various industries and applications comprise a broad range of market drivers for abaca fiber. The demand for strong, long-lasting, and distinctive materials is expected to increase as consumers and businesses emphasize sustainability and eco-friendliness. The abaca fiber market is predicted to grow and prosper.
Restraint:
Limited availability: The small scale of its production restrains abaca fiber's marketability. This is because abaca plantations are mainly found in the Philippines and other Southeast Asian nations, which restricts the supply and production of abaca fiber.
Competition from synthetic fibers: Abaca fiber can be produced more cheaply and efficiently than synthetic fibers like nylon and polyester. Due to their increased use and popularity in numerous applications, the demand for abaca fiber has decreased.
Labor-intensive production: Abaca fiber is more expensive than synthetic fibers because it requires a labor-intensive production process, and this restricts its application to mass-produced goods and lowers its marketability.
Limited demand: Abaca fiber is primarily utilized in niche markets, including upscale apparel and specialty paper goods. Due to the reduced demand for fiber, it is challenging for producers to increase production and lower production costs.
Vulnerability to weather conditions and pests: Due to their susceptibility to weather and pests, abaca plants can produce less and lower-quality fiber. This could result in quality problems and a need for more supply, lowering the market's demand for fiber.
Opportunity
Sustainable and eco-friendly: Abaca fiber is a sustainable, biodegradable material that can be composted. Abaca fiber can be used in a greater variety of products as consumer demand for eco-friendly and sustainable goods rises.
High-strength and durability: Abaca fiber is renowned for its strength and durability, making it the perfect material for ropes, twines, and other cordage that must be strong and resilient.
Niche markets: Because of its distinct texture, durability, and luster, abaca fiber has found niche markets in the fashion and luxury industries. Abaca fiber producers now have a chance to go after premium textile and fashion markets.
Growing demand for specialty paper products: Producing specialty papers like filter paper, currency paper, and tea bags uses abaca fiber. There is potential for abaca fiber to be used more frequently in these applications as the demand for these goods increases.
Government support: Abaca-producing nations' governments, like those in the Philippines, support the growth of the abaca industry. This includes funding and subsidies for abaca farmers and producers, as well as research and development, which can help to increase the market for abaca fiber.
The market opportunities for abaca fiber are wide-ranging and cover a variety of sectors and uses. Abaca fiber is poised to take a more significant role in the global fiber market as more businesses and consumers look for eco-friendly and sustainable alternatives to synthetic materials.
COVID-19 Impact:
The beverage and food sector is suffering tremendous losses due to the Covid-19 pandemic, further harming the global economy. The transportation network and the raw material supply have both been further hampered. The disruptive value chain has adversely affected the raw material supply, affecting the market expansion for abaca fiber. Moreover, since more people are purchasing goods from online retailers as economies plan to recover, the requirement for abaca fiber is expected to increase.
Companies that produce food and beverages also take safety precautions to combat the coronavirus, including restricting direct contact with delivery people and visitors, promoting, and strengthening good hygiene practices, conducting thorough sanitation, and avoiding personnel contact during shift changes. With all these factors, it can be assumed that the demand for these products will increase in the post-pandemic period.
Segments Insight:
Product Insights
The paper and pulp product segment dominated the industry with more than 83% revenue growth in 2022. This explains the increased need for non-wood fibers as raw materials for specialty paper applications. The superior strength-to-weight ratio of specialty paper made with abaca fiber makes it highly functional for making money, tea bags, and security papers.
To properly understand the yield of pulp, the characteristics of pulping, and the quality of abaca fibers, development activities, and active research are taking place. The findings from the study results can provide an accurate depiction of the potential and uses of abaca fibers for the manufacture of paper and pulp.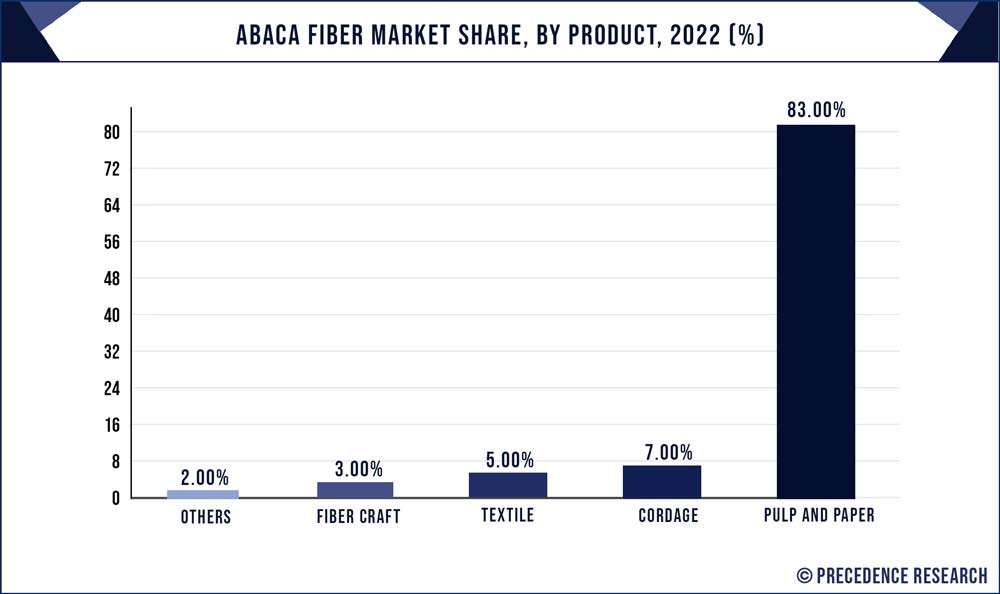 Due to the growing popularity of advanced biomaterials in fashion textiles, the textile product segment is also anticipated to experience a substantial operating income CAGR of 12.3% over the projected period. The most recent fashion in interior decorating techniques for commercial and residential spaces is also anticipated to increase the requirement for abaca fiber in the textile industry.
Environmental issues have compelled several industry executives to concentrate on creating "green" products over the last few years. Industries now use biomaterials in their production technologies to achieve sustainability goals. Abaca fibers are expected to see growth opportunities in the textile industry because of the growing need for advanced, sustainable fibers.
Regional Insights:
Due to the increasing use of these fibers in a variety of end-use industries, automotive, specialty paper, including healthcare, handicraft, and textile, as well as their strong mechanical properties, long length, durability, and sustainability, Asia Pacific dominated the industry and accounted for the highest revenue share of around 65% in 2022.
With the Philippines holding a market share of more than 85% worldwide, the region is the most significant worldwide supplier of abaca fibers. Public spending in Japan and the Philippines to support abaca cultivation practices and boost fiber manufacturing capacity is also anticipated to positively impact market expansion in the future.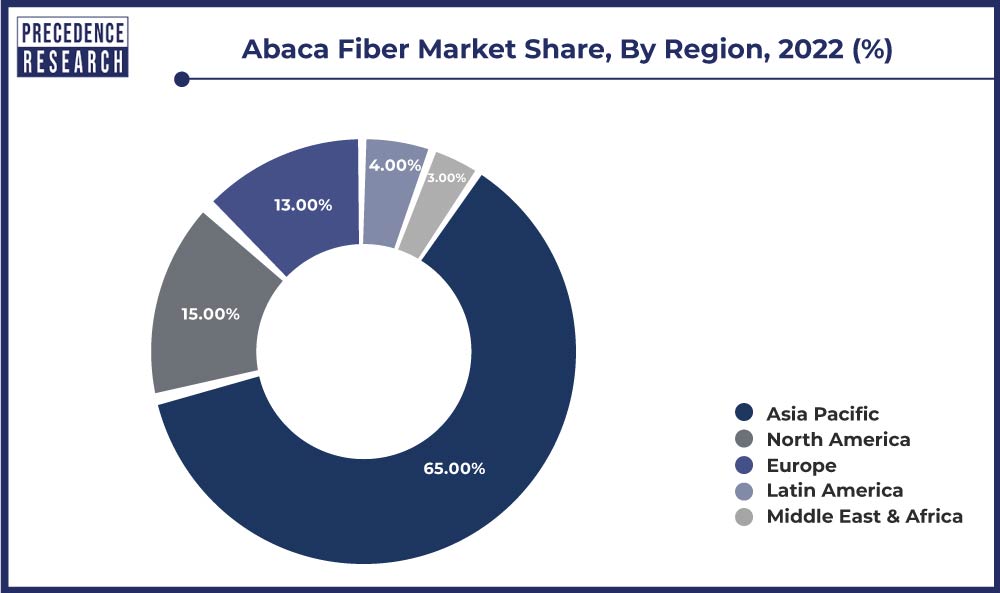 Due to the increasing use of fibers in numerous application industries, such as automotive, beverages and food, and specialty papers, due to their high mechanical strength, flexibility, durability, and long length, the market in Europe is anticipated to experience a remarkable revenue-based CAGR of 14.9% from 2023 to 2032.
Additionally, it is anticipated that the expansion of the fiber market will be aided by the European nations' beneficial trade policies for importing abaca and other natural fibers. Major German auto manufacturers are using abaca fibers for automotive parts like headliners, trunk components, rear cargo shelves, and thermal insulation to lighten the weight of the entire vehicle and improve fuel economy.
Key Market Players:
M.A.P. Enterprises
DGL Global Ventures LLC
Specialty Pulp Manufacturing, Inc. (SPMI)
Yzen Handicraft Export Trading
Terranova Papers
Ching Bee Trading Corporation
Sellinrail International Trading Compan
Peral Enterprises
Segments Covered in the Report:
(Note*: We offer reports based on sub-segments as well. Kindly, let us know if you are interested)
By Product
Pulp & Paper
Cordage
Textile
Fiber Craft
Others
By Geography
North America
Europe
Asia-Pacific
Latin America
The Middle East and Africa