The global carbon fiber market size was exhibited at USD 2.99 billion in 2022 and it is expected to hold around USD 5.83 billion by 2032, poised to grow at a CAGR of 6.9% between 2023 and 2032.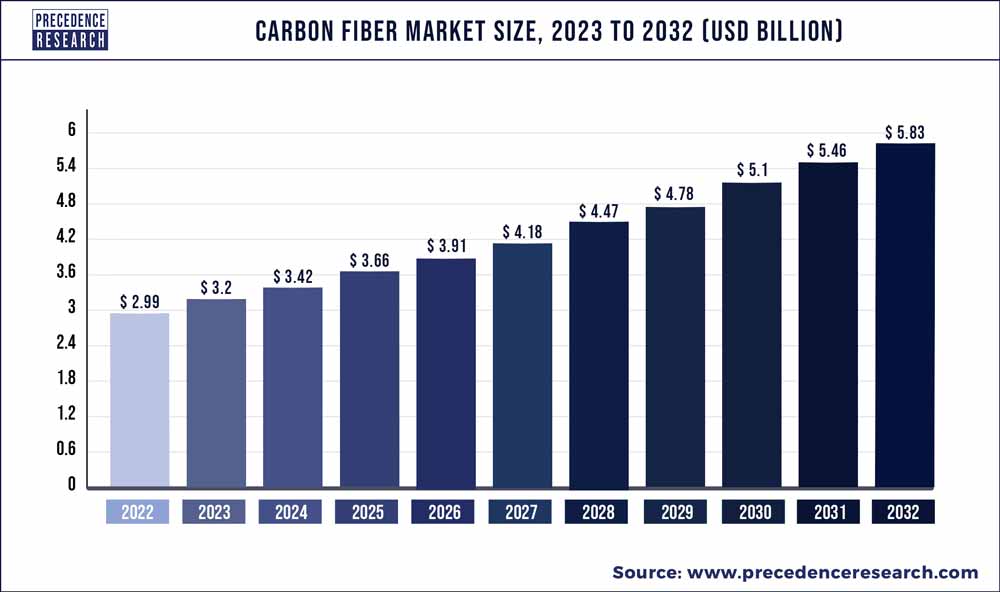 Key Takeaways:
Europe region dominated the market in 2022.
By Raw Materials, the PAN segment is projected to grow at a significant CAGR between 2023 and 2032.
By Tow Size, the small tow is expected to expand at a significant and fastest-growing segment between 2023 and 2032.
By Application, the wind turbines and aerospace segment dominated the carbon fusion market in 2022.
Carbon fiber has come a long way, influencing nearly every industry, from aerospace to sporting goods, automotive, construction, and wind energy. Carbon fiber has several advantages over other fibers (glass and aramid fiber), including high tensile strength, stiffness, low density, and chemical resistance, leading to increased penetration in various industries.
The global demand for carbon fiber is high, owing to the wide range of sizes (two counts) and the available mechanical capabilities (strength, stiffness). This necessitates a closer examination of the end markets that use carbon fiber. However, according to Roberts (industry veteran and proprietor of AJR Consultancy), total global carbon fiber demand in 2019 was 123,300 metric tons, with the majority of that, 85,000 metric tons, coming from the industrial sector, which includes wind energy, automotive, pressure vessels, and infrastructure. Aerospace, which uses the highest quality carbon fiber, consumed 24,500 metric tons, while sports and leisure consumed 13,800 metric tons.
Furthermore, the increased demand from FCEVs and the increased level of investment in the development of low-cost coal-based carbon fibers will create innovative opportunities for ordinary bearing manufacturers in the future.
Report Scope of the Carbon Fiber Market:
| | |
| --- | --- |
| Report Coverage | Details |
| Market Size in 2023 | USD 3.2 Billion |
| Market Size by 2032 | USD 5.83 Billion |
| Growth Rate from 2023 to 2032 | CAGR of 6.9% |
| Largest Market | Europe |
| Base Year | 2022 |
| Forecast Period | 2023 to 2032 |
| Segments Covered | By Raw Material, By Tow Size, and By Application |
| Regions Covered | North America, Europe, Asia-Pacific, Latin America and Middle East & Africa |

Market Dynamics:
Drivers:
Increase the use of air taxis / Urban air mobility (UAM)
Growing urban populations will cause road congestion and demand for competitive modes of transportation that can alleviate traffic problems and shorten travel times. Air taxis (electric vertical takeoff and landing (eVTOL)) are one of the future modes of transportation that will reduce travel time while maintaining a competitive price. Carbon fiber is used to make structural and interior components in air taxis.
Increased government initiatives and investments by the aviation industry's top players demand air taxis. Moreover, increased development and innovation fuel market growth. Furthermore, the positive impact of products made by numerous startups and top players increases the adoption and growth of air taxis worldwide. For instance, American Airlines invested $25 million in Vertical Aerospace, a U.K.-based company, with an order for 50 aircraft.
Increase pressure vessels for hydrogen storage, driving the market growth
Demand for hydrogen-based fuels is increasing as the emphasis on the decarburization of transportation modes grows. Transport (cars, trucks, rail, aerospace, etc.), distribution (mobile pipeline), and hydrogen refueling stations all use hydrogen storage tanks. Pressure vessels (Type IV) for hydrogen storage are becoming more popular in the automotive and aerospace industries. Carbon fiber composites are excellent for constructing Type IV and Type V pressure vessels. The high cost of carbon fiber poses a challenge in these applications, particularly as demand for hydrogen tanks proliferates.
The US Department of Energy is leading research efforts to make hydrogen-powered vehicles a cost-effective, environmentally friendly, and safe mode of transportation. Under the Energy Policy Act of 1992, hydrogen is classified as an alternative fuel and is eligible for alternative fuel vehicle tax credits.
Restrains:
Chemical separation agents, chemical recovery agents, and efficient catalyst carriers are in high demand in the industrial sector
The cost of chemical separation and the catalyst carrier process is rising, increasing demand for cost-effective and dependable solutions. Catalysts such as platinum, palladium, and rhodium are expensive components for many chemical reactions, forcing industries to use them wisely. In addition, costly solvent recovery is a significant challenge for enterprises.
Moreover, disruptions in supply chains and fluctuating prices of ACF raw materials, such as synthetic fiber, which is non-degradable and tends to bind with particles of dangerous chemical pollutants, such as flame retardants and pesticides, would have an impact on the market expansion. Developing an environmentally friendly process is a significant challenge for the activated carbon fiber market.
Opportunities:
Increasing demand for fuel sales provides future opportunities
Fuel cell demand is driven by rising demand for portable devices and increasing interest in hydrogen fuel cell vehicles in developing countries. Carbon fiber composites are essential components of the fuel cell stack. Carbon fiber composites make significant components such as bi-polar plates and gas diffusion layers, which reduce system weight and part counts and increase mechanical strength and corrosion resistance. For instance, According to JATO Dynamics data, global sales of hydrogen fuel-cell cars will total 15,500 units in 2021.
Covid-19 Impact:
The coronavirus (covid-19) pandemic struck the world in 2020, and the carbon fiber industry was no exception. In 2020, the global carbon fiber industry declined by 9.7%. COVID-19 had the most significant impact on the aerospace and automotive industries.
The carbon fiber industry performed well and showed positive signs at the start of 2021. However, due to supply chain issues and lower demand from the aerospace and automotive industries, overall carbon fiber demand will grow by only 4.4% by the end of 2021. In 2021, the major driving factors for the carbon fiber industry will be increased wind MW installation and rising demand for premium sports equipment.
Aerospace, one of the major end-use industries for carbon fiber, was severely impacted in 2020 and 2021. Carbon fiber-based composite parts are widely used in aircraft such as the A350 and B787, whose production is expected to drop by 45% by 2020. Before the pandemic, the A350 and B787 were built at a rate of 12 and 14 per month.
However, due to the travel ban and other COVID-related crises, production of these aircraft has been reduced to two to three per month in 2021. As a result, carbon fiber demand for aerospace fell by 33% in 2021, following a 46% drop in 2020.
Segments Insight:
Raw Material Insights:
PAN segment dominated the market in 2022
Polyacrylonitrile (PAN) or pitch are the primary raw materials used in producing carbon fiber. PAN's superior properties are expected to increase acceptance in various applications. The global PAN market is expected to grow at a remarkable CAGR, creating a demand for more than 200 kilotons. Due to the growing demand for higher strength-to-weight ratio carbon fiber, PAN precursor is widely used due to its superior material properties. PAN's lower cost than pitch-based carbon fiber is also expected to help the segment grow.
Tow Size Insights: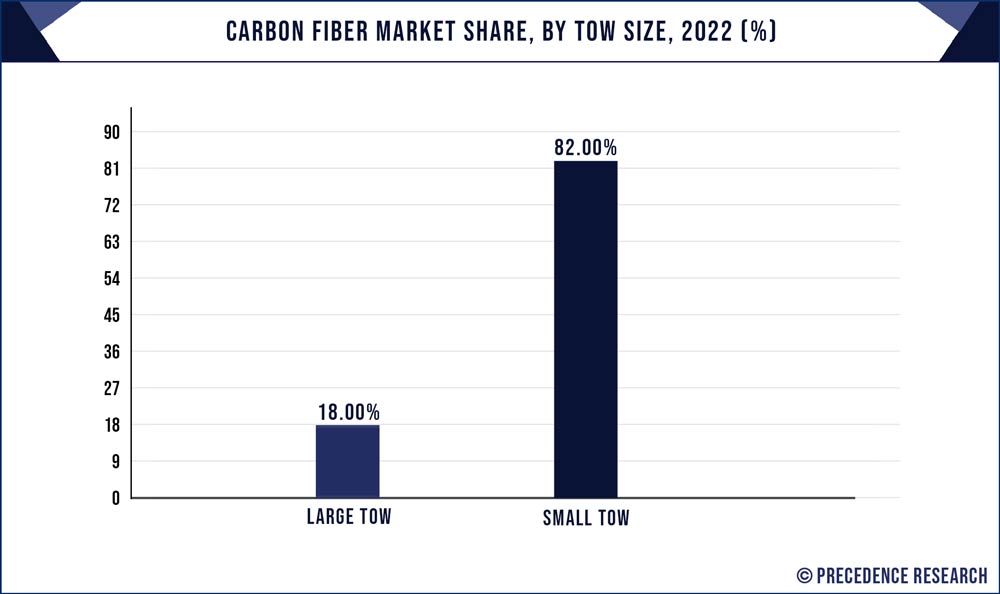 Small tow segment dominated the market in 2022
Carbon fiber is made up of yarns that are 92% carbon. A tow is formed by grouping together some parallel filaments. Tiny tow fibers have filaments with up to 24,000 strands. Tiny tow fibers are commonly used in the aerospace industry due to their high tensile strength and modulus when composites are used in various applications. Small-tow fibers are more expensive than large-tow fibers. The small tow is expected to be the most significant and fastest-growing segment between 2023 and 2032.
Application Insights:
The wind and Aerospace industry dominate the carbon fusion market
Regarding tons of carbon fiber demand, wind and aerospace are expected to be the top two applications. Wind energy and aerospace accounted for 17% and 27% of the more than 45,000-tonne market in 2021. CF's automotive and pressure vessel applications are also expected to account for a sizable portion of CF demand, which is expected to be around 20% by the end of this decade. Wind energy, aerospace, automotive, and pressure vessels are expected to have lower demand than the described applications highly relevant to EERE's mission (oil and gas and civil infrastructure).
Although demand from the aerospace industry was comparable to demand from the wind energy sector in 2021 and 2022 (the two were within 5,000-6,000 tons of each other), demand from aerospace manufacturers is expected to grow at a slower rate than demand from the automotive sector, so that their demand will be roughly equal by 2020. Wind energy applications are expected to grow at the fastest speed.
Regional Insights:
Europe dominated the carbon fusion market in 2022
The carbon fiber industry began in North America, Europe, and Japan, and it remains concentrated in terms of supply and demand. According to current distributions and forecasts, Europe will be the leading region in terms of tones CF demanded in 2022, with an estimated demand of 16,650 tons, or approximately 37% of the global total. In 2022, Europe's share of total demand was expected to increase by more than 43%. Asia was the second leading region in 2022, with North America coming third. However, North America is expected to be nearly equal to Asia in terms of CF demand by 2022.
Asia and Japan are expected to lose their share of global CF demand. Over this time, Europe, North America, and the rest of the world have increased their market share. However, according to the most recent forecast, Asia and Europe will account for 35% and 32% of total global demand, respectively, compared to 27% in North America by 2024.
Strategic Considerations for Carbon Fiber Market Players
Carbon fiber has found use in various industries and applications, ranging from aerospace to construction. Due to carbon fiber's high strength and stiffness characteristics, any moving part is a good target for carbon fiber composites to drive fuel efficiency and other performance benefits. Emerging carbon fiber applications in robots, drones (UAV), 3D printing, air taxis, fuel cells, hydrogen tanks, and other areas will drive carbon fiber growth in the future.
The carbon fiber industry is ever-changing and dynamic. Successful industry participants must be masters of innovation, change, and adaptation. To maintain this status, they must be aware of current trends. Carbon fiber will have promising applications in the automotive, aerospace, and sporting goods industries. The carbon fiber market is expected to grow at a 5.5% CAGR between 2022 and 2032. The growing demand for high-performance and lightweight composite materials and increasing performance requirements in end-use industries are driving this market. Carbon fiber market participants can improve their ability to use alternative precursors to reduce manufacturing costs. Players can concentrate on pan-based precursors that are expected to drive future trends.
Recent Development:
In 2022, Teijin Limited announced a collaboration with Fuji Design Co. Ltd, a recycled carbon fibers manufacturer based in Japan, to establish a business for producing, supplying, and commercializing carbon fiber-reinforced plastic products derived from recycled carbon fibers using a low environmental impact process.
In 2022, Hexcel and Archer Aviation Inc. signed a letter of intent outlining a potential partnership to supply high-performance carbon fiber material for Archer's production aircraft.
In 2022, Dassault signed a long-term contract with Hexcel to supply carbon fiber prepreg for the Falcon 10X program. This is the first Dassault business jet program to use advanced carbon fiber composites in the fabrication of its aircraft wings.
Company Profiles and Competitive Intelligence
The key players operating in the carbon fiber market
Companies in the market compete based on the quality of their products. Major players in this market are focusing on expanding their manufacturing facilities, investing in R&D, developing infrastructure, and leveraging integration opportunities across the value chain. Carbon fiber companies can cater to increasing demand, ensure competitive effectiveness, develop innovative products and technologies, reduce production costs, and expand their customer base by implementing these strategies. Carbon fiber companies profiled in this report include the following.
Toray Industries Inc. (Japan)
SGL Group (Germany)
Hexcel Corporation (U.S.)
Mitsubishi Rayon Co. Ltd. (Japan)
Teijin Limited (Japan)
Plastics Corporation (Taiwan)
Solvay (Belgium)
Jiangsu Hengshen Co. Ltd. (China)
Hyosung (South Korea)
BASF SE
SGL Group
Teijin Limited
Mitsubishi Rayon Co., Ltd.
Hexcel Corporation
Segments Covered in the Report:
(Note*: We offer report based on sub segments as well. Kindly, let us know if you are interested)
By Raw Material
By Tow Size
By Application
Automotive
Aerospace & Defense
Wind Turbines
Sports equipment
Molding & Compounding
Construction
pressure vessels
By Geography
North America
Europe
Asia-Pacific
Latin America
The Middle East and Africa