The global carbon steel market was estimated at US$ 94 0billion in 2022 and is projected to hit US$ 1319.52 billion by 2032, poised to grow at a CAGR of 3.50% during the forecast period 2023 to 2032.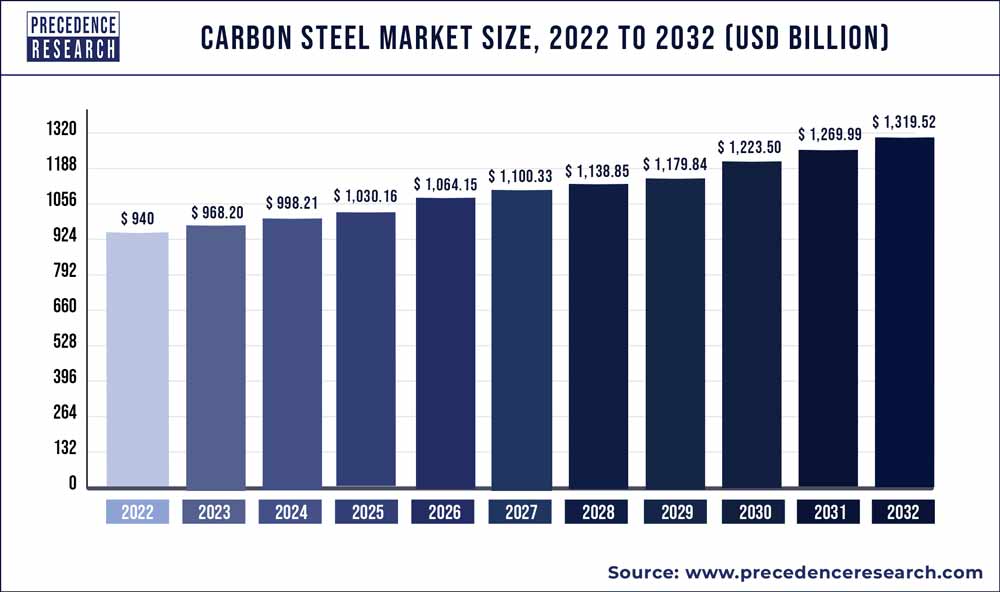 Access our Premium Real Time Data Intelligence Tool, Visit: Precedence Statistics

Carbon Steel Market Size in the Asia Pacific 2023 To 2032
The Asia Pacific carbon steel market was valued at US$ 582.80 billion in 2022 and is projected to hit US$ 826.05 billion by 2032, at a CAGR of 3.60% between 2023 to 2032.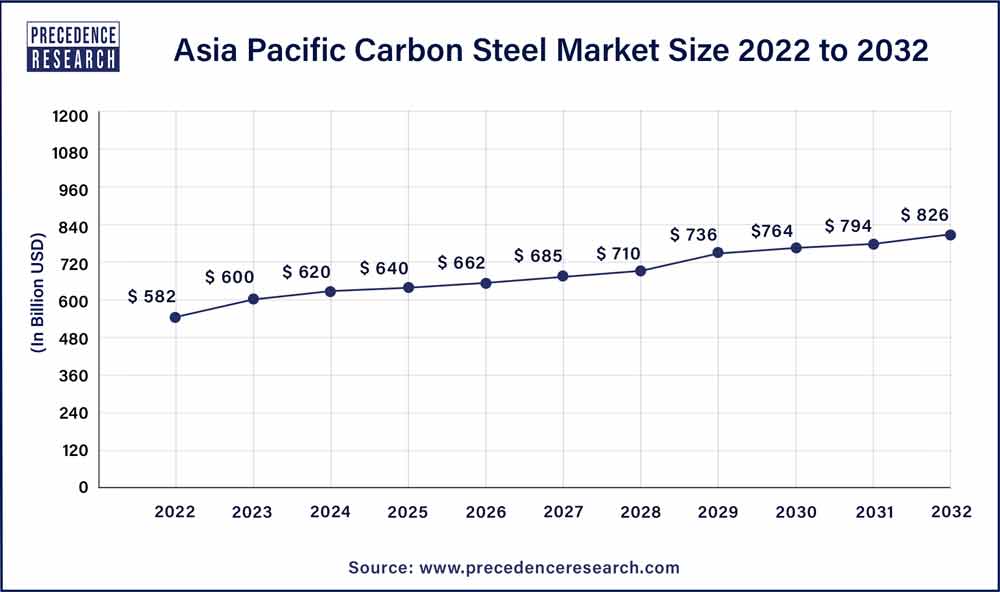 Based on the region, the Asia-Pacific segment dominated the global carbon steel market in 2020, in terms of revenue and is estimated to sustain its dominance during the forecast period. The shipbuilding segment expansion in recent years, together with high industrial output from the construction and automotive industries, is expected to contribute to increased demand for the commodity.
On the other hand, the North America is estimated to be the most opportunistic segment during the forecast period. The carbon steel demand in the U.S. has benefited from strong economic development fueled by government-led fiscal stimulus, resulting in high company confidence. This resulted in a significant increase in construction spending in the North America region.
Growth Factors
Carbon steel is an alloy made up of steel and carbon concentration of at least 2.1%. The carbon steel is classified into three types such as low carbon steel, medium carbon steel and high carbon steel. Carbon steels are typically soft and have a low compressive strength. They do, however, have a high ductility, making them ideal for machining and welding, as well as being inexpensive in nature.
The automobile body components, structural shapes such as angle iron and I-beams, pipes, building and bridge components, and food cans all use low carbon steels. The medium-carbon steels are commonly used for railway tracks, train wheels, and equipment parts that require the high strength, wear resistance, and toughness. The high-carbon steels are utilized in cutting tools, springs, great-strength wire because of their high wear resistance and hardness.
The spheroidizing, complete annealing, isothermal annealing, quenching, martempering, and a variety of other techniques can all be used to improve the characteristics of carbon steel. By tempering carbon steel with the inherent qualities of a specific type of carbon steel, it can be employed in a variety of end-user industries. The weldability factor is lower in carbon steel with a high carbon content.
One of the most extensively utilized end-user industry alloys in carbon steel. The inclusion of carbon in steel, on the other hand, boosts its strength and hardness, making it a desirable material for producers in the automotive and construction industries.
The rising gross domestic product (GDP) of developing countries in Asia-Pacific, Latin America, and the Middle East is resulting in rapid urbanization, which is boosting construction activity. This is helping to drive up demand for carbon steel, which is used to make small utensils and wires. The rise in urbanization and industrialization has resulted in the growth of carbon steel market during the forecast period.
The carbon steel is used in a variety of products, including automobile parts. Aside from the wide range of uses, technological advancements that have resulted in the development of higher quality carbon steel are also boosting demand.
The carbon steel's ductility and forming qualities make it suitable for automobile body structures and trunk closures, as well as wear resistant gears. The medium carbon steel is also employed in the automotive industry since it has higher strength and endurance than low carbon steel but less ductility. The carbon steel use in the automotive industry is predicted to increase as the emphasis on lightweight vehicles grows.
However, one disadvantage of carbon steel is preventing wider adoption. The welding of carbon steel is the challenging part. Carbon content reduces the steel's temperature resistance and melting point, lowering the steel's weldability.
Scope of the Carbon Steel Market Report
| | |
| --- | --- |
| Report Highlights | Details |
| Market Size in 2023 | USD 968.20 Billion |
| Growth Rate From 2023 to 2032 | CAGR of 3.50% |
| Largest Market | Asia Pacific |
| Fastest Growing Market | North America |
| Base Year | 2022 |
| Forecast Period | 2023 to 2032 |
| Segments Covered | Type, Application, Region |
| Comnpanies Mentioned | JFE Steel Corporation, HBIS Group, AK Steel Corporation, Evraz PLC, Baosteel Group, ArcelorMittal, Nippon Steel Corporation, United States Steel, Curtis Steel Co. Ltd, Omega Steel Company |
Type Insights
Based on the type, the low carbon steel dominates the carbon steel market during the forecast period. The carbon content is less than 0.25% by weight in low carbon steel. The low carbon steel can be formed into a variety of shapes, from structural beams to flat sheets. It has ductility, malleability, and the ability to form cold. When compared to its substitutes, it is cheap in nature.
On the other hand, the medium carbon steel is expected to grow at rapid pace during the forecast period. The carbon and manganese content of medium carbon steel is more than that of low carbon steel, making it stronger but more difficult to shape. It is popular in the production of machine and automotive parts due to its properties such as high strength and good weldability.
Application Insights
Based on the application, the shipbuilding segment dominated the market with highest market share during 2022. Steel is used in shipbuilding because of its mechanical characteristics and affordable price. The carbon steel is critical in the shipbuilding industry, but declining industry growth and a preference for replacements such aluminum alloys are expected to limit product use in the shipbuilding sector throughout the forecast period.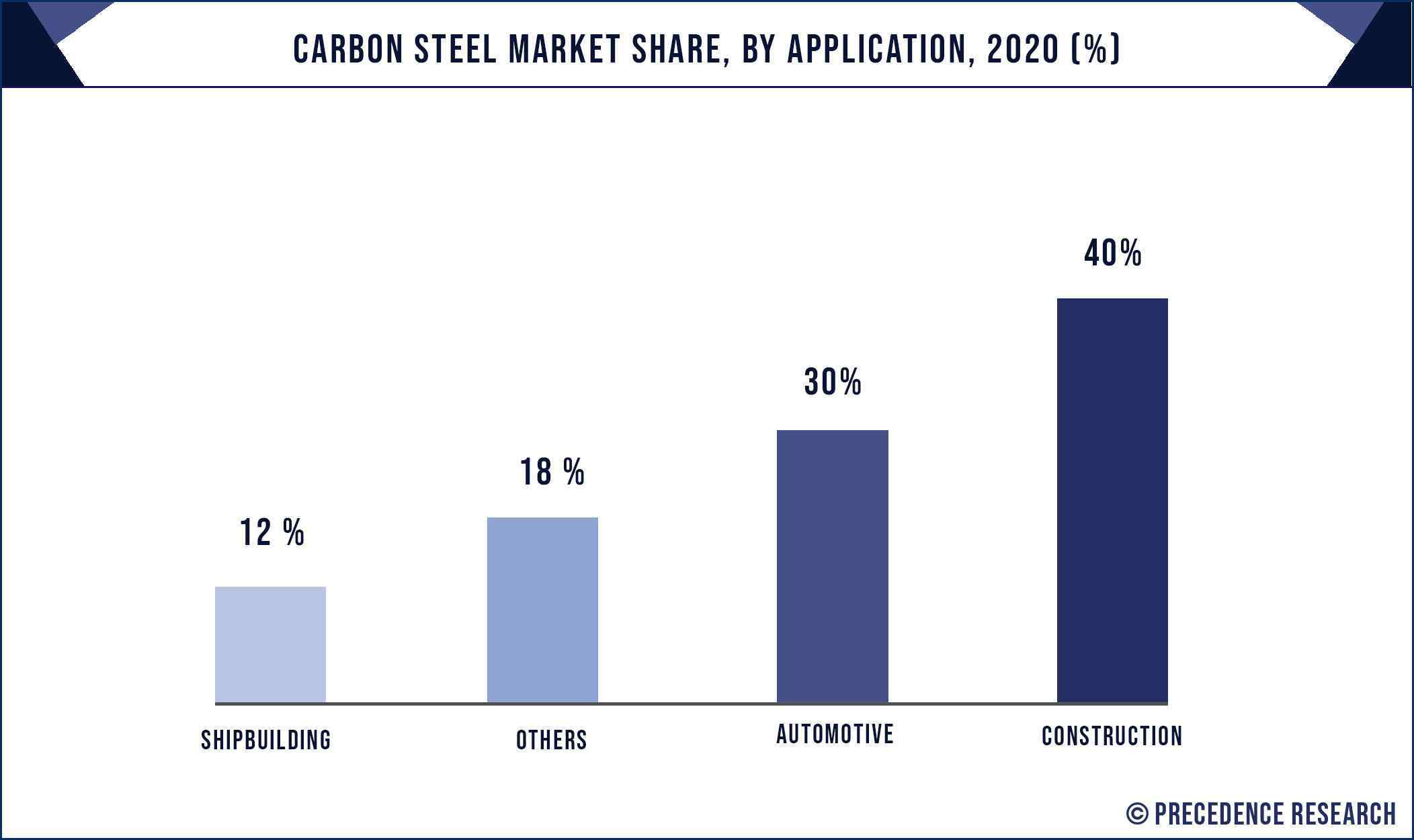 On the other hand, the construction segment is fastest growing segment in the carbon steel market. The low carbon steel has great forming and welding capabilities, as well as benefits such as no bending fractures, flexibility, ductility, plasticity, and earthquake resistance, making it a popular choice in the construction industry. The strength of carbon steel in severe scenarios is its primary advantage, since it protects the building from falling and saves the residents.
Key Companies & Market Share Insights
The market is moderately fragmented with the presence of several local companies. These market players are striving to gain higher market share by adopting different marketing strategies, such as new product launch, investments, partnerships, and mergers & acquisitions. The companies are also spending on the development of improved products. Moreover, they are also focusing on competitive pricing.
In February 2020, the Nippon Steel Corporation acquired Koppers Carbon Chemical Company Ltd. (KJCC).
The various developmental strategies such as acquisition, business expansion, investments, new product launches, partnerships,joint venture, and mergers fosters market growth and offers lucrative growth opportunities to the market players.
Some of the prominent players in the global carbon steel market include:
JFE Steel Corporation
HBIS Group
AK Steel Corporation
Evraz PLC
Baosteel Group
ArcelorMittal
Nippon Steel Corporation
United States Steel
Curtis Steel Co. Ltd
Omega Steel Company
Segments Covered in the Report
By Type
Low Carbon Steel
Medium Carbon Steel
High Carbon Steel
By Application
Shipbuilding
Automotive
Construction
Infrastructure and Transport
Others
By Geography
North America
Europe
Asia-Pacific

China
India
Japan
South Korea

Rest of the World