The global activated carbon market size was estimated at USD 5.7 billion in 2021 and is expected to hit around USD 12.6 billion by 2030, poised to grow at a compound annual growth rate (CAGR) of 9.21% from 2022 to 2030.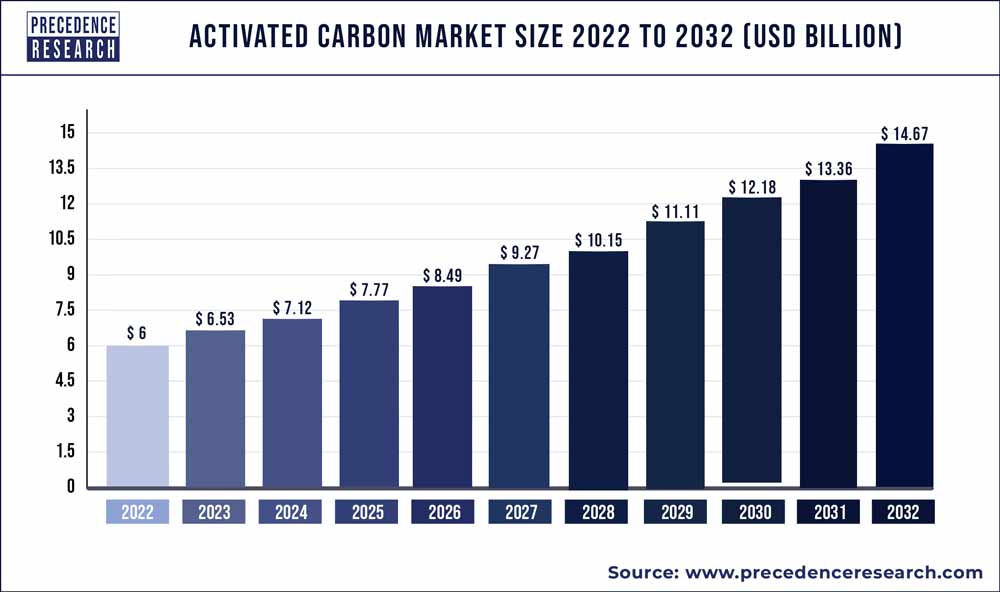 Key Takeaways:
The automotive segment is expected to grow at a CAGR of 7.9% from 2022 to 2030
By type, the powdered activated carbon (PAC) market was reached at USD 3,256.41 million in 2021 and is expected to grow at a CAGR of 3.3% 2022 to 2030.
The granular activated carbon (GAC) was reached at USD 2,751.17 million in 2021.
By region, Asia Pacific region accounted highest market share of 51% in 2021 and is expected to reach at a CAGR of 7.6% from 2022 to 2030.
An effective adsorbent for purifying, dechlorinating, deodorizing, and decolorizing liquid and vapor applications is activated carbon.
The purpose of activated carbon is to enhance the surface area available for chemical reactions and adsorption. It is treated carbon with tiny, low-volume pores. Processing organic material with a high carbon content yields activated carbon. The primary characteristic of activated carbon is physical adsorption, which makes it helpful for filtering, decaffeinating, metal polishing, medication, removing pollutants, and storing fuel.
A key element that is anticipated to support the market is the rising demand for water treatment techniques as a consequence of standards and laws for enterprises to implement these techniques. As the population has increased and continue to grow, the need for clean water is an essential part of everyone's life. Almost every severe problems are caused by contaminated water hence, the government is working closely with the entities to provide clean and safe water. Thus, the market is expected to grow.
Report Scope of the Activated Carbon Market
| | |
| --- | --- |
| Report Coverage | Details |
| Market Size in 2022 | USD 6.23 Billion |
| Market Size by 2030 | USD 12.6 Billion |
| Growth Rate from 2022 to 2030 | CAGR of 9.21% |
| Base Year | 2021 |
| Forecast Period | 2022 to 2030 |
| Segments Covered | Type, Raw Material, Application, End User, Geography |
| Companies Mentioned | CarbPure Technologies, Boyce Carbon, Cabot Corporation, Kuraray Co., CarboTech AC GmbH, Donau Chemie AG, Haycarb (Pvt) Ltd., Jacobi Carbons Group, Kureha Corporation, Osaka Gas Chemicals Co, Ltd, Evoqua Water Technologies LLC, Oxbow Activated Carbon ALC, Carbon Activated Corporation |

Growth factors
One of the main sources of mercury emissions is coal-fired power stations. The U.S. Environmental Protection Agency's Mercury and Air Toxics Standards (MATS), a provision of the Clean Air Act, have established limitations on the amount of mercury and other toxins that these power plants are permitted to produce. One way for reducing mercury emissions has been found to be activated carbon injection. And while the Mercury and Air Toxics Standards compliance date has since passed and it is unlikely that activated carbon demand will increase significantly in the US, a recent report by the Freedonia Group points out that Western Europe has just started their journey to controlling mercury emissions, which will likely cause increased demand for activated carbon as businesses move to comply with these regulations.
Moreover, demand for activated carbon is being driven by industrializing countries; emerging countries are investing more in infrastructure for clean drinking water, and activated carbon will continue to be an important water filtration technique.
As more industrializing nations battle with serious air pollution problems, industrial air remediation is receiving more attention. As a result, in order to reduce mercury levels, the major industrial economies are increasing their demand for activated carbon. The product's granular variants are anticipated to experience strong demand from the wastewater treatment sector since they efficiently remove organic pollutants and residual disinfectants.
Also, auto industry's revival will have an impact on the demand for activated carbon as well. Canisters with activated carbon are used in vehicles to improve engine performance and reduce hydrocarbon emissions. The necessity for more cars will result in an increase in the demand for this material. Additionally, as people's living standards and disposable income rise, demand for cars rises along with it, which bodes well for the future need for activated carbon. Hence, these factors are supposed to drive the growth of the market across globe.
Type Insights
Granulated Activated Carbon (GAC) is the market leader due to the substantial demand from numerous end-user industries, including water treatment and air & gas filtration. It is useful for eliminating pollutants from liquids, air, and gases because it has a relatively bigger particle size in powdered form. It is used in the food and beverage sector to purge sweets, syrups, drinks, amino acids, and organic acids of contaminants including odor and color. In wastewater treatment, it is also used to get rid of all industrial pollutants, heavy metals, and pesticides. Additionally, its simple regeneration and reusability, which promote market expansion, can be attributed to the increased demand for granulated form.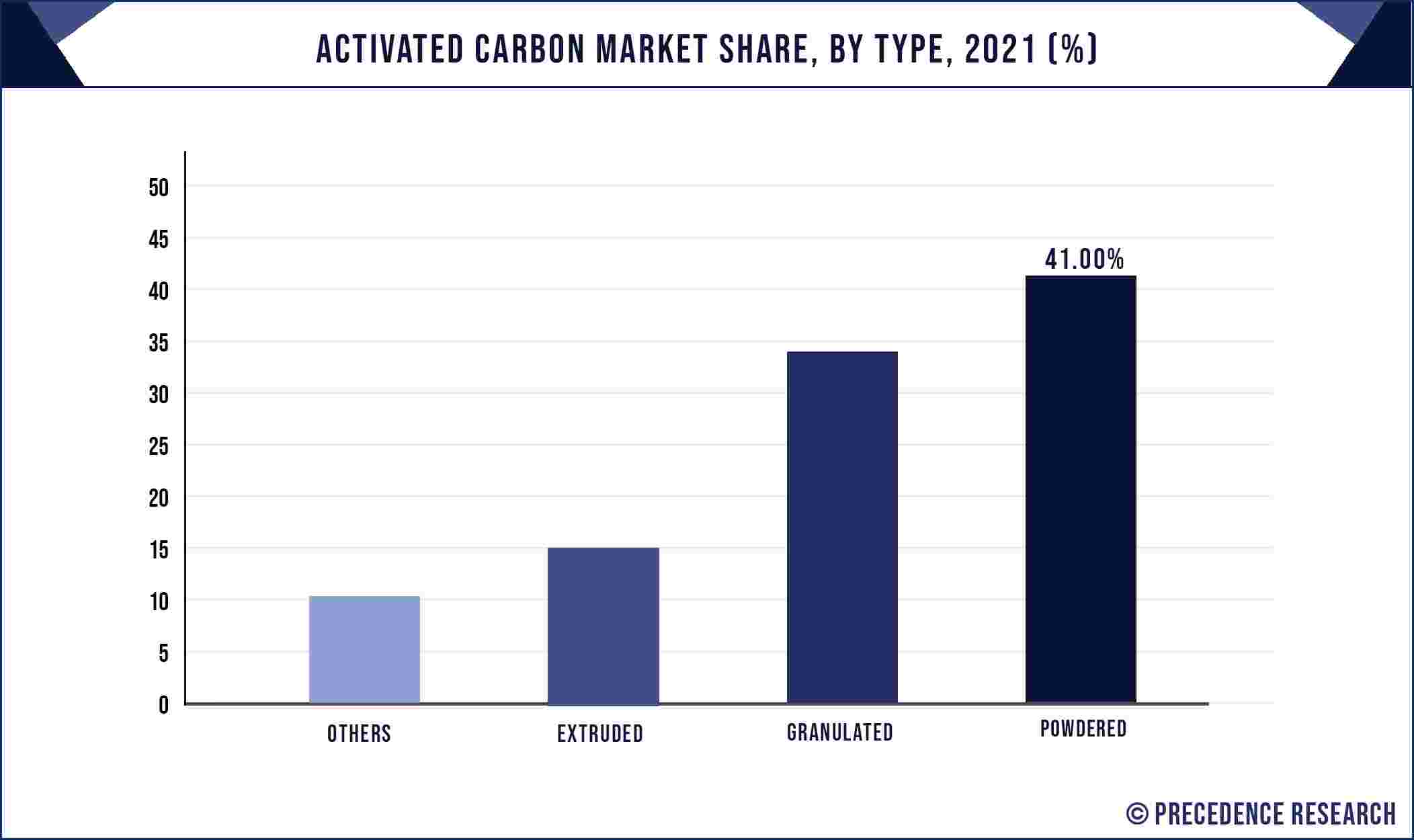 As defined by ASTM, powdered activated carbon (PAC) has particles that are smaller than 0.177 mm, which results in a higher surface-area-to-volume ratio. PAC is used in processes with high flow rates of liquids to reduce capital investment and remove a variety of organic impurities that give color, odor, and taste to wastewater, potable water, and water needed in industrial processes. Consequently, water treatment is where PAC is most commonly used.
Application Insights
During the projected period, the gas phase application segment is anticipated to be the largest. The best method for removing all kinds of volatile organic compounds from the environment is to use activated carbon filters. They also aid in clearing the air of various odors, fumes, and gaseous pollutants. In air purifiers, the HEPA filter, which is intended to catch additional microscopic particles like dust, lint, mold spores, pet dander, and pollen, is frequently used in conjunction with the activated carbon filter. Beyond merely the particulate filtration offered by HEPA filters, an extra layer of filtration is supplied by an activated carbon filter. Moreover, only activated carbon air filters, which are known as volatile organic compounds, can catch VOCs. Both inside and outside of the house, VOCs are produced. It can be caused by household cleansers, paints, smog, air pollution, and other things.
The liquid phase application is projected to move at a constant role. The liquid phase product is often used in water treatment to adsorb harmful chemicals, oils, and organic compounds with odor and taste. It has a high porosity and a big surface area for adsorption, making it frequently employed. The increasing need for water treatment across the globe is a result of the depletion of natural resources and the increase of contaminants. Additionally, the market expansion is anticipated to be supported by the stringent standards imposed to clean industrial wastewater.
Activated Carbon Market Share, By Region, 2021 (%)

| | |
| --- | --- |
| Regions | Revenue Share in 2021 (%) |
| North America | 23% |
| Asia Pacific | 51% |
| Europe | 17% |
| Latin America | 6% |
| MEA | 3% |

Region Insights
The market for activated carbon was dominated by Asia-Pacific. In terms of volume and value, the activated Carbon market in Asia-Pacific is predicted to develop at the greatest CAGR. Due to the rise in demand for the automotive industry, developing nations like China, India, and others have very high demand for activated carbon. The end-use industries, including the food and beverage and pharmaceutical sectors, are driving up demand for activated carbon products. Additionally, it is anticipated that over the course of the projected period, regional market expansion would be driven by the growing water scarcity caused by rising high population economies.
After the Asia Pacific, North America is the region with the greatest market. North America's most developed nations are the U.S. and Canada. In terms of value, the U.S. held the greatest portion of the North American activated carbon market. The three main variables anticipated to have a beneficial impact on the market are an increase in elderly population, rising automotive demand in the region, and rising environmental concerns. Gas phase applications are predicted to follow a similar trajectory, while powdered activated carbon applications are anticipated to have a sharp increase.
Key market developments
Styrene acrylonitrile-based black masterbatch with the name PLASBLAK XP6801D was introduced by Cabot Corporation. The styrenics market will benefit from this formulation. Excellent mechanical qualities, UV resistance, and color performance at lower concentrations are all features of this novel product. Additionally, it uses around 50% less material to perform equally well, lowering the logistics, handling, and other GHG emissions associated with transportation.
Key market players
CarbPure Technologies
Boyce Carbon
Cabot Corporation
Kuraray Co.
CarboTech AC GmbH
Donau Chemie AG
Haycarb (Pvt) Ltd.
Jacobi Carbons Group
Kureha Corporation
Osaka Gas Chemicals Co, Ltd
Evoqua Water Technologies LLC
Oxbow Activated Carbon ALC
Carbon Activated Corporation
Segments covered in the report
(Note*: We offer report based on sub segments as well. Kindly, let us know if you are interested)
By Type
Powdered

Granulated

Extruded

Others
By Raw Material
By Application
By End User
Water Purification

Air Purification

Food & Beverage

Industrial Chemicals

Metal Extraction

Pharmaceuticals

Automotive

Catalyst

Others
By Geography
North America
Europe
Asia-Pacific

China
India
Japan
South Korea
Malaysia
Philippines

Latin America

Brazil
Rest of Latin America

Middle East & Africa (MEA)

GCC
North Africa
South Africa
Rest of the Middle East & Africa