The global water and wastewater treatment market size was estimated at USD 295 billion in 2022 and is expected to hit around USD 572.2 billion by 2032, growing at a CAGR of 6.9% during the forecast period from 2023 to 2032.
Wastewater and water treatment is the procedure of enhancing the quality of wastewater and transforming it into an effluent that can be either recycled or returned to nature with little impact on the environment.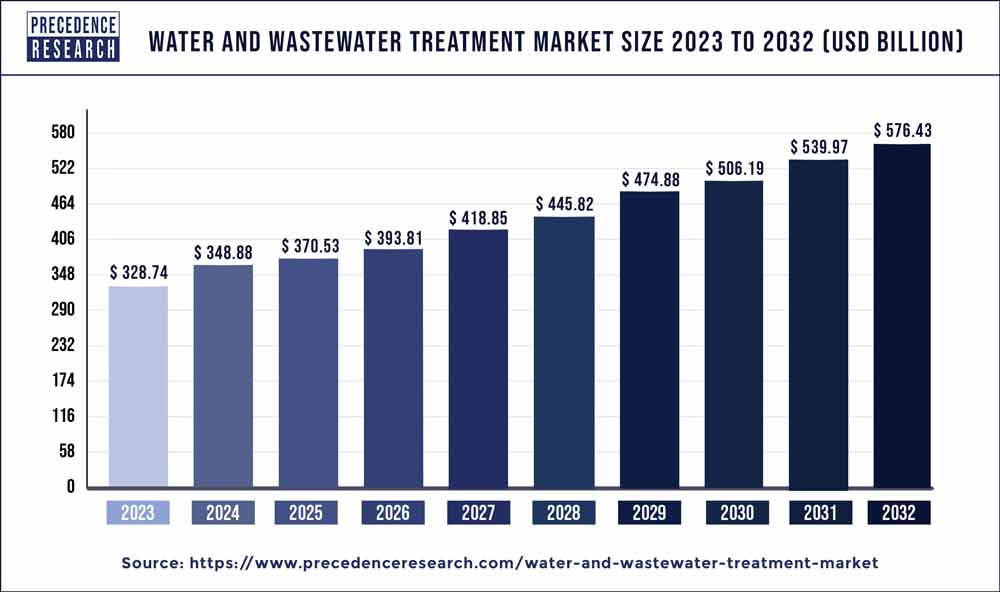 Key Takeaways:
In 2022, By equipment, the membrane separation segments dominated with 19.81% of worldwide sales.
By equipment, the sludge treatment segment is anticipated to experience the second-highest CAGR from 2023 to 2032.
By process, the tertiary segments in contributing around 43.0% of global revenue in 2022, and are projected to grow at the fastest CAGR of 5.3% from 2023 to 2032.
By process, the secondary segments are expected to grow at the second-fastest CAGR of 5.1% from 2023 to 2032.
In 2022, By applications, the municipal segments dominated the market and is accounting for 66.0% of total revenue.
By application, the industry is projected to experience the quickest CAGR of 5.3% from 2023 to 2032.
In 2022, The Asia Pacific led the worldwide market with a 32.7% sales share and is predicted at a CAGR of 5.5% from 2023 to 2032.
Growth Factor
One major element driving the market expansion of wastewater treatment chemicals is the growing worry about the depletion of freshwater resources. In order to prevent and resolve such issues and improve the reusability of wastewater in the process, governments of many nations throughout the world are putting tight laws and regulations into place. A number of governments are also actively interested in enhancing municipal water infrastructure in both urban and rural locations. The demand for water & wastewater treatment chemicals is anticipated to increase during the forecast period as a result of such advancements in industrial and domestic/municipal water treatment. Rapid industrialization is also contributing to rising groundwater pollution, particularly in developing nations. Because of this, governments in many nations are launching programs to use wastewater effectively, which is predicted to increase demand for chemicals used in wastewater treatment. Globally, the COVID-19 pandemic has had a detrimental effect on a number of businesses and nations. Lockdown has been implemented all over the world, which has halted the manufacture of electronic components and limited the market's growth for chemicals used in water and wastewater treatment. The delivery of raw materials needed to manufacture electrical components has also been delayed. Regulations governing the import and export of chemicals and raw materials have an impact on the supply chain as a result of the COVID-19 pandemic. The paucity of raw materials, therefore, has an influence on the manufacture of chemicals for water treatment, which also has an effect on the market expansion.
Additionally, it was expected that until the second quarter of 2022, production halts brought on by staff illnesses and mandated firm closures would restrain the market's expansion for water treatment chemicals. Additionally, it was anticipated that as a result of the decline in production, manufacturing, oil & gas, and other activities, the market for water treatment chemicals would grow more slowly by 2020. With a market share of 33.05% in terms of revenue, Asia Pacific excluding Japan led all other regions in 2022 for water and wastewater treatment chemicals, followed by North America and Europe, respectively.
Water and wastewater treatment system suppliers could have considerable growth prospects due to the increasing demand for energy-efficient and innovative water treatment systems.
The growing need for a practical strategy for the appropriate disposal of industrial wastewater is the primary cause of the rising demand for wastewater treatment.
The growing urban population, in particular, continues to be a key driver of industrial development.
Growing industrialization, population growth, and urbanization have all raised the need for wastewater treatment.
Report Scope of the Water and Wastewater Treatment Market
Report Coverage
Details
Market Size in 2023
USD 313.88 Billion
Market Size by 2032
USD 572.2 Billion
Growth Rate from 2023 to 2032
CAGR of 6.9%
Base Year
2022
Forecast Period
2023 to 2032
Segments Covered

By Equipment
By Process
By Application

Regions Covered

North America
Europe
Asia-Pacific
Latin America
Middle East & Africa

Key Market Drivers
Growing pulp and paper industry
To remove particles and particulate matter and reduce effluent toxicity, the pulp and paper industry uses water and wastewater treatment technologies such as reverse osmosis, ion exchange, UV disinfection, membrane filtering, biological treatment, and others. For instance, the Canadian government claims that the pulp and paper sector is expanding. In 2021, the Minister of Natural Resources announced an investment of around US$3.8 million through Sustainable Development Technology Canada (SDTC) in Red Leaf Pulp, a company located in Kelowna. Additionally, Invest India estimates that the paper and paperboard industry in India would develop at a rate of 6-7% annually. India uses 15 kilograms of paper per person annually. The expanding pulp and paper sector will need additional water and wastewater treatment technology to handle waste streams, which will spur industrial expansion over the course of the projected period.
Key Market Challenges
Numerous end users, especially small-scale enterprises, are discouraged from employing water treatment chemicals due to the fluctuating price of raw materials. Only because of stringent government regulations that also apply to small sector participants are manufacturers embracing wastewater chemicals. The market growth for chemicals used in water and wastewater treatment is predicted to be adversely affected by this aspect. Over the course of the projected period, it is anticipated that adverse reactions to wastewater treatment chemicals, such as allergies, mouth sores, eczema, and rashes, would restrain market expansion. Additionally, not all pathogens and contaminants are eliminated from the water since certain pollutants are still present in the water and difficult to remove. This aspect is anticipated to limit the market expansion of chemicals used in wastewater treatment.
Key Market Opportunities
Increasing population and globalization
More than two-thirds of the world's population is projected to reside in cities by 2050. Rapid urbanization fosters economic growth, but it also raises the demand for freshwater resources. More urban garbage will probably pollute water with a variety of contaminants, including plastics, chemicals from personal care items, and nutrients and pathogens from human excrement. The need for water and wastewater technology is anticipated to increase as a result in the upcoming years.
Segments Insight
Equipment Insights
In 2022, the membrane separation market category dominated with 19.81% of worldwide sales. This market is expected to grow at the fastest CAGR between 2023 and 2032. Membrane separation is a physical treatment method that removes certain components from the solution by forcing high-pressure feed water through a semi-permeable membrane. Membrane separation is superior to alternative techniques in a variety of ways, including a small operational space and excellent filtration effectiveness. After the first treatment, the residual pollutants are typically removed using a secondary technique known as biological treatment. Strict laws are designed to use environmentally friendly methods to reduce water pollution in the industry and municipal sectors. The need for biological treatment equipment is anticipated to rise in developed markets including the U.S., Canada, Germany, and Japan.
During the projection period, the sludge treatment segment is anticipated to experience the second-highest CAGR. Sludge drying, thickening, screening, and dewatering are some of these methods. To avoid interfering with future sludge treatment procedures, solids including plastics, fibers, and hair are removed using sludge screening equipment.
Process Insights
The market was dominated by the tertiary treatment process category in 2022, accounting for about 43.0% of global revenue, and is anticipated to grow at the quickest CAGR of 5.3% from 2023 to 2032. Prior to reuse or environmental release, effluent quality is improved by tertiary treatment. In order to make water suitable for reuse, this method eliminates the inorganic chemicals, viruses, germs, and parasites that remain after subsequent treatment procedures. For the purpose of removing heavy sediments and floating objects from effluent, the first treatment is utilized. Water and pollutants are separated from wastewater by passing it through a number of tanks and filters. During the projected period, it is anticipated that low operating costs and strong market visibility will be extremely important in expanding the main treatment's application area.
From 2023 to 2032, the secondary treatment process category is anticipated to grow at the second-fastest CAGR of 5.1%. Utilizing trickling filters, bio-towers, rotating biological contactors, and activated sludge systems, secondary treatment is primarily used to remove soluble organic waste and compounds, such as phosphorus and nitrogen. Aerobic or anaerobic biological processes can be employed in subsequent therapy. A membrane bioreactor is a cutting-edge treatment system that combines membrane filtration with traditional biological treatment methods like the activated sludge process to remove suspended and organic particles more effectively and efficiently. Using microfiltration or ultrafiltration membranes, solid-liquid filtration is accomplished.
Application Insights
Municipal applications dominated the market in 2022, accounting for 66.0% of total revenue. The demand for municipal products is anticipated to rise, particularly in emerging economies like China, India, and Brazil. This is due to an increase in the urban population and favorable government policies that support infrastructure development. By removing nutrients, pathogens, and Effluent Organic Matter (EfOM) from wastewater, municipal wastewater treatment plants primarily serve to safeguard water resources and natural aquatic systems. During the projected period, the sector expansion is anticipated to be aided by growing government attention on building water and wastewater treatment infrastructure around the world and rising awareness of wastewater treatment.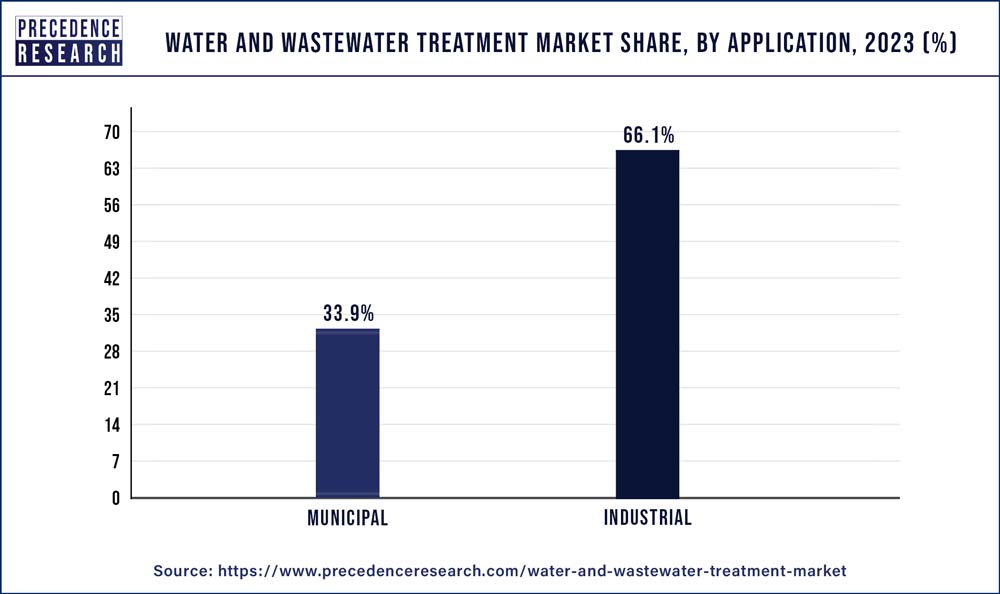 During the projection period, the industrial application sector is anticipated to experience the quickest CAGR of 5.3%. This section offers a variety of businesses with a wide range of applications for fresh and processed water. An increase in the number of manufacturing facilities, rapid industrialization, and technical advancements all contribute to a strong demand for fresh and treated water. It is projected that the aforementioned reasons would increase product penetration in the industrial industry. Due to untreated or insufficiently treated industrial wastewater effluents, increased industrial activity and fast urbanization have resulted in environmental degradation. However, the category is anticipated to rise as a result of rising environmental consciousness and more stringent rules governing the discharge of industrial effluents into waterways.
Regional Insights
With a 32.7% sales share in 2022, Asia Pacific led the worldwide market. During the projection period, a CAGR of 5.5% is predicted for the region. The drivers causing the market expansion will be the fast-expanding manufacturing sector and growing investment in the wastewater management industry. Additionally, the expanding residential market in the area is anticipated to increase product use in municipal wastewater treatment facilities.
Pie Chart 1
Recent Developments
In November 2021, the chemicals and process technology business Kemira increased its capacity for manufacturing in the United Kingdom. The business said that at its U.K. facilities, it will increase annual production of ferric-based water treatment chemicals by more than 100,000 tonnes.
In July 2020, Mexico-based Poliqumicos, S.A. de C.V. (Poliqumicos), a manufacturer of specialty chemicals for pulp, paper, oil and gas, chemical processing, etc., was bought by Solenis. Manufacturer and distributor of specialist chemical solutions for water-intensive industries, Poliqumicos. Solenis' sales in the Mexican market have increased as a result of the acquisition of Poliqumicos, as have its production capacities there.
Key Market Players
Suez Environnement S.A. (France)
Veolia Environnement SA. (France)
Xylem, Inc. (U.S.)
DuPont de Nemours, Inc. (U.S.)
3M Company, Inc. (U.S.)
Pentair plc (U.K.)
United Utilities Group PLC (U.K.)
Kingspan Group Plc (U.K.)
The Dow Chemical Company (U.S.)
BASF SE (Germany)
Kurita Water Industries Ltd. (Japan)
Bio-Microbics, Inc. (U.S.)
Calgon Carbon Corporation (U.S.)
Trojan Technologies Inc. (Canada)
Kemira Oyj (Finland)
Thermax Limited (India)
Wog Technologies (India)
Golder Associates, Inc. (Canada)
SWA Water Technologies PTY LTD. (Australia)
Burns & McDonnell (U.S.)
Adroit Associates Private Limited (India)
Sauber Environmental Solutions Pvt. Ltd. (India)
SPEC Limited (India), Ecolab, Inc. (U.S.)
GFL Environmental Inc. (U.S.)
Clean TeQ Water Limited (Australia)
Segments Covered in the Report
(Note*: We offer reports based on sub-segments as well. Kindly, let us know if you are interested)
By Equipment
Membrane Separation
Biological
Disinfection
Sludge Treatment
Others
By Process
Primary
Secondary
Tertiary
By Application
By Geography
North America
Europe
Asia-Pacific
Latin America
Middle East & Africa (MEA)