The global wastewater treatment chemicals market size was reached at USD 34.6 billion in 2022 and it is projected to hit around USD 50.73 billion by 2032, poised to grow at a CAGR of 3.9% during the forecast period from 2023 to 2032.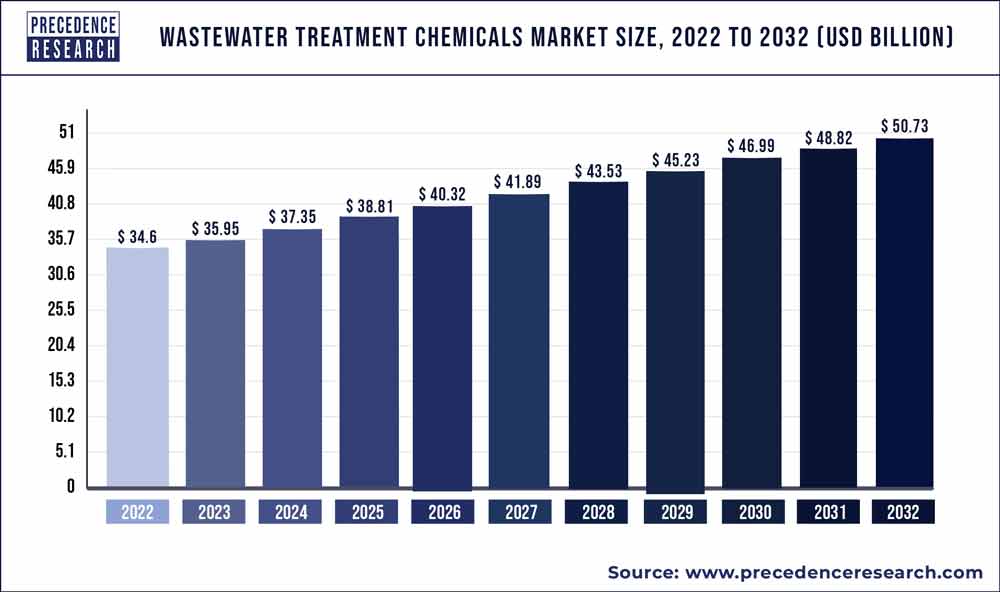 Key takeaways:
North America is expected to sustain its dominance throughout the forecast period.
Asia Pacific is anticipated to witness the fastest rate of growth during the forecast period.
By product, the coagulants and flocculants segment holds the largest share of the market.
By end-use, the oil and gas segment is expected to generate the highest revenue share during the forecast period.
By application, the raw water treatment segment is observed to continue its dominance throughout the forecast period.
Market Overview:
The water treatment chemicals market offers solutions for the treatment and purification of water that is further used in industrial applications or residential applications. These chemicals are used to remove impurities, contaminants and pollutants from water in order to make it suitable for various applications, such as drinking water and wastewater treatment.
Water treatment chemicals developed and offered by the market are often used for various water treatment processes, including coagulation, flocculation, sedimentation and filtration. The risk of water pollution and emerging government regulations for water purification are observed to accelerate the growth of the market in the upcoming years.
Growth Factors:
The global water treatment chemicals market is driven by increasing global scarcity, growing populations and urbanization across the globe. In addition, the rising need for clean and portable water sources, as well as increasing awareness about water pollution and its adverse effects on human health are driving the demand for water treatment chemicals market. Moreover, the rising expansion of oil and gas as well as chemical industries across the globe promotes the demand for water treatment solutions while contributing to the growth of the market.
Several governments across the world are focused on the development of solution-based infrastructure to reduce water pollution and to offer clean water for residents. This promotes the demand for advanced water treatment solutions and drives the growth of the market.
Report Scope of the Wastewater Treatment Chemicals Market:
| | |
| --- | --- |
| Report Coverage | Details |
| Market Size in 2023 | USD 35.95 Billion |
| Market Size by 2032 | USD 50.73 Billion |
| Growth Rate from 2023 to 2032 | CAGR of 3.9% |
| Largest Market | North America |
| Base Year | 2022 |
| Forecast Period | 2023 to 2032 |
| Segments Covered | By Product, By End-use, and By Application |
| Regions Covered | North America, Europe, Asia-Pacific, Latin America, and Middle East & Africa |

Market Dynamics:
Driver:
Regulatory mandates on wastewater treatment
Regulations have been implemented by regulatory authorities such as the Environmental Protection Agency (EPA), the Clean Water Act (CWA), the Safe Drinking Water Act (SDWA), and other similar organizations to restrict industrial discharge and guarantee adequate wastewater treatment. These rules have increased the need for wastewater treatment chemicals. Increased regulatory demands have required the industry to meet stringent effluent quality standards. To satisfy these criteria and limit the environmental impact of their activities, they must build effective wastewater treatment technologies.
This has generated a significant market potential for water treatment chemical producers such as Kemira OYJ (Finland) and BWA Water Additives (UK), both of which specialize in delivering chemicals for industrial wastewater treatment. The Wastewater Effluent Regulations created under the Fisheries Act emphasize the importance of adequate wastewater treatment even more. These laws establish minimal effluent quality criteria that businesses must meet to safeguard aquatic environments. To meet these criteria, wastewater treatment chemicals must be used to eliminate pollutants and toxins from industrial wastewater. Such regulatory mandate on wastewater treatment drives the growth of the market.
Restraint:
The rise of alternative water treatment technologies
Physical water treatment methods such as UV disinfection and reverse osmosis (RO) filtering are replacing the usage of water treatment chemicals in the water treatment sector. These environmentally friendly solutions are in line with growing environmental concerns and government laws, resulting in a gradual transition away from chemical-intensive water treatment techniques. RO technology is a popular water purification method that uses a semi-permeable membrane to remove big particles and dissolved contaminants from water. UV radiation is used to disinfect water by attracting and killing microorganisms such as bacteria and viruses.
RO filtration lowers reliance on water treatment chemicals since the physical filtering process is sufficient to satisfy acceptable water quality requirements. UV disinfection technology has also gained popularity in water treatment as an alternative to chlorine-based biocides. Due to its efficacy, environmental friendliness, and advocacy of its usage by regulatory organizations such as the Environmental Protection Agency (EPA), this technique has been extensively embraced. Since UV disinfection does not need the use of chemicals, it decreases the dependency on water treatment chemicals in the disinfection process even more. Such alternative methods hamper the growth of the water treatment chemicals market.
Opportunity:
Utilization of the 3R method of sustainability
The adoption of a more sustainable approach through reducing, recycling, and reusing activities represents a substantial opportunity for the wastewater treatment chemicals industry. To begin with, the idea of reduction refers to using fewer resources in the first place. There is a direct positive influence on wastewater generation by lowering the use of water and other resources in industrial operations. Water-saving strategies, efficient manufacturing processes, and process optimization can minimize wastewater volumes, lowering the requirement for wastewater treatment chemicals.
The reuse of treated wastewater represents a huge market potential for wastewater treatment chemicals. Industries may reduce their dependency on freshwater sources, save water resources, and limit wastewater discharge into the environment. As a result, there is an increased need for specialized wastewater treatment chemicals that allow for the safe and effective treatment of wastewater for reuse.
Recycling procedures might include recovering valuable chemicals, nutrients, or energy from wastewater, which necessitates the employment of particular chemicals and treatment methods. Implementing the three Rs in wastewater treatment not only corresponds with sustainable practices but also provides companies with financial savings and resource optimization. As enterprises increasingly value environmental stewardship and resource efficiency, there is a rising market need for wastewater treatment chemicals that support these long-term goals.
Segments Insight:
Product Insights:
On the basis of product, the coagulants and flocculants segment held the dominating share in 2022, the segment will continue to grow while sustaining its lead throughout the forecast period. The coagulants and flocculants play a crucial role in the removal of impurities and pollutants from water, making it suitable for various applications, they are extensively used in municipal water treatment plants, industrial processes and water treatment facilities in residential areas.
Another major factor for the segment's dominance is the application of coagulants and flocculants for the treatment of drinking water. Moreover, stringent regulations on water quality testing boost the demand for flocculants and coagulants globally.
End-use Insights:
On the basis of end-use, the oil and gas segment is expected to hold the dominating share of the market. The financial capacity of the oil and gas companies allows them to invest significantly in advanced and specialized water treatment technologies, including chemical solutions. This enables them to address complex water treatment challenges effectively.
Large refineries and petrochemical plants require a significant volume of water to be treated on a continuous basis. The sheer scale of operations within the oil and gas industry contributes to substantial demand for water treatment chemicals. Industry often involves the extraction of crude oil from remote and challenging environments, where water sources might be contaminated. This factor also brings a requirement for water treatment solutions for the oil and gas industry.
Application Insights:
On the basis of application, the raw water treatment segment held the largest revenue share in 2022, the segment is anticipated to continue the trend throughout the forecast period. Raw water is generally sourced from rivers, lakes, and groundwater. This water often contains a plethora of impurities and microorganisms. Water treatment chemicals play a vital role in this process by facilitating the purification, disinfection and stabilization of raw water. The consistent demand for clean and safe water across agriculture, power generation and manufacturing sectors drives the need for effective raw water treatment solutions.
Regional Insights:
North America held the dominating share of the market in 2022, the region is observed to sustain its position throughout the forecast period. North America's well-established industrial and municipal sectors generate significant demand for water treatment chemicals to address diverse water treatment needs, including purification and wastewater management. The presence of numerous power plants, refineries and large urban centers necessitates comprehensive water treatment strategies, bolstering the demand for chemicals. The region's robust research and development infrastructure fosters innovation in water treatment technologies and chemicals, allowing companies to continuously improve their offerings.
Asia Pacific is expected to grow at the fastest CAGR during the forecast period. Rapidly growing industrial activities and urbanization in the countries of Asia Pacific promote the growth of the market. The rising awareness about consuming fresh and clean water, especially in developing countries, also supports the adoption of water treatment chemicals in the region. Moreover, the presence of potential players along with substantial government support for improving industrial infrastructure also contributes to the development of the industry.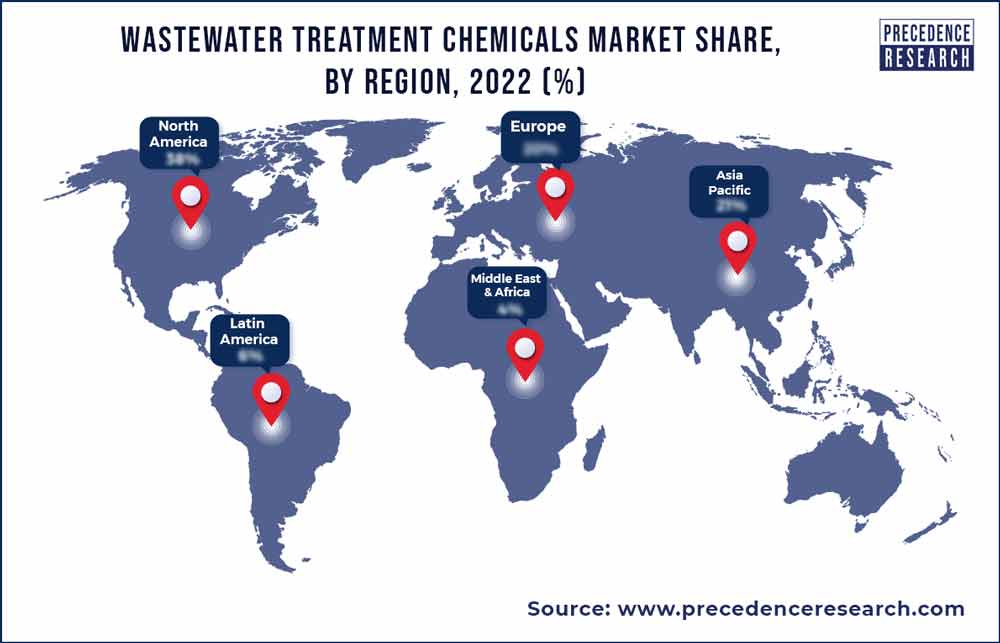 Meanwhile, the entry of international players in the developing countries of Asia Pacific is observed to promote the growth of India. Multiple international and leading market players have noticed a potential to grow in these countries while considering the demand for wastewater treatment solutions. Collaborations and partnerships along with product launches are a few of the prominent business activities focused on by these players.
In May 2023, Xypex Chemical Corporation announced its expansion in the Asian market while launching its services for the first time in India. The company has announced the opening of its new plant at Greater Noida. The facility in India aims to house chemical production as well as distribution. The company Xypex is originally based in Vancouver and specializes in crystalline concrete waterproofing.
Recent Developments:
In May 2022, ChemREADY introduced a new Legionella services and product program to combat water-borne infection in building water systems. The program provides advice, testing, remediation, and secondary disinfection solutions in response to the growing concern about Legionella outbreaks, particularly in healthcare settings.
In September 2022, Lanxess announced the opening of its new wastewater treatment plant at its Belgium site. Lanxess, a special chemical company has invested 12 million Euros in this new plant. The newly opened plant aims to treat approximately 260,000 liters of water per hour.
Key Market Players:
Ecolab
Solenis
Nouryon
SUEZ
BASF SE
Kemira Oyj
Cortec Corporation
Buckman
Solvay S.A.
Green Water Treatment Solutions
Johnson Matthey
SNF Group
Kurita Europe GmbH
Baker Hughes
Veolia
Somicon ME FZC
Segments Covered in the Report:
(Note*: We offer reports based on sub-segments as well. Kindly, let us know if you are interested)
By Product
Coagulants and Flocculants
Biocide and Disinfectant
Defoamer and Defoaming Agent
pH & Adjuster and Softener
Scale and Corrosion Inhibitor
Others
By End-use
Power
Oil and Gas
Chemical Manufacturing
Mining and Mineral Processing
Municipal
Food and Beverage
Pulp and Paper
Others
By Application
Raw Water Treatment
Water Desalination
Cooling
Boiler
Effluent Water Treatment
Others
By Geography
North America
Europe
Asia-Pacific
Latin America
Middle East and Africa