The global water treatment chemicals market size was estimated at USD 32.19 billion in 2022 and it is projected to hit around USD 45.81 billion by 2032, expanding at a CAGR of 3.59% during the forecast period from 2023 to 2032.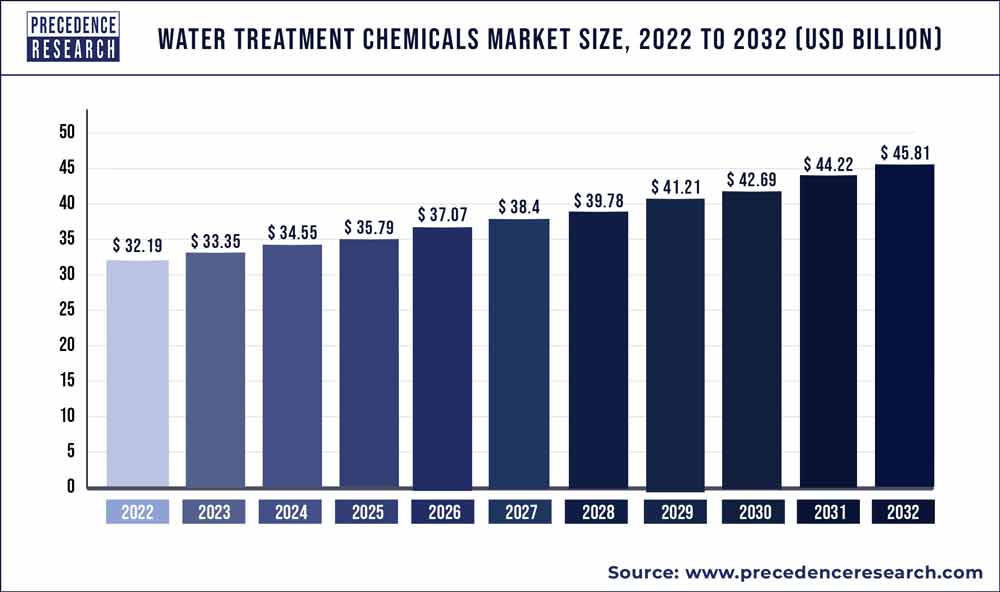 Key Takeaways:
North America is predicted to generate the largest market share between 2023 and 2032.
By Product, the coagulants & flocculants segment generated more than 37% of revenue share in 2022.
By End-use, the municipal segment captured more than 40% of revenue share in 2022.
In order to render water more acceptable for end use, e.g. in irrigation, cooking, drinking and industrial processes, the chemicals applied when treating water need to be improved. sodium meta bisulphite, ferric chloride, and Sodium hex metaphosphate (SHMP) are some of the water chemicals. Various water treatment techniques for removing substances such as bacteria, viruses, minerals, sand and others are used in the chemicals industry by way of both physical and chemical methods. Water availability to households and numerous uses in the end-use sector has led to a considerable demand for water treatment, so that it may be reused or recycled. The global water treatment chemicals market is estimated to be driven by rising demand for water as a result of population growth and economic development.
The expansion can be attributed to rising demand from the refining, manufacturing, petrochemical, geothermal power generation, fertiliser, and sugar and ethanol industries, particularly in emerging markets. Furthermore, the market is expected to grow rapidly in Africa and the Middle East as a result of the increasing use of saline water treatment to meet rising water demand. Desalination is the most widely used technology in the Middle East. Saudi Arabia is heavily reliant on desalination to meet their water needs. It is expected to be one of the major consumers for industrial chemicals owing to the high usage of water in sectors like oil and gas and petrochemical.
Report Scope of the Water Treatment Chemicals Market:
| | |
| --- | --- |
| Report Coverage | Details |
| Market Size in 2023 | USD 33.35 Billion |
| Market Size by 2032 | USD 45.81 Billion |
| Growth Rate from 2023 to 2032 | CAGR of 3.59% |
| Largest Market | North America |
| Base Year | 2022 |
| Forecast Period | 2023 to 2032 |
| Segments Covered | By Product, By End-Use, and By Application |
| Regions Covered | North America, Europe, Asia-Pacific, Latin America and Middle East & Africa |

Key Market Drivers:
Regulations for water and wastewater
Water and wastewater treatment regulatory and sustainability mandates have increased demand for wastewater treatment. These rules are especially stringent in developed countries like North America and Europe. For example, the US Environmental Protection Agency's (EPA) Clean Water Act regulation controls water pollution by regulating the sources that discharge pollutants into waters. Minimum standards for the quality of effluents that can be achieved by wastewater treatment are set out in the waste water Effluent Regulations, laid down pursuant to the Canada Fisheries Act. Other regions have regulations that help the water treatment industry grow. Government regulations governing water and wastewater treatment will boost the water treatment sector, driving the water treatment chemicals market even further.
Promoting the expansion of the power generation sector
Water treatment chemicals are widely used in the energy industry to generate energy via various methods such as hydro, thermal, nuclear, and others. The focus on increasing the production of renewable energy resources, coupled with an increase in funding and development for power generation, has resulted in a rapid expansion of this sector. According to the International Energy Agency, renewable generation capacity is expected to increase by more than 60% from 2020 levels and reach over 4 800 GW in 2026.
The Indian Ministry of Energy has set a target to produce electricity for thermal, hydropower, nuclear power and Bhutan's imports at 1356 billion units, an increase of 9.93% from the actual production achieved last year. In view of the significant potential for electricity production, water treatment chemicals are increasingly used in power plants which include hydro, steam and others. As a result, the market for water treatment chemicals is booming. The use of different water treatment chemicals such as chlorine dioxide coagulants, corrosion inhibitors, disinfectants and others is being used in the oil and gas industry to filter water from steam turbines, oil refineries or similar facilities.
The booming oil and gas sector, the growing number of exploration and production activities as well as urban development has led to a rapid growth in this sector. According to the India Brand Equity Foundation (IBEF), India's oil consumption will reach 11 million barrels per day by 2045. According to the US Energy Information Administration (EIA), crude oil output increased from 11473 barrels per day in September 2021 to 10809 barrels per day in October 2021.
As a result, the use of water treatment chemicals to treat the waters in oil refineries, as well as onshore and offshore drilling operations is being increasingly used due to the rapidly growing energy sector. This drives the demand for water treatment chemicals. As a result, such factors have recently boosted the market for water treatment chemicals. However, an increase in water use by end users in the electricity sector is another factor driving revenue growth in the water treatment chemicals market.
Key Market Challenges:
Presence of alternatives
There are alternative water treatment solutions available, such as membrane filtration, UV treatment, and ozone treatment, which can compete with traditional water treatment chemicals. Companies in the industry must remain innovative and competitive to stay ahead of the competition. Advanced technologies reduce the use of water treatment chemicals. End users are looking for sustainable water treatment options due to rising environmental concerns and regulations. For example, Environmental Protection Agency (EPA) regulations favour UV disinfection over chlorine-based biocides.
need for environmentally friendly formulations, as well as the risk of patent infringement
The stringent environmental regulations implemented by governments and various agencies such as the EPA are the major factors impeding the growth of the water treatment chemicals market. Some water treatment chemicals can have negative impacts on the environment, such as the release of pollutants or chemicals that are harmful to aquatic life. This can lead to regulatory challenges and negative public perception of the industry. End users of water treatment chemicals are looking for environmentally friendly water treatment chemicals as well as long-term water treatment options. However, manufacturers face challenges in developing highly effective and economically viable environment-friendly water treatment chemicals due to cost and profit issues in green chemistries. Once a patented water treatment chemical is made public, it is susceptible to imitation. Some Asian manufacturers offer counterfeit products at lower prices, posing a significant challenge to water treatment chemical manufacturers.
Key Market Opportunities:
Product Innovation
There is a growing demand for eco-friendly water treatment solutions, which presents an opportunity for companies to develop innovative products that are more sustainable and environmentally friendly. Some of the product innovation are bio-based water treatment chemicals, smart water treatment solutions, nanotechnology-based water treatment chemicals, modular water treatment systems, and low-temperature water treatment chemicals. The such product innovation being introduced by the market players is expected to create an opportunities for the growth of the water treatment chemicals market.
Limited availability of water
Water scarcity has also increased the use of wastewater recycling, which is a major factor driving the growth of the water treatment chemicals market. Additionally, the growing demand for water treatment chemicals in the energy sector, power plant, mining, pulp and paper and chemical processing industries is likely to bring about a growth of this market. The market for water treatment chemicals will however be hindered by the increasing process of water treatment chemicals as well as presence of alternative processes, whereas the need for environmentally friendly formulations and patent infringement risk pose a challenge to growth in this market.
Segments Insight:
Product Insights:
Flocculants and Coagulants emerged as the most important product segment in 2022, accounting for more than 37% of total revenue. The tanks of chemical products in the gas and oil industry commonly use coagulation and flocculation. Coagulation processes speed up sedimentation process. Coagulants, like aluminium hydroxide chloride or aluminium sulphate, are inorganic and organic substances. During the treatment processes, coagulants are used to remove 90% of trapped particles in wastewater. Disinfectants and biocides have emerged as the other most important product segment, ensuring the maintaining operational efficiency and the safety of manufacturing systems by preventing hazardous growth of microbial, reducing contamination and biofouling. Controlling microbiological activity safely is an important aspect of industrial and manufacturing processes. To ensure proper water conditions for waste, feed, and reusable treated water, biocides and disinfectants are used. They are being used in the ethanol and sugar industries to ensure that the proper wastewater conditions are met. Furthermore, biocides are widely used to control bacteria in the ethanol fermentation process.
End-Use Insights:
The municipal come up as the biggest end-use segment having a revenue share of more than 40%. Rising water scarcity in Europe and North America's developed economies has compelled major players to prioritise water reuse and recycling. Municipalities' increasing charges for waste treatment have provided additional impetus for industrialists to improve or establish the reuse facilities and wastewater treatment. Fluid treatment uses strength chemicals for flocculation, sludge dewatering, and, emulsion breaking among other things. The huge consumption in oil refineries resulted in high wastewater generation, oil and gas emerged as a prominent end-use segment. Water and steam are used in a variety of processes in petroleum refineries and chemical plants, from desalination to fluid catalytic cracking units, steam generators, and cooling towers. In oil refineries and chemical plants, effective wastewater treatment processes are needed in order to operate safely and reliably on a sustainable basis due to water scarcity. In the long term, it is expected that this will lead to increased chemicals demand by end users of oil and gas.
Application Insights:
Due to the growing use of raw water in industrial facilities for formulation, cooling, and rinsing human consumption where it is being properly purified, Raw Water Treatment represented the largest share on the market. For a specific application, it is used for the pre-treatment of drinking water sources to improve product efficiency and process performance. Its primary goal is to protect industrial equipment from scaling, corrosion, fouling, and other forms of damage. It is possible that the process differs from one another because they are intended to meet each patient's particular needs.
A typical step in this process is flocculation, coagulation, filtration, sedimentation, distribution and disinfection. Boiler is expected to emerged as a largest segment on the basis of application owing to their widespread use in the petrochemical industry. It is used to protect piping and boiler components from damage caused by contaminants in the feeds or boiler. Suspended solids, organic material like aluminium, copper, silica, iron magnesium, calcium, dissolved solids, and dissolved gases hardness are examples of contaminants that may be present. Without proper boiler treatment, boiler feed water can cause fouling, corrosion, and scaling of the boiler and downstream equipment, resulting in plant downtime, costly maintenance fees, increased fuel consumption, and boiler failure.
Regional Insights:
On the basis of geography, the water treatment chemicals market is segmented into North America, Europe, Asia-Pacific, Latin America and Middle East & Africa. North America has the largest market share. The advancement of hydraulic fracturing technology has resulted in increased result of unconventional sources such as tight oil and shale gas in West Texas and North Dakota. This led to greater adoption of water treatment facilities for the crude oil and natural gas sector, which is expected to deliver significant market benefits over the forecast period. This expansion can be attributed to stringent government regulations aimed at monitoring wastewater disposal and production. According to the International Trade Administration (ITA), the United States is a world leader in energy production, consumption, and supply (presence of thermoelectric power plants). The growing demand for treatment chemicals from the power industry in the United States to treat its wastewater is anticipated to boost market growth.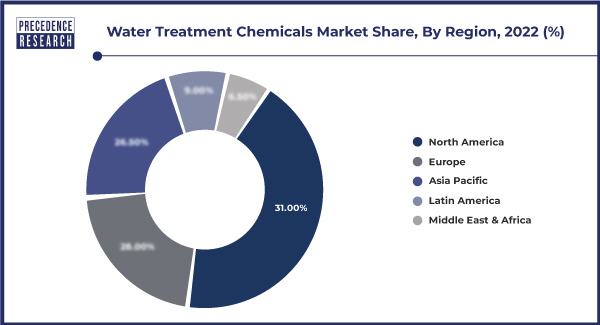 The expansion of the industrial, power, and manufacturing sectors is expected to boost demand for boiler chemicals and systems in Asia Pacific's emerging economies in the near future. Because of the presence of suspended particles and heavy metals, China has increased its demand for pretreated water. China Water Risk (CWR) works for a number of government agencies both in China and around the world. CWR briefs on the risks and impacts of wastewater generated in China's mining, food and beverage, power, textiles, and agriculture sectors. The CWR reports have proven to be useful in addressing challenges and thus contributing to the country's water treatment activities.
Key Industry Developments:
November 2021- Kemira announced the completion of its expansion of production capacity in the United Kingdom. The company plans to increase annual production of ferric-based water treatment chemicals in its UK facility by more than 100.000 tons.
Juy 2020 - Solenis acquired Poliquimicos, S.A. de C.V. (Poliqimicos), a Mexican company. Poliquimicos is a manufacturer and supplier of specialised chemical solutions for industries that use a lot of water.
January 2019 - With the aim of combining its process optimization expertise with Valmet's industrial water and sludge analysers and measurement technology, Kemira has entered into an agreement with Valmet to deal with customer applications for wastewater treatment.
Key Market Players:
Johnson Matthey
Green Water Treatment Solutions
Bosch Somicon ME FZC
Veolia
Kurita Europe GmbH
Solvay S.A.
Cortec Corporation
Baker Hughes, a GE company LLC
Kemira Oyj
Nouryon
Solenis
Ecolab
BASF SE
SUEZ
Segments Covered in the Report:
(Note*: We offer reports based on sub segments as well. Kindly, let us know if you are interested)
By Product
Scale & Corrosion Inhibitor
pH & Adjuster & Softener
Defoamer & Defoaming Agent
Biocide & Disinfectant
Coagulants & Flocculants
Others
By End-Use
Pulp & Paper
Food & Beverage
Municipal
Mining & Mineral Processing
Chemical Manufacturing
Oil & Gas
Power
Others
By Application
Effluent Water Treatment
Boiler
Cooling
Water Desalination
Raw Water Treatment
Others
By Geography
North America
Europe
Asia-Pacific
Latin America
Middle East and Africa