The global ethanol market size was valued at USD 93.7 billion in 2020 and is predicted to surpass around USD 155.6 billion by 2030, growing at a CAGR of 5.2% during the forecast period 2021 to 2030. Growing consumption of alcoholic beverages an increasing adoption of alcohol based hand sanitizers are major growth driver of ethanol market.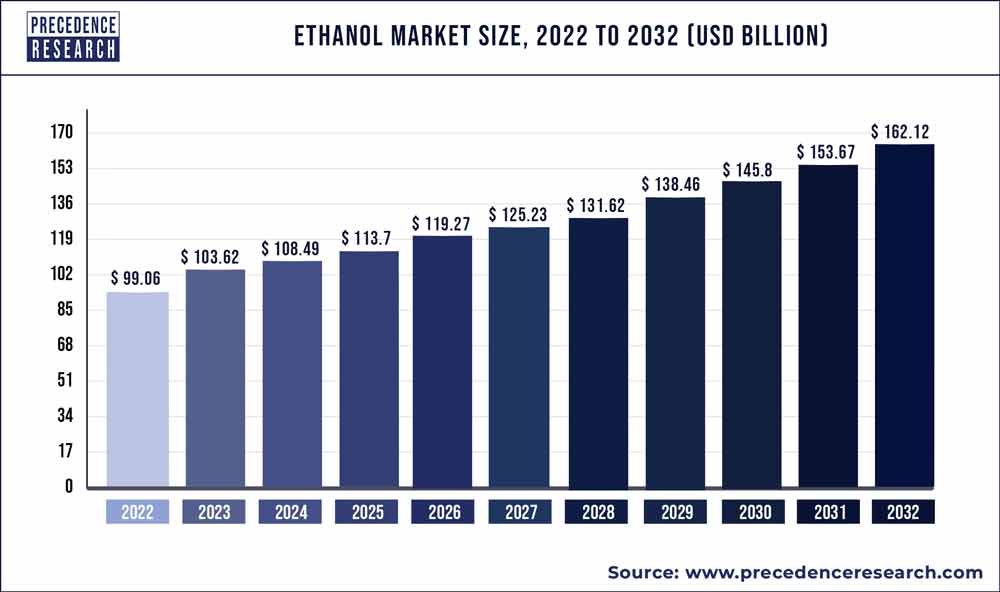 Key Market Insights:
Emerging applications of ethanol are anticipated to create potential opportunities for the key players operating in global market. Aviation industry is focusing on the research and development of ethanol blended fuels for the overall cost reduction and to reduce carbon emission. Recent applications of ethanol in ignition systems and emission control in transportation sector is expected to generate better opportunities over coming years. Further, outbreak of coronavirus disease has increased usage of ethanol-based hand sanitizers which is supporting global market growth. Centers for Disease Control and Prevention (CDC), recommended usage of ethanol as it is effective in killing microorganisms including bacteria, viruses, and fungi. Further, abundant availability of raw materials for the production of ethanol is developing countries is encouraging major companies to expand their production facility. Moreover, stringent environmental regulations for the use of biofuels are supporting ethanol production. Increasing end use applications in cosmetic industry as solvent and in many household applications are expected to boost target market growth in future.
Crucial Factors Accountable For Market Growth Are:
Increasing usage of ethanol as biofuel
Growing consumption of alcoholic beverages
Increasing adoption of alcohol based hand sanitizers
Government initiatives for environmental pollution control
Growing adoption of ethanol as industrial solvent
COVID-19 Impact on Global Ethanol Market
Outbreak of COVID-19 has affected most of industries operating across the globe. Most of the leading countries across the world announced their lockdowns that has resulted into the disruption of supply chain of companies. Lack of raw materials, manpower, and leap in their off-premise sales has affected the production of ethanol. Further, reduced finished product demand from end-use industries hampered growth of the global ethanol market in 2020.
Future of Global Ethanol Market
Due to ongoing COVID-19 pandemic, usage of alcohol-based hand sanitizers has been increased. As per the Food and Drugs Administration's policy; ethanol can be used as an active ingredient in the hand sanitizers. So, the leading players operating in the target industry are focusing on increasing production of ethanol in order to get competitive edge in the global market. Further, according to the data published by National Institutes of Health (NIH) in September 2020, COVID-19 can be treated using ethanol vapor inhalation. Combination drug, ethanol with aspirin is intoits 3rd phase of clinical trials and have potential to treat viral diseases. That can have positive impact on the growth of the ethanol industry.
Segment Analysis:
Grain Based Source Segment Estimated Foremost Market Stake In 2022
Grain based ethanol recorded the prime market share in the global ethanol market by source in 2022. Growing manufacturing of ethyl alcohol using grain-based feedstocks is major factor expected to augment growth of the segment. Sugar & molasses-based source segment is predictable to rise at a noteworthy CAGR during the forecast time-frame. Increased adoption of sugar & molasses-based ethanol as industrial solvent is major factor to raise the share of sugar &molasses-based ethanol in the near future.
Denatured Segment Estimated to Hold Major Market Share Over the Forecast Period
Denatured ethanol is anticipated to dominate the target market by purity during the forecast period 2023-2032. This is due to its growing demand from automotive and household applications worldwide. Denatured ethanol is manufactured mainly from feedstocks like grains, starch. However, undenatured segment is expected to raise at a significant CAGR during the forecast time-frame.
Fuel & Fuel Additives Segment is Predictable to Dominate the Application Segment of Ethanol Market Revenue
On the basis of end-user segment the global market is segregated into industrial solvents, beverages, personal care, fuel & fuel additives, disinfectant, others. The fuel & fuel additives application segment is expected to dominate in terms of revenue over the forecast time frame. Increasing demand form automotive sectors coupled with regulations related to environmental safety in developed as well as emerging economies is expected boost growth of the segment in the near future. Additionally, beverages application segment will expand at a significant CAGR during the forecast time-frame. The growth is attributed to increasing demand for ethanol-based beverages in developed countries across the globe which is in tern fulling growth of the segment.
North America Is Estimated to Be the Largest Market for Ethanol
The research report covers key trends and prospects of ethanol products across different geographical regions including North America, Europe, Asia-Pacific, Latin America, and Middle East and Africa. Geographically, ethanol market is conquered by North America owing to favorable government policies for the production and use of ethanol as biofuel, along with growing awareness regarding environmental pollution control caused due to use of conventional fuels in the countries of the region. Asia Pacific is expected to register the fast growth rate, on account of expanding ethanol manufacturing capacity, coupled with presence of leading companies in the countries of Asia Pacific. Further, availability of the abundant feedstock for ethanol production is major factor responsible for the growth of Latin America ethanol market. Brazil is expected to hold major share in terms of revenue in Latin America ethanol market in the near future owing to growing production and export of ethanol from Brazil.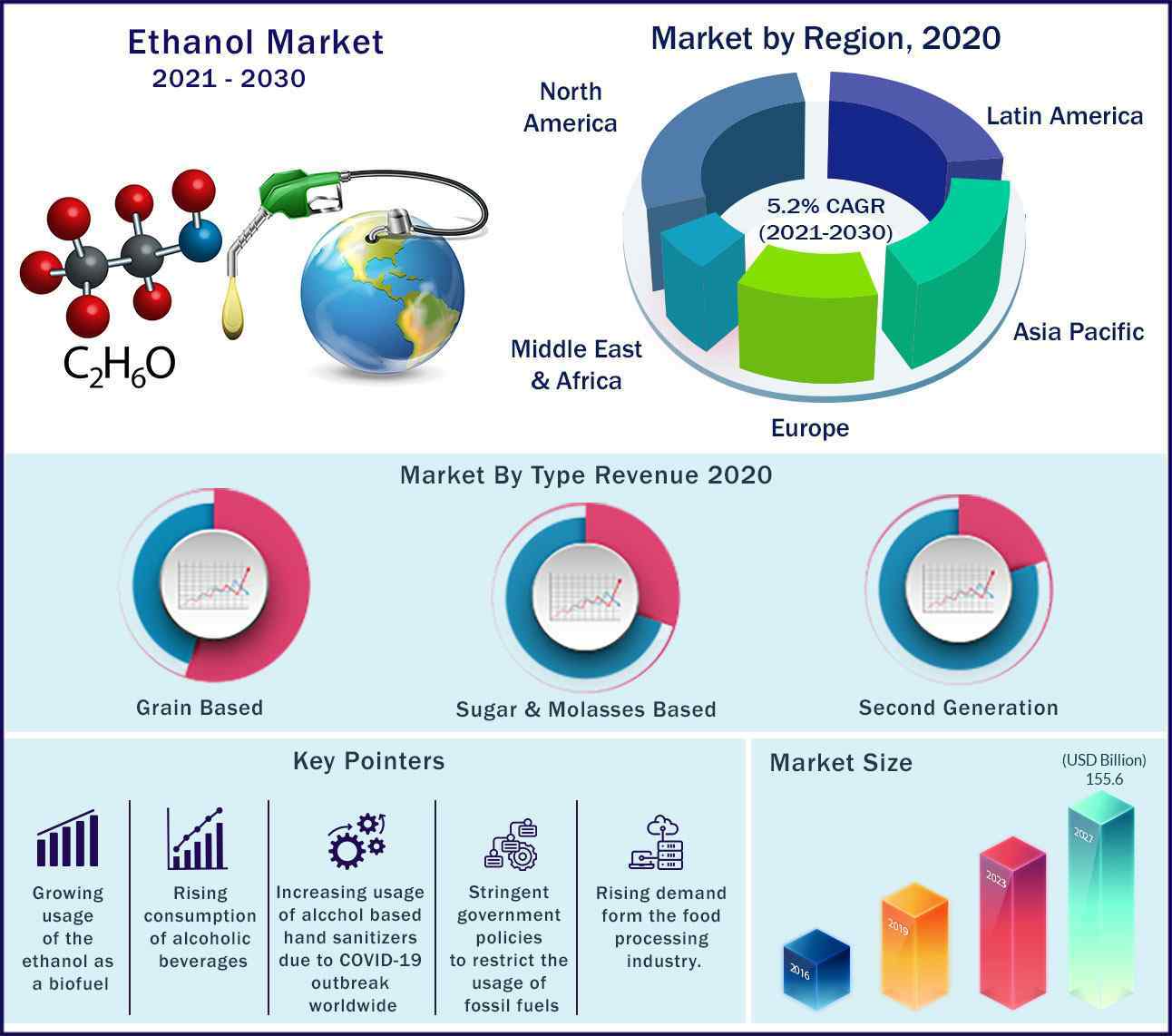 Top Players Contending in The Market:
The companies focusing on research and development are expected to lead the global ethanol market. Leading competitors contending in global ethanol market are as follows:
Flint Hill Resources LP
Braskem
Andersons Ethanol Group
Archer Daniels Midland Company
Cargill Corporation
Aventine Renewable Energy
HPCL Biofuels Limited
Butamax Advanced Biofuels LLC
Advanced Bioenergy LLC
British Petroleum
In order to better recognize the current status of ethanol, and policies adopted by the foremost countries, Precedence Research predicted the future evolution of the ethanol market. This research study bids qualitative and quantitative insights on ethanol market and assessment of market size and growth trend for potential global market segments.
Key Market Developments:
In 2016, Cargill Incorporated expanded its capacity in German facility. The prime motive behind this expansion is to manufacture ethanol for Europe's cosmetic, alcoholic beverage, and pharmaceutical industries.
In 2017, Cargill Incorporated entered into an agreement with the Macquarie Group under which company sold its petroleum business.
Report Scope of the Ethanol Market
| | |
| --- | --- |
| Report Highlights | Details |
| Market Size | USD 155.6 Billion by 2030 |
| Growth Rate | CAGR of 5.2% From 2021 to 2030 |
| Largest Market | North America |
| Fastest Growing Market | Asia Pacific |
| Base Year | 2021 |
| Forecast Period | 2021 to 2030 |
| Segments Covered | Source Type, Application Type, Purity Type |
| Companies Mentioned | Flint Hill Resources LP, Braskem, Andersons Ethanol Group, Archer Daniels Midland Company, Cargill Corporation, Aventine Renewable Energy, HPCL Biofuels Limited, Butamax Advanced Biofuels LLC, Advanced Bioenergy LLC, British Petroleum |
Major Market Segments Covered:
By Source
Sugar & Molasses Based
Grain Based
Second Generation
By Purity
By Application
Industrial Solvents
Fuel & Fuel Additives
Beverages
Disinfectant
Personal Care
Others
By Geography
North America
Europe

Germany
France
United Kingdom
Rest of Europe

Asia Pacific

China
Japan
India
Southeast Asia
Rest of Asia Pacific

Latin America

Brazil
Rest of Latin America

Middle East & Africa (MEA)

GCC
North Africa
South Africa
Rest of Middle East & Africa