The global machine learning as a service market size was estimated at USD 22.86 billion in 2022, and it is expected to reach around USD 626.64 billion by 2032 and is poised to grow at a compound annual growth rate (CAGR) of 39.3% between 2023 and 2032.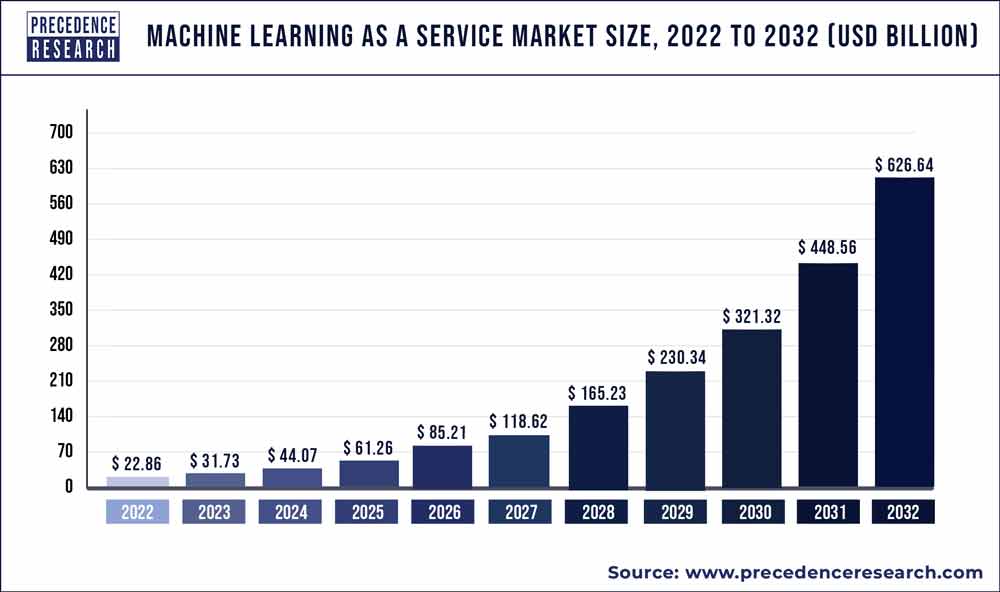 Access our Premium Real Time Data Intelligence Tool, Visit: Precedence Statistics
Key Takeaways:
The solution component segment accounted for 63% of revenue share in 2022.
The large enterprises segment contributed 59% revenue share in 2022.
North America region had the highest revenue share 39.7% in 2022.
Based on end-user, the IT & telecom segment accounted highest market share in 2022.
A group of services known as machine learning-as-a-service (MLaaS) offers machine-learning technologies as a component of cloud computing services. Tools including data visualisation, APIs, facial recognition, natural language processing, predictive analytics, and deep learning are available through these services from vendors. The provider's data centres handle the actual calculation. With consumers having the choice of many alternative solutions catered to various business needs, the MLaaS model is positioned to dominate the industry. Additionally, the market for machine learning as a service is anticipated to increase as a result of factors including the rising usage of cloud-based services, IoT, automation, and consumer behaviour research.
Deep learning techniques are utilised by machine learning as a service to improve decision-making through predictive analytics. The use of MLaaS does, however, provide security and data privacy problems for owners of ML models. Owners of data worry about the security and privacy of their data on MLaaS platforms. However, owners of MLaaS platforms are concerned about attackers impersonating clients and stealing their models.
The demand for effective data organisation increases as more firms move their data from on-premise to cloud storage. Since MLaaS platforms are essentially cloud providers, they make it simpler for data engineers to access and analyse the data by enabling solutions to manage it effectively for machine learning experiments and data pipelines. Data visualisation and predictive analytics are two features that MLaaS providers make available to businesses. Along with other things, they offer APIs for sentiment analysis, creditworthiness assessments, business intelligence, facial recognition, and healthcare. Data scientists don't need to worry about these computations because MLaaS companies have abstracted them away.
Report Scope of the Machine Learning as a Service Market
| | |
| --- | --- |
| Report Coverage | Details |
| Market Size in 2023 | USD 31.73 Billion |
| Market Size by 2032 | USD 626.64 Billion |
| Growth Rate from 2023 to 2032 | CAGR of 39.3% |
| Base Year | 2022 |
| Forecast Period | 2023 to 2032 |
| Segments Covered | Component, Organization Size, Application, Industry Vertical, Geography |
| Companies Mentioned | GOOGLE INC, SAS INSTITUTE INC, FICO, HEWLETT PACKARD ENTERPRISE, YOTTAMINE ANALYTICS, AMAZON WEB SERVICES, BIGML, INC, MICROSOFT CORPORATION, PREDICTRON LABS LTD, IBM CORPORATION |

Growth factors
IoT and automation adoption will increase, driving the market. IoT operations guarantee that the hundreds or more devices operating securely and correctly on a corporate network, as well as that the data being gathered is reliable and timely. The hard lifting of processing the data stream is handled by sophisticated back-end analytics engines, but verifying the quality of the data is frequently left to dated approaches. Some IoT platform suppliers are using machine learning technologies to strengthen their operations management skills in order to secure the rein in vast IoT systems.
By analysing large amounts of data with powerful algorithms, machine learning may be able to decipher the hidden patterns in IoT data. Automated systems using statistically generated actions and ML inference may enhance or replace manual operations in crucial activities. The IoT data modelling process is automated by ML-based solutions, which eliminate the time-consuming and laborious model selection, coding, and validation steps.
IoT adoption by small enterprises may result in considerable time savings for the laborious machine learning process. Vendors of MLaaS may run more queries more rapidly and offer more sorts of analysis, delivering more types of information to extract more useful information from huge caches of data produced by numerous devices in the IoT network.
More businesses are utilising machine learning technology for data analytics as businesses adopt IoT-based technologies and solutions at an increasing rate. MLaaS is therefore anticipated to spur IoT innovation. Total IoT connections are anticipated to rise from 12.7 billion in 2021 to 32.5 billion in 2030, with a CAGR of 14%, according to Ericsson. MLaaS is currently connected with a number of sensors, but it is positioned to be a key component of the Internet of Things and automation.
AIOps issued research in 2019 titled "State of Automation, Artificial Intelligence, and Machine Learning in Network Management" in which 85% of respondents said that their company used more than one sort of automation. Only 27% of respondents said their company was well prepared for complete automation, though. However, according to roughly 65% of study participants, machine learning is essential for network management and will likely lead to more automation in the future.
Component Insights
Machine learning as a solution market share was led by the solution sector in 2022 and it is anticipated that this dominance would continue in the years to come. The Services segment has captured a revenue share of around 37% in 2022. This is attributable to elements including the expansion of application domains and the development of end-use industries in emerging countries, which are anticipated to propel the market for machine learning services. Industry participants are concentrating on putting technologically cutting-edge solutions in place to enhance the use of machine learning services.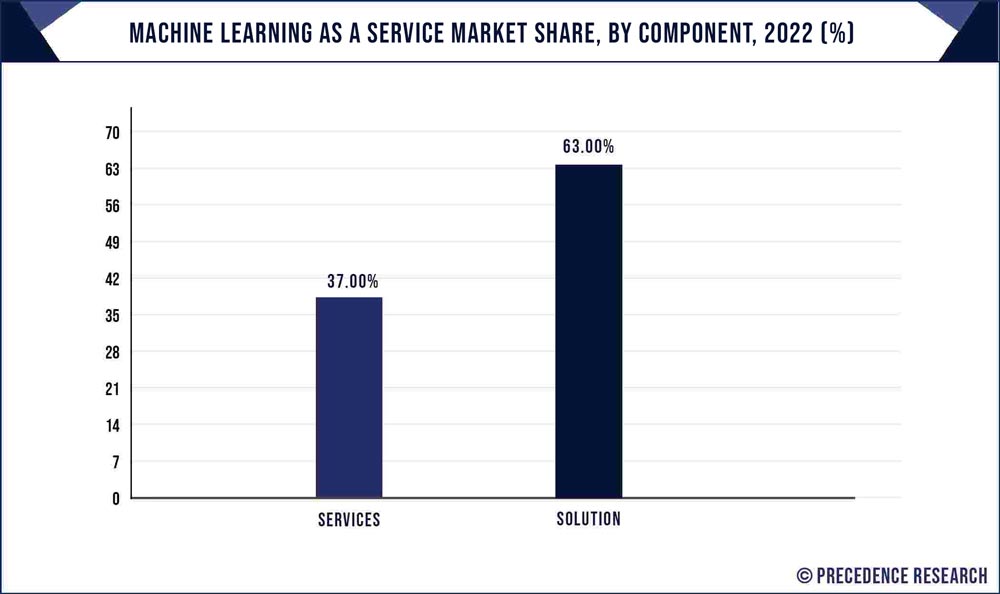 The use of machine learning services in the healthcare sector to evaluate ECG and MRI, as well as to diagnose cancer, expands the market. Major market prospects are anticipated to be unlocked by the advantages provided by machine learning services, such as demand forecasting, cost reduction, real-time data analysis, and rise in the use of the cloud market. For example, Microsoft Corporation released an open dataset for health & genomics, transportation, labour & economics, supplementary, population & safety, and common datasets in April 2021. This dataset aims to increase the accuracy of machine learning models using publicly accessible datasets. This also enables businesses to use Azure Open Datasets with its machine learning and data analytics solutions to offer insights at hyperscale, which increases sales of these businesses' ML as a Service.
Application Insights
In 2022, the market for machine learning as a service had the biggest revenue share earned by the marketing and advertising category. A recommendation system's objective is to present clients with goods they are presently interested in. The marketing work algorithm is as follows: Marketing professionals create, test, judge, and analyse hypothese. This endeavour is time-consuming and labor-intensive, and the results are occasionally incorrect since information changes every second.
Marketers may use machine learning to quickly decide based on a lot of data. Businesses may now react to changes in the calibre of traffic brought about by advertising initiatives more swiftly thanks to machine learning. As a consequence, the company will have more time to focus on creating hypotheses than on executing menial activities.
Verticals Insights
In the market for machine learning as a service in 2022, the retail sector accounted for a sizeable revenue share. E-commerce has established itself as a major player in the retail trade sector. The retail industry is dynamic and demands both agility and improved client interactions. Retailers are utilising machine learning services as a result to give clients amazing shopping experiences.
Large retailers frequently employed analytical consulting firms to obtain information essential for marketing. Due to the availability of affordable cloud-based machine learning services, smaller retailers are able to use data to better understand their consumers, which is likely to open up potential for the growth of the machine learning as a service industry globally. Machine learning enables systems to automatically learn from each campaign given to a consumer and apply that knowledge in the subsequent iteration. The market for machine learning as a service is predicted to develop as machine learning driven marketing transforms the established mode of advertising. Machine learning integration in the retail industry lowers inventory costs, which raises consumer happiness. This creates a substantial opportunity for the market for machine learning as a service to expand.
Organization Size Insights
In 2022, the market for machine learning as a service saw a significant revenue share obtained by the small and medium business sector. SMBs use MLaaS because the machine learning application provides dynamic data. Machine learning algorithms are able to forecast future events with the use of predictive analytics, in addition to providing real-time data. By forecasting product demand and making recommendations on the time and volume of supplies needed to satisfy consumers' expectations, SMBs may utilise machine learning technologies to fine-tune their supply chain.
Machine Learning as a Service Market Share, By Region, 2022 (%)
| | |
| --- | --- |
| Regions | Revenue Share in 2022 (%) |
| North America | 39.7% |
| Asia Pacific | 21.8% |
| Europe | 26.4% |
| Latin America | 9% |
| MEA | 3.1% |

Why North America dominates the machine learning as a service market?
In terms of technical breakthroughs and acceptance, North America is the area that is developing the fastest within the worldwide market for machine learning as a service. It has an infrastructure that is well-equipped and has the financial means to pay for machine learning as a service solution. Additionally, the market is anticipated to grow during the forecast period due to an increase in spending in the defence sector and technical developments in the telecommunications sector. The market for machine learning services is anticipated to be strongly influenced by government rules on data security. The market is anticipated to be driven by services like cloud applications and security information. The significant industry presence of companies like Google, IBM, Microsoft, and Amazon Web Services as well as their wide range of product offerings have also contributed to the increase in demand for machine learning in this area. Additionally, the development of cognitive computing and artificial intelligence is anticipated to provide up lucrative prospects for market participants to capitalise on several industrial applications, including fraud management, fraud detection, and natural language processing.
Why Asia-Pacific region is growing faster in the machine learning as a service market?
However, over the projected period, Asia-Pacific is anticipated to have the highest CAGR and be the area with the quickest growth. Leading companies are concentrating on the Asia-Pacific area in order to build their businesses since the BFSI (banking, financial services, and insurance) industry is predicted to have significant growth in the deployment of security services in this region. During the projected period, the CAGR for Asia-Pacific is anticipated to be the highest, making it the region with the quickest growth. Industry players are becoming aware of how crucial it is to offer multimodal platforms in order to guarantee excellent customer service. The main trend anticipated to have an impact on the market growth in this area is the rise in the penetration of AI applications. Additionally, government entities have made significant attempts to accelerate machine learning and related technologies' penetration in the region.
Key market developments
In order to strengthen the capabilities of organisations employing analytics and machine learning platforms to make decisions, Cognizant, a major participant in the machine learning as a service industry, purchased Inawisdom in December 2021.
In order to support digital business transformation by concentrating on new business outcomes, Kyndryl, another significant competitor in the market for machine learning as a service, engaged into a relationship with Google Cloud in December 2021.
Using the brand-new machine learning platform "Azure," Microsoft, a major participant in the market for machine learning as a service, unveiled new machine learning services in May 2019. These services range from hosted notebooks to no-code tools.
Key market players
Segments covered in the report
(Note*: We offer report based on sub segments as well. Kindly, let us know if you are interested)
By Component
By Organization Size
Small and Medium-Sized Enterprises
Large Enterprises
By Application
Marketing & Advertising
Fraud Detection & Risk Management
Computer vision
Security & Surveillance
Predictive analytics
Natural Language Processing
Augmented & Virtual Reality
Others
By Industry Vertical
BFSI
IT & Telecom
Automotive
Healthcare
Aerospace & Defense
Retail
Government
Others
By Geography
North America
Europe
Asia-Pacific

China
India
Japan
South Korea
Malaysia
Philippines

Latin America

Brazil
Rest of Latin America

Middle East & Africa (MEA)