The global medical imaging outsourcing market was valued at US$ 7.24 Billion in 2019 and expected to reach US$ 10.61 Billion by 2027, with at a compound annual growth rate (CAGR) of 4.9% during the forecast period 2020 to 2027.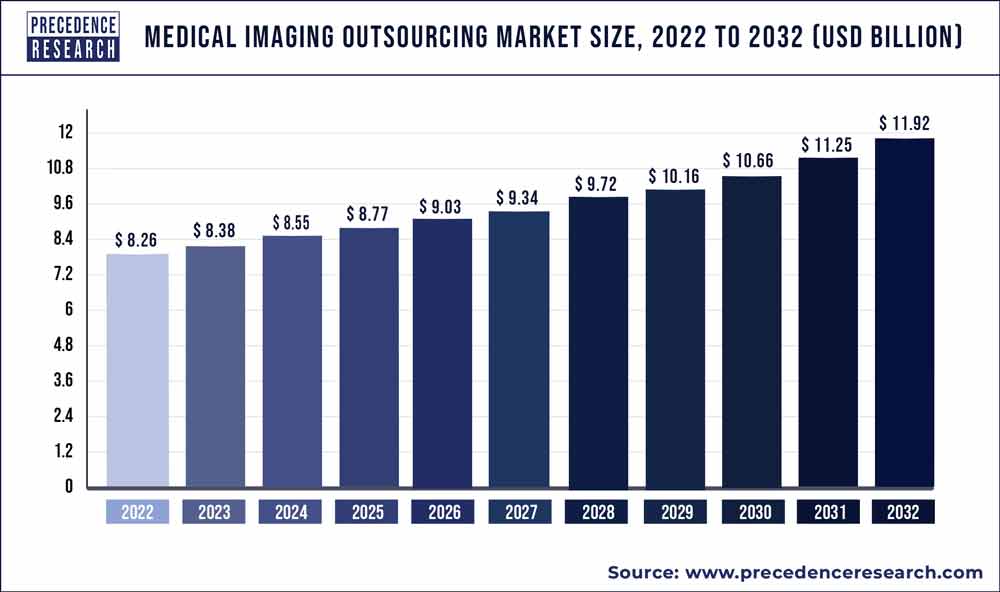 Growth Factors
Rising need for early diagnosis for chronic diseases, technological advancements mostly in the imaging services, growing demand for advanced medical devices & products, and high cost of imaging modalities expected to drive the medical imaging outsourcing market over the forthcoming years. Diagnostic imaging is among the most powerful techniques to improve the treatment process. It also helps caregivers and service providers to map the effect of their treatment precisely on the affected part of the patient along with a plan of further course of action. Medical imaging also offers quality diagnostic support coupled with this it also aids in making specific decisions related to critical treatment processes. This has significantly triggered increases the need for outsourcing services of medical imaging devices to an experienced and well-trained medical facility provider.
These medical imaging devices are quite costly to own for a medical center as well as they require large space for their installation because of which medical service providers or healthcare centers prefer to outsource these services. This also helps these clinical centers in saving cost that attributed as the prime reason behind offshore ventures. Further, medical imaging outsourcing services also assist in timely diagnosis of the critical diseases as well as treatment of the patient within time. The time factor is critical in the treatment and diagnosis of chronic & critical diseases and outsourcing medical imaging services assist in faster turnaround time for patients, cost savings, and decreased workload pressure.
Presently, rising trend for outsourcing services in the healthcare sector because of increasing competition among the medical facility providers as well as medical device manufacturers estimated to propel the demand for medical imaging outsourcing services over the coming years. Besides this, the healthcare management faces several challenges on account to provide superior quality of medical services while maintaining the service budgets. Hence, the aforementioned factors anticipated to augment the demand for outsourcing services of medical imaging in the near future.
| | |
| --- | --- |
| Report Highlights | Details |
| Market Size | USD 10.61 Billion by 2027 |
| Growth Rate | CAGR of 4.9% From 2020 to 2027 |
| Base Year | 2020 |
| Historic Data | 2017 to 2020 |
| Forecast Period | 2020 to 2027 |
| Segments Covered | Device |
| Regional Scope | North America, APAC, Europe, Latin America, MEAN, Rest of the World |
| Companies Mentioned | Flatworld Solutions Pvt. Ltd., Alliance Medical, MetaMed, Diagnostic Imaging Services, NORTH AMERICAN SCIENCE ASSOCIATES INC., Ankarad Medical Imaging Systems, Shields MRI, KAYI Healthcare, RadNet, Inc., PROSCAN IMAGING |
Device Insights
The Computed Tomography (CT) segment captured major market share of more than 56% in terms of revenue in 2019 in the global medical imaging outsourcing market. The prominent share of the segment is mainly attributed to the cost of the service as they are less expensive as compared to other medical imaging services. Besides this, they are present almost in every emergency department and are generally used during any emergency cases because of time constraints, for example, in cases of trauma or stroke.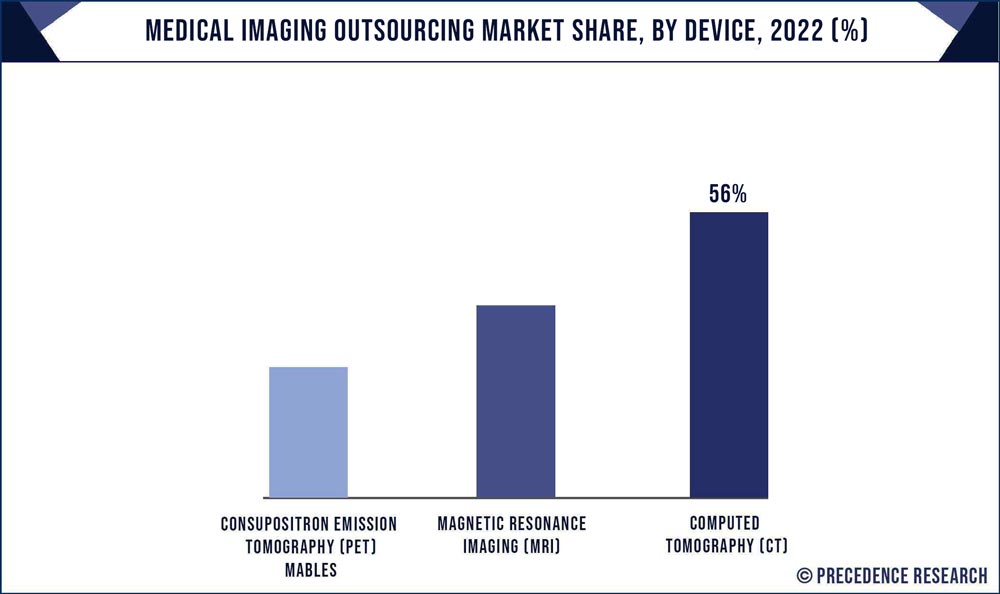 On the other hand, Magnetic Resonance Imaging (MRI) anticipated to grow at the fastest rate of nearly 5% during the analysis period. MRI devices are comparatively more expensive and deliver minute details, for example, in case of neurological disorders and cancer. They are best at showing tendons, ligaments, spinal cords, and nerves, hence projected to boost the growth of the segment in the coming years.
Regional Insights
North America is the front-runner in the global market for medical imaging outsourcing and accounted for a value share of around 42% in the year 2019 as well as the region estimated to maintain its leading position over the forthcoming period. The tremendous growth of the region is primarily due to the rising healthcare expenditure by people coupled with the presence of well-established healthcare infrastructure in the region. As per the national health expenditure data published by Centers for Medicare & Medicaid Services, healthcare spending in the United States has grew by 4.6% in 2018 and reached to USD 3.6 Trillion or USD 11,172 per person. According to the nation's Gross Domestic Product (GDP) healthcare spending account for nearly 18% of the total GDP.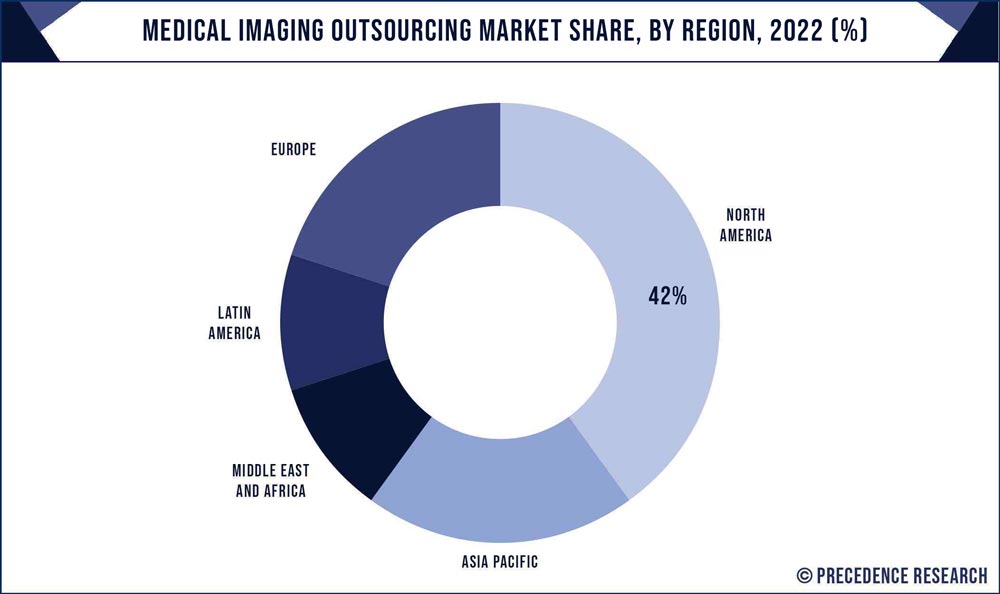 On the contrary, the Asia Pacific anticipated to register as the second-most rapidly growing region after North America during the analysis period because of the presence of large patient population that are undiagnosed for the critical diseases, rise in disposable income, rapid urbanization, and growing awareness related to early diagnosis of critical or chronic diseases. Besides this, rapid adoption of various medical imaging technologies projected to prosper the growth of medical imaging outsourcing services in the region.
Key Companies & Market Share Insights
The global medical imaging outsourcing market is at its developed stage; whereas, still witnesses advanced technology penetration such as big data, cloud technology, and various other analytical tools to improve the imaging services and features to assist doctors and caregivers in making quick and fast decision in treatment process. This trend has also bolstered the market competition as these industry participants are significantly adopting such technologies to gain a competitive edge in the market as well as this also helps them in generating more and more revenue with less investment that surge their profit level.
Some of the prominent players in the medical imaging outsourcing market include:
Flatworld Solutions Pvt. Ltd.
Alliance Medical
MetaMed
Diagnostic Imaging Services
NORTH AMERICAN SCIENCE ASSOCIATES INC.
Ankarad Medical Imaging Systems
Shields MRI
KAYI Healthcare
RadNet, Inc.
PROSCAN IMAGING
Segments Covered in the Report
This research study comprises complete assessment of the market by means of far-reaching qualitative and quantitative perceptions, and predictions regarding the market. This report delivers classification of marketplace into impending and niche sectors. Further, this research study calculates market size and its development drift at global, regional, and country from 2016 to 2027. This report contains market breakdown and its revenue estimation by classifying it on the basis of device, and region: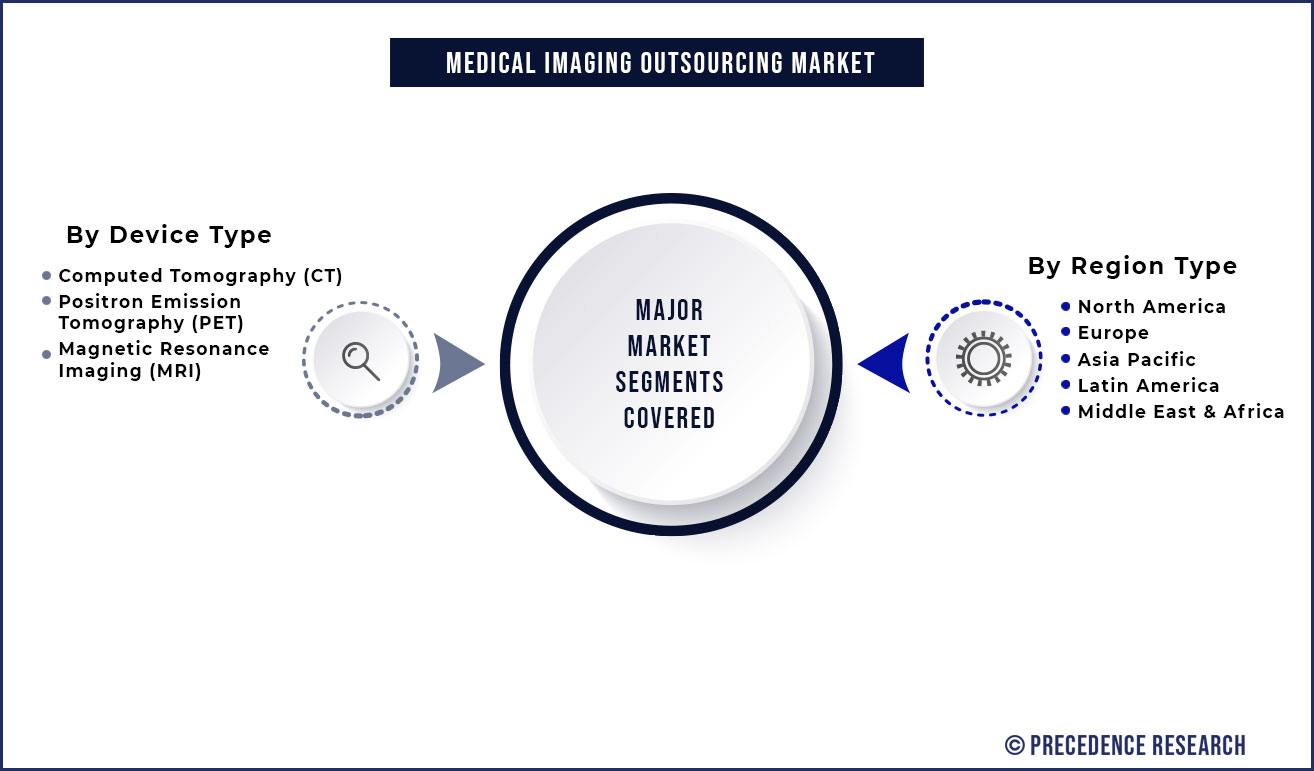 By Device
Computed Tomography (CT)
Positron Emission Tomography (PET)
Magnetic Resonance Imaging (MRI)
By Regional Outlook
North America
Europe
Asia Pacific

China
India
Japan
South Korea

Rest of the World