The global metagenomic sequencing market size was valued at USD 2.17 billion in 2022 and is expected to be worth around USD 12.04 billion by 2032, progressing with a CAGR of 18.69% over the forecast period 2023 to 2032.
Metagenomic sequencing is a molecular biology method used to examine the genetic material found in a complicated assemblage of microbes, such as a soil sample or the microbiome of the intestine.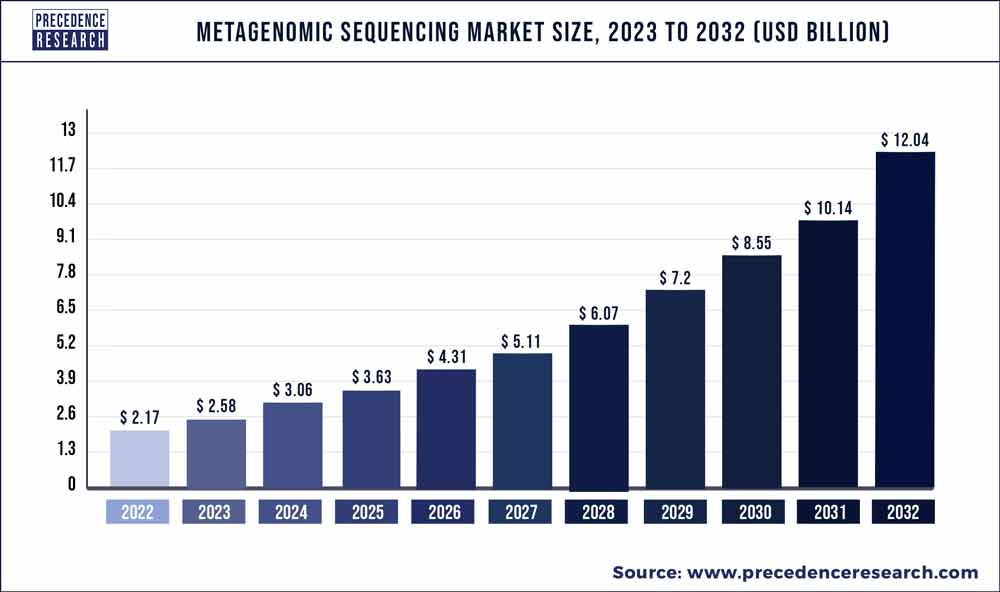 Access our Premium Real Time Data Intelligence Tool, Visit: Precedence Statistics
Key Takeaways:
North America region dominated the market and recorded more than 42% of the revenue share in 2022. It is predicted to hit a value of USD 2,577 million by 2032, growing at a CAGR of 17.37%.
The services segment dominated the market in 2022 and is expected to reach a value of USD 3,945 million by 2032, growing at a CAGR of 17.90% between 2023 and 2032.
The drug discovery segment dominated the market in 2022 and the market size is projected to hit around USD 2,641 million by 2032, progressing with a CAGR of 18.59% between 2023 and 2032.
Eurofins Scientific, a global market player in genomics generated revenues from $5,110 million in 2019 to $7,607 million in 2021 with a 2Y CAGR of 21%.
85% of the total size of Eurofins' food and environmental testing businesses accounted for genomics, biopharma, IVD, and related activities reported as of 2021.
Growth Factor:
The ability of scientists to study microbial communities from an infinite variety of environments is expanding, and one of the main factors promoting this growth is the continuous development of faster sequencing techniques, rising demand for personalized medicine, technological advancements, and rising funding for genomic research. Advancements in sequencing technologies and data analysis tools have made metagenomic sequencing more accessible and affordable, which is expected to drive market growth.
Molecular biology study has been accelerated by the development of Next Generation DNA Sequencing (NGS) technology, leading to a wealth of new findings and ideas. Rising technical developments in DNA sequencing will therefore probably fuel market expansion over the course of the projection period. Increasing government initiatives and financing for large-scale sequencing projects, as well as rising general knowledge of genetic abnormalities, are some of the main forces propelling the global metagenomic sequencing market. Numerous hereditary diseases with distinct clinical symptoms have been discovered. A confirmed birth abnormality affects 3 to 6% of infants, at least 50% of whom have a genetic basis. Around 30% of postnatal infant mortality in wealthy countries is attributable to genetic illness; 30% of juvenile hospital hospitalizations and 10% of adult hospital admissions have a genetic cause.
The growing adoption of next-generation sequencing (NGS) technologies is also expected to drive the growth of the market. The development of novel sequencing platforms with improved accuracy, throughput, and cost-effectiveness has increased the adoption of NGS technologies for metagenomic sequencing. Additionally, the increasing demand for metagenomic sequencing in environmental monitoring and microbiome research is expected to drive the growth of the market. Over a quarter of NHGRI's FY2018 funding is allocated to projects with substantial computational genomics or data science components; these fields are essential to many of NHGRI's awards and initiatives. The NHGRI Funding Policy's general concepts and objectives are followed by funding for computational genomics and data science.
Some of the key trends in the metagenomic sequencing market are:
Metagenomics has important uses in many different areas.
Progress in metagenomics sequencing technology.
A variety of programs and financial support from public and private organizations for extensive sequencing efforts.
Use of machine learning and AI in analyzing metagenomic data.
Scope of the Metagenomic Sequencing Market
| | |
| --- | --- |
| Coverage | Details |
| Market Size in 2023 | USD 2.58 Billion |
| Market Size by 2032 | USD 12.04 Billion |
| Growth Rate from 2023 to 2032 | CAGR of 18.69% |
| Largest Market | North America |
| Fastest Growing Market | Asia Pacific |
| Segmentation | By Product and Services, By Technology, and By Application |
| Regions Covered | North America, Europe, Asia-Pacific, Latin America and Middle East & Africa |

Key Market Drivers:
NGS platform technology is constantly evolving.
The development of effective, portable, and simple-to-use NGS systems with better turnaround rates has been made possible by the ongoing technological advancements in sequencers. A number of well-known businesses are increasingly concentrating on R&D in order to improve their marketplaces and share as a result of the launch of such goods and technologies giving competitors an instant competitive advantage.
For instance, the Sequel ll System was introduced by Pacific Biosciences of California, Inc. (US) in April 2019. When compared to the prior Sequel System, the new product lowers project costs and timelines by roughly eight times the amount of data production. PromethlON 24 and Prometh|ON 48 were introduced by Oxford Nanopore Technologies plc. (UK) in January 2019. These devices provide modular high throughput, extended read, and direct nanopore sequencing data. Thermo Fisher Scientific's lon GeneStudio S5 System and Illumina's Seq 100 are two other ground-breaking systems that guarantee high sequencing efficiency at lower prices.
Key Market Challenges:
Budgetary restrictions for consumers in emerging nations
Academic R&D in emerging nations is primarily reliant on outside financing. Despite ongoing attempts by governments and private organizations to provide funding for research globally, many study and academic institutions experience financial restrictions when it comes to the acquisition and use of cutting-edge and expensive equipment and technologies. NGS sequencers are still expensive even though NGS sequencing costs have decreased. The NovaSeq 5000 and 6000, lumina's most sophisticated sequencing systems, cost USD 850,000 and USD 985,000, respectively. These sequencers are approximately 70% quicker at sequencing than the majority of llumina's current platforms, and they can be made even faster with future system and program updates. Another major participant in the NGS market, Pacific Biosciences of California, offers its PacBio RS Il at USD 750,000 and its most recent sequencing platform, the Sequel system, at USD 350,000. Even though low-cost sequencing systems like the iSeq have entered the market, many end consumers in developing APAC and LATAM nations still find their price to be prohibitive. As a consequence, the adoption of related NGS products for metagenomics is being hampered by the restricted use of cutting-edge technologies, such as NGS, in university and research institutions in emerging nations.
Key Market Opportunities:
NGS data analysis using big data
The amount of data generated during whole-genome sequencing typically ranges in the terabyte region. The management of such massive amounts of data is a significant worry for NGS-based metagenomic sequencing's end users. Due to inconsistent data formats and a dearth of industry-wide standardization for data output from various NGS systems, data storage needs can be quite complicated. However, the output of NGS runs has grown considerably as a result of the use of big data tools, Al, and process management. With improvements in sequencing technology, more data is generated during a sequencing cycle. In comparison to 16.2 megabytes at the beginning of the Human Genome Project in 2001, one human genome's sequencing results in approximately 743 terabytes (743,000 gigabytes) of data as of July 2017, according to a study from the National Human Genome Research Institute. Because the volume of produced genetic data exceeds the capabilities of human analysis, there is a chance to use cutting-edge computing techniques for evaluation and analysis. Various businesses are integrating cutting-edge algorithmic technologies into their sequencing products in line with this. For example,
Illumina (US) introduced Illumina Connected Analytics (ICA), a fresh and comprehensive analytics system, in January 2021. examine and investigate vast amounts of multi-omics data
In 2020, lumina (US) introduced the TruSight Software Suite, which allows sample-to-report analysis for the diagnosis of genetic diseases, offers a comprehensive solution, and gives insightful data through simpler genomic sequencing.
The market for metagenomic sequencing will see significant growth as sophisticated NGS solutions built on big data analytics and cloud computing are developed for managing, saving, and retrieving the massive amounts of data produced.
Segments Insights:
Product and Services Insights:
The worldwide market for metagenomics sequencing is segmented into three product and service categories: reagents and consumables, tools, and services. Metagenomics sequencing services and research & data interpretation options make up the services sector. The services segment led the market in 2022 and is projected to reach a value of USD 3,945 million by 2032, growing at a CAGR of 17.90% between 2023 and 2032. Over the course of the study period, reagents and consumables are expected to expand at the fastest rate. By using reagents and consumables, one can be confident that the DNA used for metagenomics sequencing analysis is typical of all the cells in the sample and suitable for creating genomic libraries. Additionally, the pre-sequencing consumables make sure that the DNA material being submitted to sequencing is precisely handled to produce the desired nucleotide sequence. Due to the rise in genetic illnesses, diseases, and metagenomics sequencing study initiatives, there is an increase in the demand for metagenomics sequencing, which spurs the market's expansion.
Technology Type Insights:
The worldwide market for metagenomics sequencing is divided into four categories based on technology: metatranscriptomics, whole genome sequencing and de novo assembly, and shotgun metagenomics sequencing. Due to the benefits that shotgun sequencing offers over other sequencing techniques, the rise in the number of metagenomics sequencing-based research activities, and healthcare professionals, it is anticipated that the shotgun metagenomics sequencing segment will grow at the fastest rate during the analysis period.
The worldwide metagenomics sequencing market is expected to grow as more people choose to implement shotgun sequencing due to the better benefits provided. Shotgun metagenomic sequencing has seen a rise in use over the past few years as a result of an application that allows for the reading of all the genomes contained within a DNA molecule.
Application Insights:
The ecological and environmental metagenomics, clinical diagnosis, drug development, biofuel, and industrial application segments make up the worldwide metagenomics sequencing market. In 2022. However, due to the advancement of tools and software used in metagenomics research, the clinical diagnostics sector is anticipated to expand at the greatest rate from the forecast period. The prevalence of viral and pathogenic diseases has increased, creating opportunities for the worldwide metagenomics sequencing industry to expand.
Additionally, the rising incidence of infectious diseases and the need for rapid and accurate diagnostics, and Growing awareness and adoption of precision medicine approaches for personalized treatment foster the growth of clinical diagnostics applications. Furthermore, Growing concerns about environmental pollution and climate change, and Advances in sequencing technologies and bioinformatics tools for studying complex microbial ecosystems drive the growth of ecological and environmental metagenomic applications. Moreover, the growth of this segment is also attributed to increasing demand for new, effective as well as natural product-based drugs to treat various diseases and conditions.
Regional Insights:
The market for worldwide metagenomics sequencing is currently dominated by North America, and this trend is anticipated to continue throughout the projection period.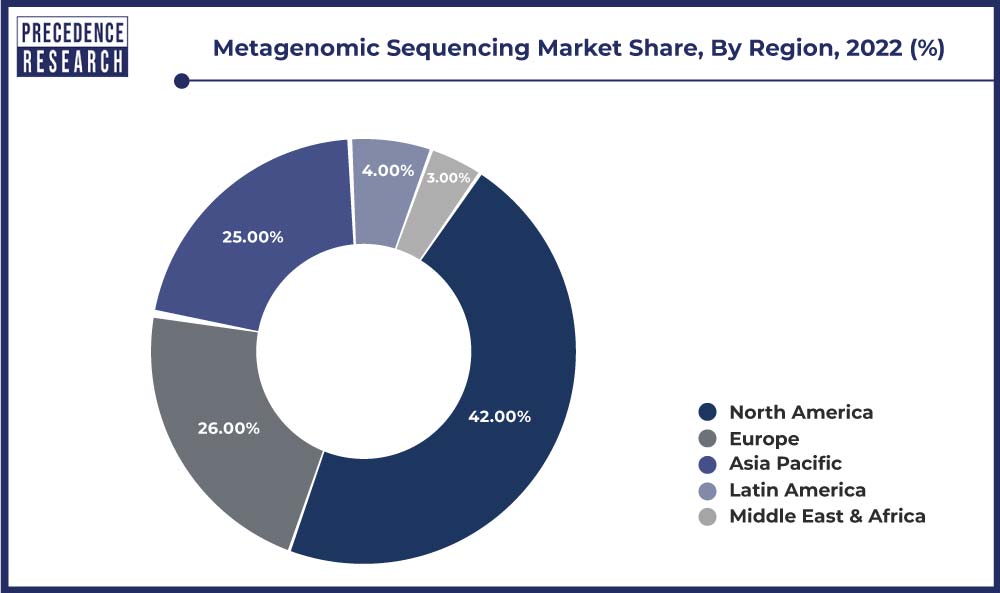 North America region dominated the market in 2022. It is anticipated to hit value of USD 2,577 million by 2032, growing at a CAGR of 17.37%. The North American region generated more than 42% of the revenue share in 2022. This is explained by the fact that more metagenomics apps in this area are implementing DNA sequencing. Additionally, this region's supremacy has been aided by the quick implementation of novel sequencing technologies there. Growth of the market is fueled by an increase in product clearance, product launches, and acquisitions by major companies operating in North America. Additionally, the presence of key market players and government support for genomics research is expected to drive the growth of the market in this region. The European region is expected to witness substantial growth in the metagenomic sequencing market due to the increasing demand for genomic research and development, and the presence of key market players.
The Asia Pacific region is expected to witness rapid growth in the metagenomic sequencing market due to the presence of a large patient population and increasing investments in healthcare infrastructure.
Key Market Players
BGI Group
DNAStar, Inc.
Eurofins Scientific
GENEWIZ
Illumina, Inc.
IntegraGen SA
Macrogen, Inc.
Microsynth AG
Novogene Corporation
NuGEN Technologies, Inc.
Oxford Nanopore Technologies Ltd.
PerkinElmer
QIAGEN N.V.
Thermo Fisher Scientific, Inc.
Zymo Research Corporation
Recent Developments:
In March 2019, Illumina and the Lundbeck Foundation GeoGenetics Centre (Denmark) collaborated to build one of the most comprehensive databases of ancient genomes. The study of the genetic origins of particular mental and neurological disorders and infectious microbes will also be aided by this cooperation.
Using Illumina's NGS technology, KingMed Diagnostics (China) and Illumina worked together to create cancer and hereditary disease diagnostic apps in January 2019.
Segments Covered in the Report:
(Note*: We offer report based on sub segments as well. Kindly, let us know if you are interested)
By Product and Services
Reagents and consumables
Tools
Services
By Technology
Shotgun Metagenomics Sequencing
16S rRNA Sequencing
Whole Genome Sequencing & De Novo Assembly
Metatranscriptomics
By Application
Ecological & Environmental Metagenomics
Clinical Diagnostics
Drug Discovery
Biofuel
Industrial Applications
By Geography
North America
Europe
Asia-Pacific
Latin America
Middle East and Africa