The global sequencing reagents market size was valued at USD 6.50 billion in 2022 and is expected to be worth around USD 13.43 billion by 2032, growing at a CAGR of 7.53% during the forecast period 2023 to 2032.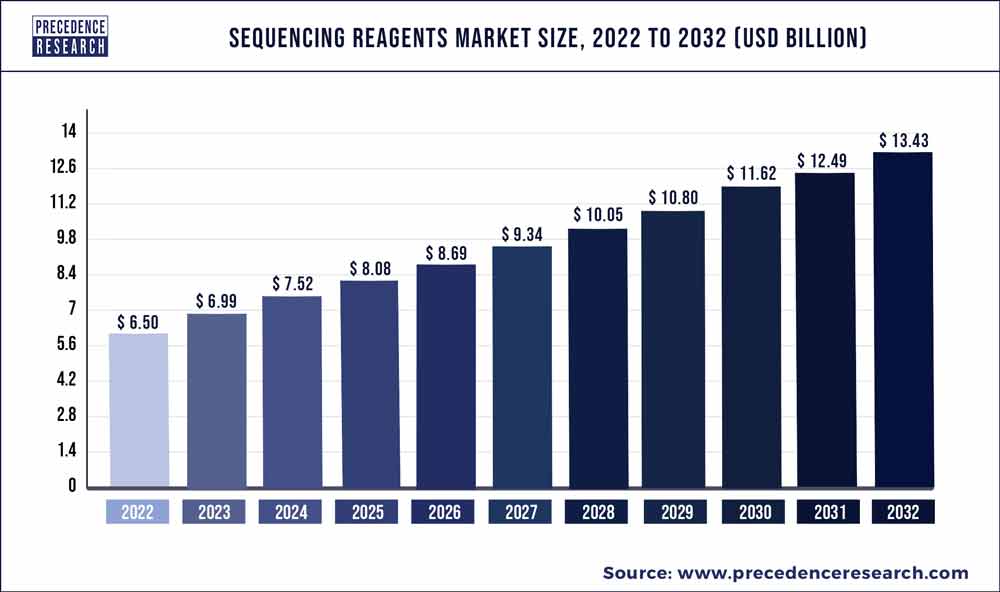 Access our Premium Real Time Data Intelligence Tool, Visit: Precedence Statistics
Key Takeaways:
North America captured the highest revenue share in 2022.
By Type, the sequencing kits segment is predicted to generate the largest market share in 2022.
By Technology, the NGS segment recorded the maximum market share in 2022.
By Application, the clinical investigation segment nowadays dominates the global market.
Market Overview:
The sequencing reagents market refers to the segment of the life sciences industry that focuses on the production and sale of reagents used in DNA sequencing. It has become a fundamental tool in genomics research, personalized medicine, and various applications in the life sciences field. Sequencing reagents play a critical role in facilitating the sequencing process by enabling the accurate and efficient reading of DNA sequences. These reagents consist of modified nucleotides labeled with fluorescent dyes or other markers. They are used as building blocks in the DNA sequencing process. The growth of the sequencing reagents market is driven by advancements in technologies, the increasing adoption of genomic medicine and declining sequencing costs.
Growth Factors:
Governments and research institutions worldwide are investing in genomics research and precision medicine initiatives. This financial support fosters technological advancements, encourages research collaborations, and increases the adoption of sequencing technologies, thereby boosting the demand for sequencing reagents. The cost of DNA sequencing has significantly decreased over the years, making it more accessible to researchers and clinicians. This cost reduction has been driven by technological advancements, economies of scale, and increased competition among sequencing instrument and reagent manufacturers.
Report Scope of the Sequencing Reagents Market:
| | |
| --- | --- |
| Report Coverage | Details |
| Market Size in 2023 | USD 6.99 Billion |
| Market Size by 2032 | USD 13.43 Billion |
| Growth Rate from 2023 to 2032 | CAGR of 7.53% |
| Largest Market | North America |
| Base Year | 2022 |
| Forecast Period | 2023 to 2032 |
| Segments Covered | By Type, By Technology, and By Application |
| Regions Covered | North America, Europe, Asia-Pacific, Latin America, and Middle East & Africa |

Market Dynamics:
Driver:
The affordability of DNA sequencing is rising
The DNA sequencing market has expanded as a result of DNA sequencing becoming more widely available and less expensive thanks to the development of NGS technologies. As technology develops, it is expected to play a bigger role in research, medicine, and other fields. Historically, the cost structure for sequencing reagents was quite ambiguous because it was expressed in terms of $/base, making it challenging to tell whether the cost included all of the sequencing's various steps or was just for the sequencing run. New paradigms for data storage and processing are becoming more crucial as the cost of sequencing continues to drop and the volume of sequence data generated increases.
As a result, a novel, inclusive approach was developed in response to this problem. An all-inclusive cost structure includes component costs, direct costs, and indirect charges for a sequencing project. Direct costs are expenses that can be directly linked to and related to the production of a given product. Indirect costs are those that are required for the production process but aren't directly connected to the creation of a product. This approach provides a better understanding of the cost structure of a sequencing project and aids end users and funding organizations in improving their research plans.
Restraints:
A lack of genome sequencing resources in underdeveloped countries
The interdisciplinary field of DNA sequencing necessitates an understanding of bioinformatics, chemistry, and biology. As a result, individuals who undertake DNA sequencing require particular training. Additionally, scientists can use powerful computational and statistical methods to decode the functional information locked in DNA sequences thanks to the study of genomic data science. These data science methods are used in the field of genomic medicine to assist researchers and clinicians in understanding how variations in DNA impact human health and disease. The use of many sophisticated tools still necessitates the payment of license fees, which are frequently out of the financial reach of many institutions in developing countries, even though some tools are given under open-source licenses. As a result, one of the biggest obstacles to industry expansion is the lack of resources, such as sequencing reagents for DNA sequencing, in poor nations.
Opportunities:
Rising demand and development of personalized medicine
The rising demand for personalized medicine creates significant opportunities for the sequencing reagents market. Personalized medicine aims to provide tailored medical treatments based on an individual's genetic information, lifestyle, and specific disease characteristics. Personalized medicine heavily relies on genomic sequencing to analyze an individual's genetic makeup. This involves the sequencing of the individual's DNA to identify genetic variations, mutations, and biomarkers that may influence disease risk, treatment response, and prognosis.
The growing demand for genomic sequencing in personalized medicine drives the need for sequencing reagents. This presents opportunities for companies involved in the production and distribution of sequencing reagents to cater to the expanding needs of personalized medicine applications and support advancements in genomics research and clinical practice.
Segments Insight:
Type Insights:
The sequencing kits segment is the most lucrative segment of the market. Sequencing kits often provide a cost-effective solution for DNA sequencing experiments. By bundling essential reagents and consumables into a single kit, they can reduce the overall cost of purchasing individual components separately. Additionally, sequencing kits may offer bulk discounts or package deals, further enhancing cost savings for high-throughput sequencing projects. Sequencing kits contribute to standardization in DNA sequencing experiments. They are developed with validated protocols and optimized formulations, ensuring consistent and reproducible results across different laboratories and experiments.
The library kits segment is growing at a substantial rate during the forecast period. Library kits are becoming essential for sample preparation in sequencing workflows. They allow researchers to convert DNA or RNA samples into libraries that are ready for sequencing. Library preparation involves steps such as DNA fragmentation, adapter ligation, PCR amplification, and indexing. Library kits provide optimized reagents, protocols, and quality control measures to ensure efficient and reproducible sample preparation.
Technology Insights:
The NGS market segment had a substantial market share in 2022. DNA sequencing is an effective technique for understanding a variety of human disorders, including cancer. The cost of sequencing has been significantly reduced while throughput has increased thanks to next-generation sequencing (NGS) technology.
NGS has revolutionized genomics research and is used in various applications, including whole genome sequencing, exome sequencing, transcriptome sequencing, and targeted sequencing. Sequencing reagents for NGS include library preparation kits, polymerases, adapters, indexing reagents, and buffers.
The sanger sequencing segment is another attractive segment of the market. Sanger sequencing is playing a significant role in early DNA sequencing efforts and still has its applications in certain scenarios, it is not considered a popular choice in the current sequencing reagents market. The shift towards NGS technologies has been driven by their increased throughput, improved accuracy, scalability, and ability to generate large amounts of sequencing data in a shorter time frame. NGS has enabled numerous applications in genomics, including whole genome sequencing, exome sequencing, transcriptome sequencing, and targeted sequencing.
Application Insights:
The clinical investigation segment currently dominates the global sequencing reagents market. Clinical researchers use sequencing reagents to study the genomics of various diseases, including cancer, genetic disorders, and rare diseases. By sequencing the genomes of affected individuals, researchers can identify disease-causing mutations, genetic risk factors, and potential therapeutic targets.
The rising demand for genomic data analysis will continue to promote the growth of the segment during the forecast period. Sequencing reagents are used in conjunction with bioinformatics tools to analyze and interpret large-scale genomic data generated from clinical investigation studies. These reagents facilitate the processing, alignment, variant calling, and annotation of sequencing data, allowing researchers to identify relevant genetic variations and make meaningful conclusions.
The market for sequencing reagents is divided into agrigenomics and forensics, clinical investigation, cancer, and other applications based on application. Due to the extensive use of sequencing reagents in clinical research and the advancement of cancer therapies and diagnostics, oncology will hold the highest share of the sequencing reagents market during the forecast period.
Regional Insights:
North America acquired the largest share of the global sequencing reagents market in 2022. The region will continue to maintain its position during the forecast period. North America is one of the largest markets for sequencing reagents globally. The region's well-established healthcare system, high adoption of advanced genomic technologies, and strong research activities contribute to the market's size and growth. The market is expected to continue growing due to the increasing demand for personalized medicine, genomic research, and molecular diagnostics.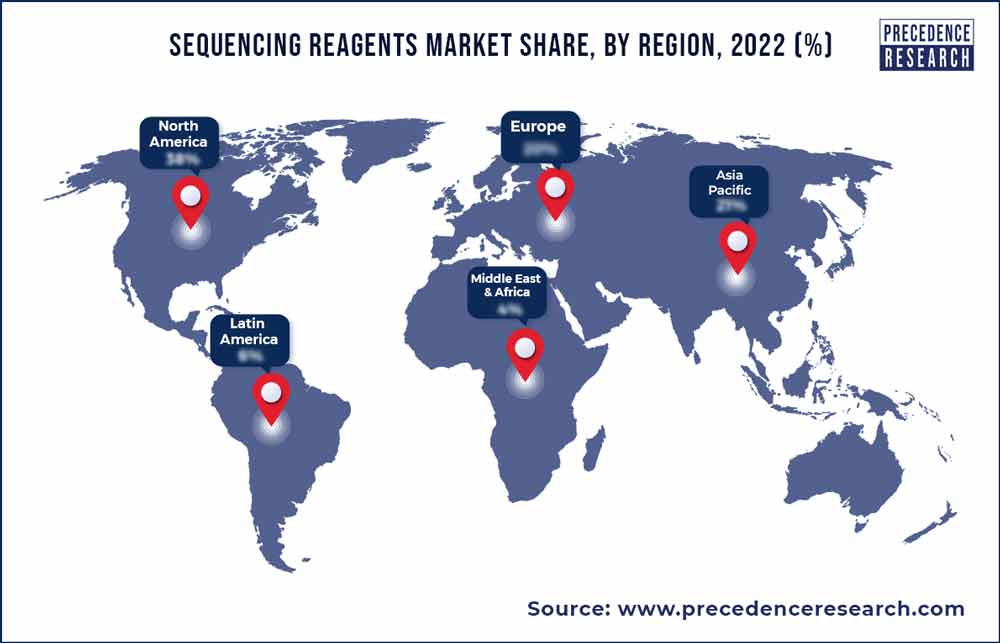 Next-generation sequencing has transformed the genomics field and has become a standard tool in various applications, including research, clinical diagnostics, and drug discovery. North America has been at the forefront of adopting and implementing NGS technologies, driving the demand for sequencing reagents in the region.
On the other hand, Asia Pacific is expected to be the most attractive marketplace for sequencing reagents. Asia Pacific is witnessing a significant increase in research and development activities in various fields, including genomics, molecular biology, and life sciences. Academic institutions, research organizations, and biotechnology companies in countries like China, Japan, and South Korea are actively engaged in genomic research, driving the demand for sequencing reagents. Genomic medicine is gaining traction in the Asia Pacific region as countries recognize the potential of utilizing genetic information in healthcare.
Governments and healthcare providers are investing in genomics infrastructure, precision medicine initiatives, and large-scale genomic sequencing projects. This increased adoption of genomic medicine fuels the demand for sequencing reagents.
Recent Developments:
In January 2023, Complete Genomics showcased its advanced sequencing capability at the Biocase 2023 along with the company's DNBSEQ platform. According to the company the platform is designed to offer accurate and flexible results.
Key Market Players:
Thermo Fisher Scientific, Inc.
Illumina, Inc.
QIAGEN
BGI
Pacific Biosciences of California, Inc.
F. Hoffmann-La Roche AG
Oxford Nanopore Technologies
Agilent Technologies, Inc.
Fluidigm Corporation
ArcherDX, Inc.
Takara Bio Inc.
Bioline
Segments Covered in the Report:
(Note*: We offer report based on sub segments as well. Kindly, let us know if you are interested)
By Type
Template Kits
Library Kits
Control Kits
Sequencing Kits
Others
By Technology
Next Generation Sequencing
Sanger Sequencing
Third Generation Sequencing
By Application
Clinical Investigation
Oncology
Forensics & Agrigenomics
Others
By Geography
North America
Europe
Asia-Pacific
Latin America
Middle East and Africa