The global molecular diagnostics market size was estimated at USD 40.83 billion in 2022 and is expected to hit around USD 58.86 billion by 2032 with a registered CAGR of 3.8% from 2023 to 2032.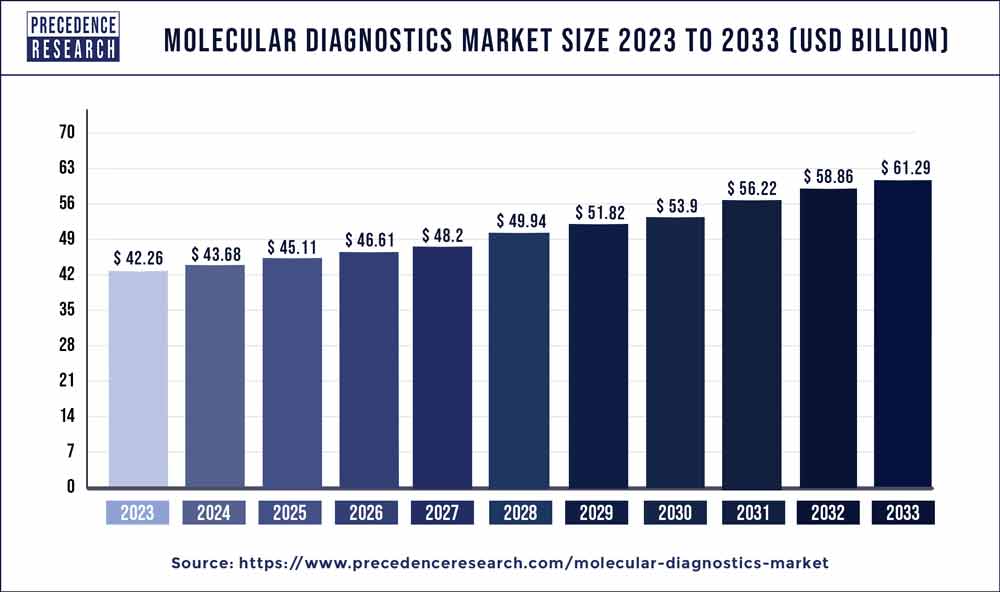 Key Takeaways:
By product type, the reagent segment held a 61% market share in 2022.
By application, the infectious disease segment has reached 47% market share in 2022.
By end user, the hospitals segment accounted for 62% market share in 2022.
By region, North America market growth is registering at a CAGR of 9.3% during the forecast period.
Europe market has accounted highest revenue share of over 29.6% in 2022.
As there is a decline in the demand for molecular COVID-19 testing the market is expected to shrink. The diagnostics industry boomed during the outbreak of COVID-19. In order to develop novel and rapid diagnostic gifts for detection of coronavirus this market had grown drastically. Companies that were operating in the infectious diseases segment saw a spike in their revenue during the pandemic. There was a 59% rise in the revenue of Thermo Fisher Scientific due to increase in the Revenue of the diagnostics division.
Growth Factors
The increase in the geriatric population globally and an increase in the attracting numerous diseases has led to a growth in the market. Diseases like cancer, cardiovascular diseases, neurological disorders, diabetes and obesity which could be linked to the rising geriatric population is driving the growth of the market. An increase in the incidence of infectious diseases is expected to propel the market growth.
Increase in various other diseases like HIV, HPV and STI shall help in expanding the market. There is an increase in the initiatives taken by the major market players in order to improve the access to various cost-effective resources that they offer. Infections are anticipated to drive the molecular diagnostics market growth during the forecast period till the year 2032. There is an acute and effective result generation in the molecular diagnostic tests and it has indispensable application in many disease diagnostics. These molecular tests or associated with high prices.
Factors like the technological advancements, rising elderly population and the increase in demand for genetic testing is creating great opportunities for the growth of this market. Also, an increase for self-testing diagnostic and the awareness among the patient about these faster diagnostics is creating a great growth.
Market Dynamics
Market Drivers
Rising requirement for cancer diagnostics
According to the National Institutes of Health's projection, there will be approximately 1,958,310 cancer cases in the United States in 2023. This number of rising cases of cancer brings demand for early diagnosis of cancer across the globe. Molecular diagnostics plays a crucial role in the early detection of cancer. Molecular diagnostics identify cancer-related biomarkers at an early stage, healthcare providers can diagnose cancer before symptoms arise, leading to earlier treatment initiation. Cancer continues to be a leading cause of morbidity and mortality across the globe, as the cancer cases increase, the demand for accurate and precise diagnostic method also grows. This element is observed to pose a driver for the market.
Development of precision medicine
Precision medicine focuses on tailoring medical treatments and interventions to individual patients based on their unique genetic makeup, lifestyle, and environmental factors. Molecular diagnostics play a crucial role in this approach by enabling the identification of specific biomarkers, genetic mutations, and gene expression patterns that can guide treatment decisions for each patient. Molecular diagnostics have become an essential component of the drug development process. Companion diagnostics are tests used to identify patients who are most likely to respond positively to a particular treatment. By identifying suitable candidates for specific therapies, companion diagnostics help pharmaceutical companies improve the success rates of clinical trials and streamline the drug development process. Thereby, drives the growth of the market.
Market Restraints
Presence of alternative diagnostic methods
Alternative diagnostic methods, such as traditional laboratory tests or imaging techniques, may already be established and widely accepted in the medical community. When molecular diagnostics compete with these existing methods, it can be challenging to gain market share and acceptance, especially if the alternatives are perceived as more cost-effective or easier to implement. Molecular diagnostics often involve sophisticated technologies and specialized equipment, making them more expensive than some conventional diagnostic methods. This cost factor can hinder their adoption, especially in resource-limited settings where healthcare facilities may not have the financial means to invest in expensive molecular diagnostic infrastructure. Thus, the presence of alternative testing methods in the market creates a restraint for the market.
Stringent regulatory policies
Stringent regulatory requirements act as barriers to entry for new entrants in the molecular diagnostics market. As a consequence, established companies with already approved products may have a competitive advantage, making it difficult for newcomers to gain a foothold. Regulatory agencies often work closely with healthcare payers to determine the coverage and reimbursement of molecular diagnostic tests. Uncertain or restrictive reimbursement policies can create financial uncertainties for companies, affecting their willingness to invest in research and development, market expansion, or product improvement. Such policies or guidelines are observed to hamper the market's expansion.
Market Opportunity
Rising focus on less-invasive testing methods
Less invasive testing methods can enable earlier detection and continuous monitoring of diseases, leading to better treatment outcomes and overall patient management. Patients often prefer non-invasive or minimally invasive procedures as they are less painful, have shorter recovery times, and reduce the risk of complications. The aging population is more prone to chronic diseases that require frequent monitoring, making less invasive testing methods particularly beneficial for this demographic. Molecular diagnostics has enabled the development of blood tests that can detect specific genetic, or protein markers associated with various diseases. These tests can provide valuable information without the need for invasive procedures, making them more appealing to both patients and healthcare providers. Thus, the rising demand for less invasive testing methods creates significant opportunities for the molecular diagnostics market.
Market Challenge
Data safety challenges
Molecular diagnostics heavily rely on the analysis and sharing of sensitive genomic information, data privacy and security becomes critical issues. The rise in cyberattack and data breaches to personal health information could deter patients and healthcare providers from embracing molecular diagnostics technologies. Concerns about how companies handle, or store genetic data might also deter users, patients or consumers from adopting such services. All these factors associated with data safety concerns create a significant challenge for the market.
Report Scope of the Molecular Diagnostics Market
| | |
| --- | --- |
| Report Coverage | Details |
| Market Size in 2023 | USD 42.26 Billion |
| Market Size by 2032 | USD 58.86 Billion |
| Growth Rate from 2023 to 2032 | CAGR of 3.8% |
| Base Year | 2022 |
| Forecast Period | 2023 to 2032 |
| Segments Covered | Product, Test Location, Technology, Application, End User, and Geography |
| Companies Mentioned | Siemens Healthineers AG (Germany), Quidel Corporation (US), F. Hoffmann-La Roche Ltd. (Switzerland), Hologic, Inc. (US), Thermo Fisher Scientific, Inc. (US), Danaher Corporation (US), Illumina, Inc. (US), Becton, Dickinson and Company (US), Grifols, S.A. (Spain), PerkinElmer, Inc. (US), Abbott Laboratories (US), bioMérieux SA (France), QIAGEN N.V. (Netherlands), Myriad Genetics, Inc. (US), Agilent Technologies, Inc. (US), geneOmbio Technologies Pvt. Ltd. (India) |

Segments Insight
Product Insights
The reagent segment had the largest market share until real 2022. The revenue share of the reagents segment is expected to maintain its dominance in the coming years. The segment is expected to grow during the forecast period as it is widely adopted in many research and clinical settings. Standard reagents are effective in achieving efficient and extremely accurate results.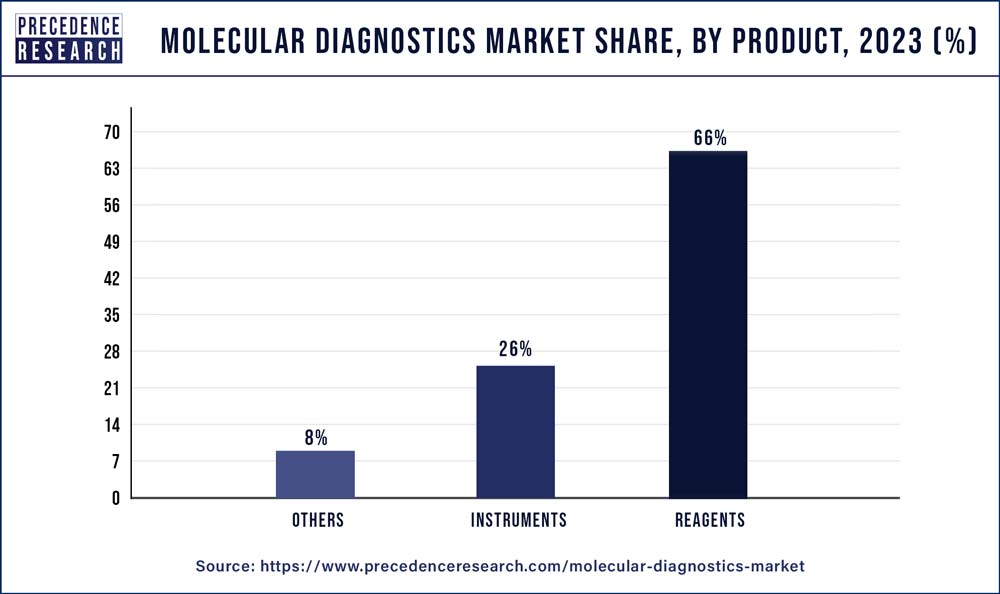 Due to the standardization of these results, improved efficiency and the cost-effective nature the segment is expected to support the growth of the market during the forecast period. In February 2022 Roche Diagnostics extended the COVID test portfolio to new cobas 5800 system in the countries that accept the CE mark approval.
Global Molecular Diagnostics Market Revenue, By Product, 2022-2032 (US$ Million)
| | | | | |
| --- | --- | --- | --- | --- |
| Product | 2022 | 2023 | 2027 | 2032 |
| Instruments | 10,740.40 | 11,037.71 | 12,498.27 | 15,196.73 |
| Reagents | 26,943.27 | 28,001.71 | 32,231.73 | 39,814.39 |
| Others | 3,144.34 | 3,217.30 | 3,471.67 | 3,848.20 |
Location Insights
On the basis of the test locations, the central laboratories had the largest market share in the recent years. In the future the central laboratory segment is expected to grow as there are high procedure volumes for COVID testing in these laboratories. An increasing number of initiatives that are taken by the government to provide different services like reimbursement for these diagnostics test is another factor that is helping in the growth of this market. There is a growing demand in the development of molecular diagnostic platforms which can also be used in POC settings. Many major market players are designing the molecular diagnostic platforms. The growing development of this platform will offer quick POC results which are expected to provide a boost to the market.
Global Molecular Diagnostics Market Revenue, By Location, 2022-2032 (US$ Million)
| | | | | |
| --- | --- | --- | --- | --- |
| Location | 2022 | 2023 | 2027 | 2032 |
| POC | 5,282.83 | 5,580.12 | 6,905.07 | 9,335.09 |
| Self testing/OTC | 1,843.80 | 2,021.63 | 2,904.48 | 4,732.29 |
| Central Labs | 33,701.38 | 34,654.97 | 38,392.13 | 44,791.95 |
Application Insights
Till the year 2022, the infectious diseases segment accounted for the largest revenue share in the molecular diagnostics market. Due to the use of the tests for the diagnosis of COVID-19 the infectious diseases segment dominated the market. In the coming years the oncology segment is expected to drive the market.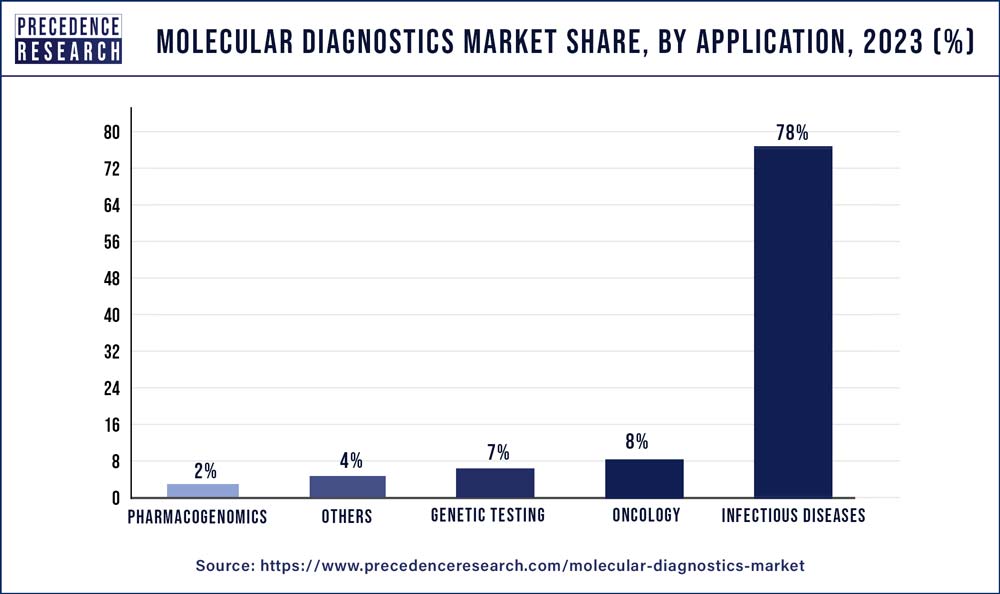 The oncology segment is expected to have a high CAGR during the forecast period. About 19.3 million cancer cases were diagnosed across the globe in the year 2020 in order to provide better access and the improvement in the oncology molecular diagnostics the British in vitro diagnostics association along with NHS England developed a commissioning framework for molecular diagnostics in oncology.
Global Molecular Diagnostics Market Revenue, By Application, 2022-2032 (US$ Million)
| | | | | |
| --- | --- | --- | --- | --- |
| Application | 2022 | 2023 | 2027 | 2032 |
| Oncology | 3,216.46 | 3,503.51 | 5,145.89 | 8,054.19 |
| Pharmacogenomics | 805.37 | 860.97 | 1,163.17 | 1,699.14 |
| Infectious Diseases | 32,319.45 | 33,087.01 | 35,317.37 | 39,393.29 |
| Genetic Testing | 2,759.33 | 2,989.71 | 4,299.36 | 6,618.38 |
| Others | 1,727.40 | 1,815.52 | 2,275.89 | 3,094.34 |
Technology Used Insights
The use of PCR technology to detect various infectious diseases or the genetic diseases is expected to drive market growth. The polymerase chain reaction segment had the largest revenue till the year 2022 due to its use in the detection of COVID-19 and other infectious diseases in the recent years. DNA sequencing processes and technologies are integrally linked to novel drug development, drug discovery and personalized medicine.
Global Molecular Diagnostics Market Revenue, By Technology, 2022-2032 (US$ Million)
| | | | | |
| --- | --- | --- | --- | --- |
| Technology | 2022 | 2023 | 2027 | 2032 |
| PCR | 31,008.69 | 31,920.34 | 34,968.19 | 37,631.26 |
| ISH | 2,303.76 | 2,559.86 | 4,070.90 | 8,088.82 |
| INAAT | 1,676.42 | 1,687.54 | 1,675.04 | 1,730.53 |
| Sequencing | 2,293.64 | 2,460.26 | 3,450.10 | 6,340.83 |
| TMA | 2,904.53 | 2,956.58 | 3,196.55 | 3,942.83 |
| Others | 640.97 | 672.14 | 840.90 | 1,125.06 |

Regional Insights
Due to rising epidemiology of infectious and chronic diseases, the European region had a larger revenue share in the year 2022. The market is expected to grow in the coming years due to the research and development activities which are boosting the market growth. Due to an awareness amongst the consumers and the high standard of living which is creating a need for early diagnosis which helps in the growth of the market in this region. A well established and technologically advanced health care system is a major driving factor for the growth of the European region.
The Asia Pacific region is also expected to have a good growth during the forecast. As there is a great demand for these tests in the Asia Pacific region. Owing to increased market penetration and constantly expanding patient pool for early prevention, diagnosis of various therapies the market in the Asia Pacific region is expected to boost during the forecast period.
Global Molecular Diagnostics Market Revenue, By Region, 2022-2032 (US$ Million)
| | | | | |
| --- | --- | --- | --- | --- |
| Region | 2022 | 2023 | 2027 | 2032 |
| North America | 16,360.56 | 16,851.38 | 18,853.85 | 22,472.49 |
| Europe | 11,346.09 | 11,698.43 | 13,142.20 | 15,744.87 |
| Asia Pacific | 10,144.33 | 10,589.20 | 12,540.16 | 16,116.77 |
| Latin America | 1,656.69 | 1,712.54 | 1,972.92 | 2,437.74 |
| MEA | 1,320.33 | 1,405.17 | 1,692.53 | 2,087.46 |
Key Market Developments
F. Hoffmann-La Roche Ltd. (Switzerland) announced the acquisition of TIB Molbiol (Germany) in 2021 to expand its PCR test portfolio with a wide range of assays for infectious diseases that were increasing across the globe.
QIAGEN N.V.(Netherlands) partnered with Verogen (US) in June 2021 to broaden its portfolio in NGS technologies.
Hologic, Inc. (US) acquired Mobidiag Oy (Finland) which is an innovator in acute care molecular diagnostic testing. This acquisition was made in the year 2021 which will aid in expanding Hologic's molecular diagnostics product portfolio.
For high-throughput molecular testing of infectious diseases Becton, Dickinson and Company (BD) announced expansion of its BD COR system to include MX instruments in December 2021.
Roche announced an agreement to acquire GenMark Diagnostics in march 2021 which can provide molecular diagnostic tests, which are designed for the detection of various pathogens with a single patient sample.
Segments Covered in the Report
(Note*: We offer report based on sub segments as well. Kindly, let us know if you are interested)
By Product
Instruments
Reagents
Services & Software
By Test Location
Central laboratories
Point of care
Over the counter or self-test kits
By Technology
Polymerase Chain Reaction (PCR)
Isothermal Nucleic Acid Amplification Technology (INAAT)
DNA Sequencing & Next- generation Sequencing (NGS)
In Situ Hybridization (ISH)
DNA Microarrays
Others
By Application
Infectious diseases

COVID-19
Hepatitis
HIV
CT/NG
HAI
HPV
Tuberculosis
Influenza
Other Infectious Diseases

Oncology

Breast Cancer
Colorectal Cancer
Lung Cancer
Prostate Cancer
Other

Genetic testing
Neurological disease
Microbiology
By End User
Diagnostic Laboratories
Hospitals & Clinics
Others
By Geography
North America
Europe
Asia-Pacific
Latin America
Middle East & Africa (MEA)