The microarray market size was estimated at USD 5.02 billion in 2022 and is expected to surpass USD 11.39 billion by 2032, expanding at a CAGR of 8.6% from 2023 to 2032. The growing incidence of cancer worldwide and developments in bioinformatics are the main factors driving the microarray market.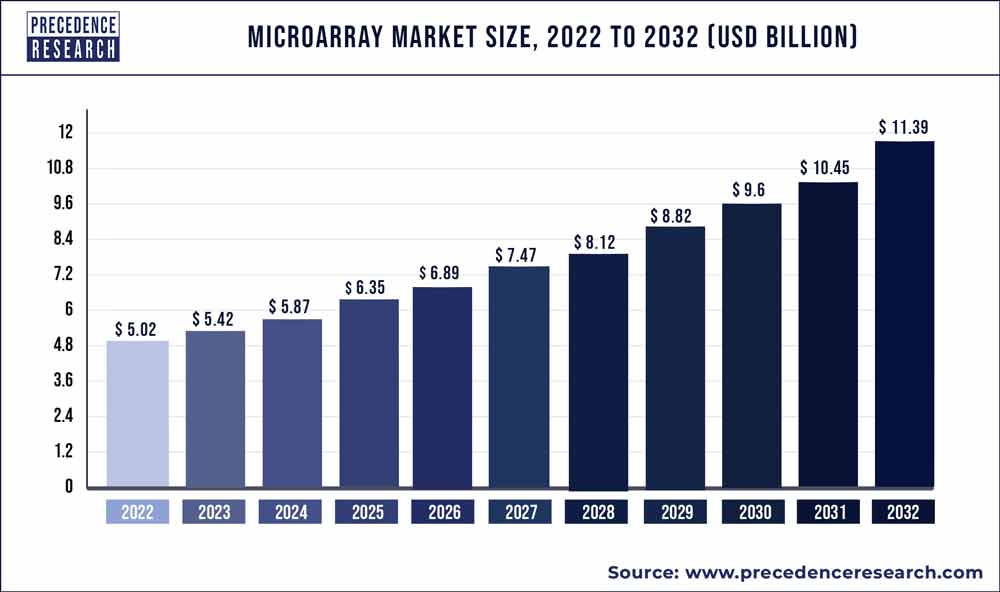 Major Trends in The Microarray Industry:
Microarrays have transformed the approach to gene expression profiling. Related to prior approaches, microarrays have vividly high throughput and are lesser cumbersome. Microarrays are established as a practice for large-scale DNA sequencing and mapping. However, altering the backing surface from a permeable membrane to a dense surface afforded substantial improvements by growing reaction kinetics and dropping background noise. The expertise for microarrays is incessantly evolving. The commonly used arrays are separated into two main categories that comprise oligonucleotide and complementary or spotted DNA (cDNA) microarrays. The commercial oligonucleotide staging has gained acceptance over spotted cDNA microarrays as prices have fallen to the stage where commercial microarrays are the more used platform. DNA microarrays deliver a quantitative and panoramic overview of a sample's appearance output. The power is vast as biological developments generally result from the synchronized interaction of numerous genes.
Microarray technology is principally used in genome sequencing and mapping applications. Nevertheless, in the past decade, this technology is extensively being used in the judgment of genetic and infectious ailments, pharmacogenomics research, forensic applications, drug discovery, cancer diagnostics, and agriculture. Furthermore, the microarray technology is also employed in immunology study such as the researchon the relation between gene expression and phenotype, variation and activation of immune cells, parameter of immune responses, immunological pharmacology, and examination of the molecular mechanisms of allergy. In the current field of genomics, conventional gene-by-gene approach is not satisfactory to meet the demand of handling information produced from mapping the compound biology of the human genome. Thus, there is a need to surge the global interpretation of examining the magnitude of info with microarrays.
Crucial factors accountable for market growth are:
Increasing expenditure on research and development in the healthcare sector
Growing number of applications of microarrays
Advances in the fields of proteomics and genomics
Evolution of software's
Growing awareness regarding personalized medicines
Increasing preference for DNA based microarrays
COVID-19 Impact on Global Microarray Market
In a new press statement, bluebird bio, agene therapy developer, broadcasted that COVID-19 had deferred the EU unveiling and U.S. filing of gene therapy applicant Zynteglo (LentiGlobin). The establishment now assumes to dosage the primary commercial patient in the 2nd half of 2020 with Zynteglo in Germany. Previously, the corporation had declared the 1st of the year as the unveiling date. Numerous gene therapy makers are re-shifting their attention to develop new vaccines for COVID-19. The reviewed short-term emphasis across these recognized developers is likely to contribute significantly to the effect the market.
Future of Microarray
The microarray technologies encompass a high multiplexing capability and are extensively used for sensing diverse β-lactamase genes existing in a sole strain. This ability can help clinicians in guiding antimicrobial treatment. Microarray technology is demonstrating to be one of the main developments in the recent past that have driven biological research into post-genomic era.
| | |
| --- | --- |
| Report Highlights | Details |
| Market Size in 2023 | US$ 5.42 billion |
| Market Size by 2032 | US$ 11.39 billion |
| Growth Rate from 2023 to 2032 | CAGR of 8.6% |
| Base Year | 2022 |
| Forecast Period | 2023 to 2032 |
| Segments Covered | Product, Type, Application, End User |
| Regional Scope | North America, Europe, Asia Pacific, Latin America, Middle East & Africa (MEA) |
| Companies Mentioned | Illumina, Inc., Agilent Technologies, Inc., Thermo Fisher Scientific, Inc., Merck & Co., Inc., PerkinElmer, Inc., Arrayit Corporation, Bio-Rad Laboratories, GE Healthcare, Molecular Devices, LLC, Affymetrix |
Significant Market Trends:
Consumables Segment Reported Foremost Market Stake in 2022
Consumables segment displayed the major share in the worldwide microarray market in 2022. Repeated use and bulk purchase are the key reason for highest market stake of consumables. The factors such as launch of new products are expected to retain the dominance of consumables in the near future.
The software & services are anticipated grow at the maximum CAGR through the forecast time-frame mainly due to integration of software's into systems.
DNA Microarrays Dominated the Market Revenue
DNA microarrays have multiple applications in area of gene expression investigation, genotyping, and transcription factor binding investigation amid others.Oral medicines are generally the first line of treatment that a physician prescribes.
Protein microarrays will expand at highest CAGR during the forecast time-frame. Protein microarrays are characteristically constituted of numerous support surfaces like slides, nitrocellulose membranes, beads, and microtitre plates causing protein bindings. Increasing acceptance of protein microarrays by top biopharmaceutical and pharmaceutical companies for drug discovery and toxicology analysis are expected to further fuel industry growth.
Research Applications Will Dominate the Microarray Market Revenue
Widespread availability of tablets is the key reason for high market share. Growth in government along with private funding for study in proteomics and genomics is the key reason for foremost market share of research applications.
Research & Academic Institutes Accounted For the Highest Share Within The End User Segment of Microarray Market Revenue
Factors such as rise in the use of microarrays in drug discovery and research applications. contribute to the growth of cancer segment.
North America is Estimated to be the Largest Market for Microarray
The detailed research report covers significant prospects and inclinations of microarray products throughout different regions including Europe, North America, Asia-Pacific, Africa, Middle East, and Latin America. By region, microarray market is led by North America due to heavy expenditure in microarray research and development and existence of skilled scientists. Europe reported the second maximum share predominantly due to presence of key manufacturers. On the contrary, Asia-Pacific is anticipated to witness the rapid growth rate, on account of increasing investment by major manufacturers, high prevalence of cancer, and growing per-capita healthcare expenditure.
Top Players contending in the Market:
The companies focusing on research and development are expected to lead the global microarray market. Leading competitors contending in global microarray market are as follows:
Illumina, Inc.
Agilent Technologies, Inc.
Thermo Fisher Scientific, Inc.
Merck & Co., Inc.
PerkinElmer, Inc.
Arrayit Corporation
Bio-Rad Laboratories
GE Healthcare
Molecular Devices, LLC
Affymetrix
In order to well recognize the present status of enzyme-linked immunosorbent assay (ELISA), and policies implemented by the foremost nations, Precedence Research projected the future progress of the microarray market. This research report bids quantitative and qualitative insights on microarray market and valuation of market size and progress trend for probable market segments.
Key Market Developments:
In June 2018, Molecular Devices Introduced Spectramax ABS and ABS plus Absorbance Microplate readers.
In March 2020, Agilent introduced three new microarrays to meet the needs of cytogenetic laboratories conducting both prenatal and postnatal research.
Major Market Segments Covered:
By Product
Consumables
Software & Services
Instruments
By Type
DNA Microarrays
Protein Microarrays
Other Microarrays
By Application
Agriculture
Research Applications
Drug Discovery
Diseases Diagnostics
Other Applications
By End User
Research & Academic Institutes
Pharmaceutical & Biotechnology Companies
Diagnostic Laboratories
Other End Users
Others
By Geography
North America
Europe

Germany
France
United Kingdom
Rest of Europe

Asia Pacific

China
Japan
India
Southeast Asia
Rest of Asia Pacific

Latin America

Brazil
Rest of Latin America

Middle East & Africa (MEA)

GCC
North Africa
South Africa
Rest of Middle East & Africa