The global dental laboratories market size was valued at USD 32.23 billion in 2022, and it is expected to hit around USD 52.59 billion by 2032, growing at a registered CAGR of 5.40% during the forecast period 2023 to 2032.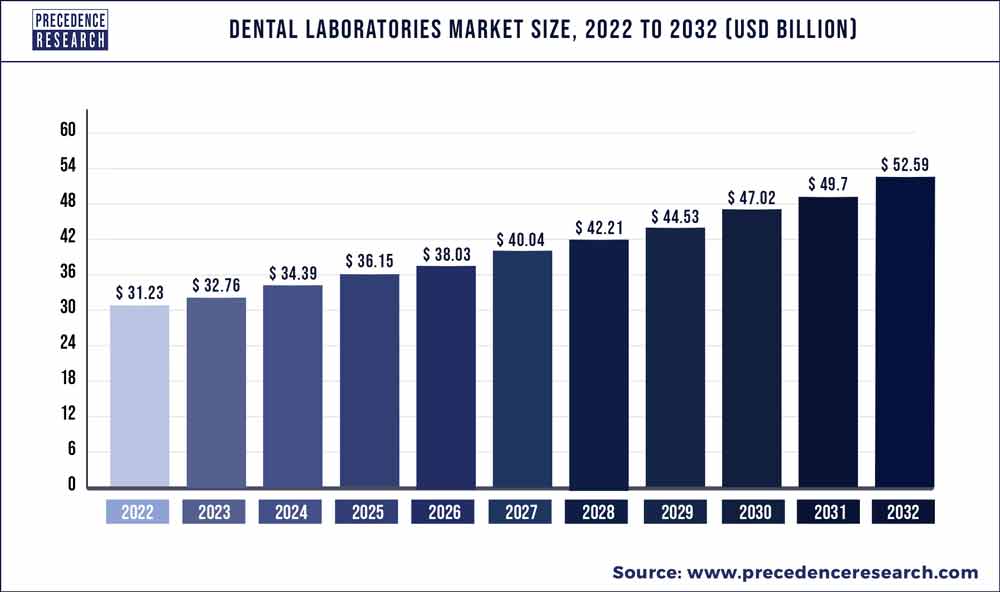 Access our Premium Real Time Data Intelligence Tool, Visit: Precedence Statistics
Market Overview
Half of the global population suffers from dental caries or periodontal diseases in order to improve oral health in the world. The WHO and many other organizations are taking initiatives to improve aesthetic appeal, in the dentistry industry. Many people are seeking orthodontic treatments in order to have a perfect smile there has been a development of a wide range of techniques and also a wide range of procedures that help in catering to these specific patients and helping in the growth of the dental laboratories market. The pandemic had a lot of disruptions in the supply chain of various industries. The dental laboratories market was also adversely affected by the pandemic. Various restrictions and social distancing led to the closure of dental clinics across the world.
Report Scope of the Dental Laboratories Market
| | |
| --- | --- |
| Report Coverage | Details |
| Market Size in 2023 | USD 32.76 Billion |
| Market Size by 2032 | USD 52.59 Billion |
| Growth Rate from 2022 to 2030 | CAGR of 5.40% |
| Base Year | 2022 |
| Forecast Period | 2023 to 2032 |
| Segments Covered | Product, Equipment, Material, Prosthetic Type, and Geography |
| Companies Mentioned | Envista, Dentsply Sirona, A-dec Inc., Institut Straumann AG, GC Corporation, Mitsui Chemicals, Inc., 3M, Dental Services Group, Zimmer Biomet, Ultradent Products, Inc., Danaher |
Market Dynamics
Rapid technological advancements in dental laboratories and the use of different types of implant materials have increased the demand for surgeries. Advanced implants with technological developments have led to painless and easy healing procedures. 3D imaging of dental implant bridges or crowns has facilitated the planning of complicated procedures. There are growing investments in equipment and strict regulations for consumer safety in this industry. The increasing awareness about oral health care amongst the people and the efforts by the government in order to reimburse for dental treatment are the major driving factors of the dental laboratories market. Many celebrities and social media influencers have triggered the need for aesthetic appeal in order to have a perfect smile and many people are seeking orthodontic treatments which help to boost the market. The rapid growth of the geriatric population has also led to the growth of dental laboratories for many customized solutions. There is increasing popularity of cosmetic dentistry which is driving the growth of the dental laboratories market. The designing and manufacturing of various products like the caps bridge crowns and all the other essential appliances in order to protect and straighten the teeth are expected to drive the market during the forecast period.
Advanced CAD/CAM systems are utilized for the high-quality development and manufacturing of products used in dentistry clinics; however, only a few laboratories can afford these systems due to their high cost and heavy maintenance. Due to a lack of financial resources, dentists and dental laboratories in poor countries do not prefer to install such high-priced equipment. Due to rising demand, this will be a significant factor slowing the market development.
Cosmetic dentistry is one of the most rapidly increasing areas of the dental profession. With rising disposable earnings, people willing to undergo costly cosmetic operations have increased, especially among elder people. Cosmetic dentistry is becoming more popular in both emerging as well as developed countries, owing to changing lifestyles and a growing emphasis on dental aesthetics. Which is driving up demand for operations like implants, crowns, bonding, bridges, orthodontic therapy, inlays, on-lays, and veneers. This increased demand for cosmetic dentistry operations, with rising disposable incomes, will propel the growth of the dental laboratories industry to new heights in the future years.
COVID-19 Impact
COVID-19 has harmed economies and industries in lots of countries due to strict lockdowns, travel bans, and business closures. In addition, this pandemic has had a significant impact on the dental equipment industry. As many dental practices were forced to close during the widespread, routine dental treatment was virtually unavailable. Many countries have been obliged to take drastic and decisive measures as a result of the COVID-19 pandemic. From the beginning of the pandemic, the dental industry is closer. As a result of this exposure, dentists and their dental assistants can immediately supplement the existing medical team's response during medical emergencies.
Dentists could be a member of an effective surveillance network, reporting typical mouth symptoms or clinical presentations to public health authorities. This could aid dentists in the early diagnosis of a disease outbreak or bioterrorism strike, reducing the number of people dying. In addition, it is expected that dental practice would change drastically in the post-pandemic age. According to dental authorities and dental schools, task groups to form guidelines and proper training for dental practitioners are urgently required.
By Product Insights
The oral care segment has the largest share about 29% in 2022. It had good revenue till the last year due to increased awareness regarding oral hygiene and adoption of various techniques the market is expected to grow during the forecast period. The restorative segment is also expected to have a good revenue share during the forecast period. There are advanced and improved restorations that are fueling the market growth due to technological advancements in areas like digital radiography, caries diagnosis, CAD/CAM implant dentistry, and intraoral imaging.
Various dental devices are used to treat the misalignment of the teeth. These dental devices are fabricated especially for the treatment of various dental conditions. The use of this device is for the correction of the jaws and the teeth that are positioned improperly are also expected to see a growth during the study period. In the restorative segment, various appliances are used by placing gentle pressure on the jaws and the teeth which are helped to move teeth and retrain the muscles all of these techniques are expected to see good progress during the analysis.
By Equipment Insights
The systems and parts segment is expected to have the largest market share, 37.5% in terms of revenue during the forecast period. The systems and parts segment will dominate the market due to various supporting equipment which is required to carry out the dental laboratory procedures. Various equipment is milling equipment, furnaces, scanners, and articulators which are extremely essential for traditional dental technicians.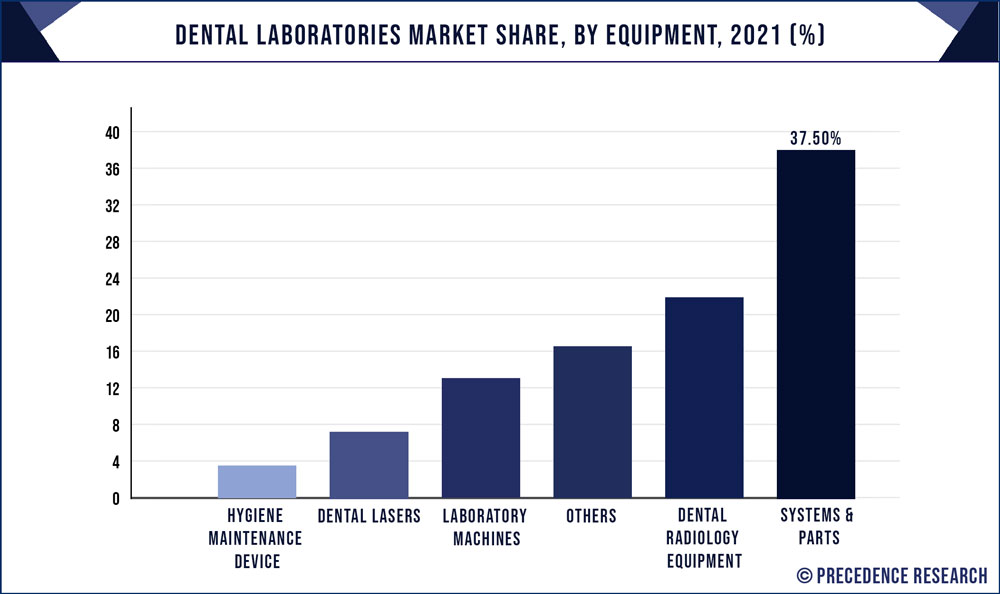 The dental laser segment is also expected to grow during the forecast period it shall have the fastest CAGR of 8.7% during the forecast period. The dental laser segment is expected to grow due to the use of computers in this industry as computer-aided design, laser sintering, and laser welding. In dental diagnostics and various dental surgical procedures, dental lasers have a wide range of use. The use of dental lasers provides many benefits like regeneration of bones and ligament issues reduced surgery discomforts and minimal bleeding.
By Material Insights
Based on materials, the market is categorized into metal-ceramics, traditional all-ceramics, CAD/CAM materials, plastics, and metals. The metal ceramics segment has the highest market share 46% in 2022. Due to its superior biocompatibility as compared to ceramics and other indirect restorative materials, as well as its strength, durability, and resistance to fracture, these qualities make the demand for the metal market sector has a higher market share than ceramics. Moreover, plastic composites dental sets are used in the new age of technology.
By Prosthetic Type
Based on prosthetic type, the market is categorized into bridges, crowns, veneers, dentures, and clear aligners. The crowns segment has the largest share in the prosthetic type market. Crowns accounted for the market share of around 42% in 2022. The increasing toothless population and increasing geriatric population is rising the demand for dental laboratories market.
Dental Laboratories Market Share, By Region, 2022 (%)
| | |
| --- | --- |
| Regions | Revenue Share in 2022 (%) |
| North America | 43% |
| Asia Pacific | 22% |
| Europe | 26% |
| Latin America | 5% |
| MEA | 4% |
By Regional Insights
The North America market had the largest market share till the year 2022 and it had the highest revenue share of about 43%. Due to the well-established healthcare infrastructure, increased awareness among the public regarding oral health care and high healthcare expenditure are the major drivers for the growth of this region.
The Asia Pacific region is also expected to have the highest CAGR during the forecast period. The Asia Pacific market is expected to show good growth as there is an aging population, increasing disposable income, and increasing awareness regarding the available treatments and other larger untapped opportunities. Moreover, there is an increasing awareness regarding oral hygiene, this region provides a lower cost of dental laboratory work which is expected to drive the market during the forecast period.
The European market is also expected to see good growth during the analysis period. There are increased oral health programs conducted in various communities. These community-based oral health programs focus on increasing awareness, helping in delivering preventive treatments, and enhancing the education of the patient related to oral care.
Recent Developments
In May 2022, Dentsply Sirona introduced DS Core and other service solutions to integrate the digital chemistry workflow across all of its devices. DS Core is a collaborative effort.
In Feb 2022, Nexa3D, a manufacturer of ultrafast resin 3D printers, announced a reseller agreement with Nowak Dental Supplies, Inc. Nexa3D's whole dental portfolio, including the post-processing xWASH and xCURE systems, the NXD 200 dental 3D printer, NexaX software, and the entire range of Keystone verified dental 3D printing materials, will be available through the latter.
In January 2022, Dental Care Alliance announced the establishment of a new practice, the sixth for the Klar Voorhees Holmes Orthodontics brand in Virginia. Klar Voorhees Holmes Orthodontics expands its foothold in Hampton Roads neighborhoods with its new site, where they have been delivering complete orthodontic treatment for almost 45 years.
In January 2022, BIOLASE and Edge Endo announced that the Edge PRO systems had received FDA 510 k clearance. Endodontists could use the technologies to find more effective cleaning and disinfection options during root canal treatments. Advanced cleaning and disinfection techniques would be available with the laser-assisted microfluidic device without affecting the overall workflow.
In October 2021, Amann Girrbach Ag (Austria) extended their agreement of CAD/CAM (Computer-aided design or Computer-aided manufacturing). The collaboration's goal was to integrate materials with an efficient production technique and great aesthetics.
In September 2021, Straumann Group (Switzerland) and Aspen Dental delivered implant abutments, CAD/CAM (Computer-aided design or Computer-aided manufacturing) alternatives, and solutions to dental offices across the United States.
In July 2021, Ivoclar Vivadent (Liechtenstein) and exocad GmbH (exocad), an Align Technology, Inc. (US) company, came together for a strategic agreement to build a digital platform that would enable dental laboratories to expand their digital processes and boost lab work efficiency.
In May 2021, Dentsply Sirona established cooperation with North American Dental Group (US). North American Dental Group and Dentsply Sirona have increased their technology and clinical solutions cooperation.
In November 2021, 3M introduced the Attest Mini Auto-reader 490M, a compact incubator that can track sterilization in 24 minutes from the convenience of your own home or workplace. This eliminates the need to ship spore checks and receive faxed results.
In April 2020, Planmeca OY Group launched a new device called "ProScanner 2.0 imaging plate scanner", which is used for rapid and reliable intraoral imaging. The new technology is long-lasting and helps with day-to-day operations at a dental office.
Some prominent players:
Envista
Dentsply Sirona
A-dec Inc.
Institut Straumann AG
GC Corporation
Mitsui Chemicals, Inc.
3M
Dental Services Group
Zimmer Biomet
Ultradent Products, Inc.
Danaher
Segments Covered in the Report
(Note*: We offer report based on sub segments as well. Kindly, let us know if you are interested)
By Product
Restorative
Orthodontic
Endodontic
Oral care
Implants
By Equipment
Dental Lasers
Systems and Parts
Laboratory Machines
Dental Radiology Equipment
3D Printing Systems
Milling Equipment
Furnaces
Dental Scanners
By Material
Metal-Ceramics
Traditional All-Ceramics
CAD/CAM Materials
Plastics
Metals
By Prosthetic Type
Bridges
Crowns
Veneers
Dentures
Clear Aligners
By Geography
North America
Europe
Asia-Pacific
Latin America
Middle East & Africa (MEA)