The military thermal imaging market is driven by the demand for patrol and combat operations in defence has increased and the increased government investment in research and development of thermal imaging is anticipated to provide prospects for producers.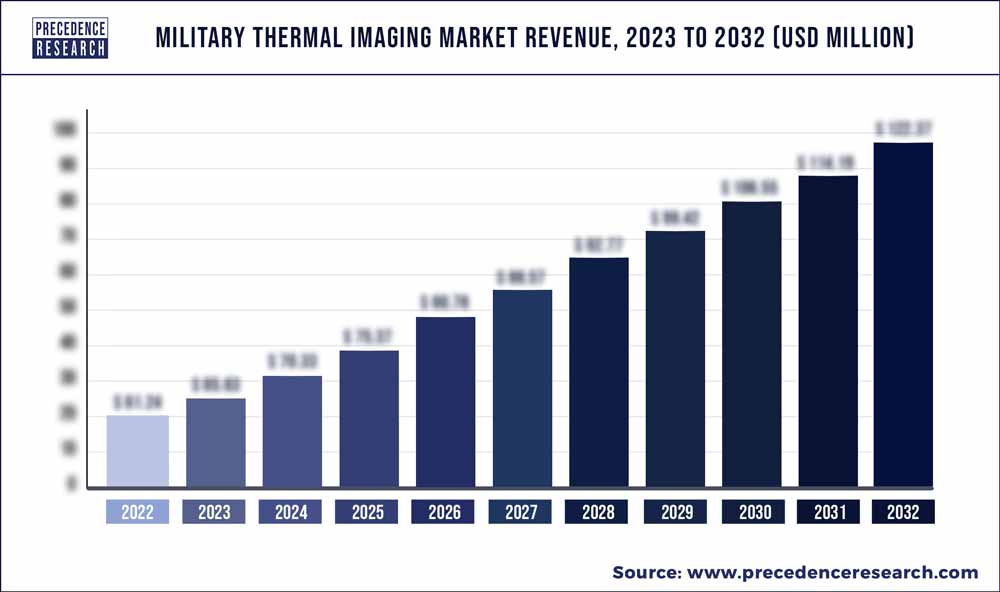 Access our Premium Real Time Data Intelligence Tool, Visit: Precedence Statistics
Market Overview:
Due to its capacity to function well in all-weather situations and its ability to work day or night, thermal imaging is a blessing for the armed services, specifically the army, navy, and air force. All items above temperatures of absolute zero emit infrared radiation, which is captured by thermal detectors. A thermogram illustrates the temperature changes in the scene that was taken. With the development of technology, the large, expensive, and demanding cryogenic temperature thermal detectors with moving parts have been replaced with small, inexpensive uncooled microbolometers with no moving components, making systems more durable and requiring less maintenance.
Due to its many benefits, thermal imaging has a wide range of uses in the military and in the field of defence. The army and navy frequently employ it for border monitoring and law enforcement. Moreover, it is utilised in ship steering and collision avoidance systems. It has significantly reduced the dangers associated with nighttime and low-light flying in the aviation sector. They are frequently employed in military aviation to recognise, track down, and attack adversarial troops. They are now being used to check the health of aircraft in civil aviation as well.
Major competitors including Leonardo DRS, FLIR Systems, BAE Systems, L3Harris Technologies, and Raytheon Technologies compete fiercely in this sector. To address the changing needs of the military, these businesses are substantially spending in R&D to bring forth cutting-edge thermal imaging technologies.
Overall, it is anticipated that the market for military thermal imaging will expand over the next few years, propelled by the rising demand for cutting-edge technology to improve military operations as well as the rising demand for vital infrastructure security and border surveillance.
Growth Factors:
Military and defence industry need for thermal imaging systems is rising as demand for innovative security systems rises.
Growing need for compact, lightweight systems of thermal imaging that are simple to integrate into small platforms like drones and unmanned aerial vehicles (UAVs).
Over the forecast period, the market for military thermal imaging is likely to rise due to the widespread use of NVDs or night-vision devices in military applications.
For the next few years, rising defence spending by governments around the world is anticipated to spur market expansion.
The market for thermal imaging is anticipated to grow as a result of technological developments and increasing demand in the defence industry. They are used for recreational activities like camping, home security, and search and rescue.
The army's need to operate at night is growing, which is driving up demand for night vision equipment in defence due to an increase in incidents like terrorist attacks, border security, trespassing, and counteractions.
Report Scope of the Military Thermal Imaging Market:
| | |
| --- | --- |
| Report Coverage | Details |
| Largest Market | North America |
| Base Year | 2022 |
| Forecast Period | 2023 to 2032 |
| Segments Covered | By Type and By Application |
| Regions Covered | North America, Europe, Asia-Pacific, Latin America and Middle East & Africa |

Market Dynamics:
Drivers:
Continuous product innovations by big businesses
The market's expansion in recent years has been most significantly impacted by the rising number of product advancements. Due to the enormous global need for contactless temperature sensors, several major corporations are concentrating on introducing cutting-edge ideas that will attract major investors worldwide.
A new camera for thermal imaging with a longer life was introduced, according to a September 2019 announcement by Leonardo S.p.A. A long-lasting cooler with the capacity to create sharp images in the dark is the SLX Super-Hawk. According to the firm, the engine has a 40,000-hour life. The product was released in an effort to take advantage of the Covid-19 pandemic's increased demand for heat and thermal sensors.
Rising use of night vision equipment in military operations
The rising use of night vision equipment in military operations is one of the main drivers fueling the market growth. Terrorist operations have significantly increased on a global scale. The economic state of a region is strongly impacted by terrorist activity. One of the key measures in this regard is the fortification of military operations, which is accomplished through modernising the equipment and weaponry employed by the military.
These days, night vision equipment is significantly lighter and more adaptable. Most military members don night vision equipment. These improvements have increased demand for night vision devices, such as goggles, scopes, and cameras, which enable armed forces to better target the opposition. Over the forecast period, the increase in terrorist activities will result in improved military operations, which would directly facilitate the demand for sophisticated systems of night vision for applications including superior navigation and surveillance.
As a result, the demand for equipment like night vision goggles will increase due to the growing use of systems of night vision in military operations, which will in turn fuel the expansion of the global market for night vision systems.
Introduction of HD technology
One of the main factors driving the growth of the market for military thermal weapon sights is the advent of HD thermal imaging systems. High-definition (HD) technology has completely changed imaging systems. The effectiveness of numerous applications has increased as a result of the clear images generated by high-definition imaging equipment. Military image systems, like weapon sights, are being integrated with HD technology to identify, recognise, and attack objects from a distance since imaging technology is essential to targeting operations and military intelligence.
For snipers, the business offers the EK Smart Thermal Weapons Sight (STWS), which is small, light, and uncooled. It is built on the innovative thermal imaging HawkVision core. The innovation enables the creation of sharp, high-sensitivity photographs at rapid frame rates.
Challenges:
Technological setbacks
A significant hurdle for the market throughout the forecast period will be the technological shortcomings of thermal imaging. There are a few drawbacks to products that use technology for image intensification. Image intensification needs some light because it heavily depends on amplification techniques. As a result, when there is no light, this technology malfunctions. This technology performs less well throughout the day. While studying bright sources in low light, the system also sustains harm.
Thermal imaging technology-based equipment is expensive to buy and maintain. The near-IR light emitted by approaching vehicles' headlamps triggers the response of some systems of high-end night vision. Images become washed out or saturated as a result. A passive system of IR night vision, which performs poorly in inclement weather, has a range of vision areas that is only half that of an active IR night vision system. So, such technological obstacles can impede the expansion of the world market.
Operational limitations in severe weather
One of the things preventing the military thermal imaging industry from growing is the operational limitations in severe weather. When exposed to extreme temperature changes, it has been noted that thermal weapon sights, particularly holographic ones, exhibit operating limitations. The reticle begins to stray when subjected to a temperature of about 122 degrees Fahrenheit due to a phenomenon called thermal drift. As a result, the point of impact may change without the user being aware of it. Crosshairs may get distorted in conditions below 20 degrees Fahrenheit because of the expansion of eyesight. When using sights in a humid area, moisture intrusion or reticle fade happens, which is another problem.
Opportunities:
It is anticipated that throughout the analysis period, the market for thermal cameras will have significant development potential due to technological improvements and rising R&D activity in thermal cameras by certain major market participants.
Segments Insight:
Type Insights:
Man-portable refers to machinery that may be controlled by one person or a small group from a location close to the ground. It can be further divided into two categories: systems that a person carries, and systems whereby the system is placed on a platform that is easily transportable.
A fixed-mounted device is one that is used for military, surveillance, security, or reconnaissance purposes to view or scan an area. The term "ground-based platform" is another name for it. Armed forces frequently use fixed mounting thermal imaging (FMTI) equipment to scan and observe targets at night and in inclement weather.
Application Insights:
Land, marine, and airborne applications make up the application section. Due to the widespread use of thermal imaging equipment by military personnel on the ground for numerous applications, such as target identification and acquisition, the land sector accounted for a significant portion of the global market in 2015. Due to the rising acceptance of technology for thermal imaging by defence organisations worldwide for a variety of uses, including target acquisition and reconnaissance, the airborne segment is anticipated to experience considerable expansion over the course of the forecast period.
In order to make night vision goggles compatible with an advanced system of thermal imaging, fixed-mounted devices are often utilised aboard aircraft (TIS). Using a collection of active and passive sensors that improve situational awareness, TIS enables pilots to spot targets at vast distances, day or night, while travelling at elevated altitudes. Also, due to their capacity to provide improved visibility in low-light settings, airborne systems are widely used by all branches of the armed services as well as intelligence organisations, which will increase demand overall over the projection period.
Regional Insights:
North America, Asia Pacific, and Western Europe are anticipated to be the three biggest markets for military thermal imaging over the projection period.
Due to the presence of significant corporations with a solid infrastructure to support the aerospace and military sector, Western Europe and North America have been the leading participants in this market. Due to developed research and development facilities, among other factors, some of the main nations, like France, the UK, the US, and Canada, have been worldwide exporters of defence and aerospace technologies. Also, some of the biggest businesses in the market for military thermal imaging have their headquarters in these areas.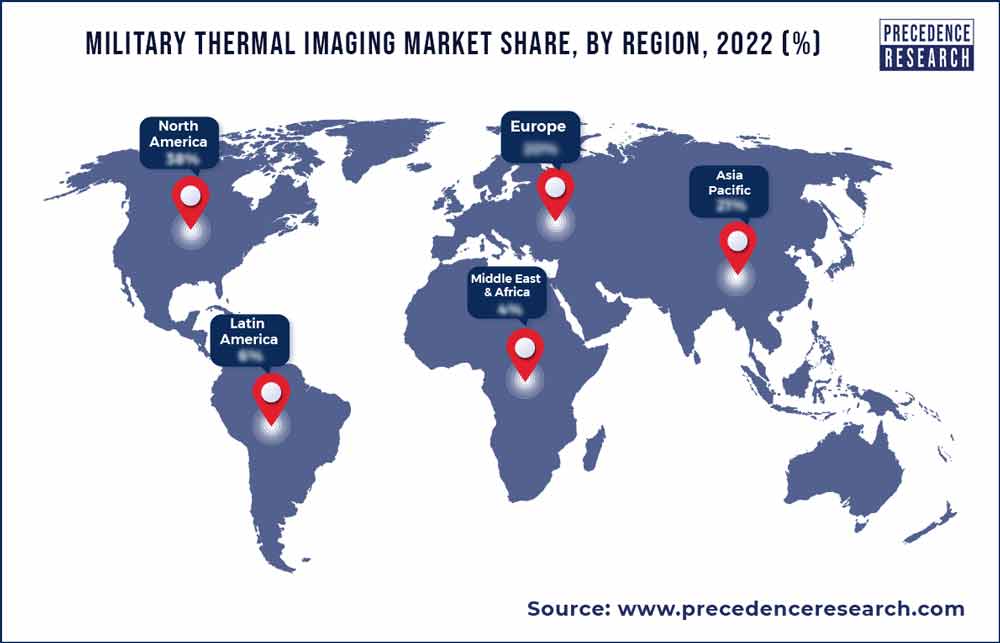 As a result of the presence of some of the world's largest economies, including China, India, and South Korea, the Asia-Pacific region is predicted to have the fastest-expanding military thermal imaging market. These nations have seen significant government spending in recent decades on air travel and space exploration as well as defence infrastructure. The Middle East is anticipated to have a promising market for military thermal imaging in the aerospace and defence industry during the forecast period. The predicted period is expected to see stable demand in Eastern Europe.
Recent Developments:
It was announced on February 2, 2022, that Hydrosat had been awarded a $1.2 mn Air Force contract to look into the use of thermal infrared data for purposes of national security.
OroraTech, based in Munich, announced on November 30 that it had raised the funds as an expansion of a Series A round that had collected 5.8 mn euros in June 2021. Along with a number of current investors, Edaphon, a climate impact fund with headquarters in Belgium, spearheaded the fresh funding.
In May 2021, a contract to provide FLIR Systems' FLIR Black Hornet ®3 Personal Reconnaissance Systems (PRS) was obtained. It is a cutting-edge nano-drone used for surveillance.
The business introduced the Fluke TiS20+ thermal imaging camera in December 2019 to catch smaller temperature changes and identify problems in a variety of applications where accurate monitoring is crucial.
Key Market Players:
Lockheed Martin
FLIR Systems
Raytheon
L3 Technologies
Leonardo DRS
Teledyne Technologies
Sofradir
BAE Systems
Northrop Grumman
Harris
Elbit Systems
General Dynamics Mission Systems
Guangzhou SAT
Wuhan Guide Infrared
Zhejiang Dali Technology
Segments Covered in the Report:
(Note*: We offer report based on sub segments as well. Kindly, let us know if you are interested)
By Type
Man-portable
Fixed mounted
By Application
By Geography
North America
Europe
Asia-Pacific
Latin America
Middle East and Africa