The global thermal camera market size was exhibited at USD 2.16 billion in 2022 and is projected to surpass around USD 7.91 billion by 2032, growing at a CAGR of 13.86% during the forecast period 2023 to 2032.
Similar to a regular camera, which creates photos using visible light, a thermal imaging camera aids in the production of photographs utilizing infrared radiation. Numerous industries, including autonomous cars, skin temperature monitoring, firefighting, military and defense, infrastructure, and structures, employ thermal imaging extensively.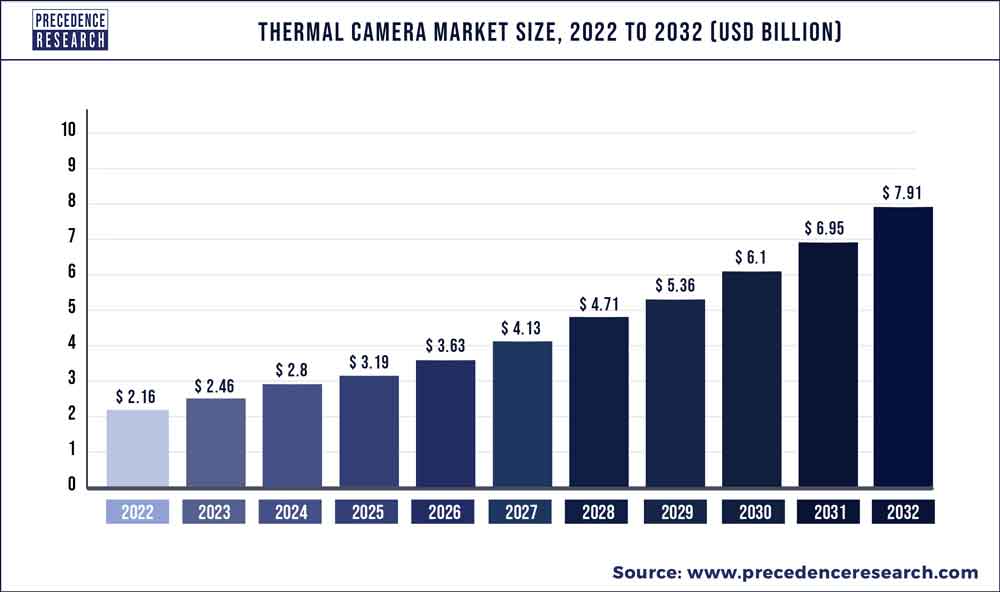 Access our Premium Real Time Data Intelligence Tool, Visit: Precedence Statistics
Key Points:
On the basis of technology, the cooled segment will be accounted largest market share.
On the basis of end-user, the military and defense segment contributed more than 30% of revenue share in 2021.
On the basis of geography, North America is anticipated to lead this market share and The second-largest market share belongs to Europe.
Growth Factor
The rising usage of thermal cameras across a variety of end-use verticals, including manufacturing, healthcare, life science, and military and defense, is the primary factor driving the market growth for thermal cameras. Machine learning and IoT advancements have created new opportunities for these devices' industrial applications. These developments have prompted the use of many different types of sensors to monitor environmental as well as physiological information. Recent advancements in thermal imaging technology have made it a viable option for monitoring physiological aspects like skin temperature, tumor identification, and many other specialized areas.
By possibly assessing machine breakdowns and identifying hotspots that might cause costly production losses or manufacturing downtime, thermal camera integration into predictive maintenance aids firms in saving money. For example, FLIR Systems, which is one of the top producers of thermal imaging equipment, offers a variety of thermal cameras, including the FLIR A310, A310 PT, and FLIR A310EX, that allow firms to conduct in-process observation and guarantee the quality of their output. Global resources have been severely hampered by the COVID-19 virus, and as a result, there is now rivalry to embrace cutting-edge technologies as well as to create and implement newer ones. The use of thermal imaging cameras is currently a hot topic since these tools make it possible to identify people with elevated body temperatures.
By detecting elevated body temperature in moving persons like pedestrians, travelers, and tourists with sensitivity to +-0.3 degrees C, thermal imaging sensors can help with coronavirus fever surveillance. With the use of such cameras, infrared radiation produced by objects with temperatures greater than absolute zero may be identified. In China, thermal imaging-capable drones were employed to monitor activity & body temperature. Several fixed and portable thermal cameras are now being discussed for its potential to safeguard important employees. Each of them aims to determine the temperature of the body and identify potential virus carriers using the resulting measurement, however, each has somewhat different capabilities and using styles. Additionally, growing R&D efforts by major manufacturers to provide sophisticated cameras are anticipated to boost the market during the projected period. For example, FLIR Systems introduced thermal smart sensors as well as fixed camera solutions to assist authorities and healthcare organizations in measuring elevated body temperatures.
The rapid development of new cooling technologies
Rising demand for thermal cameras from the automotive and medical industry to boost the market growth
Increased government funding for the installation of thermal cameras
Report Scope of the Thermal Camera Market
| | |
| --- | --- |
| Report Coverage | Details |
| Market Size in 2022 | USD 2.16 Billion |
| Market Size by 2032 | USD 7.91 Billion |
| Growth Rate from 2023 to 2032 | CAGR of 13.86% |
| Base Year | 2022 |
| Forecast Period | 2023 to 2032 |
| Largest Market | North America |
| Second Largest Market | Europe |
| Segments Covered | By Product, By Technology, By End Use |
| Regions Covered | North America, Europe, Asia-Pacific, Latin America, Middle East & Africa |

Key Market Drivers
Demand for thermal camera in various applications - On the other hand, commercial use of thermal imaging cameras is growing, and over the next few years, the worldwide market is anticipated to grow dramatically. A few applications for thermal cameras and detectors include home automation, security, fire detection, and gas detection. Although they were first created for military applications, thermal cameras are now increasingly utilized in non-military settings. More people are using robust thermal cameras in healthcare, which might result in profitable growth opportunities. Since then, a wider variety of medical applications have used thermal imaging cameras. One of the most popular uses of thermography is the detection of breast pathologies, such as breast cancer, fibrocystic breast disease, and mastitis.
Key Market Challenges
High cost associated with thermal cameras - Although thermal imaging technology is safe and silent, it has several drawbacks similar to other technologies. The price of these cameras is preventing wider use. Because they are temperature-based, these devices are affected by the weather, and the visual contrast is minimal. The primary barrier to the widespread use of infrared thermal imaging systems is still their high cost, but because to the development of non-cooled infrared plane arrays, they may now offer good resolution and efficiency at reasonable costs. Potential costs of thermal cameras may be significantly decreased by the progress of innovations, breakthroughs in core advancements, and growth in manufacturing performance.
Key Market Opportunities
Oil & gas companies use thermal imaging to find pipeline leaks - The oil & gas industry faces a variety of maintenance issues, including valves, turbines, generators, and pipe failures that result in harmful emissions and dangerous gas spills into the atmosphere. Detecting invisible oil & gas leaks takes a lot of time and effort when using traditional inspection techniques, especially when there are many components to check. In the oil & gas sector, thermal cameras are frequently employed as tools for preventative maintenance to identify leaks in installations, pipelines, and reservoirs. As a result, they increase protection and pollution levels with a lower risk of disruption as a result of regulatory bodies' actions. The quicker leak detection and immediate source identification made possible by these cameras results in quicker repairs, lower industrial emissions, and greater regulatory compliance. For the oil and gas industry, a number of significant market participants are launching a wide range of these devices. In the upcoming years, these elements are anticipated to propel the thermal camera market.
Technical advances and R&D activities - Due to increasing R&D investment by key industry participants and a larger emphasis on incorporating cutting-edge technologies, the market for thermal imaging cameras has a bright future. Revenue growth in the thermal camera market is anticipated as surveillance technology develops and the security & surveillance industry expands. As thermal imaging technology is used more often for perimeter security and as the price of thermal imaging equipment drops, the market for thermal imaging cameras will grow. The automobile industry's growing acceptance of thermal imaging as well as favorable government initiatives and regulations are expected to boost the market for thermal cameras.
Segments Insight
Product Insights
Because of its wider range of uses, including thermal imaging, medical imaging, predictive maintenance, and other areas, the portable thermal camera market is anticipated to develop at the greatest rate over the projected period. The demand for these cameras has also increased as a result of the growing need for these devices to detect body temperature and also for other healthcare-related applications. Mount thermal camera devices are essential in smoke detection & protection, early fire warning, and surveillance applications, in addition to being utilized to boost manufacturing productivity or optimize quality assurance.
Technology Insights
The market's largest share will be accounted for by the cooled thermal camera segment. During the forecast period, thermal imaging systems with cooled detectors are anticipated to see rapid acceptance, primarily because of their quick capture rate as well as the broad thermal isolation band. Additionally, because they use shorter infrared wavelengths for sensing, cooled cameras typically have larger magnification capabilities. Since cooled cameras have higher resistance qualities, they can be used with lenses that have more optical elements or thicker components without lowering the signal-to-noise ratio.
End Use Insights
On the basis of end-use, the military and defense segment accounted for more than 30% of revenue share in 2021. The industry segment with the highest CAGR will be healthcare as well as life sciences. Thermal cameras are being used by many researchers as well as healthcare organizations all over the world to monitor and capture variations in body temperature for diagnostic reasons. Researchers get information on metabolic and circulatory functioning through the analysis of thermal pictures taken by cameras in order to spot abnormal physical changes.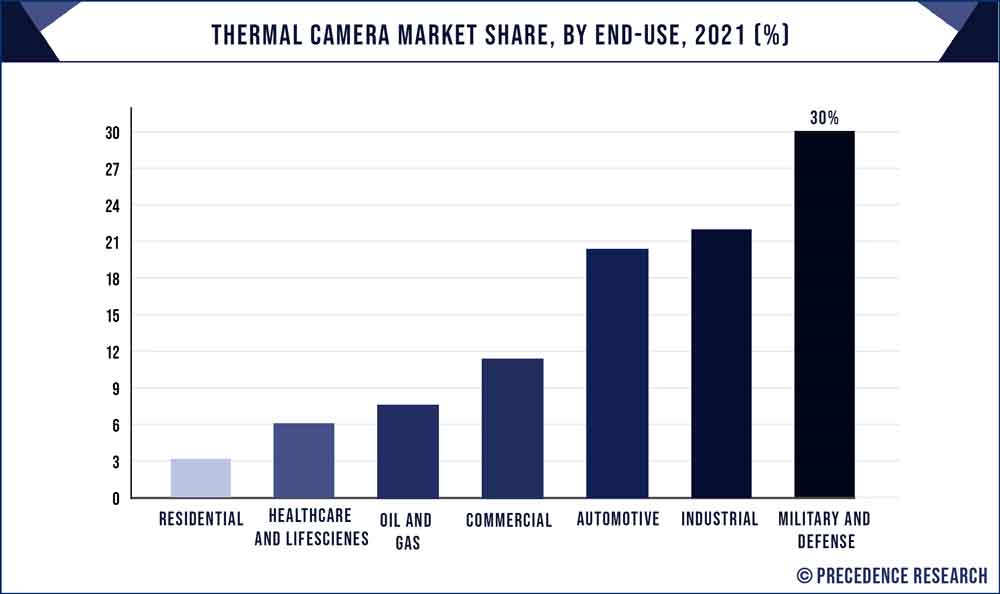 These tools are also used to look at a wide range of illnesses where the skin's temperature may reveal inflammation or injury to the tissues, or if blood flow is altered due to a clinical deformity. Also most clinicians today use thermal imaging equipment to identify a wide range of medical issues, including circulatory abnormalities, arthritis, recurring strain injuries, and body aches.
Regional Insights
North America is anticipated to lead this market share due to the rising need for thermal imaging technology in the manufacturing as well as commercial sectors. Additionally, the military and defense sector's booming need for these cameras for the purpose of security and surveillance applications is anticipated to have a beneficial influence on the market's expansion in North America. IoT and improved thermal imaging solutions are being implemented more slowly than initially anticipated, with semiconductor businesses stepping in to assist advance other new imaging technologies. The technical potential of thermal technology, including its capacity to collect and analyze enormous amounts of industrial data, is the focus of developers and business leaders in the region. This data may be used to manage industrial safety and compliance while enhancing protection, monetary returns, and convenience.
The second-largest market share belongs to Europe. This region's market is expected to grow as defense & monitoring need rises. The demand in this area has also been greatly influenced by the progressive fall of thermal cameras in addition to the inexpensive availability of thermal sensors. Additionally, nations like France, the United Kingdom, and Italy are increasing their military spending, making up a significant portion of the market. Due to the escalating border conflicts between nations like India and China, the Asia-Pacific market is predicted to have exceptional growth. Countries are being forced by these wars to increase their military spending and provide their armed forces with cutting-edge monitoring equipment like thermal cameras.
Recent Developments
Axis Communications AB introduced the AXIS Q8752 E in January 2021, a bispectral PTZ camera coupled with a thermal camera that enables a 3x zoom for accurate verification and detection in all lighting and environmental situations. The introduction of this device is anticipated to accelerate the use of thermal cameras in a variety of industrial applications.
EyeCGAS small, an uncooled optical gas imaging camera coupled with an uncooled thermal camera, was introduced by Opgal Optronic Industries in April 2021. The recently released camera is an android-based device specifically made for OGI apps, and it provides increased user access to programs for leak detection and repair.
The FLR A500f and A700f ruggedized thermal cameras from Teledyne, FLIR LLC, a top provider of thermal imaging cameras located in the United States, were released in June 2021. They have high-temperature detection for particularly sensitive settings. These cameras enable alarm capabilities and in-camera analytics for applications that monitor external climate.
Key Market Players
FLIR Systems Inc.
Seek Thermal
Axis Communications AB
Opgal Optronic Industries Ltd.
Jenoptik AG
Fluke Corporation
PCE Instruments
Mobotix AG
LumaSense Technologies Inc.
Spectronic Plc.
Optris GmbH
Schneider Electric SE
DIAS Infrared GmbH
InfraTec GmbH
Ulirvision Technology Co. Ltd.
HikVision Digital Technology Co.
Micro-Epsilon
Caterpillar Inc.
Bullit Mobile Ltd.
3M Scott
Segment Covered in the Report
(Note*: We offer reports based on sub-segments as well. Kindly, let us know if you are interested)
By Product
By Technology
By End Use
Military and Defense
Industrial
Commercial
Healthcare and Lifescienes
Residential
Automotive
Oil and Gas
By Geography
North America
Europe
Asia-Pacific
Latin America
Middle East & Africa (MEA)